We've been busy making some essential oil DIY projects. Read my Simply Earth essential oils review below to get an inside look at their fun DIY recipe box!
This post is sponsored by Simply Earth and includes affiliate links.  All opinions are my own. Read my full disclosure here.
Simply Earth Essential Oils Review
Do you love essential oils? Are you looking for 100% pure, affordable oils? If this is you, I'm so excited to share Simply Earth with you!
We've been using essential oils in our home for many years, in one way or another. In that amount of time, we've used many different brands of oils.
I recently found out about Simply Earth essential oils, and I've been very impressed with the company and the quality of their products.
Each batch is tested to ensure 100% purity, and they also have a 365 day satisfaction guarantee!
In addition to their high-quality, pure essential oils, Simply Earth also offers diffusers, essential oil storage boxes, and more. Be sure to check them out here.
And, as an added plus, Simply Earth gives 13% of all their profits to help fight human trafficking. I love being able to support a company with such a great mission.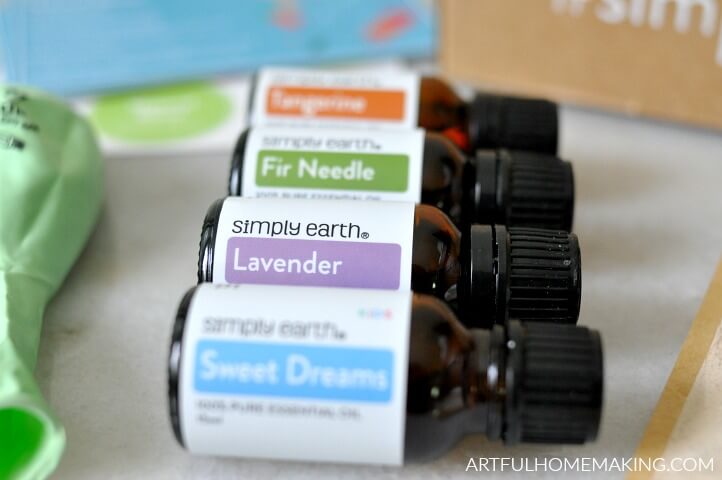 Simply Earth Essential Oil Recipe Box
So, as I mentioned above, I love essential oils! And one of my favorite things to do with the oils is to make DIY and natural home projects with them.
That's one reason why I was so thrilled to learn about the Simply Earth Essential Oil Recipe Box. It's a monthly subscription box with all the ingredients, containers, and extras you need to make 6 natural recipes.
I was super excited when my box came in the mail!
Each month there's a new theme. Plus, you'll also get tips and tricks for other ways to use your oils.
It's such a great idea for those who love natural DIY projects but don't have time to gather all the ingredients!
Everything is right there in the box, ready for you to start creating!
Want to get your own Simply Earth Recipe Box? Use code ARTFULHOMEFREE to receive a $40 eGift card with your 1st Recipe Box! You also get a Bonus Box when you subscribe today.
What's in The Recipe Box
I received the July recipe box to review, and the theme for July is "kids." There are so many fun things included in the box!
This would be a great way to spend some quality time with your kids this summer.
Also, when you order your first Simply Earth Recipe Box, you'll also get the Big Bonus Box, which contains extra supplies you'll need to make the recipes.
The Big Bonus Box contains:
coconut oil
fractionated coconut oil
almond oil
beeswax
roller bottles
empty essential oil bottles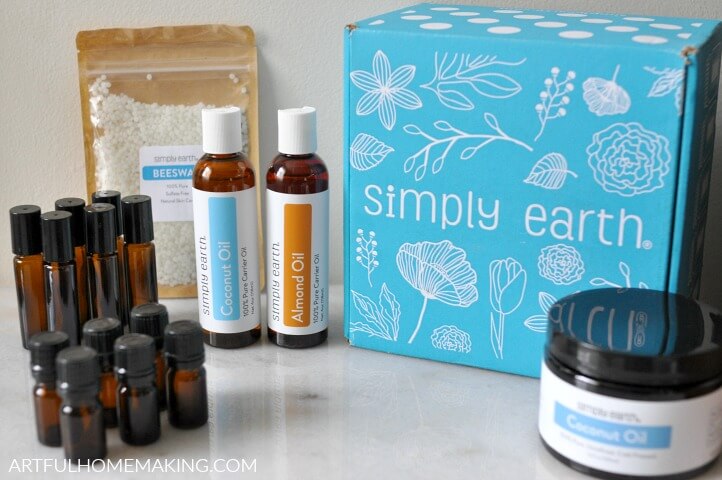 It's so convenient to have all these items available as you make the recipes from the recipe box!
The recipe box for July includes the following recipes:
Sweet Dreams Roll On
Homework Diffuser Blend
DIY Scented Stress Ball
Lavender Scented Bubbles
Natural Slime
Sweet Dreams Bath
You get 6 recipe cards with the recipes printed on them, along with the essential oils and additional ingredients.
Sweet Dreams Roll On
First, I decided to make the Sweet Dreams Roll On recipe. This was so simple! My youngest loves using a roll on like this before bed, so this is perfect for him. It smells so good!
Homework Diffuser Blend
The homework diffuser blend will be great to use once we hit the books again this fall. But it would also be great for any time! Again, this was super simple to make, and I love that the label is provided for you.
DIY Scented Stress Ball
Having a stressful day? Grab this homemade essential oil-scented stress ball! It's fun to squeeze to relieve tension! 🙂
Lavender Scented Bubbles
Believe it or not, this was the first time we had ever made our own homemade bubble solution. My kids had so much fun with this.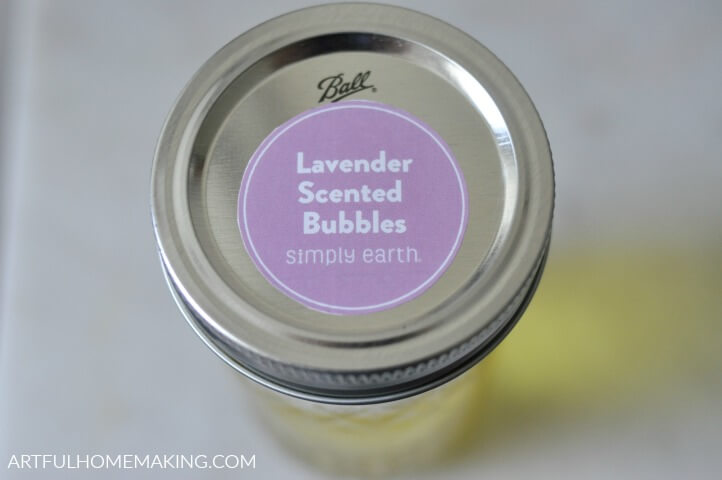 This bubble solution bubbled up a lot, and it made great bubbles! You can use a traditional bubble wand, or feel free to try Mason jar lids or a homemade wand.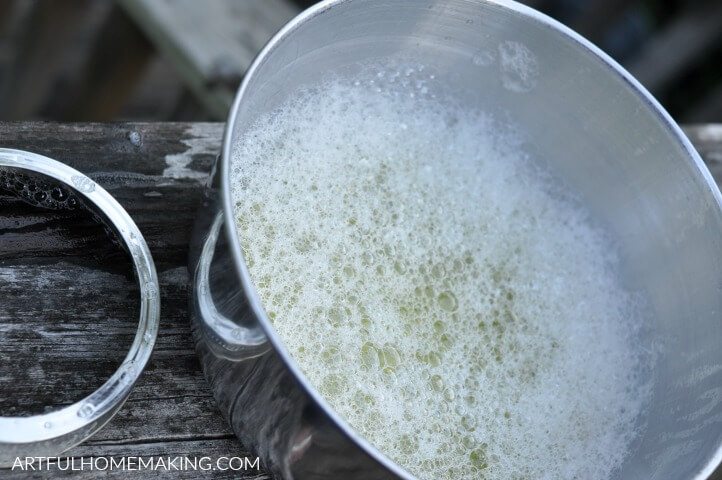 My youngest played with these bubbles for a long time! One of the bubbles floated way up into the sky, floated around the yard for a bit, and then drifted away.
These homemade bubbles seemed more durable than the ones we usually buy at the store.
Natural Slime
This was another recipe my kids enjoyed. They helped mix up the slime and then enjoyed the sensory experience of playing with it.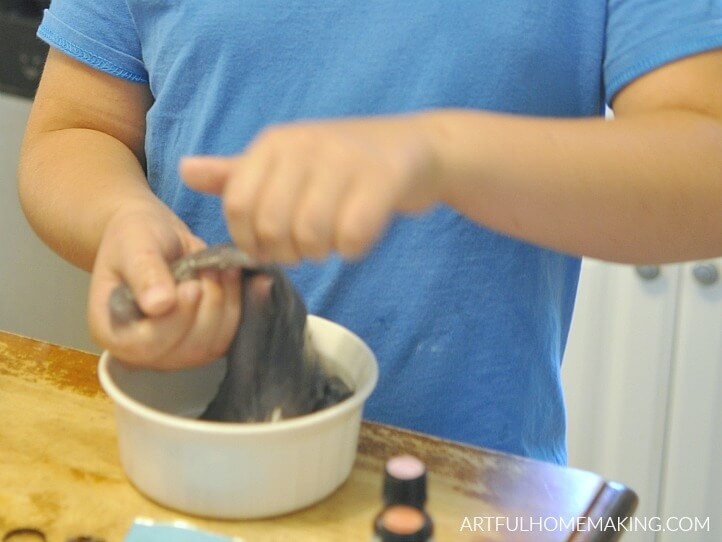 We used a natural food coloring and ours turned out a grayish blue.
Sweet Dreams Bath
This sweet dreams bath is one of my favorite projects in the box. It smells so good, and it will make such a comforting, relaxing before-bed bath.
The DIY Solution for Busy Moms
The Simply Earth Recipe Box is such a great idea for busy women! If you're a busy mom or DIY enthusiast, I think you'll love the simplicity of these recipe boxes.
It's wonderful to receive a box in the mail with almost everything you'll need to create these fun, natural DIY recipes.
We've had a lot of fun with it already this summer!
Thanks so much for reading my Simply Earth essential oils review, and learning about the recipe box!
A Coupon Code for You
Ready to order your own Simply Earth Recipe Box?
Use code ARTFULHOMEFREE to receive a $40 eGift card with your 1st Recipe Box! You also get a Bonus Box when you subscribe today.
Pin This Post for Later
This post contains affiliate links. Read my disclosure here. Sharing here.