The best homeschool math program is now online! Keep reading to find out how you can get a free trial and enter to win a one-year subscription to Teaching Textbooks 3.0!
This will be our 16th year of homeschooling, and our 6th year with Teaching Textbooks.
For many years we struggled along with various math programs. As a busy mom, I found teaching math to be a burden.
Then, one day, a friend mentioned that they were using Teaching Textbooks and what a help it had been to their family.
I had heard of Teaching Textbooks before, but I was afraid to shell out more money for something that might not work for us. But I was desperate for help, so we decided to try it.
That was several years ago, and I've never regretted that decision! Year after year, I know that Teaching Textbooks will be part of our homeschool.
The Best Homeschool Math Program
So, you already know that I've loved Teaching Textbooks for a long  time. For us, it's been the best homeschool math program available.
But did you know that now it's even better?
Teaching Textbooks 3.0 adds yet another dimension of usefulness to an already-awesome program. What's the improvement? Now it's online!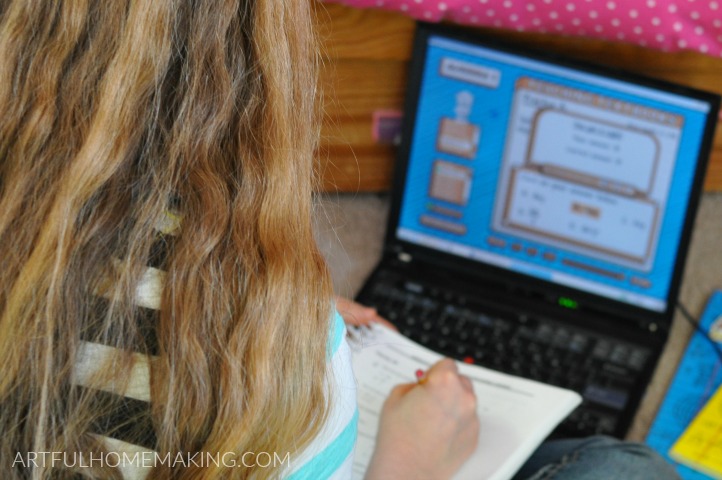 Teaching Textbooks 3.0
With Teaching Textbooks 3.0, you no longer have to keep track of disks. I know keeping up with disks and keeping them in good shape can be difficult. With 3.0, you won't even have to mess with the disks since everything is online!
3.0 also has new buddies! My kids love the buddies in each lesson, so the new ones will be a welcome addition for many kids.
But probably one of the biggest benefits will be the permanent grade storage online. This means that the grades will always be accessible, as long as you have an internet connection. And best of all, even if you don't continue with the subscription, they will still store those grades for you.
Large-Family Discount Plan
There is also a large-family discount plan to help you save on your homeschool math curriculum. Go here to learn more about the plan.
Teaching Textbooks 3.0 Works on Mobile!
If you need your kids to have access to their math while you're away from your computer, it does work on mobile. Go here to learn more about using Teaching Textbooks 3.0 on mobile.
Try Teaching Textbooks 3.0 for Free!
If you'd like to find out more about Teaching Textbooks 3.0 and exactly how it will work for you and your family, take advantage of the free trial!
With the free trial, you can try the first 15 lessons of any level of Teaching Textbooks (and, you're allowed to try out more than one level—there are no limits to the amount of products you can try!).
Still have more questions about the free trial? Go here to check out the FAQ page.
Win a Subscription!
I'm so excited to be partnering with Teaching Textbooks to bring you a chance to win a year's subscription to Teaching Textbooks 3.0!
Enter the giveaway through the form below, and be sure to sign up for a FREE Trial of Teaching Textbooks 3.0 (it's the top entry choice, worth 5 points!).
Pin This Post: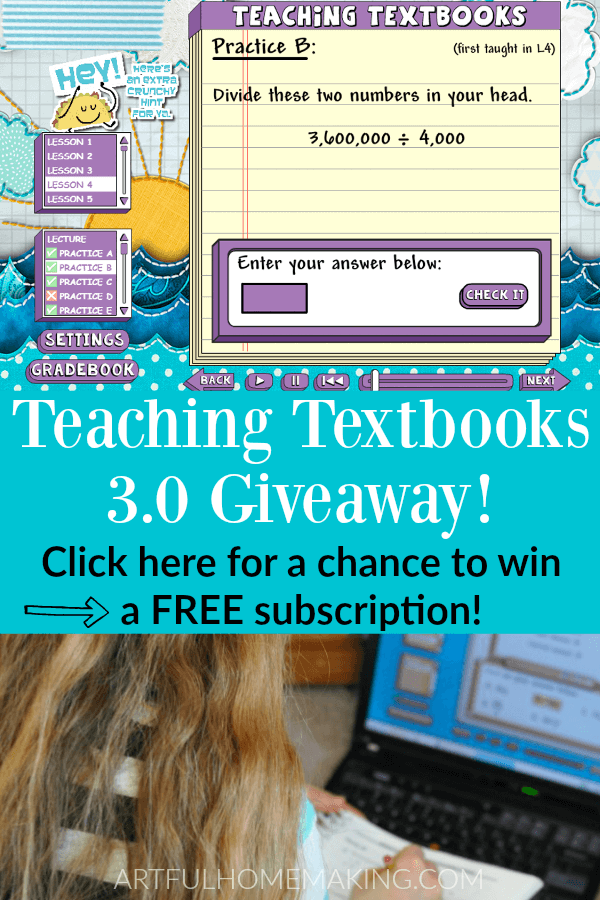 Disclosure: This post and giveaway was sponsored by Teaching Textbooks. This is a program I've shared about and loved for years, and this post contains my honest thoughts. It has literally saved my sanity! Read my full disclosure here. Sharing here.