Today we have a guest post from my husband David! He's our resident garden expert, and he's here today to share some great tips for growing tomatoes in a home garden.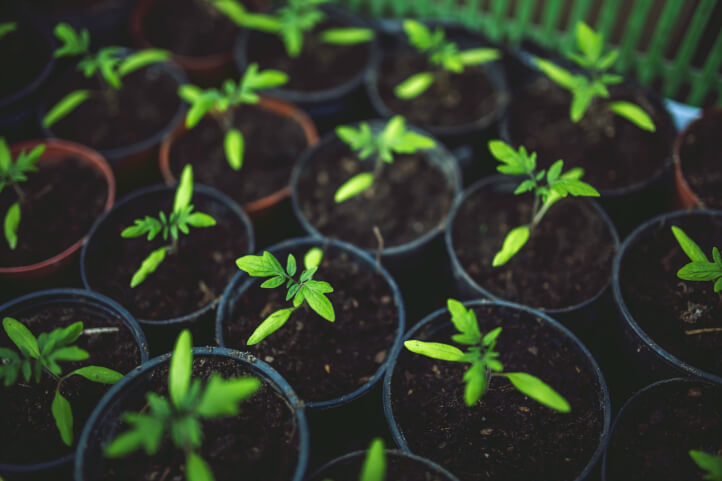 Did you know that one of the most popular "vegetables" in the world isn't actually a vegetable at all?
It's true!  Tomatoes are classified as fruits, not vegetables.
Whether you consider a tomato a fruit or a vegetable, I'd like to share with you some tips on how to grow a bumper harvest of tasty tomatoes in your own home garden.
Tips for Growing Tomatoes
Affiliate links included below. Read my disclosure here. 
Tomatoes are one of the easiest plants to grow in a home vegetable garden.  Yet tomato plants can also be a bit finicky as well as subject to various diseases and pests.
1. Seeds or Plants?
The first thing to consider when thinking about growing tomatoes is whether to start from seeds or to buy plants that are already started.  I've tried both ways and while I enjoy starting my own seeds, that can take more work than buying plants and then transplanting them into your garden.
For seed enthusiasts, there are some really great sources for organic and heirloom seeds, including tomato seeds.  Two of my favorites are GrowJourney's Seeds of the Month Club and Seeds Now.
2. Consider Your Growing Zone
It is also important to consider your gardening growing zone to find out the best time to set your tomato plants out in your garden.  If you live in the United States you can find your gardening zone here.  As a rule, the farther north you live, the later you will need to set out your tomato plants to avoid having them injured by cold weather.
3. Experiment with Variety
There are so many different varieties of tomato plants, with a wide range of colors, shapes and sizes.  If you have the space, you should try several different varieties (as well as early and late season producers) to see what grows best and which ones are most flavorful.
4. Plant on a Cloudy Day
Some gardeners prefer to transplant their tomato plants on a cloudy day or in the evening to avoid excess heat potentially damaging the tender plants.
5. Water First
You should also water the plants before sticking them in the ground.
6. Fertilize and Nourish
I like to dig a hole deep and wide enough to give the transplant plenty of space, and include a generous handful of a good quality fertilizer mixed thoroughly into the hole before setting the plant into its new garden home.
I also like to include some extra calcium and magnesium, as these are essential minerals that promote strong, vigorous plants and prevent blossom end rot.
7. Keep Them Hydrated
Be sure to give your transplants plenty of water the first several days after planting.
8. Tomato Staking
I prefer to stake the plants as soon as they're planted. Otherwise, trying to stake them later could damage the plant or its roots.  Some tomato gardeners prefer tomato cages while others use stakes (like these bamboo stakes).
9. Pruning
While you don't want to get too carried away with pruning, it's a good idea to pinch off new shoots that grow between branches to promote vigorous growth and bigger fruits.
10. Mulching
Mulching is also a good idea, although it's best to wait a few weeks until the plants are decent sized rather than mulching immediately after planting.
11. Organic Pest Control
To control pests organically, consider using beneficial insects like ladybugs or lacewings.  To combat the dreaded tomato hornworm, keep a close eye out for branches stripped of foliage, then carefully examine plants and handpick the nasty green worms off your plants.
Many tomato varieties are disease resistant, particularly to wilt. Look for varieties advertised as resistant to fusarium (F) and verticillium (V).
12. Harvest Tip
If cold fall weather sets in before your tomatoes have ripened, green tomatoes may ripen in a dark area  such as a cellar or basement. Cover with newspapers, then check periodically for ripening.
I hope you've learned a thing or two about growing tomatoes in your home garden!  Let me know if you have any questions or suggestions below.
Happy gardening!
Pin This Post for Later: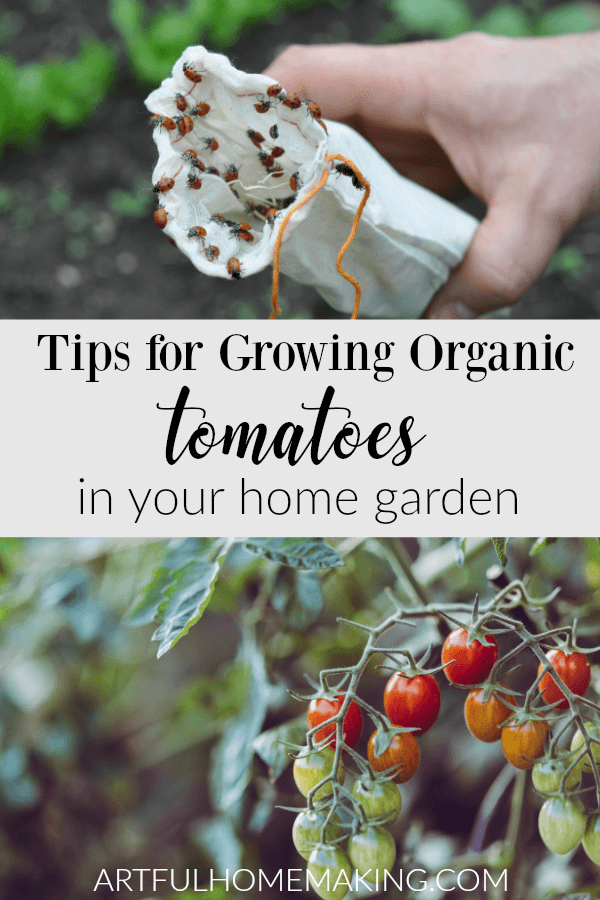 Disclosure: This post contains affiliate links. Read my full disclosure here. Sharing here.