Make your own fire pit with this simple and inexpensive design. This method of making a backyard fire pit is so simple that my kids helped make it!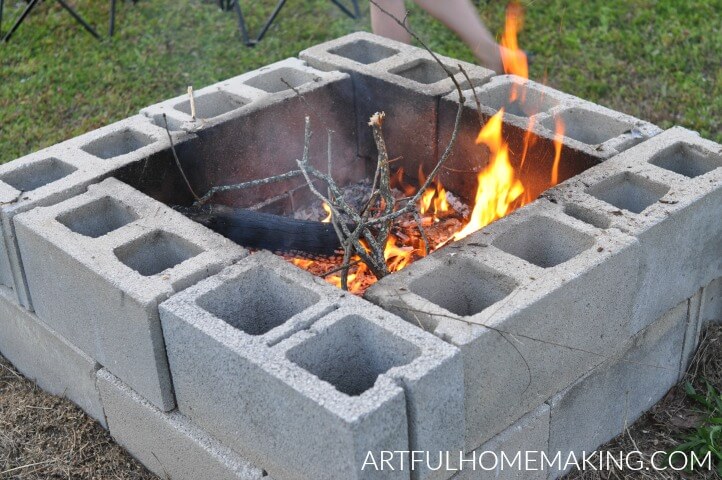 A couple years ago, my mom was moving from her house in the country to a house in the city. She had all of these cinder blocks that she didn't want to take with her.
She said she had seen some pictures online of a very simple backyard fire pit using cinder blocks, and wondered if we'd like to have one. Of course we said yes!
The kids helped her unload the cinder blocks from the back of her truck and into our backyard. Then they got ready to build the fire pit.
How to Make Your Own Fire Pit
This project was literally so simple that it hardly requires detailed instructions, and I didn't even get any photos of the building action!
I was inside the house working on another project, and my mom and kids literally made this simple fire pit all by themselves.
To make the fire pit, all you do is lay down some cinder blocks in a square shape. How many cinder blocks you use depends on how big you want your fire pit.
We used 16 cinder blocks. 8 on the top, and 8 on the bottom.
Before laying down the cinder blocks, they cleared a little spot in the backyard. We had already been using this space for bonfires, so it was already mostly clear.
So then, after clearing the space, all you do is lay the cinder blocks down in the shape and size you want, and you're done!
It's literally that simple.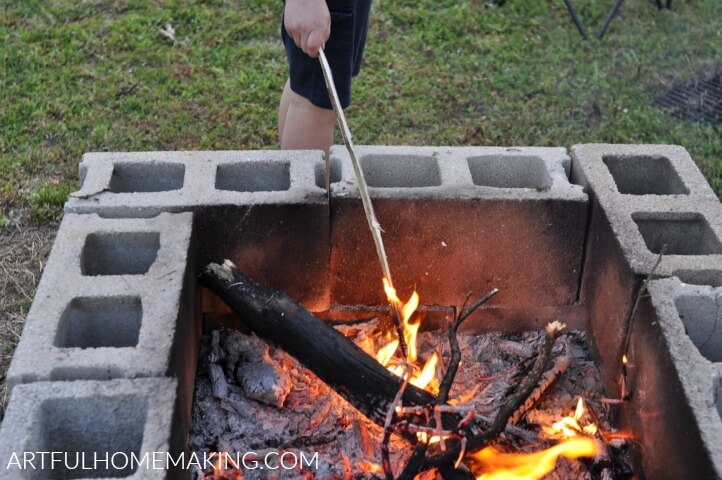 This simple to make and inexpensive (free for us because the cinder blocks were given to us) fire pit has already received so much use!
One of our favorite activities for a special family night is to gather around the fire pit and roast hot dogs or s'mores.
We also have a grill piece from an old grill that we place over the cinder blocks and that's what we use to grill hamburgers. We joke that it's kind of a redneck fire pit, but we still love it! It works really well for us.
Backyard Fire Pit Supplies
Here are the materials and supplies we use for our backyard fire pit:
16 cinder blocks (to make the fire pit)
roasting sticks for roasting hot dogs and marshmallows (these are on my wish list!)
cast iron pie irons (for making hobo pies and sandwiches over the fire)
camp chairs for sitting by the fire
That's all there is to this very simple DIY fire pit! Do you have a fire pit in your backyard? Let me know in the comments below if you plan to make your own fire pit.
Pin This Post for Later: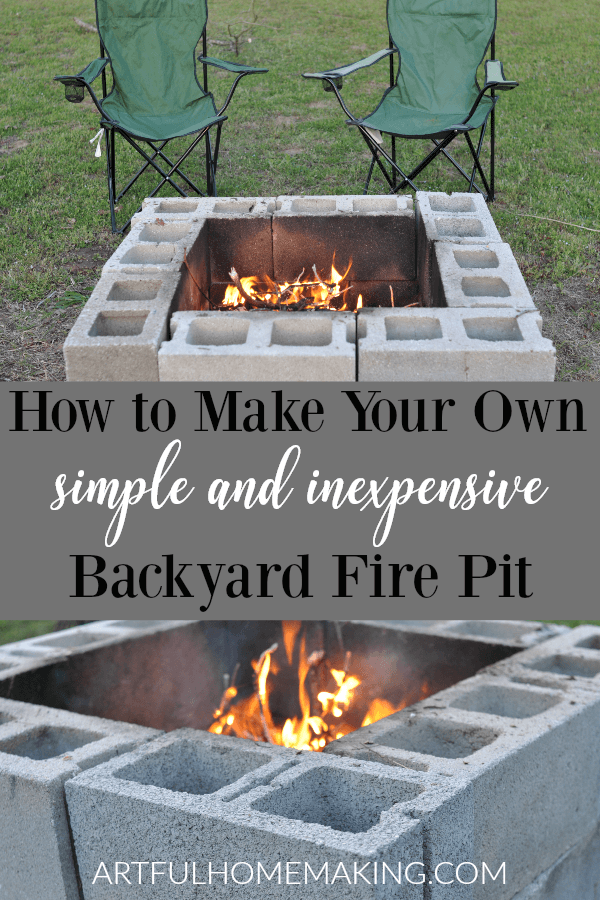 Disclosure: This post contains affiliate links. Read my full disclosure here. Sharing here.