Flowers are one of my favorite things in life. They make everything more beautiful. And I've always been fascinated by the art of flower arranging.
I also love growing my own flowers, and peonies are probably my favorite of all. We once lived in an old neighborhood in the city, and the previous owner had been the president of the local garden club. Our yard was full of perennial flowers she had planted, and the most beautiful of all were the pink peonies that grew in a long, lush row along our fence.
When we moved, I really wanted to plant my own peonies, since I couldn't imagine a yard without them! But most of our efforts to grow them were unsuccessful until my husband planted the above plant. It's really thriving, and so beautiful!
Most of my flower arrangements are pretty simple and not very studied. I usually just make a simple bouquet in a mason jar or the above white milk glass vase (found for a few bucks at a flea market).
But then I discovered this book: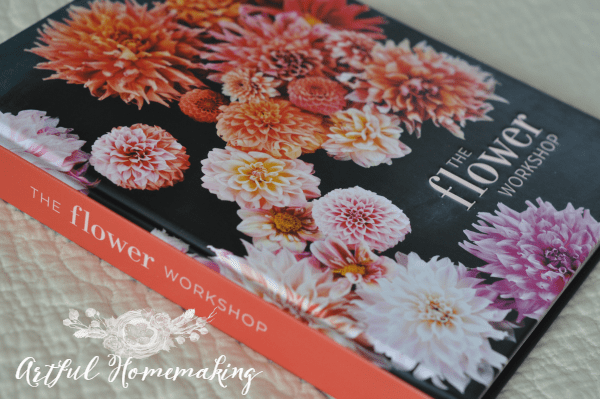 The Flower Workshop book is so incredibly beautiful and inspiring! I just love looking through it. The photos are so lovely, and the arrangements are pure art.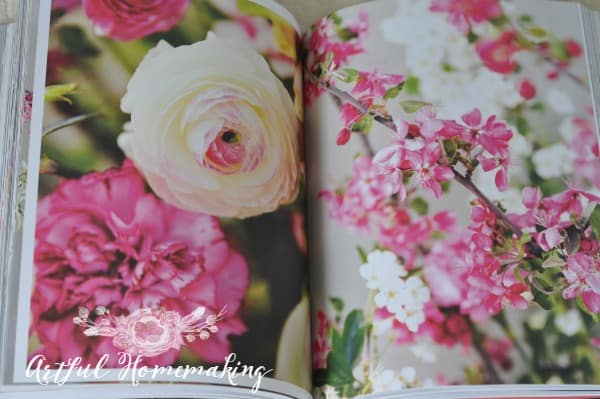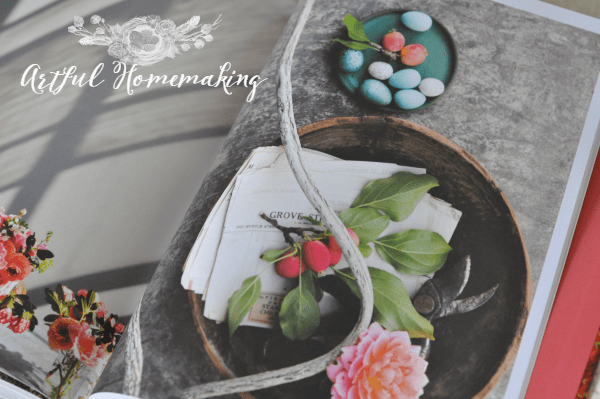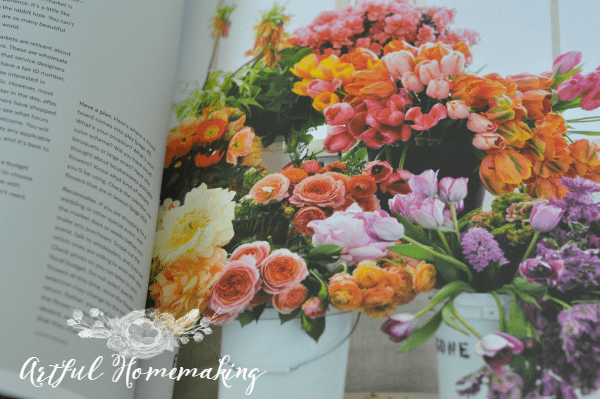 One of the best lessons I've learned from this book so far is the advice to include unexpected elements in your arrangements.
"'In nature, nothing is perfect and everything is perfect,' writes novelist Alice Walker. I agree wholeheartedly. I've found wild grapevines contorted in shapes I could never reproduce, fiddlehead ferns unfurling with the day, and spiky chestnuts still on the tree. Take advantage of generous gifts like these. They are nothing you can plan, but they can make all the difference between an ordinary arrangement and one that turns heads." ~Ariella Chezar
Ariella encourages you to include unexpected elements in your arrangements, and some of these are things I would have never considered on my own.
Forage for the following:
berries
ferns
bare branches
moss
vibrant berries still clinging to the vine
evergreens
lilacs
witch hazel
floral vines
A variety of containers lend themselves to artistic flower arrangements. I often resort to a simple mason jar just because it's close at hand, but you can find many inexpensive vases at flea markets and thrift stores.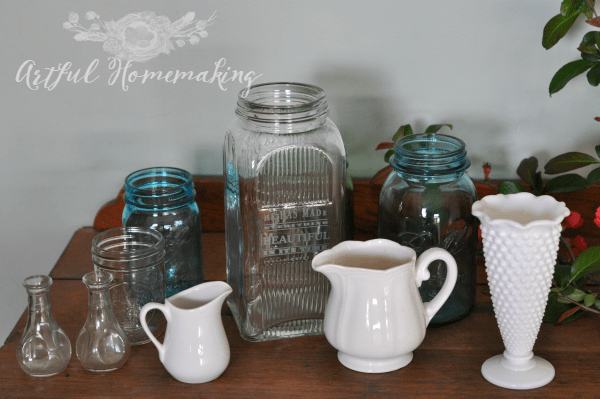 A few years ago I found this lid that fits on mason jars and it works really well for holding the flower arrangement in place.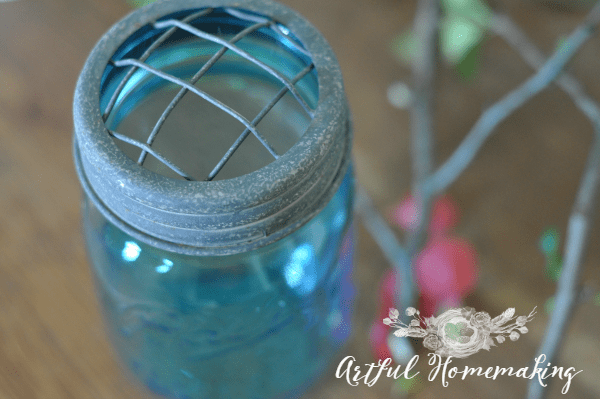 When I received Ariella's book in the mail this spring, not much was in bloom. But after reading her encouragement to use unexpected elements, I turned to this Flowering Quince shrub in our yard.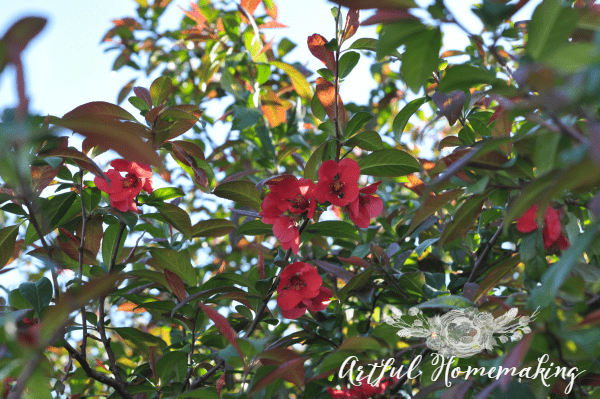 I love these little pruning shears my mom gave me for Christmas. They're perfect for cutting branches like these.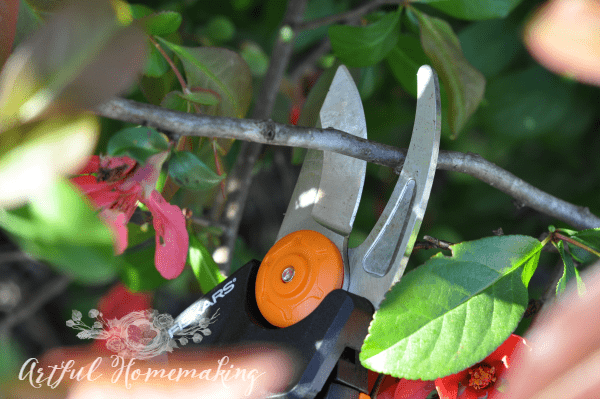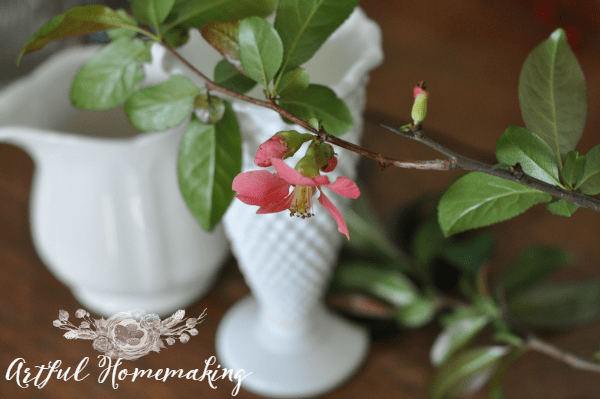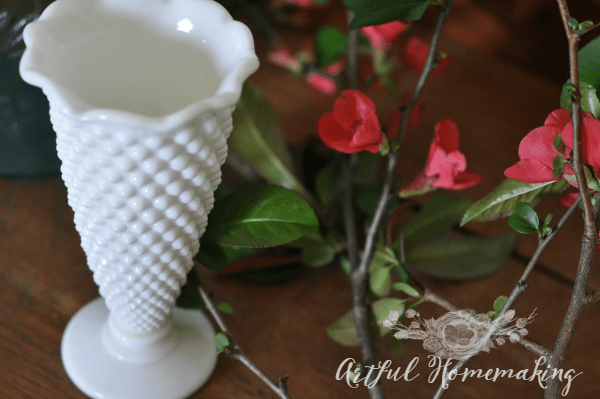 We enjoyed this simple Quince arrangement for about a week. I love having fresh flowers in the house, especially when they're free!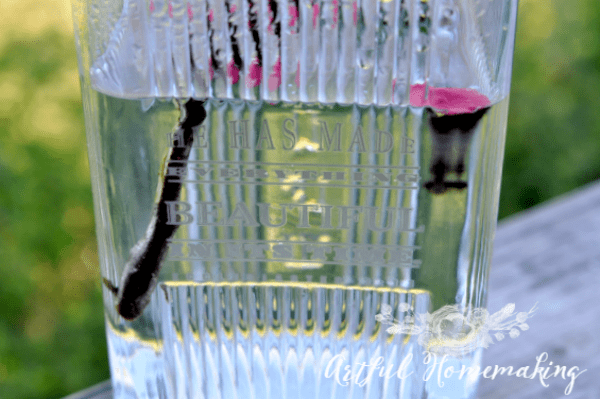 Flower arranging is an art. My arrangements are still simple, but Ariella has inspired me to bring more flowers and branches inside where we can enjoy them!
"The process of making a flower arrangement involves many of the same principles that go into making fine art, and that's why the term painterly is a fitting way to describe my style of arranging. I can remember standing, transfixed, in front of Monet's famous water lilies at New York's Museum of Modern Art. Just as the artist's thick brushstrokes and use of color create that lily pond, you can bring movement to your flower arrangements by building tone upon tone of similar colors." ~Ariella Chezar
This book has inspired me to think outside the box when it comes to flower arranging. And it really inspires me to grow more of my own flowers!
I received this book from Blogging for Books for this review. The opinions shared here are my own.