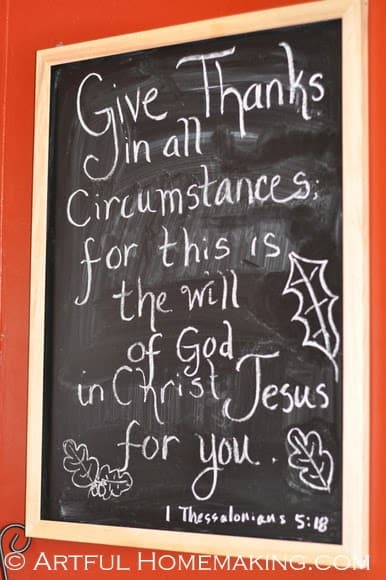 So far, this school year has been one of the most satisfying and productive that we've ever had. I'm so thankful!
One of the things I've been doing is making sure that we get started on schoolwork before anything else. If we get a late start, we do school first, even if I have to eat breakfast and read aloud at the same time! At the rate we're going, we'll be able to finish the first term of our history/geography/Bible by the end of November (Lord willing).
We're doing
Early Modern History
and loving it so much. It's just perfect that we're studying the beginnings of American history and the pilgrims right now before Thanksgiving! The timing is perfect, and there is so much that's tying it all together, including educational videos, costumes, and wonderful books.
Everyone looks forward to read-aloud time, as they're very interested in the stories. At the beginning of the school year, as I was looking over the books we would be using, I actually wondered how it would work out. Would this method of learning using a variety of "living books" actually work? Would studying early American history alongside world history give us a comprehensive view of history?
The answer is a resounding yes! I can't tell you how much I am learning! How excited I am about history! I have learned both ways, with textbooks and living books, and I can tell you that using living books really makes history come alive in your mind.
I remember history when I was a student in school. Black and white pages of names, dates, and facts, presented in an uninteresting and forgettable way. But this way of learning is so much more memorable (for me, anyway!). I now have a grasp of who the actual people were, what their passions were (the good and the bad), what their clothing looked like (thanks to using Dover coloring books that go along with the period), who the leaders were, what art was created during the time period, what people ate, etc. It's all very exciting to me, and I know this way of presenting history is cementing it in my mind. And I think my children are catching the excitement, too!
We got out all the fall picture books for our youngest, and he's loved reading them. The Busy Little Squirrel is one of his favorites, and he regularly requests it.
I made this little "sensory bin" for him with wooden beads (to represent nuts), squirrel figurines, and some pipe cleaners (to string the beads on).
We dipped the tops in chocolate:
We also had fun making
these pumpkins
using marble painting. Everyone loved this activity, and their pumpkins turned out so cute.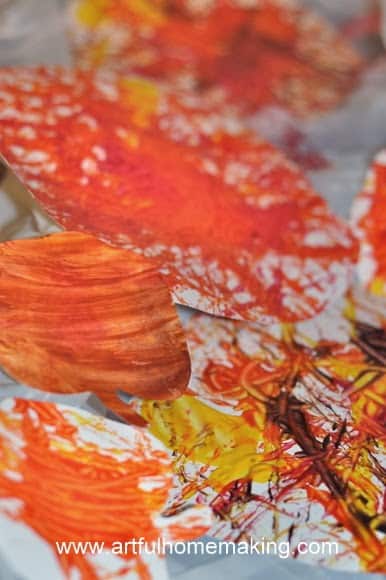 They're decorating the bulletin board.
Here's another sensory bin made out of leaves, acorns, and pumpkins:
We recently took a family field trip to a state park and historical site, and while we were there we had a picnic and made s'mores, which is a fall family tradition we began when the children were all very little. On another day, we enjoyed a fun evening with friends making s'mores around a campfire, so I think they've had their share of marshmallows and chocolate!