With ever-increasing prices at the grocery store, it's more important than ever to find ways to save with large family meals on a budget.
That's why I've put together this collection of affordable and easy meal ideas to help big families on a tight food budget.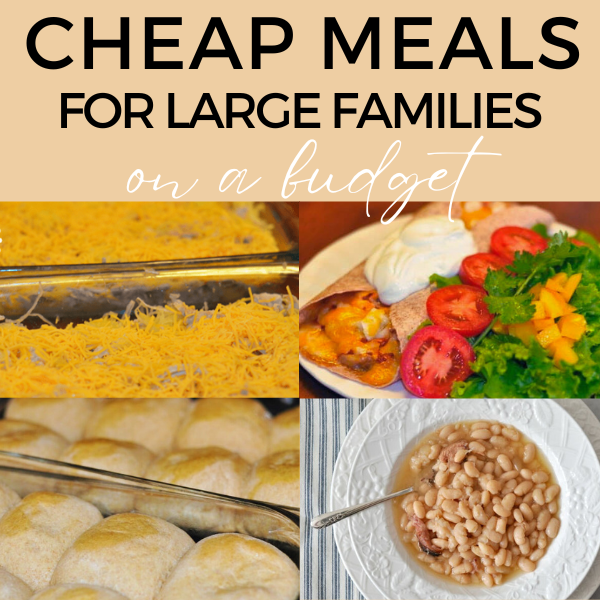 Large Family Meals on a Budget
Just about everyone feels the pinch from the higher cost of living these days.
And it seems every time I go to the store, grocery prices are higher than before.
As just one example of increasing food price inflation, food prices in 2023 are predicted to increase 5.8 percent.  This is above historical-average inflation rates.
And not only that, American households are spending more than $700 extra per month on goods and services compared to two years ago. And that amount is even higher for large families!
People everywhere are looking to find ways to save on food, with big families really feeling the crunch of a tight budget.
Finding a way to make cheap large family meals that taste good and are also nutritious can be a real challenge.
I've put together a helpful list some of the very best easy recipes that are pleasing to the palate and also easy on the grocery budget.
Affiliate links included in this post, which means I may make a small commission at no extra cost to you. Read my disclosure here.
Tips for Large Families to Save on Groceries
With our family of seven, we'd be considered in the "big family" category of six or more people.
Because each additional family member costs more to feed, finding creative ways to serve large family meals on a budget can be important.
I've shared before about how to save money on groceries, and that it's possible to cut way back on grocery spending.
I won't repeat everything here that I've already said elsewhere, but here are some of my favorite tips for saving money on your grocery bill.
One of the most important ways to control food expenses is having a meal plan.
Going grocery shopping without a menu plan and shopping list is a recipe for overspending!
Another way to save money is by shopping sales.
Most stores have online ads so you can see current sales and compare prices.
Some grocery stores will also do price matching where you can get the same deal advertised at a competitor store.
Stocking up during sales can also be an excellent way to help with your grocery budget.
Not only can you save big on food items, but buying household sale-item staples like toilet paper can also really rack up the savings.
Buying in bulk is one other tip I always recommend for saving on food.
Warehouse clubs like Sam's and Costco often have lower prices on bulk food items.
My family gets a lot of our food from Azure Standard, a bulk buying co-op that delivers to parts of the U.S.
Growing your own food can be another great way to save money.
Starting a garden and raising chickens for meat or eggs can provide you with fresh and healthy food, often at a lower cost than what you'd pay at the store.
One final tip is to shop discount or scratch-and-dent groceries. We've saved a lot of money over the years shopping at this type of store.
Here is one of our discount grocery hauls.
35 Cheap Meals for Large Families on a Budget
To help you save money on meals for your large family, I've gathered 35 favorite recipes that are both tasty and budget-friendly.
Included are several different meal ideas, divided up into slow cooker meals, ground beef meals, Instant Pot meals, and chicken meals.
I've tried to select recipes with simple ingredients that would appeal to the whole family.
As far as the cost goes, these may not be the absolutely cheapest meals possible.
That's because super-cheap meals are often very high in carbohydrates and other unhealthy ingredients.
If you're looking for the very cheapest foods without concern for nutrition, then meals based around pasta and rice are the way to go.
Read next: 25 Cheap Easy Meals for When You're Broke
But if you're trying to balance savings and food costs with nutrition, the cheap healthy meals I've listed here should help you out!
Cheap Slow Cooker Meals
I got married in the late 1990s and then had three babies in six years.
Because I was so busy and often overwhelmed, I started looking for quick and easy meal ideas that work well for a growing family.
It didn't take long until I found out that the Crock-Pot slow cooker could be a busy mom's best friend!
The slow cooker is definitely a favorite way to save time in the kitchen.
They are also perfect for making meals for large groups such as church potlucks or holiday get-togethers.
We've had a couple of slow cookers over the years, but this is my favorite one that I use on a regular basis.
The 6-quart size of this slow cooker is generous enough for most families.
I also like the latches that keep the lid on securely (perfect for preventing spills during transport!).
Slow cookers work so well not only for making meals but also for making your own homemade bone broth.
I'm also a bit of a cookbook collector and have accumulated several great slow cooker books over the years.
(This wonderful slow cooker recipe set comes in a sturdy recipe box and also includes a meal planner and reusable shopping lists).
I also really like slow cooker freezer recipes.
With these recipes, you put all of the ingredients in a bag in the freezer, then dump it in your slow cooker for a great freezer meal.
Read next: Save Time with Trim Healthy Mama Slow Cooker Freezer Meals
Here are some slow cooker meals that are perfect large family meals on a budget.
Why not give some of these a try and they may become some of your family's favorite meals!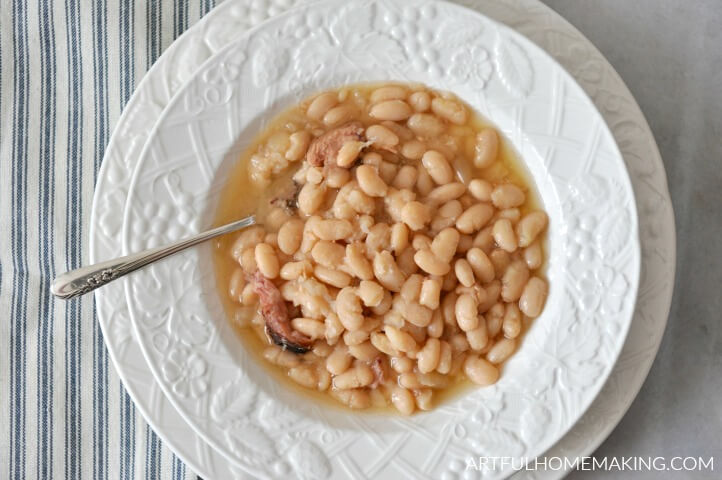 This is one of my favorite cheap and easy meal recipes. It's just perfect for a cold-weather dinner.
You can either use a leftover ham bone, a ham hock, or cubed ham for added flavor and protein.
This recipe serves 8 to 10 depending on whether large portions are used.
This delicious meal recipe uses canned beans and boneless skinless chicken breasts. It's a winner if your family loves chili!
This makes about six servings so you may wish to increase the ingredient amounts to feed a big family.
Another budge-friendly large family slow cooker recipe is split pea soup.
This great recipe uses cubed ham with rosemary and thyme for seasoning. You can use dried herbs but fresh is also great if you have your own herb garden.
This recipe makes eight servings (2 quarts).
If you have a family member who just loves steak and gravy, this could be the perfect recipe for you!
This meal uses canned soups (I prefer the kind without MSG) and cubed steaks to make a supper that won't disappoint.
As written, this recipe has four servings. But it can easily be adjusted to serve more people.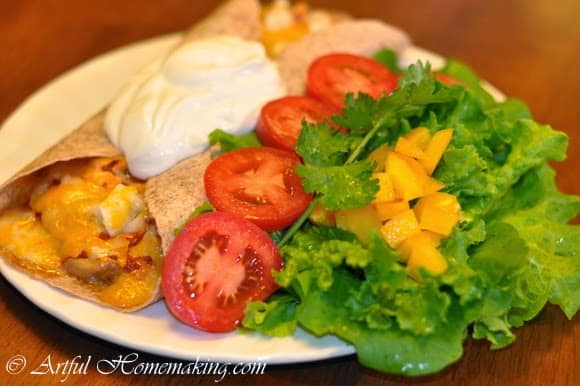 Another of my go-to slow cooker meals is refried beans. It's probably one of the most frugal meals you could make.
There are so many options for using refried beans to feed a hungry family.
You should be able to get at least 10 average-sized servings from this recipe.
You can eat them plain with your favorite seasonings, serve them with tortilla chips, top them with sour cream and cheddar cheese, or make bean burritos.
This stew is made with ground beef, potatoes and carrots. It makes for a hearty but simple dinner idea.
You'll get about 5 servings from this recipe but it could easily be doubled to feed a large family.
This recipe is a variation on chili but it includes cubed potatoes along with traditional chili ingredients like beans and diced tomatoes.
Ground pork is used in this recipe but you could easily substitute other ground meats like beef (or really any leftover meat) if you prefer.
This recipe makes six servings.
This slow cooker recipe uses only five ingredients and has lots of positive reviews from people who have made it!
This type of simple "dump and go" meal idea would be a perfect option to serve at a large family dinner table.
You'll get eight servings out of this recipe.
If your family loves the flavor of Ranch dressing, you'll want to try this moist and tender chicken recipe.
It uses cream of chicken soup and cream cheese to make a flavorful, creamy chicken dish.
This recipe makes eight servings.
What do you get when you combine tender pork chops with steamy potatoes and the tangy flavor of Ranch? Why, another winner in the list of slow cooker cheap dinner recipes!
One nice thing about this recipe is that it only has to cook for three hours, unlike other recipes that cook for 6 or more hours.
Eight servings are the yield on this recipe.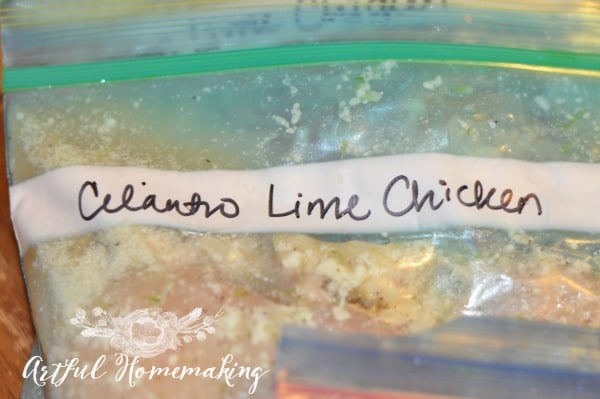 This last slow cooker meal is one of my favorites! I love that it's a meal stored in the freezer, which makes meal planning so much easier.
I use chicken breasts but other pieces would work as well. Using six pounds of breasts makes two full meals of six to eight servings each.
I really like the taste of beef and barley. And when combined with carrots, tomatoes, cheddar cheese, and celery, you've got a truly delicious meal!
This recipes serves eight.
Cheap Ground Beef Meals
We use a lot of ground beef in our family. It's affordable, easy to cook, and a versatile meat choice that can be used in so many different ways.
One tip to save on large family meals on a budget is to buy the bulk ground beef packs, particularly on sale. I divide up and freeze the beef to use in recipes.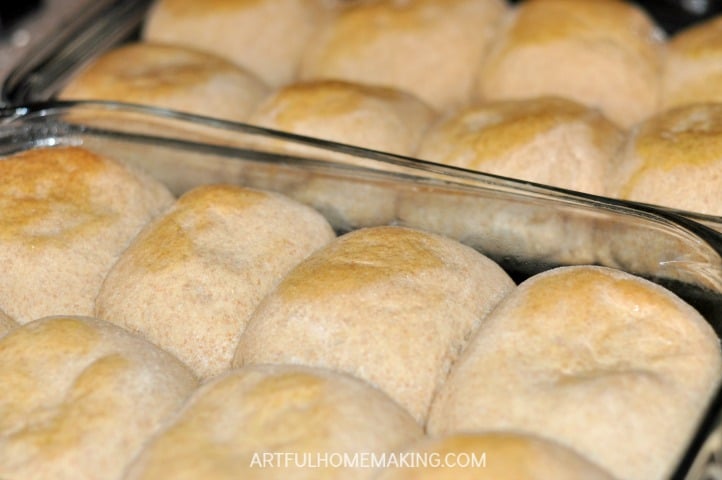 If you've never tried bierocks, you don't know what you're missing! These will likely appeal even to picky eaters.
I grew up enjoying these delicious rolls filled with beef and cabbage, and they are now a favorite in my family.
You can either make your own homemade rolls (I make whole wheat rolls) or buy premade rolls.
My bierocks recipe makes 24 rolls. If you have leftovers, they make a great snack for the next day.
Another tasty way to use ground beef is with a taco bar. This is perfect for a big family or large crowds.
We recently had another family over and wanted to serve something that everyone would enjoy. We decided to have a taco bar and it was a big hit.
In order to save money on this recipe, you could have just a couple of toppings (like grated cheese and salsa).
Having more toppings provides more options from which to select, but also raises the meal cost.
You can adjust the amount of taco meat you make to have as few to as many servings as you need.
Combining traditional spaghetti ingredients like ground beef, tomato sauce, and thin spaghetti with chili powder and grape jelly (I would personally leave the jelly out), this is a quick and affordable stovetop meal.
As written, this recipe feeds four. But it could easily be doubled to serve a large family.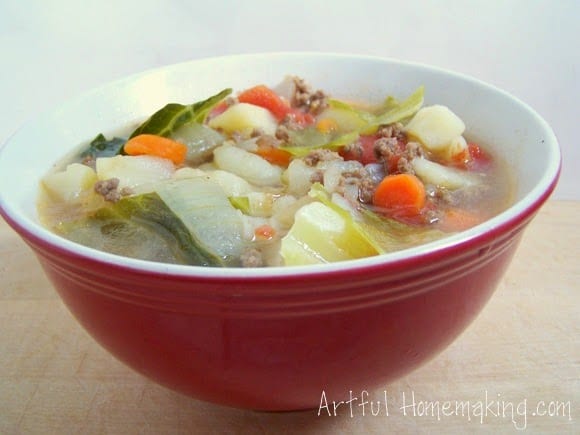 One of my all-time favorite uses for ground beef is to make hamburger stew.
This is a go-to recipe in my house whenever I need a quick but nourishing meal.
This is also a budget recipe as you can use whatever ingredients you have on hand.
During the garden season, we like to include okra, summer squash and other fresh homegrown vegetables.
This recipe can be easily adjusted to feed as many people as you wish.
Casseroles are a great choice not only for easy recipes but can also be one of the best cheap meal ideas.
This cheeseburger casserole recipe uses not only ground beef and cheese but also toasted bread slices, milk and egg.
It's a hearty meal that would also work well as a breakfast casserole if you used sausage instead of beef, and left out the ketchup.
It serves about six and could be increased if needed.
Growing up, I remember hearing the TV commercials about Hamburger Helper "helps her make a great meal."
I generally wouldn't recommend using box mixes but I admit the taste of Hamburger Helper can be pretty good.
This homemade Hamburger Helper recipe is great for large families since it can be easily modified to increase the servings.
If your family loves the taste of Chinese or Korean cuisine, they'll likely enjoy this delicious Korean beef bowl.
It's easy to make with a sweet and spicy flavor from the brown sugar and red pepper flakes.
As written, the recipe makes four servings, and could easily be doubled to serve eight.
Combining beef and potatoes with onions, peppers and tomatoes, this easy skillet meal is likely one of the more delicious recipes in this list!
The recipe also calls for a bunch of kale. That would be a great addition during gardening season, but I would leave the kale out if it were not readily available.
This recipe is also free of common allergens like dairy, eggs and gluten. It makes six servings.
No list of ground beef recipes would be complete without a meatloaf recipe!
This recipe claims to make eight servings but honestly my family of seven usually goes through about one and a half meatloaves at supper time.
Meatloaf goes really well with a side dish of mashed potatoes or green beans.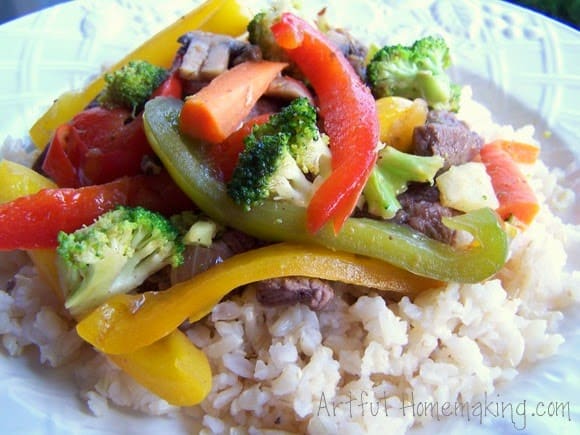 This last beef recipe doesn't actually use ground beef, but I'm still including it here.
It's a perfect addition to this list of large family recipes since it can be easily increased to have more portions.
My stir fry recipe only calls for one pound of beef (flank steak is a good choice), but you'll want to use at least twice that amount for a big family.
Cheap Instant Pot Meals
Next up in this collection of large family meals that won't break your grocery budget are Instant Pot meals.
An Instant Pot is just basically a big electric pressure cooker.
I got this Instant Pot 8-quart, 7-in-1 Multi-Functional Cooker several years ago and have used it for so many things.
Using an Instant Pot is one of the easiest ways to feed a big family.
This is one of my favorite meals to make in the Instant Pot. All you basically have to do is brown the roast, cut up the vegetables, and the Instant Pot does about all the rest!
You can easily adjust this recipe for your family's size, using a bigger or smaller roast, and the amount of vegetables you prefer.
Just about everyone loves Sloppy Joes, and making them is a breeze when using an Instant Pot!
This recipe makes eight servings.
This is another one of my favorite healthy cheap meals made in the Instant Pot.
​We don't have a lot of meatless meals, but when we do, beans are a good source of protein—and budget-friendly, too!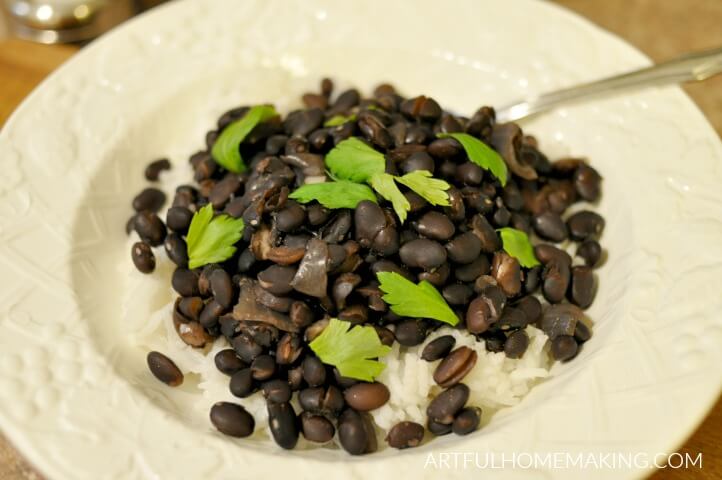 You could make either plain white rice, brown rice, or flavored Mexican rice.
Using a pressure cooker is a really easy way to make beans. This recipe makes about seven servings.
Budget-Friendly Meal Idea: Caribbean Beans and Rice
We eat quite a bit of chicken, and whole chickens are often less expensive than pieces like breasts.
Cooking a chicken is simple in an Instant Pot. I always prefer a bigger chicken (6+ lbs) as you get more servings, and I also use the carcass to make homemade bone broth.
More Instant Pot Inspiration:
Instant Pot Applesauce with Cinnamon
The next recipe in this category can be made in either the Instant Pot or a slow cooker.
It combines ground beef with Italian seasoning, cheddar cheese and tomato sauce to make a very flavorful meal!
It makes about six servings.
​This is a simple but delicious soup recipe that's also very budget-friendly.
This recipe serves about six people.
Sweet potatoes are a frequent fare in my house. I love the idea of combining sweet potatoes with ground turkey, beans and peppers to make a satisfying chili!
This recipe uses olive oil for sautéing the onions, which adds even more flavor. It serves six people.
​Cheap Chicken Meals
The last category in my list of affordable large-family recipes is chicken.
Chicken is often more budget-friendly than beef, and can be used in so many different recipes.
It's true that chicken-based meals can be a great friend to a large family mom!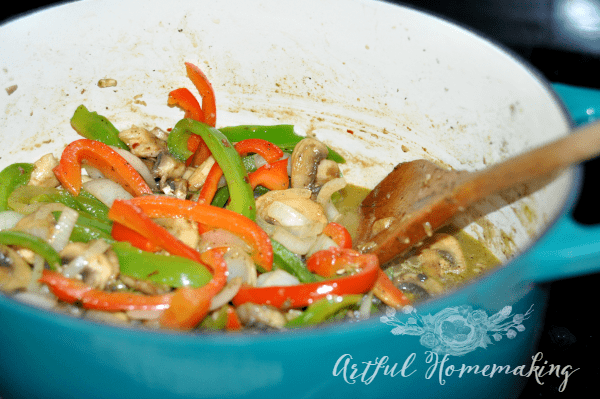 This chicken recipe is a favorite of the guys in my house.
It uses chicken thighs with onions, peppers, garlic and mushrooms to make a very flavorful supper dish.
It makes six to eight servings.
This delicious chicken spaghetti recipe combines three different cheeses with Rotel tomatoes to make one of the best easy dinner ideas.
It makes six servings.
This recipe uses packaged pizza crusts or flatbread and shredded chicken to make homemade pizza.
The recipes makes four servings so it would need to be doubled to feed a big family.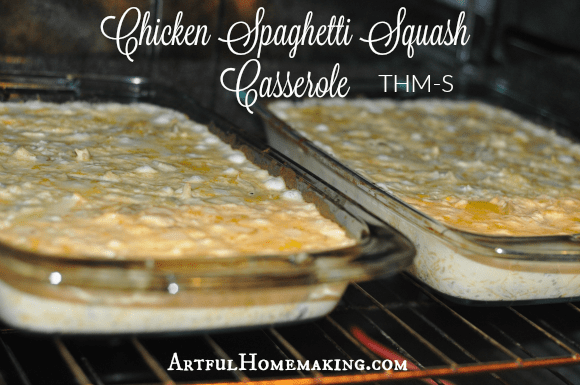 For a couple of years, I tried to follow the Trim Healthy Mama diet plan. I no longer follow that diet, although I still think it's a healthy way to eat for many people.
But this particular THM-compliant recipe was always a huge hit in my house.
It takes a little longer to prepare than some of the other recipes, but the results are worth it.
It makes about eight servings.
This recipe uses chicken drumsticks, which are a staple in our family. I've found that drumsticks are often the most affordable type of chicken at the grocery store.
Along with the chicken, this recipe uses rice and vegetables, making a truly one-pot meat.
It serves four but could be easily doubled.
The final entry in our list of affordable chicken family meals is one that combines the sumptuous flavors of garlic with honey.
This recipe is pretty quick to make and will be a hit with many families. It serves eight.
Final Thoughts on Large Family Meals on a Budget
I really hope you've enjoyed looking through this list of some of the best budget-friendly, cheap dinner ideas suitable for big families.
Whether you like using an Instant Pot or slow cooker, or prefer more traditional ground beef or chicken dishes, I hope you'll try some of these different meals.
The good news is that with some planning, it is possible to feed a large family in a way that's both affordable and nutritious.