Can  you believe this year is almost over?!
One of my favorite things about starting a new year is getting to pick out and buy a new planner! I love dreaming about the coming year and filling my calendar with all the important things: birthdays, anniversaries, vacations, and goals.
Even if the year doesn't go as planned (as they pretty much never do!), I still enjoy the entire process of setting goals and making plans.
As I was making plans for the coming year, I decided I wanted to try an all-new (to me) planner.
I've been really enjoying the Erin Condren Teacher Lesson Planner that I bought before this school year started. It's actually the first lesson planner I've used for this long! Usually I start them and then stop using them after a month or two. But this one inspires me and I'm still happily using it!
Because of positive experience I've had with the teacher planner, I decided to try an Erin Condren Life Planner this year.
Erin Condren Life Planner Review
First of all, Erin Condren sends your order in a beautiful box!
And there are always lots of goodies included (for free), like stickers, postcards, and more!
I chose the Watercolor Floral design, with platinum coils. I am completely inspired by the beauty of this planner!
You also get to choose whether you want to add your name or a quote to the front (at no extra charge). You can also add photos!
The inside (front and back) features a cover you can write on with a wet-erase marker (which you can also get from Erin Condren). And that page on the right is a beautiful vellum sheet.
There's a 2-page spread for writing down monthly goals/projects/whatever inspires you!
You have the option of ordering either a neutral theme or a colorful theme, and I chose the colorful one. I had a hard time deciding, because the neutral theme had a beautiful font that I really liked, but I'm glad now that I chose the colors—they're so cheerful!
You have several weekly layout choices, but I went with the vertical layout. This layout has the week on a two-page spread and then each day is divided up into 3 boxes. You can use these boxes in so many different ways. Some people divide them up between morning, noon, and evening, or you could divide them up based on type of activity.
After some graph paper pages, you also get some beautiful blank pages for brainstorming or planning out a special project.
In the back you get several pages of stickers, including some blank ones so you can personalize them.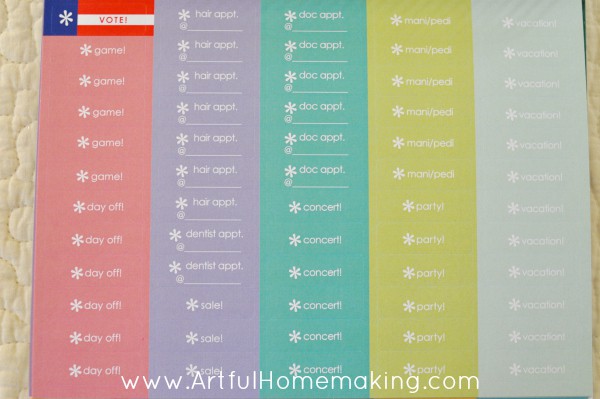 The back of the planner includes a pocket (and there's another pocket on the back side of this one):
And you also get a plastic pouch for storage! This pouch can be attached inside your planner. I love how handy this is.
Inside the pouch you also get a sample sticker book (filled with some of the most beautiful stickers!), some little "compliment cards," which you can give to friends or use as bookmarks, and coupons for your next order!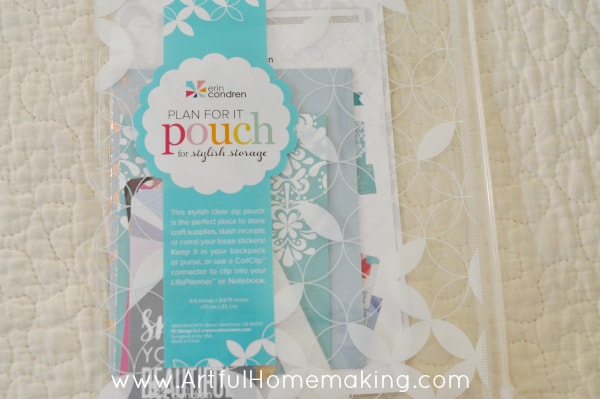 My Thoughts On This Planner
Overall, I think this is a beautiful planner! I love the strength of the metal coils, the durability of the cover, and the colorful design.
I do wish it had a bit more space and guidance for goal-setting, but this is much more thorough than the planner I used last year. While I thought the planner I used last year was lovely (and the best I had used up to that point), it was a bit too simple.
Disclosure: This post contains my referral link. Read my full disclosure here. Sharing this post here.