Create an evening routine for homemakers that will help you close out the day with a sense of peace, knowing you're prepared for tomorrow!
When you have a routine in place, your life will be simplified and you might even sleep better, knowing you can wake up ready for another busy day of homemaking.
Last week we talked about the importance of a morning routine, and how it really helps to jumpstart your day. And while a morning routine is so important, I'd have to say that the evening routine is even more important!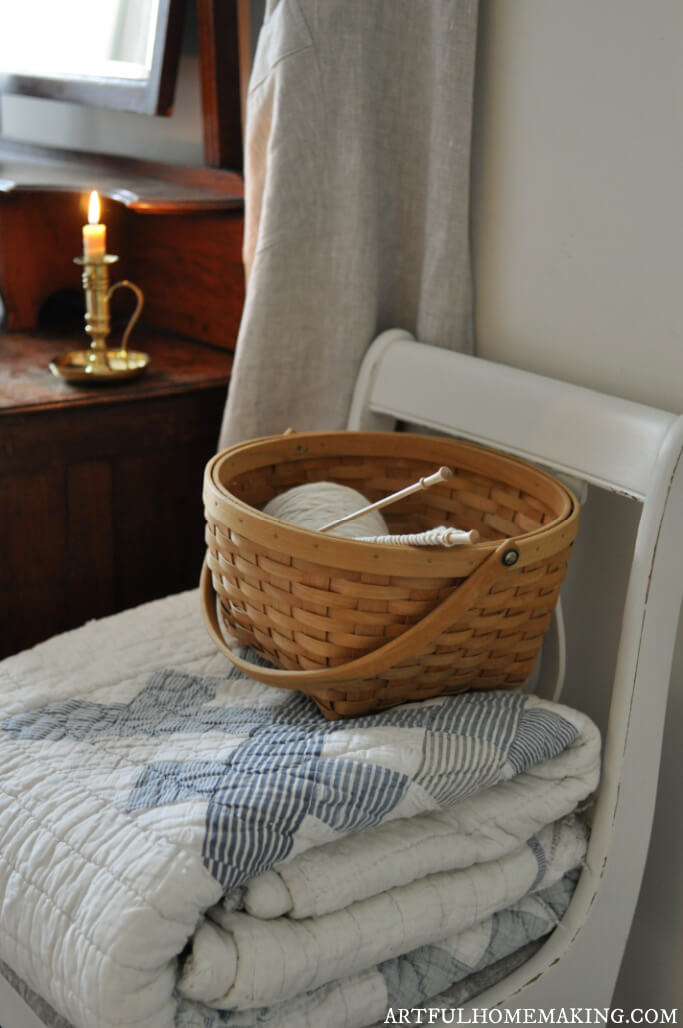 What Is an Evening Routine?
An evening routine is just a set of predetermined tasks that you do each night before going to bed in order to prepare for the coming day.
As you perform these tasks each and every day, they will eventually become habits.
The ultimate goal of these habits is to help you end the day prepped for the next day.
Then, when you wake up in the morning, you're ready to go! Decision fatigue is eliminated because you've already made the important decisions when you set up your routine.
Years ago, I set up morning, afternoon, and evening routines, and it was such a help to me as a young homemaker!
I've had to regularly revise and change my routines as my children have grown and life has changed. That's just part of it. Schedules and routines are meant to change with us.
And even though my routines look quite a bit different today than they did in the beginning, they still serve me well when I'm able to follow them.
I can't tell you how much peace my various routines have brought me through the years!
Read Next: Create a Morning Routine for Homemakers
What Should an Evening Routine for Homemakers Include?
Wondering what should be included in your evening routine? Well, this will vary depending on your personal life circumstances and personal needs.
There are many different items that could be included, and it's up to you to determine what will be most helpful to you in your unique season of life.
Here are just a few possibilities:
Do a quick pick-up of main living area
Put the kitchen to bed (clean sink, and counters, start dishwasher, sweep floor)
Prep breakfast and lunch for following day
Set purse, keys, backpacks, and anything else you'll need tomorrow by the front door
Lay out clothes for tomorrow
Take a bath or shower
Get ready for bed
Brush teeth
Make to-do list for tomorrow
Check calendar
Read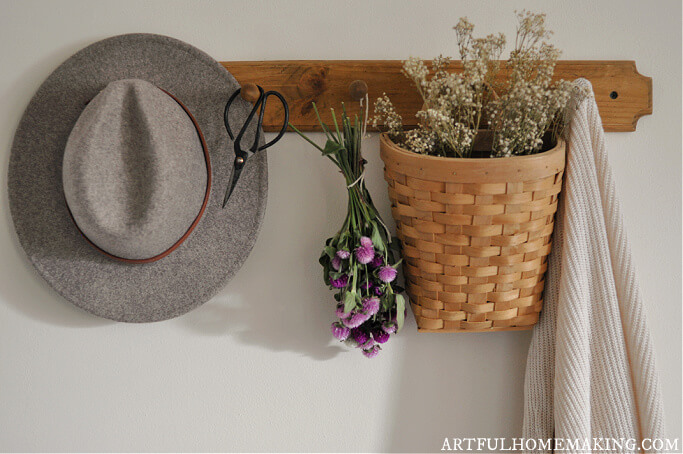 An Evening Routine for Homemakers
An evening routine for full-time homemakers and work-from-home homemakers will look a bit different than one for homemakers who work outside the home.
For instance, full-time homemakers may not need to set keys and other items by the door every day, just on days when they have an appointment or outing planned.
I'm a work-at-home homemaker, and I try to stay at home as much as possible! So there are quite a few days a week where I don't leave the house.
I also homeschool my children, so I don't need to pack school lunches or make sure homework and books are in backpacks for the following day.
However, I do need to think about meals and make sure the house is tidied up so we're ready for another day of homeschooling.
On the days when I am careful to follow my evening routine, the following day goes so much more smoothly.
Read Next: The Secret to Successful Mornings
If you're a homemaker with an outside-the-home job, the evening routine can transform a hectic morning into a peaceful one.
Imagine having your clothes picked out and waiting for you to put them on.
Imagine knowing what's for breakfast when you wake up in the morning.
Purse, keys, jacket, and shoes are by the door so you don't have to hunt for them.
Lunches are packed and waiting to be grabbed before heading out the door.
And there is so much more that could be included in your routine! It really will eliminate so much stress in your life.
How to Create Your Own Evening Schedule
The steps for creating your evening routine are similar to the ones we use for setting up a morning routine.
1. First, ask yourself what would make your life easier in the morning. Here are a few suggestions to get you started:
Waking up to a clean kitchen
Having clothes picked out (yours and your children's if you're a mom of small children)
Knowing what's for breakfast
Knowing where your keys are
2. Next, what steps do you need to take every evening to make these things a reality? Do you need to pick up the living room, clean the kitchen after dinner, prep some food?
3. Don't forget about the things that will bring peace to your night and help you sleep better. What would end the day on a positive, peaceful note?
Here are a few ideas:
Turn off phones/devices at least a couple of hours before bed
Wash face and brush teeth
Take a bath or shower
Get ready for bed
Read in bed
Whatever makes you feel cozy and ready for sleep would be a great thing to include on your evening routine!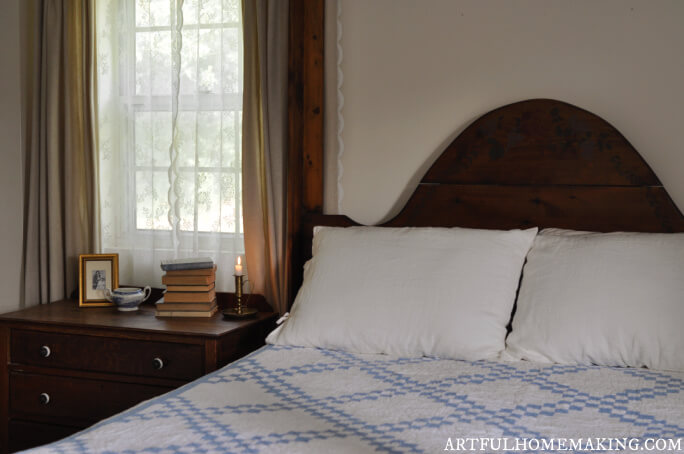 My Current Evening Routine
I know it's often helpful to see a practical example of what an evening routine for homemakers might look like.
So, here's my current evening routine:
Straighten kitchen (do dishes, wipe down counters and table and sweep)
Pick up and tidy living room (5 minutes)
Check meal plan and get food out to thaw if needed
Family devotion time
Get ready for bed
Say goodnight and pray with kids
Make to-do list
Check planner/calendar
Read in bed for awhile
The above list is my ideal evening routine. (My kids help with cleaning up after dinner, so I'm not doing that alone.)
It doesn't always work out perfectly (and often I need to be flexible with the time, since my kids are older and the best conversations tend to happen before bed!).
But I still find it helpful to have a goal for the nighttime hours. Just having this framework really helps me to know what to do next and discourages me from wasting time.
How to Implement Your New Routine
Whenever you're getting started with a new routine and new habits, it's helpful to keep it simple at first. It may be helpful to just do the first few items to start off with.
Then, as you get used to the first item or two, you can add in more tasks.
One thing I've always found helpful is to write my routines down and post them where I can see them often.
A great place to post your evening routine is by the bathroom mirror. You're usually in the bathroom at least several times a day, so it's a place where you'll be sure to see it!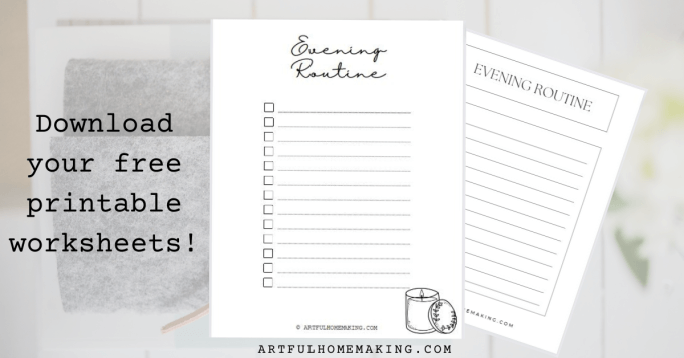 Get the Evening Routine Printable!
Be sure to download your evening routine printables here!
Pick the design that appeals the most to you (there are two different ones to choose from), write down your new evening routine, and post it on the wall somewhere you'll be sure to see it often as you're forming new habits!
I like to print mine off, add my routines, then slip it into a plastic page protector so I can use dry erase marker with it. In the early days of trying to follow a new routine, sometimes it can be helpful to check off the items as they're completed each day.
I hope this is helpful to you! Having an evening routine for homemakers will really make your day so much more productive and peaceful at the same time!
Read Next: Create a Morning Routine for Homemakers
More Homemaking Help