Tips for how to create a joyful home atmosphere, using what you have, right where you are.
As a homemaker, one of my highest aspirations is to create a joyful home. I want our home to be a place of refuge, comfort, peace, and happiness.
One definition of "joyful" is:
"feeling, expressing, or causing great pleasure and happiness."
Wouldn't you love for joy to be the defining characteristic of your home?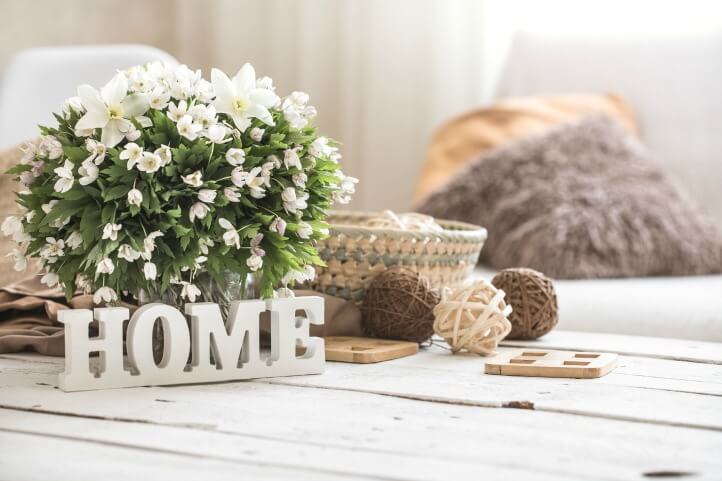 A Joyful Home
In all my years of homemaking, there was always something I was striving for. Something I couldn't quite define when I started out as a young wife over twenty years ago.
I wanted our home to be a place where every member of our family would feel loved and accepted.
I wanted to create happy memories through fun and meaningful family traditions.
How I longed for sweet and satisfying family relationships, including close friendships between siblings.
In addition, I wanted our home to feel peaceful and orderly, without chaos and disorganization.
I wanted our home to be a haven, a place where we could go to feel safe and be refreshed.
What I really wanted was to create a joyful home.
How to Create a Joyful Home
After I realized what exactly it was that I was after, my question became, "How can I create a joyful home?"
In the midst of all the busyness and stress of raising children, paying bills, cooking, cleaning, working, and trying to maintain a strong marriage, I wondered where to even start!
But then I realized that I had been working towards this goal all along.
Even though I hadn't defined my mission before, I knew I wanted to create a home filled with love and happy memories.
I'm going to share what I believe are the key ways that you can create a joyful, happy home life.
Get a Vision for Your Home
I've shared before how important it is to have a vision for your home and family life.
RELATED: 7 Habits of Highly Effective Homemakers
After all, without a vision of what you hope to accomplish, how can you make it happen?
So, the first step would be to spend some time dreaming. It might be helpful to ask yourself the following questions:
1. What would your ideal home look like? (And we're not talking about decor right now, but the atmosphere.)
2. What brings you joy? How could you incorporate these elements into your home life?
3. What traditions could you start with your family that would bring joy and fun into your home and family relationships?
4. Are there things about your home or family schedule that are keeping the atmosphere from being joyful? How could you improve or change this?
5. And finally, what improvements could you make (using what you have or staying within your means) to your home physically? Are there things you could change that would improve the atmosphere? Keep in mind that joy isn't dependent on outward things, like the appearance of your home. But sometimes things like too much clutter can really be a discouragement and a distraction! And, decluttering is free!
This post contains affiliate links, which means I may make a small commission at no extra cost to you. Read my disclosure here.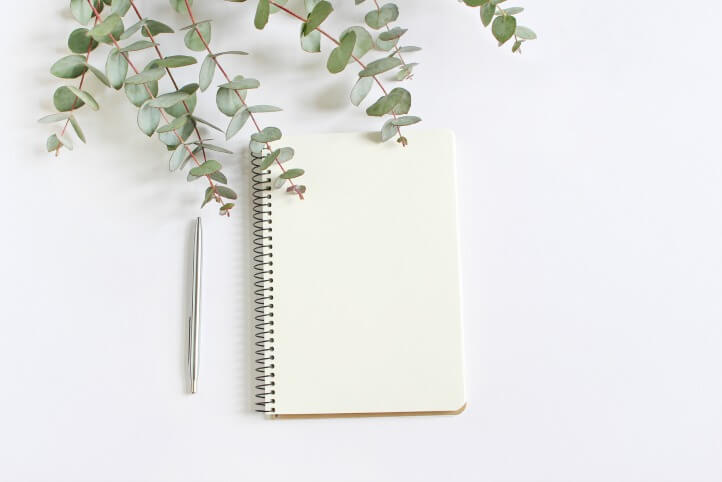 Write Your Vision Down on Paper
When I'm coming up with a vision for anything in my life, I find it helpful to start with a blank piece of paper.
Then just write down whatever comes to mind. In this case, whenever you think about creating a joyful home, what words come to mind? What images do you see?
Write these thoughts down, without editing them at first. Just get them all out on paper. You can edit later.
The  important thing is to just get all those thoughts, dreams, and ideas out of your head.
After you've done this "stream of consciousness" exercise, it's time to make some sense of what you wrote down.
Get a fresh sheet of paper and try to put all those ideas down into one cohesive, intentional vision for your home.
It's a great idea to file your vision paper in your homemaking binder. And, you could also transfer it to your planner (this is the one I use).
Simplify Your Home
One thing that can really rob a home of joy and peace is clutter and disorder.
As much as possible, eliminate clutter from your home. If you need some help getting started with decluttering, read this post.
Take this 31-Day Home Decluttering Challenge for more help in simplifying your home!
It's an amazing fact that when you declutter and simplify, you often find that you fall in love with the home you already have!
RELATED: How to Love the Home You Have
Create Home Maintenance Routines
This goes along with simplifying your home. In order to create a joyful home, don't neglect to establish routines that make maintaining your home a breeze.
I don't know about you, but mess and disorder are a huge discouragement to me. They're definitely joy-stealers!
Since I know this about myself (that I thrive when things are neat and orderly), I try to create routines that help me keep up with my many homemaking tasks.
I'm not always successful with staying on top of things, but whenever I have a routine in place, it greatly helps me.
Consider creating a daily schedule, cleaning routine, and a meal plan for starters.
Having a well-run home will go far in helping to create a joy-filled home atmosphere.
Make Meals Special
It's not surprising that much social bonding occurs over meals eaten together.
There's just something about sharing a meal with friends and family that strengthens relationships.
Use mealtime to create joy in your home. Try to make it special!
Here are seven ideas for making meals a bit more special:
Use the "good" dishes every once in awhile!
Eat by candlelight.
Put on some peaceful background music (instrumental is best here, so it doesn't interfere with conversation).
Have theme nights, like Taco Tuesday, or Mexican, Italian, or Chinese Night
Celebrate holidays with special food, table settings and decor.
Come to the table with conversation starters to keep the conversation lively.
Don't rush! Stay at the table and enjoy the fellowship.
Create Fun and Meaningful Family Traditions
In addition to making mealtime special, be sure to create some fun and memorable family traditions.
Starting a new tradition isn't hard. It simply requires that you repeat the experience over and over again. After doing it for just a couple of years in succession, your family will come to expect you to do it again the following year.
And, remember that family traditions don't have to be elaborate at all. Sometimes the simplest things become the best memories.
For instance, years ago, I started a tradition of making cut-out cookies with my kids at the change of each season.
This was a very simple and inexpensive thing to do, but my kids loved it! And even today, now that they're all older, they still look forward to making cookies at the beginning of each season.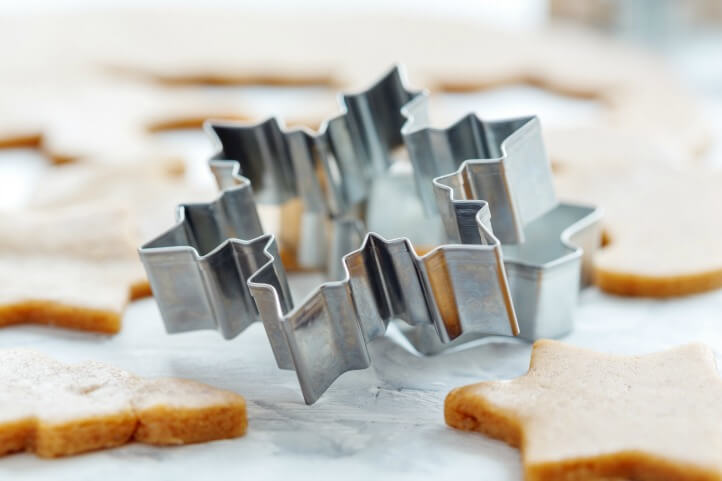 Here are a few family traditions you could start:
Sunday afternoon tea parties
After dinner read aloud time
Seasonal cookie baking (or making another food together)
Saturday afternoon hikes
The possibilities are limitless! Plan whatever would make a special memory and be fun for your family.
Speak Affirming Words
I can't emphasize this one enough. The words we speak are powerful, and they matter much more than we'll ever know.
The words we speak will have a direct impact on how joyful our home atmosphere is.
Do whatever you have to do to make a habit of speaking positive, encouraging words to your husband and children.
This is one of the most challenging habits to build into your life, but I know it's so worth it!
Since "out of the overflow of the heart the mouth speaks," it's really important to watch what we allow into our heart.
If we can control our thoughts, we'll have more victory in the area of our speech.
Be sure to make words of affirmation, encouragement, and love a priority in your home.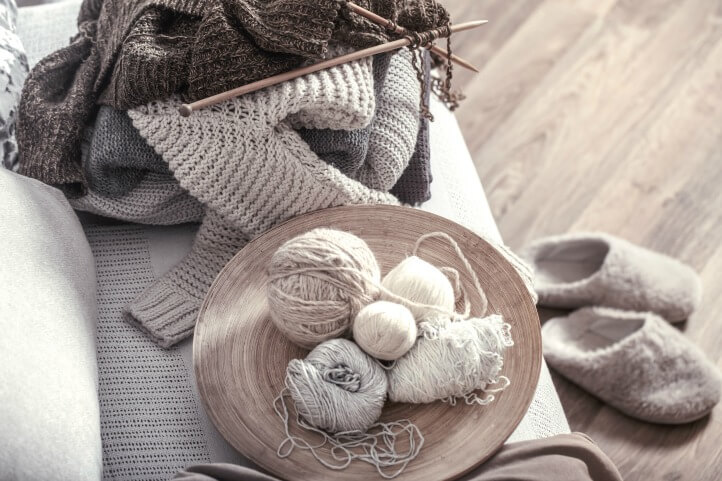 Cultivate a Joyful Heart
In reality, this is where we should start when we set out to create a joyful home.
We should start with our own heart.
As homemakers (whether we're full-time homemakers or we work outside the home), we have such an impact on the atmosphere in our home.
And you can only give out what you put in. You can't draw water from an empty well.
Try to take care of yourself!
Here are some simple ways to nurture your body and soul:
Get enough sleep (if you have a baby or small children, try to nap when they nap)
Eat nourishing, healthy food
Have a daily devotional/quiet time
Read encouraging books
Exercise regularly (walking is simple and free, and it will get you outside—as a bonus, nature feeds the soul)
Invest in encouraging relationships, if possible
Make time for joy (schedule time for hobbies, time with friends, date night with your husband, etc.)
Practice gratitude (keeping a gratitude journal helps with this)
Smile more!
A joyful, cheerful attitude is so important.
We only get one life to live, so let's try to live our one life with joy, making the most of every moment.
I know this is another challenging habit to cultivate. As someone who isn't a "Pollyanna" type, I have to work at this too (even though my name is Joy!). 🙂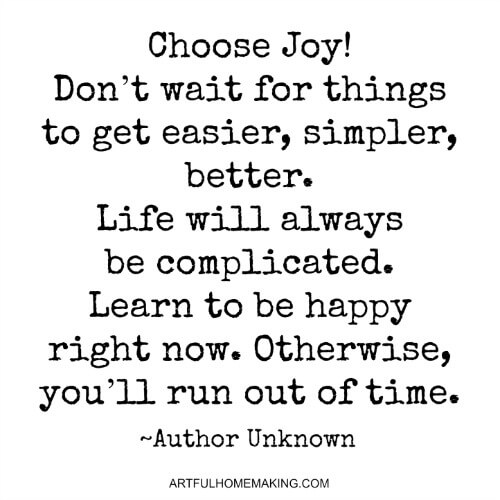 A Joyful Home is Worth It
All of this may sound like an awful lot of trouble, just to create a joyful home.
And it's true, it does require a significant amount of work and effort to realize your dreams.
Being an intentional homemaker isn't easy. But it's so incredibly worth it!
This is building into our home and family in a meaningful way, and it all adds up to a legacy that will last.
Long after we're gone, our families will still be remembering us as creative, joyful homemakers, and they'll remember all the special memories that were made.
Memories that wouldn't have happened if we hadn't been willing to invest in our homes and the people in them.
Related Posts
Pin This Post for Later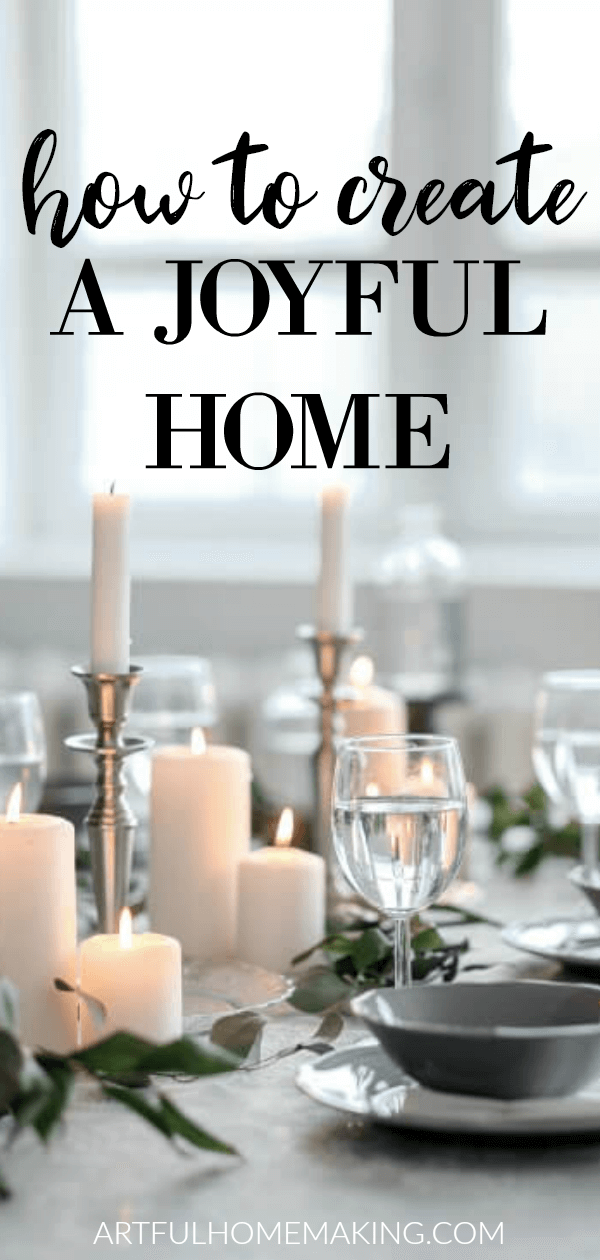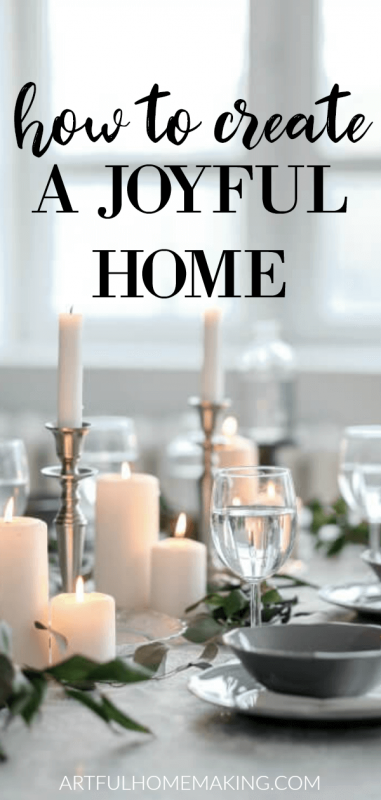 This post contains affiliate links, which means I make a small commission at no extra cost to you. Read my disclosure here. Sharing here.