Homemaking is an art. It takes time and skill to create a beautiful home life. This page contains some of the best articles and resources for home artists (otherwise known as homemakers!).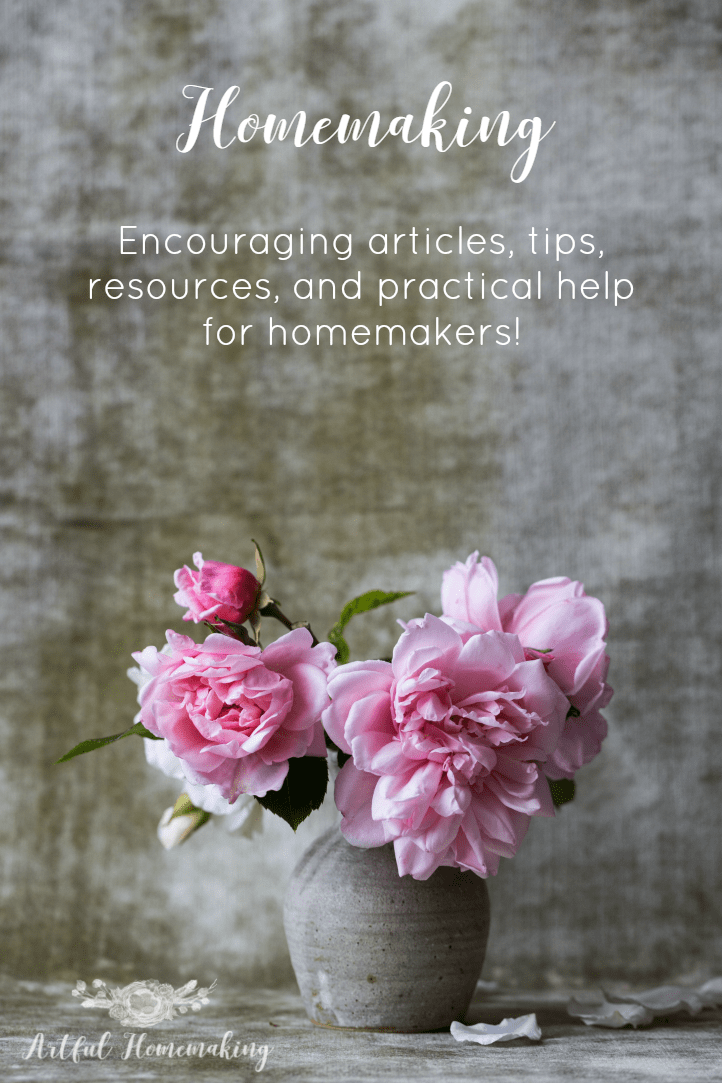 Affiliate links included for your convenience. Read my full disclosure policy.
Homemaking
Homemaking is more than just cooking and cleaning and making meals. Although those things are part of our daily homemaking tasks, we must remember our vision and our goal: to create a beautiful, vibrant home life that nurtures our own soul and the soul of anyone who enters our doors. My goal is to create a life-giving home.
Articles on Homemaking
7 Habits of Highly Effective Homemakers
The Secret to Successful Mornings
One Simple Habit That Will Revolutionize Your Days
How to Create a Family Mission Statement
Encouragement and Help for Homemakers
My Daily Schedule and Routines
Cleaning and Organizing
7 Things to Do Every Day to Keep Your House Clean
My Cleaning and Home Management Schedule
What to Do When Your Whole House is a Mess
The Life-Changing Power of 15 Minutes
Two Books That Changed the Way I Organize
Spring Cleaning Plan + Free Printable Checklist
Farmhouse Style Organization and Storage Solutions
12 Creative and Smart Kitchen Organization Ideas
Homemaking with Kids
Age-Appropriate Chores for Kids with Free Printable
The KonMari Method: Organizing with Kids
Home Atmosphere (Decorating)
Farmhouse Style Master Bedroom Updates
How to Install a Beadboard Kitchen Backsplash
Homemaking Resources
Here are some of my favorite homemaking books and resources.
The Hidden Art of Homemaking (The book that inspired this blog to begin with!)
The Lifegiving Home (LOVE this book!)
The Lifegiving Home Experience (This book goes well with the above book.)
The Complete Book of Home Organization (My favorite home organization book!)
Home Management Plain and Simple
The Livingwell Planner (The wonderful planner I'm using this year! You can read my review here.)
The Homemaker's Friend Planner (This planner is also great—I used it for several years. Read my review here.)
PowerSheets (These goal planning sheets help me be intentional with my life! Read my review here.)
Find even more homemaking inspiration on my homemaking Pinterest board:
This post contains affiliate links. Read my full disclosure policy.