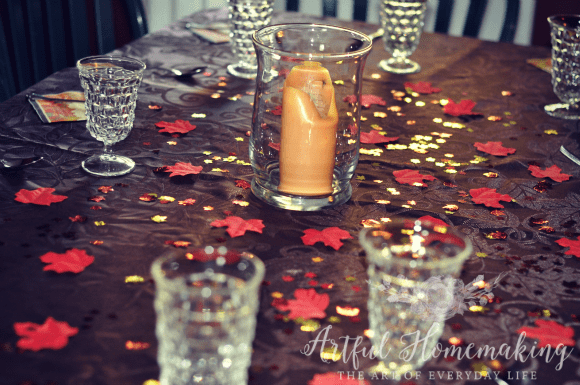 As the weather turns cooler, it seems that I naturally gravitate more toward my home and making it cozy inside.
I was feeling like my kitchen and dining area could look a bit less cluttered. Our house is on the smaller side, and our kitchen has quite a few things about it that I find inconvenient. But I'm so thankful for warmth and the joy of all being home together as a family. Trying to look at the positives can really make a difference!
I moved a few things around in our kitchen/dining area, and it made a big impact. Everything looks a lot less cluttered now that I switched those few items of furniture, and I didn't spend a thing for this transformation!
Last month we had several birthdays. For my husband's birthday I got out a fall tablecloth and used the nice glasses that my mom gave me several years ago. I found the leaves, leaf confetti, and the fall napkins in our fall decor box.
The leaves and confetti have been used several times the past few years, but I just put them carefully away in a little plastic bag at the end of the meal, and then I can use them again. I found the napkins at an end-of-season sale last year.
Decorating the table for fall is one of my favorite things!