How to bleach drop cloth to use for slipcovers and other sewing projects.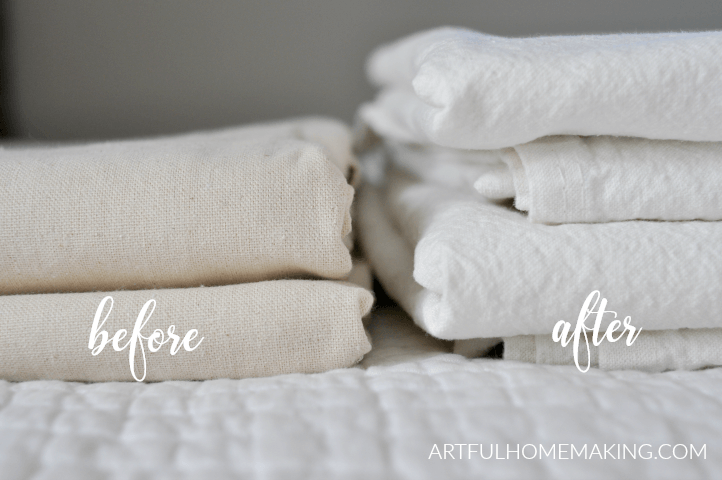 Drop cloths are a great source of inexpensive, durable fabric. You can use drop cloth to make slipcovers, curtains, and so many other things!
I've got a sewing project in mind that requires quite a bit of heavy-duty fabric, so I decided to use drop cloths.
Here's how to bleach drop cloth to make it white. (And, as an added benefit, bleaching a dropcloth also softens the fabric to make it easier to sew.)
How to Bleach Drop Cloth
Affiliate links are included below. Read my disclosure here. 
Bleaching a drop cloth is actually a fairly simple process, but there are a few "rules" that must be followed if you want to get the best results.
First, you must use a 100 percent cotton drop cloth. If you try to bleach a drop cloth that has polyester in it, it's not going to work properly.
This is the drop cloth I use, and it has worked really well for bleaching.
1. Cut it in half.
After removing the drop cloth from the package, go ahead and cut it in half down the seam. The drop cloth would be too bulky to bleach the whole thing at once, so that's why we're cutting it.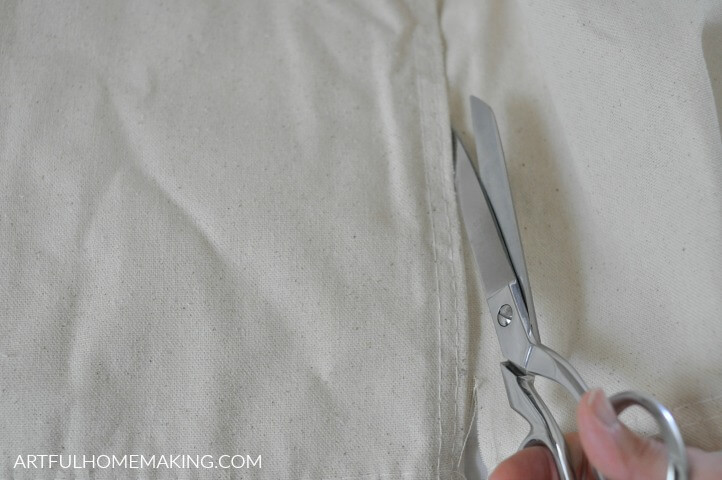 I just make a snip at the edge with my scissors, and you can rip it the rest of the way (at the other end of the seam, you'll probably need to cut it again with scissors).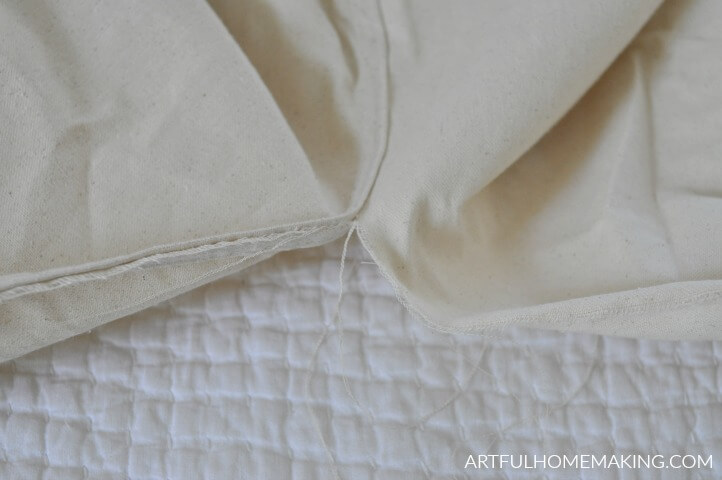 2. Use a Top Loading Machine
The second "rule" to follow for successfully bleaching a drop cloth is to use a top loading washing machine.
We have a front loading washing machine, so I go over to my mom's house and borrow her top loader to bleach my drop cloths.
I've heard you can also bleach drop cloth in a bathtub, but I haven't tried that so I'm not sure how well it would work.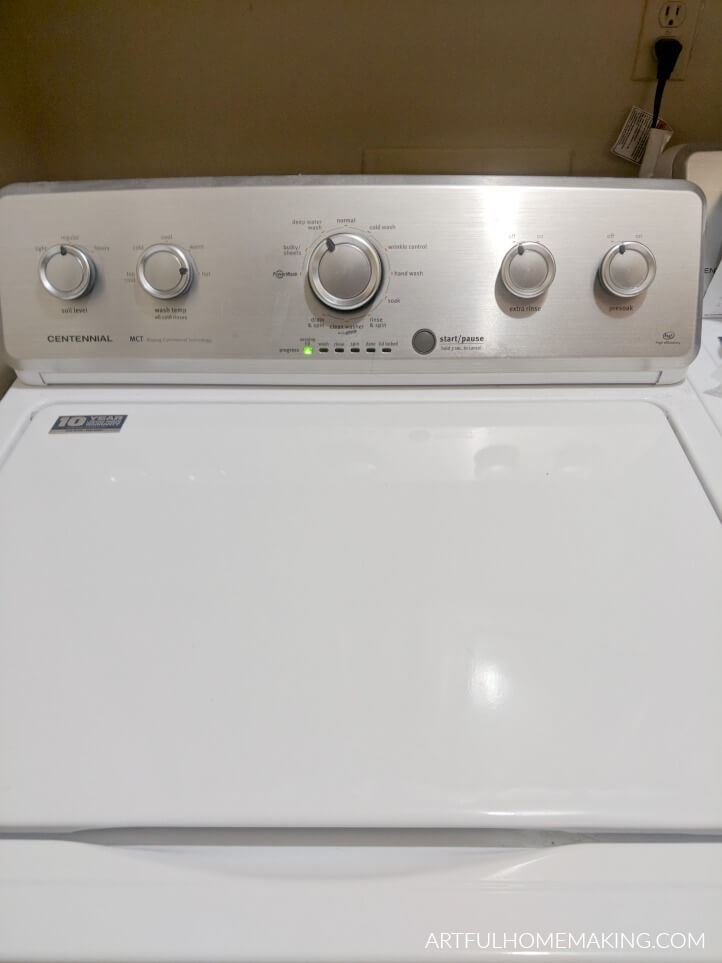 3. Use Hot Water
After cutting the drop cloth down the center seam, I put one half of it loosely into the top loading washing machine. Then I start the washer and let it fill with hot water.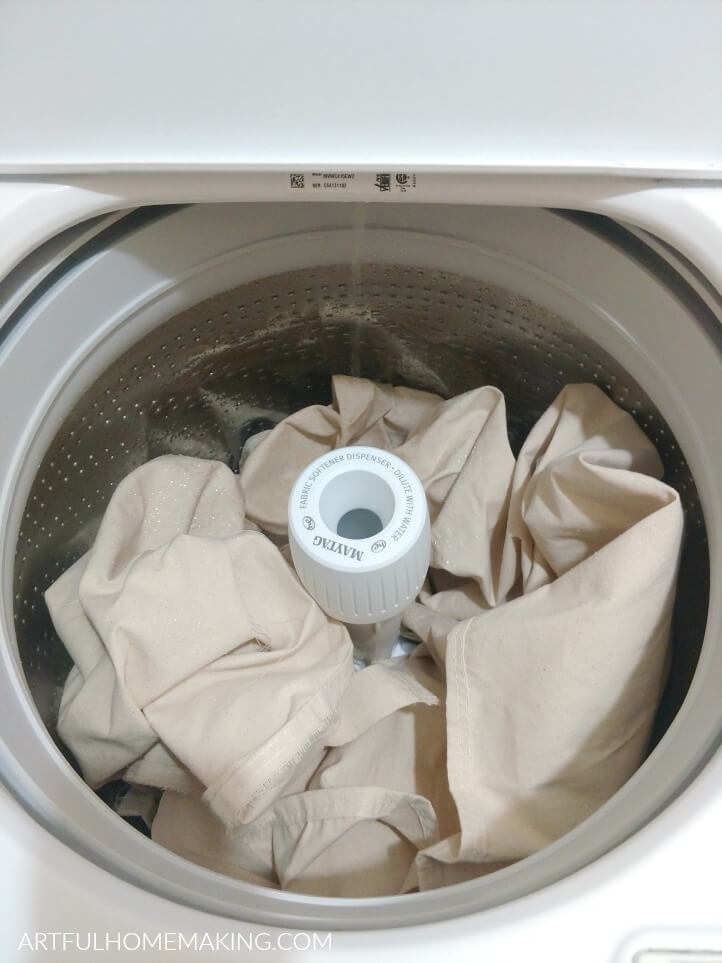 4. Use LOTS of Bleach
This process requires a ton of bleach. I don't like to use a lot of bleach, but you have to if you want your drop cloth to turn out white.
Another reason I go over to Mom's house when I want to bleach drop cloths. We have a septic system, and you do not want all that bleach going into your septic system.
Mom also had several bottles of bleach sitting around, so here's what I used this time: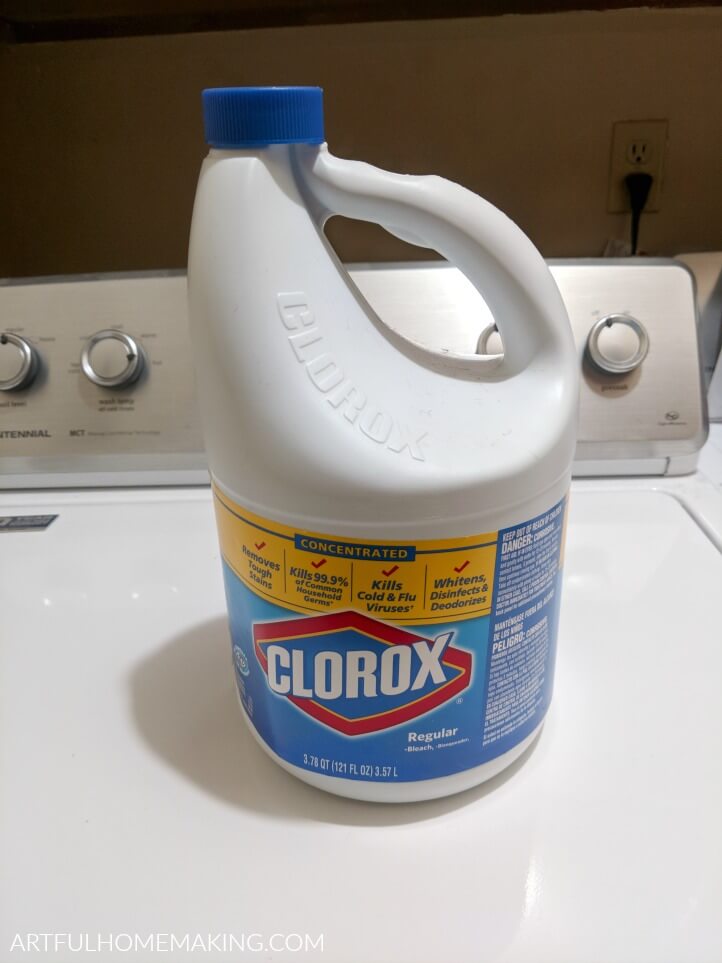 So, after letting the washing machine fill with hot water, when it's just about full, I start adding the bleach. I add 8-10 cups of bleach, depending on how long I have to let it sit.
If I have more time, 8 cups is sufficient. If I need to get home and want to speed up the process, I use 10.
Mom's washer doesn't fill all the way up with water, even if you set it on the largest load size. It has a sensor that prevents that.
So, what I do is, after the washer is almost done filling with water, I dilute the bleach in a pitcher with some hot water. Then I pour the diluted bleach into the washing machine around the drop cloth.
Let the washer agitate for a minute or so, and then pause it. Mom's machine has a "pause" button, or you might be able to pull out the knob or something to put the cycle on hold.
Don't make the same mistake I did the first time, and just leave the lid open! I thought that would make the cycle pause, but after about an hour it just drained all the water out!
Set a timer for about an hour and then let it agitate some more. Then put it on pause and set the timer for another hour.
If part of the drop cloth is sticking up out of the water, push it back down with a long-handled plastic spoon or something. You want all of the fabric submerged in the bleach water so you don't end up with blotches and discolorations.
I repeat this process for about 4 hours with 8 cups of bleach.
As mentioned above, I've also let the fabric soak for 2 hours in 10 cups of bleach, and it came out just the same as the other one. They both turned out the same shade of white, even though the soaking time and amount of bleach were slightly varied.
5. Finish the Cycle
After about 4 hours, let the washing machine complete the cycle.
6. Wash it Two More Times
Leave the drop cloth in the machine and start another washing cycle (on hot). This time just add some of your laundry detergent (no bleach) and add vinegar to the rinse.
You can get by with just doing this once, but I prefer to run it through a second washing cycle with detergent, to get the bleach out of the fabric. I also add vinegar to the rinse cycle.
7. Put the Drop Cloth in the Dryer
After bleaching and washing the drop cloth, the final step is to dry it. I dry it on warm/hot just to make sure that it's totally preshrunk before attempting to sew with it.
And here's a comparison of the drop cloth before (unbleached on the left) and after (bleached on the right):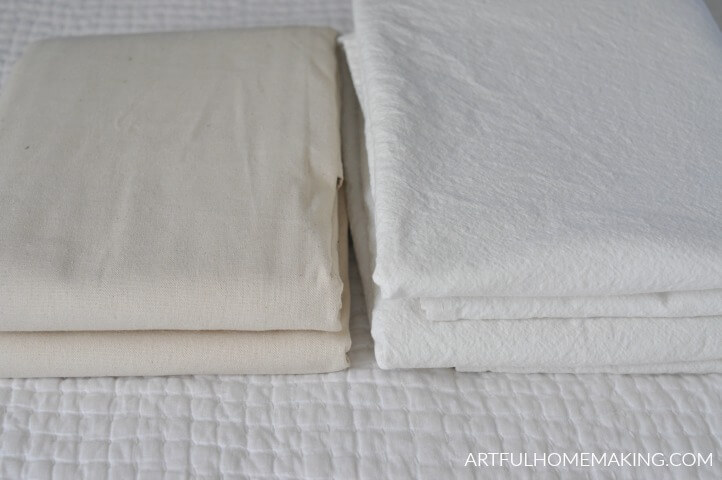 You may not be able to tell from the photos, but the unbleached drop cloth is very stiff and coarse. The bleached one on the right is much softer and lighter in color.
Print Recipe
How to Bleach Drop Cloth for Slipcovers and Sewing Projects
Learn how to bleach drop cloth for DIY projects like slipcovers and curtains.
Ingredients
1

package

100% Cotton Drop Cloth

8-10

cups

Bleach

Laundry Detergent

White Vinegar
Instructions
Remove drop cloth from the package and cut down the center seam.

Put one half of the drop cloth loosely in a top loading washing machine. (Wash the two halves separately so the bleach can be more evenly distributed and not overload the machine.)

Set washer to hottest setting and let the machine fill with water. Pause the machine.

Measure 8 cups of bleach and pour into the washer. (I dilute my bleach with water in a pitcher. To do this, I add 2 cups of bleach at a time to a plastic pitcher and then top it off with hot water. Then I add this to the machine around the drop cloth. Repeat until all 8 cups of bleach have been added to the machine.) Note: If I have less time, I add 10 cups of bleach to the water and shorten the soaking time to about 2 hours.

Un-pause the machine and let it agitate for a minute to mix the bleach into the water. Then pause the machine again and set a timer for 1 hour. After 1 hour, un-pause machine and let it agitate for a minute and then pause it again for another hour. Repeat this cycle for a total of 4 hours. Make sure all the fabric is submerged in the water, using a long-handled plastic spoon to push the fabric under the water.

After 4 hours, un-pause the machine and let it continue the wash cycle.

Start the machine again and wash the drop cloth with detergent and white vinegar in the rinse cup. Repeat again on another wash cycle with detergent and vinegar to get all the bleach out.

Dry thoroughly in a dryer to preshrink fabric.
Supplies Used in This Tutorial
I hope you've enjoyed learning how to bleach drop cloth for DIY projects and sewing projects.
Pin it for Later: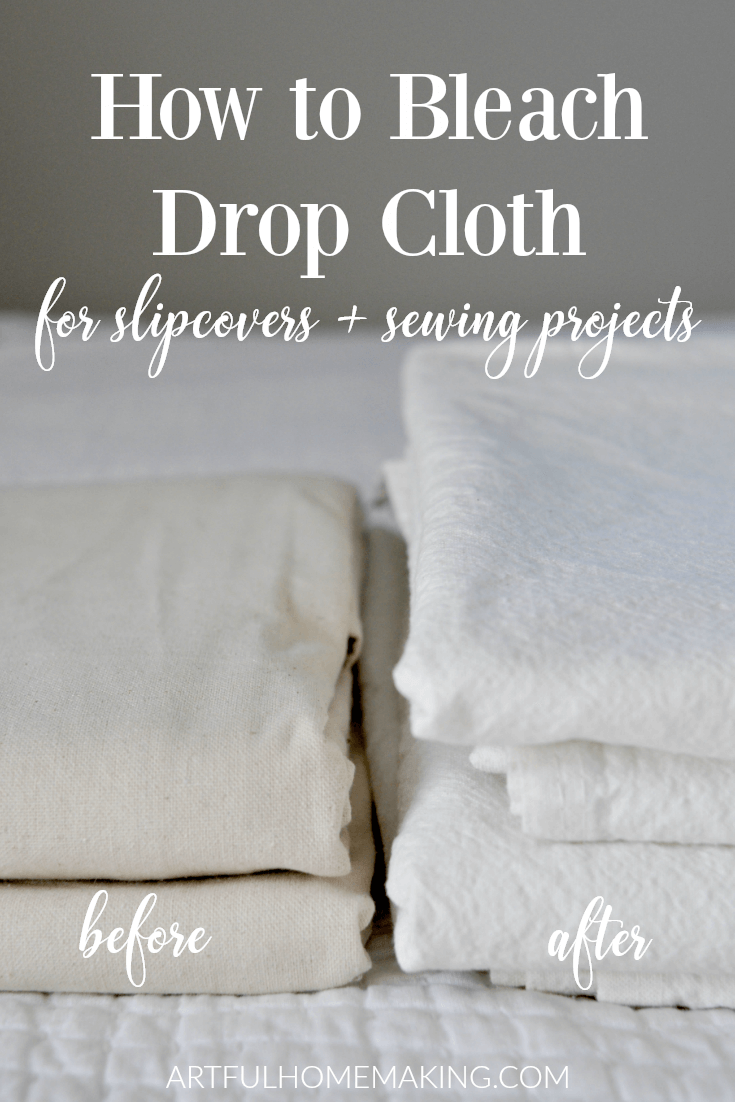 This post contains affiliate links. Read my disclosure here. Sharing here.