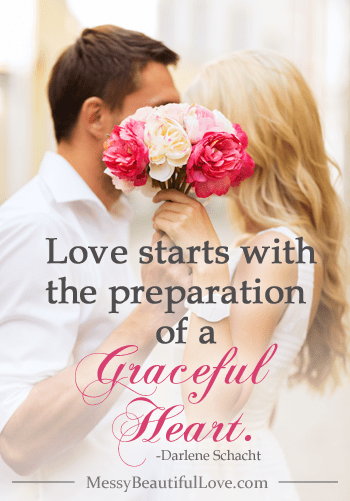 "If we want marriage to reflect the relationship between Jesus Christ and His church, and if we want to live in
unity, we must be filled with compassion, mercy, and grace. We've been forgiven. Therefore, we have much to forgive, including someone who doesn't love us the way that we think we should be loved. Paul urged us, 'Put on then, as God's chosen ones, holy and beloved, compassionate hearts, kindness, humility, meekness, and patience, bearing with one another and, if one has a complaint against another, forgiving each other; as the Lord has forgiven you, so you also must forgive.'"
~Darlene Schacht,
Messy Beautiful Love
My husband is wonderful. And he loves me well. He would never pretend to be perfect, as he is just a man, prone to mistakes and imperfection. But I have to say that he has got to be one of the most graceful people I've ever met. He has never hardened his heart against me in unforgiveness, and often he is the one to apologize first if there's something between us.
God has called each of us to put the other first, to look for ways to serve, and bring joy to our spouse. I've found that when I do that, I'm much happier and more content.
I find it very difficult to out-serve my husband. He has such a servant's heart! He's always looking for ways to serve me. He'll notice that I haven't eaten lunch, and he'll make me some. He sees when I'm feeling discouraged or overwhelmed, and he does everything he can to encourage me or lighten my load. Once our whole family was sick with the flu except for our toddler, who had had it first. Even though my husband was feeling terrible, he got up and took care of things so I wouldn't have to. What a huge blessing he is to me!
The interesting thing is that the more he serves me and loves me, the more I want to serve and bless him.
But lately, things have been hard. My husband has been sick and in a lot of pain. Pressures with work, financial concerns, sinks and toilets breaking that he needs to fix, and then his kidney stone flared up again and he has been in excruciating pain, spending a whole day vomiting and unable to keep down any pain medication. Now it's my turn to love on him and serve him to the best of my ability. Sometimes I feel so helpless, but I know I can lift him up in prayer and try to encourage him with my words. And I can extend grace to him when I know he's so weary and worn right now.
"But we have a choice. We can live by the standard of this world, which is characterized by selfish ambition and pride, or we can choose God's standard for marriage, which is perfect in every way. Sure it will still be messy at times because we're growing and learning, but when we yield our hearts to God's will, we experience His incomparable blessing on our marriages. That's a beautiful thing." ~Darlene Schacht
I'm so thankful for my husband and for our beautiful marriage that is a testimony of God's grace! We've had our share of difficulties and sorrows, and yet we love each other deeply.
"Marriage is a symphony of grace orchestrated by an almighty God, reflecting His
love to mankind. One can't help being drawn to its beauty."
~Darlene Schacht
,
Messy Beautiful Love
If you're looking for an encouraging book on marriage, I just finished
Darlene Schacht's newest book
, and I really enjoyed it. There's still time to take advantage of the pre-order freebies, too!