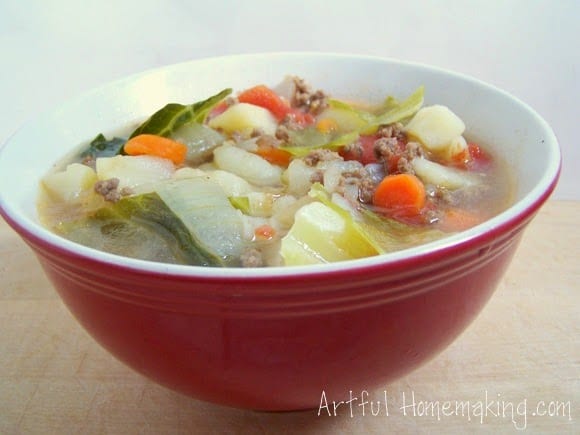 This is one of my favorite recipes, handed down from my "granny." Granny made it, then Mom made it, and now I love making it! One of the reasons I love it is because it is so incredibly simple, and adaptable to whatever you have on hand. I wouldn't be surprised if most of you make something similar. 🙂
Grandma's Hamburger Stew
Ingredients:
ground beef
onion, chopped
canned tomatoes (stewed or diced work well)
water or stock (I just guess on the amount…just enough to cook all the ingredients you plan to add.)
vegetables (fresh or frozen–corn, okra, green beans, peas, potatoes, cabbage, carrots, etc. This recipe is great for using up produce from the garden!)
rice or barley, optional
herbs, spices, salt and pepper to taste
In a large pot, brown ground beef (as our family size has grown, so does the amount of food we use…use whatever amount will be enough for your family). Cook chopped onion with the ground beef until tender. Add canned tomatoes, water, chicken or beef stock. Add vegetables and cubed potatoes (If I'm adding potatoes, I will let them cook for about 15 or 20 minutes before adding other vegetables, as they take longer to cook. Rice or barley take more like 45 minutes, so adjust your times accordingly. I like the rest of the vegetables to be cooked just long enough that they are tender, but not so long that they lose their color and delicious flavor. Season as desired (I often use a beef-flavored powder from Frontier spices, salt, pepper, and various herbs). Just use whatever you have on hand and whatever sounds good to you!
This recipe is very imprecise. It's almost more of a suggestion or idea rather than an actual recipe. However, we have always found it to be a tasty meal, especially when served with a quick bread (my favorite is a dill-onion combination), rolls, cornbread, etc.