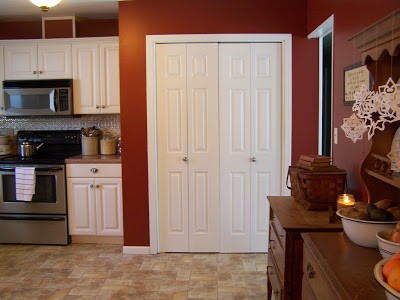 ***
This is my pantry. It's just a little space with some shelves behind two folding doors in the kitchen. When this house was built in the 60's, this little space was actually where the washer and dryer lived. The former owners moved the washer and dryer to the basement/garage area, and turned this into a little pantry. I'm thankful for it since it's the first pantry we've ever had.
The photos I showed in
yesterday's post
were actually pictures of our basement food storage area. Since we don't have much room in the kitchen, we store the bulk food downstairs. Also, these two photos were taken several years ago, so it looks a bit different now. I actually store some frequently used appliances and baking sheets on the bottom shelf, so I really have very little room to store food up here. It may look like a lot, but when you're making food for seven people, three times a day, it kind of requires a lot!
Yesterday I took inventory
of everything in our house. It was a lot of work, but I'm so glad to have that done! And it was very beneficial, since I have a better idea of what we've got to work with.
Today I'm planning to organize it all! I think and work so much better in an organized environment, and I feel an important part of the process of spending less is to know what I have and where it is. So, my main goal today is to get my pantry in better order.
I can't do anything halfway, so first I'll remove everything, wipe out the shelves and clean the floor, and then replace it all in an orderly way. If I have time, I'd really like to make some more labels for my shelves so the rest of the family can figure out where things go!