Confession time. I have a box of photos under my bed. I know, it's terrible, right? Several years' worth of photos stuck in a box, and no one is able to enjoy them. I decided this was going to be the year that I finally got them organized. Do you have this same dilemma? Are you ready to finally organize your photos?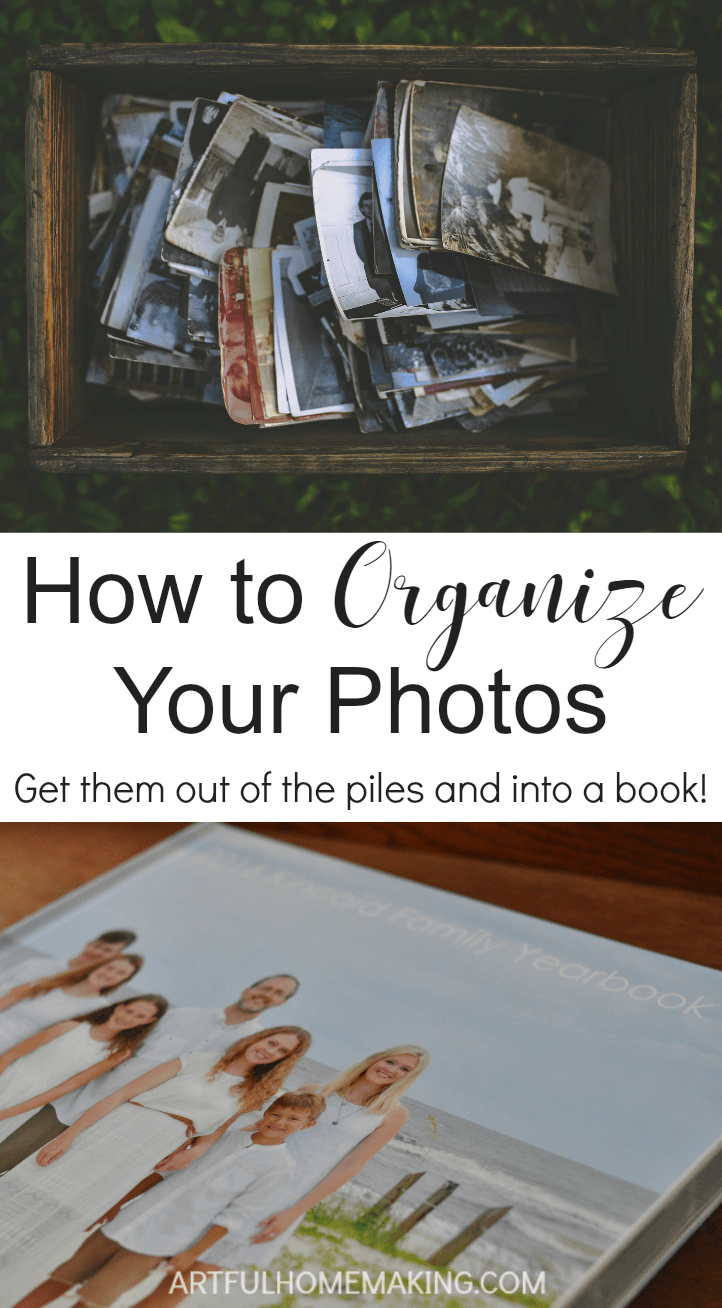 I can't remember a time when I wasn't fascinated with photography. As a little girl, I would sit for hours and look at our family photo albums.
When I started my own family, photos were still an important part of my life. I took many photos of my children!
For awhile, I tried to create scrapbooks to store our photos. But as the babies kept coming and life got crazy-busy, I realized that scrapbooking wasn't practical for me.
Photos, stickers, papers, and adhesives cluttered up our small craft area. And the photos began to pile up in a box.
As I abandoned scrapbooks, I looked for a simpler method of photo organization. I bought cheap magnetic albums and stuck all the photos in there. It was fast, but after a few years, the pages yellowed.
Next, I tried Project Life albums. It seemed simple enough. But getting all the photos printed was my struggle with this method. And there was still too much clutter.
I decided to try digital scrapbooking. It seemed like the perfect clutter-free solution! I thought viewing my photos on a screen would be better than nothing. But it just didn't feel right to me. I wanted to be able to pull out a book, cuddle up on the couch, and flip through our family memories. I just couldn't get that feel from viewing them on a screen.
The Solution to My Photo Dilemma
After a bit of searching, I finally discovered my solution.
Photo books. They're simple to create, they look beautiful, and you can fit a whole year in one book. I'm in love!
I created this photo book in four days, during our Christmas break. I don't recommend doing it this way (in a rush), but I really wanted to get this done. On December 31st, I uploaded my 294 page photo book to Blurb.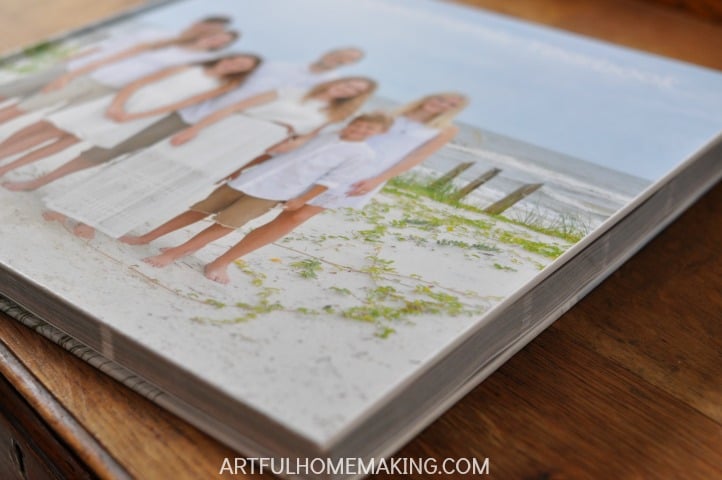 I chose Blurb because they don't limit the number of pages you can have, and their books are very high-quality.
It was such an amazing feeling to check off one of my goals before the new year even started. I've made other photo books through the years, but they were smaller books covering just one event or a few months.
When I set out to organize the whole year into a book, it felt like a massive undertaking. But it was actually very doable. Below, I'll share some tips to make the process easier.
Organize Your Photos
If you're organizing digital photos, it helps if you have them in folders on your computer. I have a folder for the year, and within that folder I create monthly folders. This makes it easy to grab the photos for a particular month and drop them into my photo book.
If you're working with printed photos, I would suggest separating them out by date. If you plan to put them in a bound book, they'll need to be scanned in first. Eventually, I'd like to scan in all of our older photos (the best ones) and make photo books with them.
Download Photo Software to Computer
To make a large photo book, you'll want to download Blurb's BookWright program. With BookWright, you can work on your photo book even when you're offline, and you won't be limited on the number of pages. My completed family yearbook was almost 300 pages!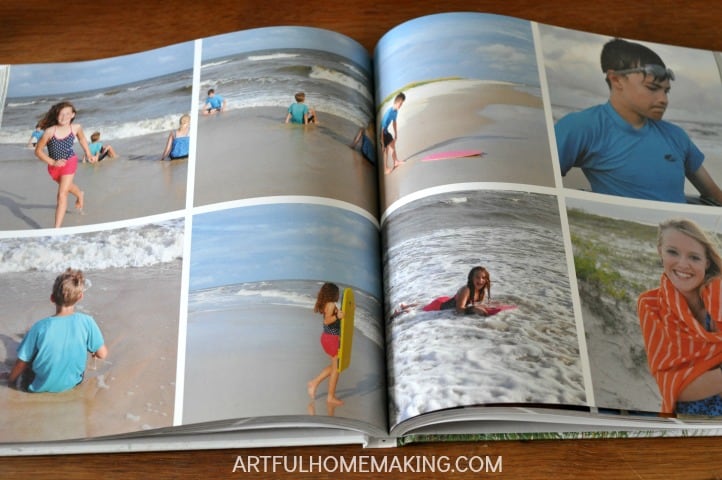 This software is wonderful to work with! It comes with a variety of templates and fonts to choose from. You can also save your favorite layouts and then it's a simple matter to add them where you want them.
Add Your Photos
Add photos to your pages by dragging them into your layout. My book had well over a thousand photos at last count. I'm not sure how many it ended up having, but let's just say it was a lot. Maybe even close to 2,000.
I used a combination of DSLR photos and phone pics. Surprisingly, the phone pics worked just fine in most cases.
Add Text
The Blurb layouts let you choose how much text you want to add. You can truly make this a family heirloom and tell your story on the pages, interspersed with photos.
My book is mostly photos, but I did include some writing here and there.
I wrote an author introduction at the beginning of my book, and I tried to include a paragraph or two for each month, detailing the highlights for that month. I also wrote a final paragraph on the last page.
Edit, Edit, Edit
To make sure you don't end up with typos or mistakes, be sure to edit your book before you upload it!
Upload Your Book
The final step is to upload your book to Blurb. Depending on the size of your book and the speed of your Internet, this can take hours. I think mine took about three hours or so.
Specifics About My Book
Here are the specifics about the book I made:
Size: 12 x 12 Large Square, Hardcover Imagewrap
Pages: 294 pages
Paper: Standard (when you reach a certain number of pages, you can't choose the premium paper)
Program Used: Blurb BookWright
Why I Think The Investment is Worth It
As you can imagine, a book this size wasn't cheap. A generous family member gave me some money for Christmas, and that's what I used the money on.
I think the sticker shock comes from having to pay the whole price upfront. If you ordered 2,000 photos from a photo printing service, bought scrapbook binders or photo albums, adhesive, stickers, etc., you would actually be spending more than what I spent on my book. It just feels different because you're buying those things a little bit at a time rather than all at once.
I have a close friend who isn't at all sentimental, and she freely admits that photos aren't really that important to her. So investing in a book like this would feel extravagant and unnecessary to her. But she does like her Starbucks coffee! I don't buy coffee because it's not important to me. So, it just depends on what your priorities are (and it's okay that we're all different!). 🙂
So, while some may not feel it's worth the money to make a book like this, for me it's totally worth it. Pictures are important to me, and it gives me such a feeling of satisfaction to have a whole year organized into a book. Somehow it helps bring closure to the year.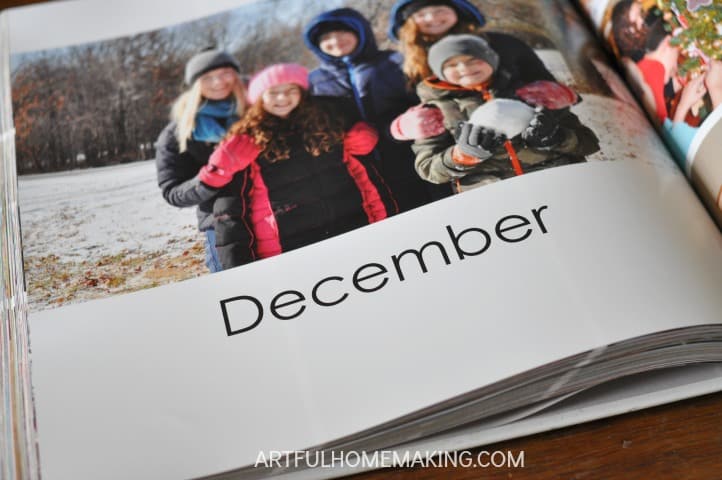 I also love the fact that if we ever had a fire or something, I could always reorder my book from Blurb. It's kind of like additional photo insurance for me.
Was it worth it? Definitely! I'm already working on my next one. My goal is to have Blurb books for all of our photos eventually.
My plan is to work backwards and also stay current with this year's photos. So, I'm working on a 2015 book and also starting 2017 soon.
Enjoy Your Photos
In our digital age, so many of us are storing photos digitally. Which means they never get printed at all. They live on a storage device or on our computers, unable to be enjoyed by the family.
I'm loving the way our Blurb photo book allows us to relive last year's memories!
Have you ever made a photo book?
Disclosure: This post includes affiliate links.  Read my full disclosure here. Sharing this post here.