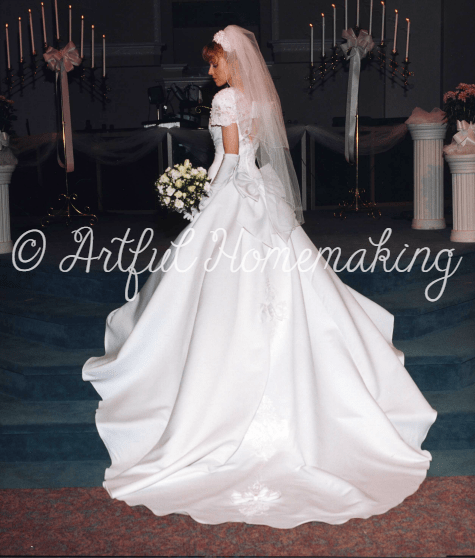 Since we got married in January (17 years ago!), and Valentine's Day is in February, the beginning of each year always finds me focused on love and romance. So, just for fun, I thought I would share about our frugal wedding.
When we got engaged, we were both working full time, but we still had very little money. And we decided to buy a house, so we didn't want to spend a fortune on the wedding. My dad bought us a brand new washer and dryer (which we were very thankful for) instead of footing the bill for the wedding, so we were very motivated to keep it simple since we were paying for most of it ourselves!
I say we paid for "most of it," since so many friends and family members chipped in to help us. I'm especially grateful to my mom and my aunt for all they did. We couldn't have done it without them!
First of all, there was the dress. THE DRESS. The one I had been dreaming of my whole life! I didn't want to spend an extravagant amount on it. And I'm still not sure how this happened, but I went to one store and tried on one dress. Seriously. I don't know what I was thinking!
I had just gotten off work, and I was tired and hungry. I met my mom at the bridal store (which I picked because it was closest to my office and easy to get to!), and I told the lady there what I was looking for. I knew I wanted white, I didn't want bare shoulders, and I didn't want long sleeves, because I am always hot (especially when I'm nervous) and I was afraid I would get hot during the ceremony (even though our original wedding date was in March, which isn't usually hot!).
I had been told that short women shouldn't have a full skirt, as it will make them look shorter. So there went the full ballgown-style skirt I had always wanted (now I know that I should have tried one on just to see what it would look like before I made a decision). So, I figured an a-line silhouette would be best for my petite frame, since I'm only 5′ 2″.
The lady didn't have very many options with sleeves that weren't long and pouffy, so she brought me this dress. I tried it on and fell in love with it (except for the open back with the big bows–I've never been a bow type of person).
I decided to go with this dress, which was around $300, and then I still had the veil and shoes to buy. After we moved our wedding date up to January 24th, I decided to add some gloves for a bit of warmth, even though I've never been a gloves type of person, either.
The dress was a size 4, but I still had to wear a bustier with it to help fill it out! And they had to take a lot of the length off and re-hem it for me.
So, the dress was probably the biggest expense we had. And also the photographer, although she was less expensive than most. We also had two high school students do the video for us, and they did a really great job.
We asked our church pianist to play the piano for us, and she asked her cellist friend and a soloist to also help with the music.
My mom and aunt made the bouquet for the bouquet toss. My mom made the bridesmaids' dresses. We found a fabric color called "eggplant," and we based the colors of the wedding on that. One of the reasons we had such a small wedding party was to save money.
We also rented tuxedos for the guys, and we bought the fresh bouquets of roses (cream roses for me, and lavendar and cream for the bridesmaids) from a local grocery store florist. We also rented the candle holder things, and my mom and aunt decorated them for us with ribbons and flowers.
We asked our two brothers to be ushers, rather than having them in the wedding party, since my husband's brother was traveling from out of state, and my brother had several small children and was also traveling from another town.
We bought our wedding cake from the same grocery store where we got the flowers. It was just a very small, basic white cake. My aunt is very creative, and she dressed it up a bit with some extra roses and ribbon. We had homemade sheet cakes in the kitchen to help serve all of the guests.
I think my aunt also made the punch, and then we just had nuts and mints. It was a very simple reception at the church.
I got some inexpensive white satin shoes at Payless (if I'm remembering correctly), but they killed my feet. After the wedding I took them off, so almost every after-wedding photo I'm barefoot (but the dress hid my feet)!
The day of our wedding was sunny and beautiful. I'm so thankful for everyone who helped to make our day a success, especially my mom and my aunt.
Of course, after the fact, you always think of things you would do differently (For instance, I wish I would have asked my sister-in-law and cousin to be bridesmaids, even though they were both expecting! I also wish we would have had our brothers be groomsmen. And I definitely would have had my little niece and nephew be part of it, too, as flower girl and ring bearer).
Sooo many things I would do differently, but one thing I wouldn't change, and that's marrying this sweet guy! ♥