Creating a schedule that would meet all the needs we have this school year was a challenge. But after taking off the whole summer (and living pretty much unscheduled), we're totally ready for more structure. I find that everyone is happier and more content when the day is planned out for them.
Also, I'll be referring to Little Hearts for His Glory as LHFHG, Bigger Hearts for His Glory as BHFHG, Creation to Christ as CTC, and Teaching Textbooks as TT, just so I don't have to type it all out!
So, here's the schedule:
7:00 to 9:00 AM: Everyone up, showers, dress, chores, Bible reading, breakfast, clean up from breakfast, teeth brushed, laundry started.
9:45: While E (13) has her Bible Quiet Time, A (11) reads history and does cursive, and I (9) does his Teaching Textbooks lesson on the computer, I will go upstairs with F (6) and E (3) and do LHFHG Rhymes in Motion and Corresponding Music in living room.
10:15: I have school time with F (6). E (13) will do her TT on the computer, A (11) will have her Bible Quiet Time, I (9) will play with E (3) and listen to his Hymn's for a Kid's Heart and Math-U-See Skip Counting CD.
10:45: I have school time with I (9). E (13) will do her Language Arts, A (11)will play with E (3) in the basement, and F (6) will do Draw Write Now at the kitchen table.
11:30: School time with E (13) and A (11) (CTC). I (9) will read an assigned book, and F (6) and E (3) will play together.
12:00: F (6), I (9), and E (3) will all be downstairs with me at the school table. F (6)will do her Fine Motor Skills workbook while I do a BHFHG activity with I (9). E (3) will do puzzles or join in activity with us. Then we will do F's Science activity. E (13) and A (11) will be upstairs making lunch.
12:30: Lunch
1:00: Girls wash dishes and wipe down counters and table. I will have Science with I (9) at the kitchen table.
1:30: E (3) goes down for a nap. Then I have a couple of hours to work on sewing, computer-related things, reading, organizing and planning, or other things I need/want to do. Meanwhile, the older children are having piano practice (and guitar for my older daughter), taking turns on the computer for typing practice, reading, and the older girls have independent history study and poetry/painting during this time.
3:30-4:00: Read aloud to younger three children.
4:00-4:15: Read aloud to older girls. Younger children have free play outside or in the basement.
4:30-5:00: I play with one child (rotating one child per day) in my room. We can play board games, card games, work on a small craft, or play whatever they want. It's just a time to be one-on-one with each child in a relaxed and fun setting.
The rest of the evening is filled with making supper, eating, cleaning up, playing outside, family worship, baths, family read aloud time, bedtime routines, and bed.
The cart has three drawers, and all of the books fit just perfectly! In the top drawer, I have the LHFHG books and also the math books and materials we'll be using.
In the second drawer I have BHFHG.
And there is even room for the little box of 3×5 cards holding spelling words for this year: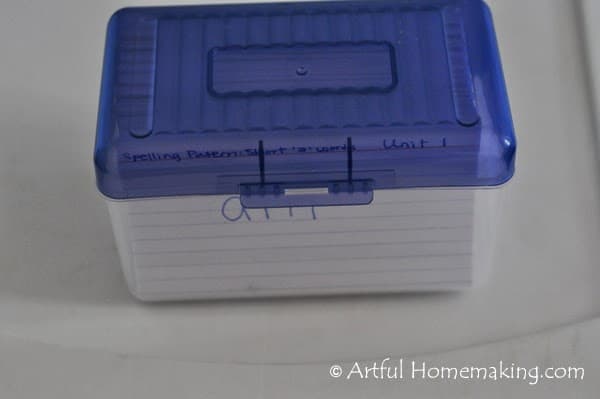 In an effort to be as organized as possible, I already made all of the 3×5 cards with spelling words on them. My hand was a bit sore after writing all those out!
The bottom drawer contains all of the Creation to Christ materials:
All the additional books that we'll be using for HOD are stored in these three plastic bins that I had sitting empty in the garage, just waiting to be repurposed. They are stored in a corner in the closet. I keep the current read-alouds and other books that we're currently using in the rolling cart, and then the rest are stored here. I will look ahead in the guides, and as I see that we need different books, I'll get them out and put the others away.
We are planning to begin the full schedule on Wednesday, Lord willing. Everyone's excited!
Linking to: Not Back to School Blog Hop, The Modest Mom, and All of a Kind Family