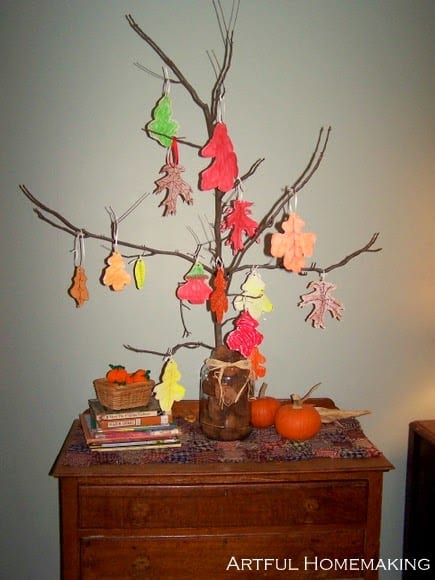 We made our Thankful Tree yesterday. It was so fun. It was about 45 degrees and the wind was blowing…I put on some boots and a scarf and headed out to the woods. After searching for some time, I found this cute little tree that I thought would be perfect. Before I could cut it down, I heard leaves crunching…suddenly the two neighbor dogs came bounding towards me and nearly knocked me down!
Back inside the warm kitchen, we used a clean gallon pickle jar and rocks from the yard to anchor the little tree. The children traced leaves that were gathered from the yard, colored them with markers and crayons, and then wrote what they were thankful for on the back. We punched holes in the leaves and hung them with ribbon from the branches. I added a raffia bow for decoration.
It was so cute to see all the individual artwork, and also to read what each child was thankful for. This little leaf was colored by my littlest guy (age 2), and says "I'm thankful for candy" on the back!
"Oh, give thanks to the Lord, for He is good! For His mercy endures forever. Let the redeemed of the Lord say so, whom He has redeemed from the hand of the enemy."
~Psalm 107:1-2