How to create a flower planter for your porch. This tutorial will help you put together a beautiful potted flower arrangement!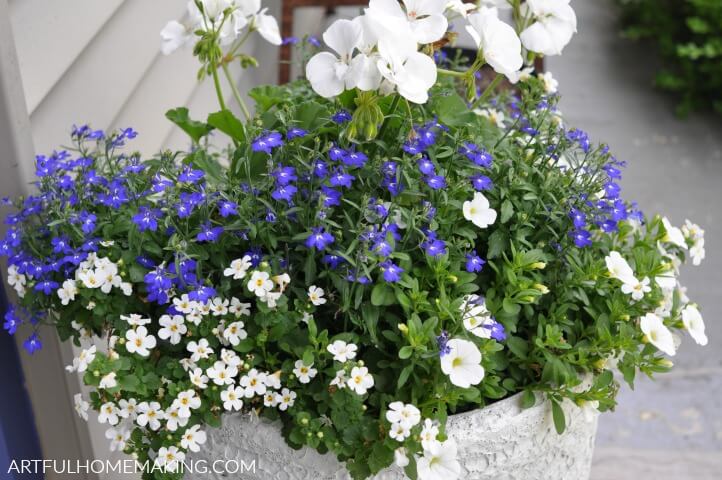 Every spring I look forward to decorating our front porch with flowers. Usually we just purchase something simple and inexpensive from a nursery or greenhouse.
This year, after mentioning that I would like to get some flowers for the porch, my mom offered to make a planter for me!
My mom has a degree in horticulture, so I always look to her for gardening and flower advice.
I was so excited to see what she would come up with!
She asked if I had any preferences on the color of the flowers and the pot. I told her I mostly just wanted to match the blue front door.
And…look at this beautiful blue and white planter arrangement she created for us!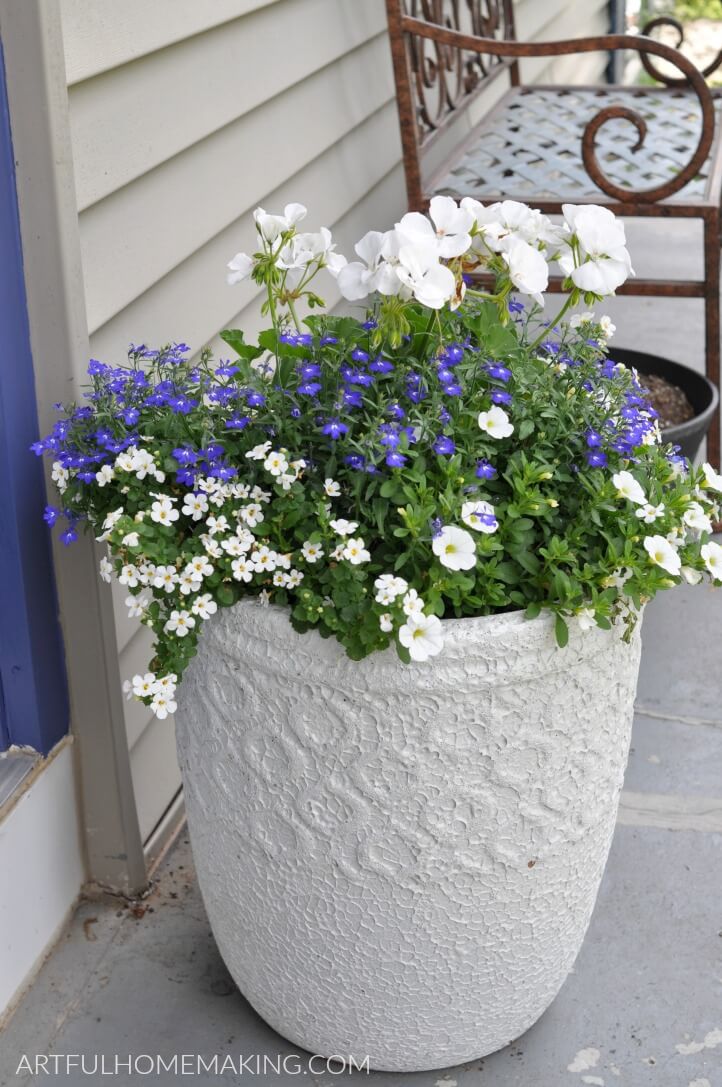 I was so thrilled with how beautiful it turned out!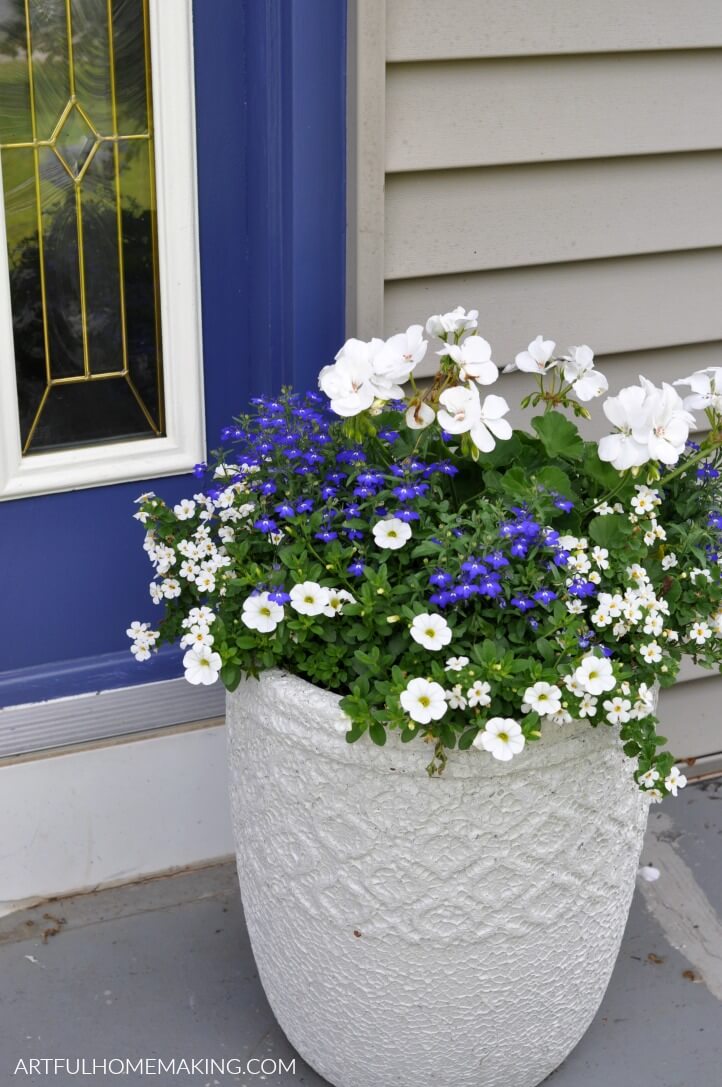 And, it matches the blue front door perfectly. Mom created this planter pot for us in April, and it's still going strong in June!
This post contains affiliate links, which means I may make a small commission at no cost to you. Read my full disclosure here.
How to Create a Flower Planter
If you'd like to learn how to create a flower planter for your front porch, here are some tips from Mom.
Step 1: Choose Your Container
First, decide on the planter container you'd like to use. Mom chose this white terra cotta planter (similar to this one). I just love it because it matches the trim on our front door. I also like the classic look of this white planter.
This white planter is very heavy and durable, which is also a must at our busy house!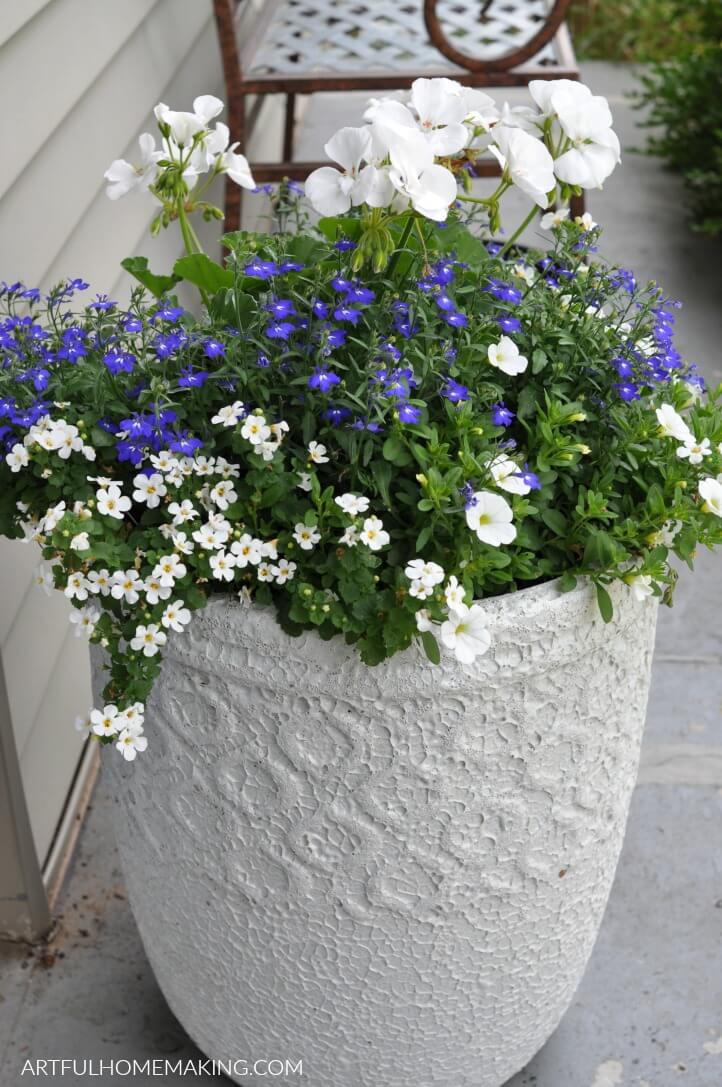 Step 2: Choose Your Colors
The next step in designing a container flower arrangement is to decide which colors you want to use. Do you have a particular color scheme in mind?
For our house, we wanted to match the blue front door. The blue created lots of options, but I really wanted something simple and elegant.
The blue and white color scheme we chose is just right, and I love this particular grouping of flowers.
Step 3: Choose Your Flowers
This step is the fun part—getting to choose the flowers!
We knew the planter was going to go on the front porch, so we chose the plants accordingly. You want to make sure the plants you choose will be happy in their new location.
For example, if your front porch is very shady and hardly gets any sun, you'll need to take that into consideration. In this case, you'd want to look for plants that tolerate shade.
If your porch gets full sun for hours, make sure to buy sun-loving plants.
You want to put plants together that have similar light and water requirements, since they'll be living in the same pot.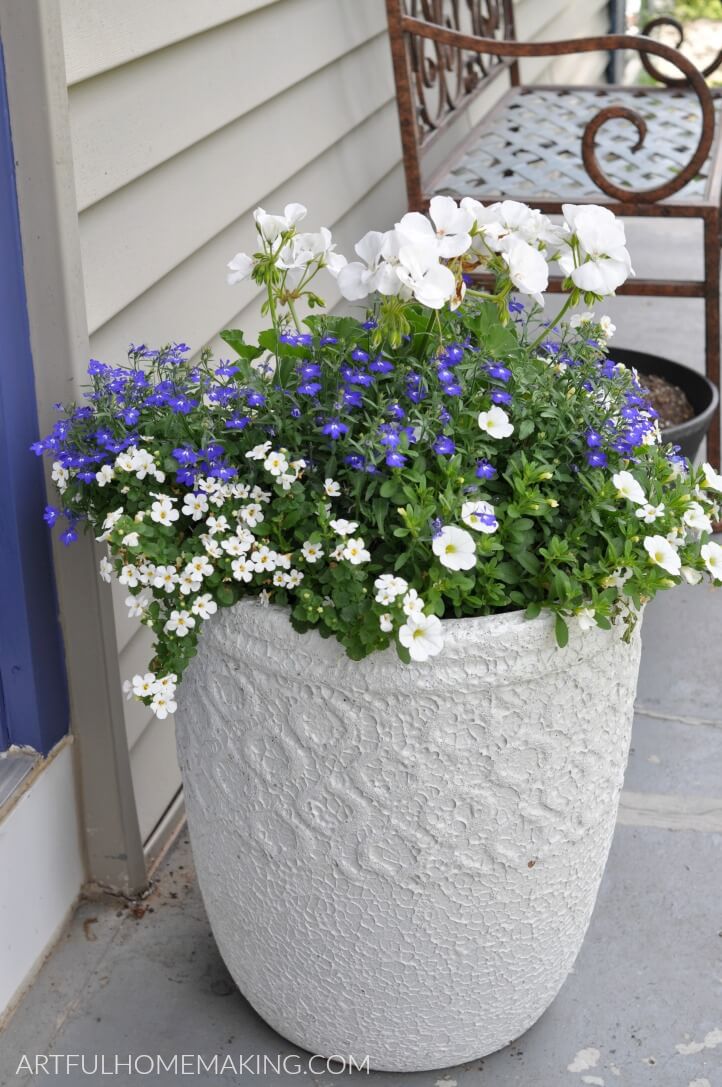 Bonus Tip: Thriller, Filler, and Spiller
Here's a bonus tip that will help you decide which flowers to get. You want to get three types of flowers for your planter arrangement:
a thriller
a filler
and a spiller
What does this mean? Here's how Mom explained it to me.
You want to choose one plant that's going to be your "thriller." This is the plant that's going to go in the center and be the center of attention. It's supposed to have a bit of "drama."
In our case, the "thriller" is white geraniums. They're taller than the other plants and make a simple but beautiful statement.
Then, you need a "filler," which is the plant that's going to fill out your container. In my planter, this is blue lobelia. It fills out the space around the geraniums beautifully.
And finally, you want to choose a "spiller," which will spill down over the edges of your planter.
We chose white bacopa flowers for the "spiller," and I think they're so lovely!
They work perfectly to spill over the edge of the plant container and add that something special.
Create a Flower Planter for Your Porch
I hope you've enjoyed learning how to create a flower planter for your porch! I'm so glad my mom shared these helpful container gardening tips with me.
If you follow these tips, your front porch planters will be amazing!
Thanks so much for stopping by!
Related Posts:
Pin This Post for Later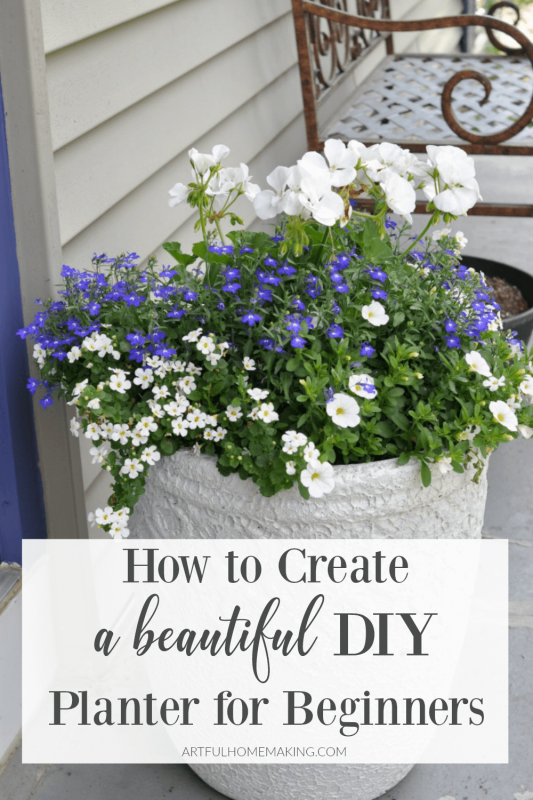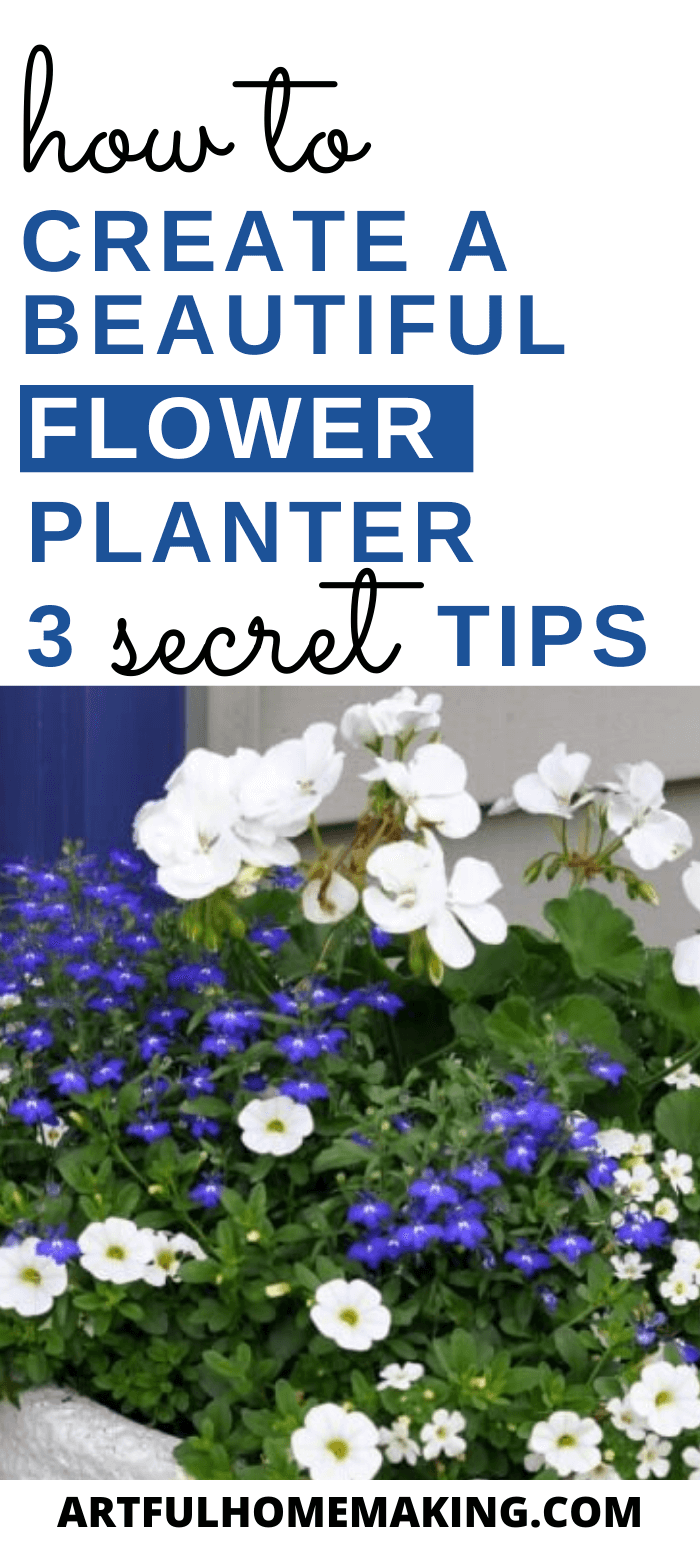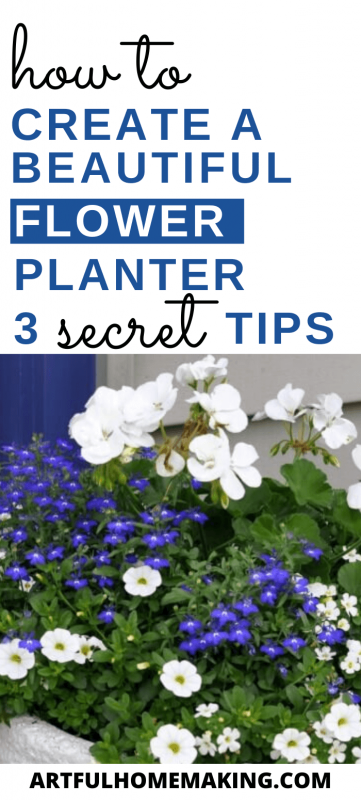 This post contains affiliate links. Read my disclosure here. Sharing here.