Today I'm sharing my summer capsule wardrobe with you! I know we're well into summer by now, but better late than never!
Be sure to scroll down and watch the video below if you want to see each of the items in my capsule wardrobe.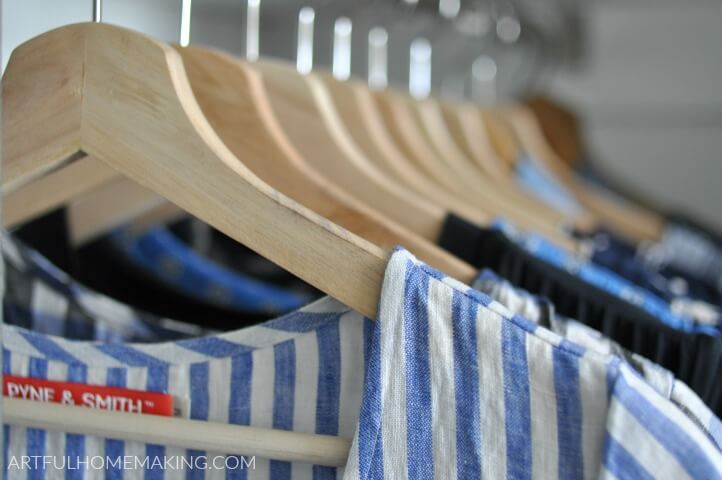 For years now I've dreamed of creating a simple capsule wardrobe that would take the guesswork out of getting dressed in the morning.
I wanted to just be able to look into my closet, grab something out, and put it on.
I used to have a vision of just five simple dresses hanging in a very minimalist closet.
And now, I've come up with something pretty similar to my original dream.
Only I realized that I might need a few additional clothes other than just the five dresses.
Ten Item Wardrobe
I have been so inspired by several different ladies as I created my capsule wardrobe. My main inspiration came from Jennifer at The Daily Connoisseur.
She has so many helpful ideas for how to create a capsule wardrobe.
I basically followed her ten item wardrobe idea, where you have ten main core pieces and then you throw in some "extras" to help round out your wardrobe options.
This is such a great idea to help simplify clothing.
With your ten core pieces, you'll have plenty of options even though your closet is less full.
I love the idea of less but more. You definitely get that with the ten item wardrobe.
Less clutter, but a more streamlined, put-together look.
I didn't stick with the number 10 exactly, as I think I have a few more items than that. But I figured some of them might be listed as "extras" since they're not part of the core.
But maybe not. I might have just chosen a few extra items. And that's okay.
I think the main idea is to simplify and bring peace to your closet!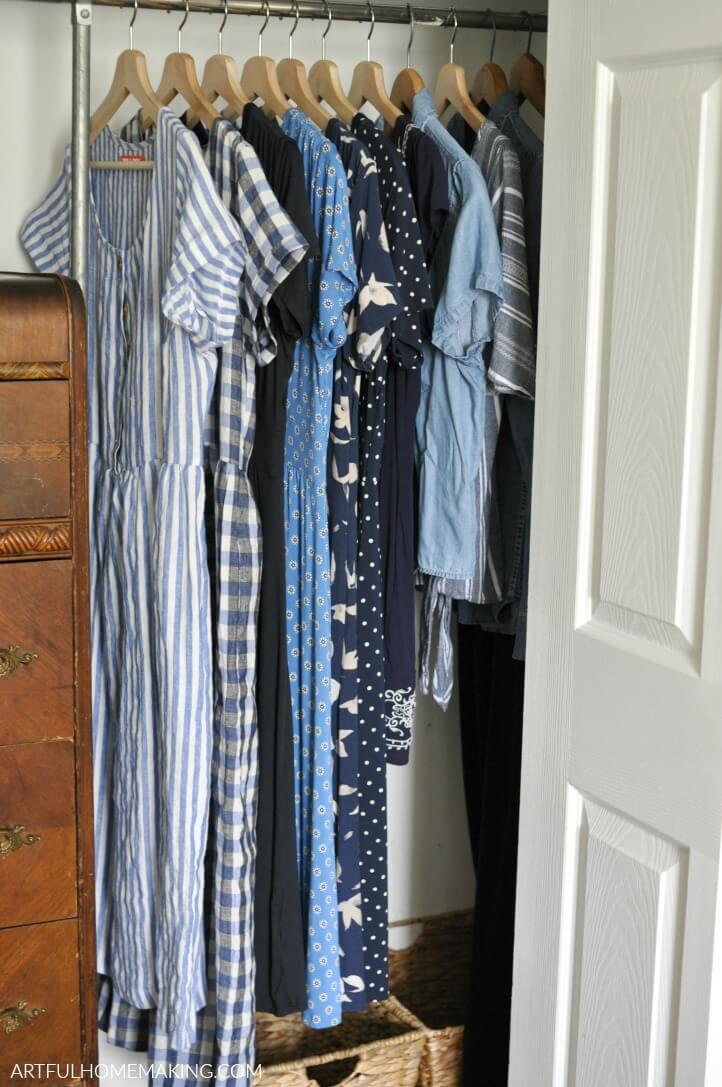 My Summer Capsule Wardrobe
I've been working on creating my summer capsule wardrobe for a few months now. And I'm finally ready to share it with you!
The video below shares a try-on of each one of the outfits:
This post contains affiliate links, which means I may make a small commission at no cost to you. Read my full disclosure here.
As I was working on choosing my ten core pieces, I thought about my daily activities.
I thought through what each day usually looks like, and then I came up with a list of clothing ideas.
Some of the clothes I already owned, some of them were birthday gifts, and one of the skirts I made myself.
Basically, I chose 7 dresses, 1 skirt, 1 pair of jeans, and 1 dress that I wear with leggings underneath.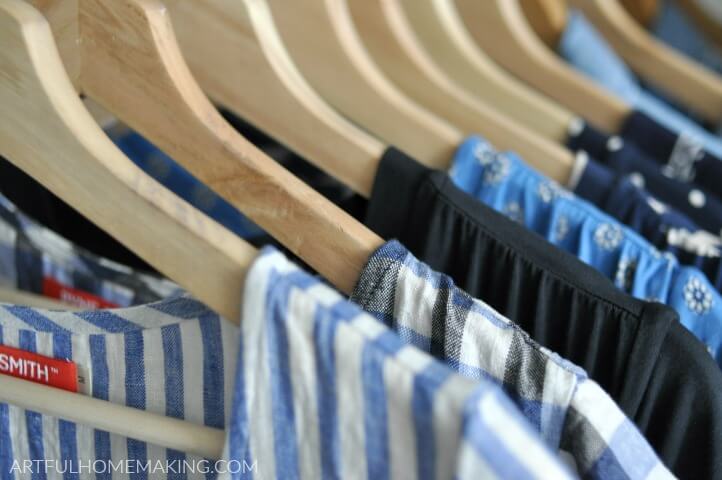 What's in My Summer Capsule Wardrobe
Here's a list of what's in my summer capsule wardrobe this year. I've added links to the items whenever possible.
L.L. Bean Cornflower Blue Summer Knit Dress — eBay
Anthropologie Navy and White Embroidery Dress — secondhand
Old Navy Black Wrap-Front Top + Handmade Linen/Cotton Skirt
Brown Sandals — Walmart, several years ago
Extras
As I mentioned above, I did choose some extras for my capsule wardrobe.
These are things that I won't be wearing often (they might be specific to a special occasion or a certain situation).
Here's the list of extras I've included:
one cream colored lightweight cotton sweater (just in case)
a denim top (I wear this occasionally)
a chambray tie-front top that I wear with jeans occasionally
workout clothes
swimwear
painting clothes (which I'm planning to use for some projects soon!)
So, you get the idea. For the most part the items I listed in the capsule wardrobe are the core of my closet.
And then I have additional items that I'm keeping in my closet just in case. Like a few painting clothes and lightweight sweaters and cardigans.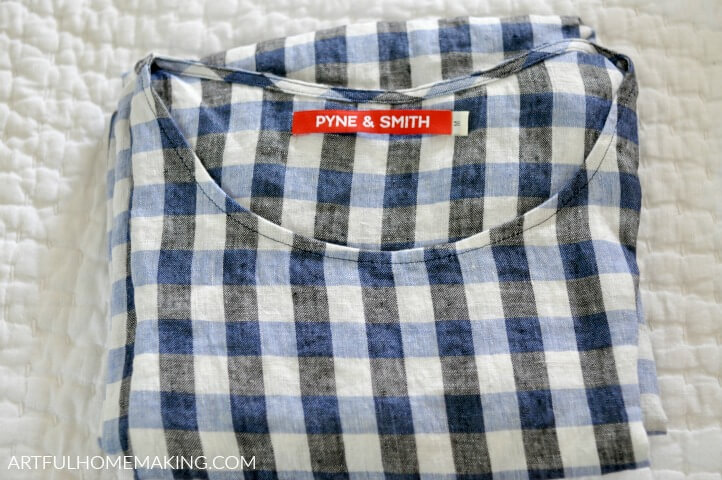 Thoughts on Buying Clothes
The Pyne & Smith dresses are a splurge, I'll admit. I'm so thankful for generous family members who give me birthday and Christmas money!
I tend to keep my clothes for years, and I'm able to do that because I usually stick to neutrals and classic styles.
Not too long ago I finally had to throw out a 25-year-old classic black wool cardigan sweater that I bought from Banana Republic as a teenager.
I remember that it was expensive, and I felt a bit guilty for spending so much for it. But, I knew it was classic (I love basic black) and that it would serve me well.
And, it did! That black sweater was with me all through my upper teens and twenties, traveled to Europe with me, and then worked well for me as a stay-at-home mom.
I only got rid of it (reluctantly) when a moth ate some holes in it (my family laughed that I had kept it so long!).
So, I imagine these same outfits will be returning in some form or another in future capsule wardrobes.
Minimalist Closet
I've loved the idea of minimalism for many years, and I feel like this simple capsule wardrobe is a step towards that.
I have created capsule wardrobes before, but this one is the simplest one I've done yet.
Thank you so much for stopping by!
Pin This Post for Later
This post contains affiliate links. Read my disclosure here. Sharing here.