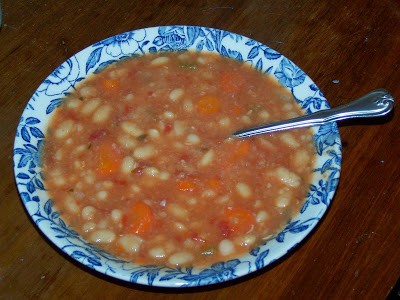 This recipe serves 4 to 6 people, so I always triple it to fill my large crock-pot. Everyone in our family likes this recipe and it's easy!
2 cups dried white beans such as cannellini or navy [I used Great Northern]
1 carrot, peeled and finely chopped
1 celery stalk, finely chopped
1 yellow onion, finely chopped
1 sprig thyme [I also used some summer savory, curly parsley, and basil, just because I had them growing in the herb garden!]
1 (14 1/2 ounce) can crushed tomatoes
4-6 tablespoons olive oil, for garnish
Freshly grated Parmigiano-Reggiano cheese, for garnish (I used Parmesan)
Directions:
Rinse and sort the beans. Place them in the slow cooker and add enough of the water to cover. Cover and cook on high for 2 hours, or until the beans are somewhat tender. Or, soak the beans overnight in water to cover [I soak in an acid medium overnight], then drain, rinse, and transfer to the slow cooker. Add the water to cover.
Add the carrot, onion, celery, garlic, thyme, and tomatoes and stir well. cover and cook on low for 6 to 8 hours, until the carrot and beans are very tender. Stir in salt to taste. Remove and discard the thyme.
Ladle into soup bowls. Garnish each serving with 1 tablespoon olive oil and a sprinkle of cheese. Serve with a fresh green salad and a loaf of Artisan or French bread for a delicious meal!
***This recipe comes from the book,
The Gourmet Slow Cooker
, which has lots of recipes that use whole food ingredients. I borrowed this book from the library, but it might be worth owning. It has lovely photos.***