Having family pictures taken is a great way to capture a moment in your family's timeline that can be so much fun! When done right, family portraits will become a treasured keepsake. But figuring out what to wear for family photos can be a challenge as there are so many options from which to choose.
That's why I've put together these ideas for what to wear for family portraits, with coordinating outfit ideas for your next family photo shoot.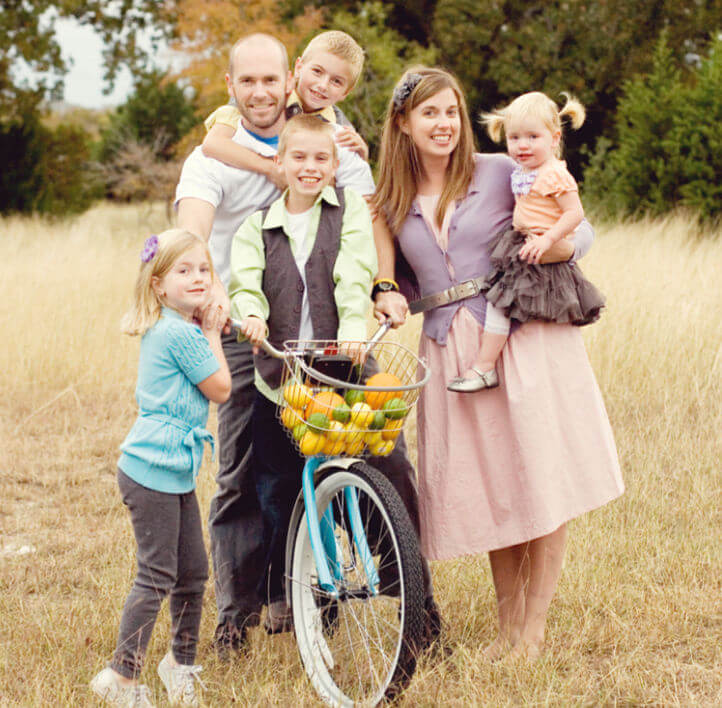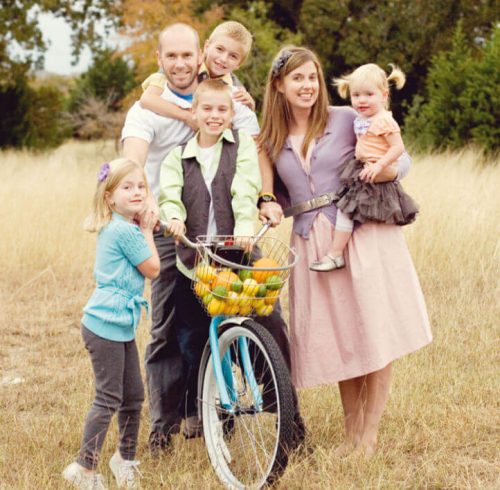 Photo Source: Kristen Duke
Every year for at least the past 15 years, I've made it a priority to have family pictures taken. It's so fun for our whole family to look back at all the years of photos and see how everyone's grown and changed!
Back in the day, I spent a lot of time thinking about the color palette for our family photo outfits. I really wanted the color scheme to match exactly in our photos (guys with all the same color of shirt, girls with matching outfits).
Now, I've come to love a look that's more coordinated than completely matching clothing for family members. (Thanks to my teens for the encouragement here to broaden my thinking about family photo outfit ideas!)
Now that my once little girls are teenaged and older, it's fun for us to come up with perfect outfit ideas together.
The girls and I usually come up with a color scheme based on clothing we already have or want to purchase, and then find outfits for the rest of the family. We don't always buy new outfits every year, and using clothes you already have is perfectly fine.
This post contains affiliate links, which means I may make a small commission at no extra cost to you. Read my disclosure here.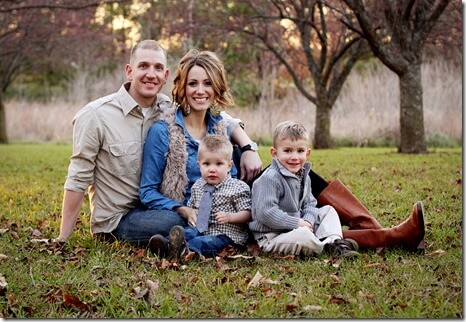 Photo Source: Sugar Bee Crafts
What to Wear for Family Photos
After spending some time researching how to pick the best outfits for family portrait sessions, here are a few tips that seemed to come up again and again.
These are just guidelines for a family photo session, not hard rules, as families have different styles and preferences. Finding the right clothing really can be a matter of personal choice!
What may be a great choice in family outfits for one family may not be the best way for your family. Families with all small children or all little girls will want to go for a different look than families with a wider age range.
Before booking a studio session with professional photographers, you'll want to consider things like your personal style, best colors, and skin tones. You might also try out some different outfits before finally arriving at a great idea for your final image.
Here are some of the top tips for helping to guide your wardrobe choice for your family photography:
1. Think coordinating rather than matching
As I mentioned above, you should pick colors that coordinate well together with a cohesive look rather than simply aiming for outfits that match completely. Unless, of course, you really want to match, which is a totally good option!
Here's an example of matching mommy and me dresses, which I love! Find these dresses here.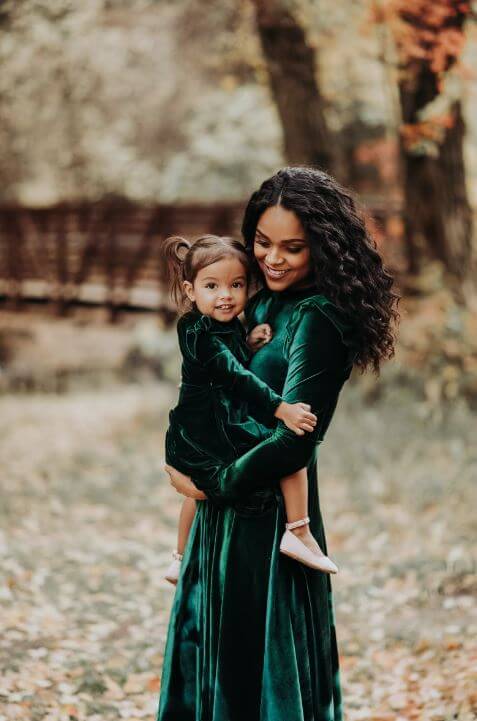 If your family plans to go for the timeless look of blue jeans, the jeans don't have to perfectly match in color or style. Avoid large logos unless you're wanting to promote a favorite sports team or pastime.
2. Go for solids rather than patterns
In general, solid colors work better than patterns, but avoid combining dark colors and bright colors together. Bold colors may also not be the best choice as they tend to drown out other features.
Using somewhat different colors is okay, but having a couple of colors that are related is a better choice.
It's fine to have different patterns that are complementary, but using distracting patterns, bright floral patterns, or other bold patterns can draw attention away from your faces and detract from the overall effect.
However, one or two carefully chosen patterns (like on a tie or a dress) can work well and add a splash of color to your photo in a subtle way.
3. Include lots of textures
Different textures (like ruffles on a skirt, a tie or scarf, or a vest) can add depth and visual interest to your photo.
This family photo is a great example of lots of texture (find these coordinating outfits—including dresses, shirts, and ties—here!):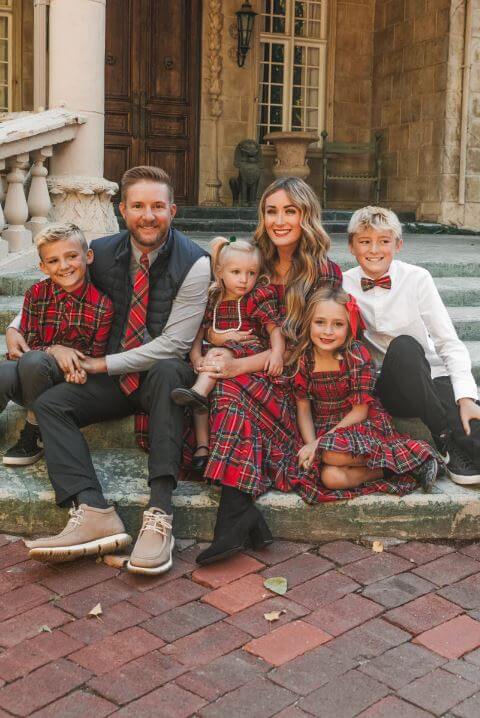 4. Use props that complement your outfits
If your outfits need a little extra help to get that perfect picture pizazz, consider adding props like musical instruments or appropriate home décor items for a special touch. Quilts are also a great photo prop.
These props can be brought along even if you're doing an outdoor family photoshoot, although they may not be needed depending on the outdoor location.
Fall Family Photo Ideas
Many families have pictures taken in the fall. There are so many wonderful options for fall family portrait outfits!
Here are some inspirational photos that I especially love. I've also included some links to outfits you can purchase. The mommy and me ideas are my favorite!
You might want to save some of these to a Pinterest board so you can go back to them later.
Red + Navy
If you're looking for a great example of family picture outfit ideas, Kristen Duke has you covered! She has so many inspiring ideas on her blog. Some of them are even categorized by color, which can be great if you have a specific color scheme in mind.
This red and navy (with hints of green and gray) color scheme is one of my favorites.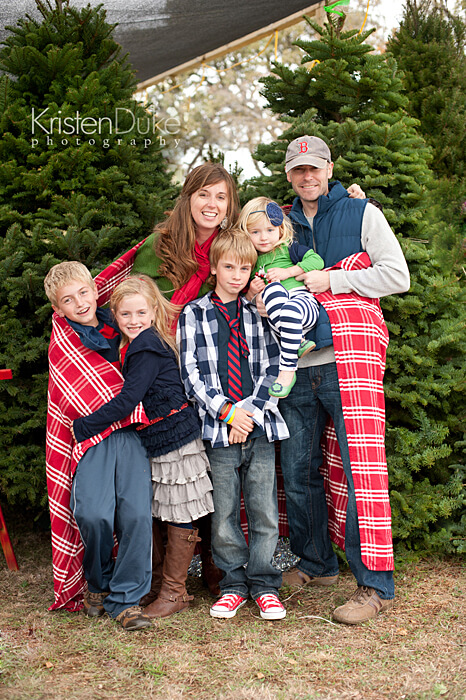 Photo Source: Capturing Joy with Kristen Duke
Affiliate links are included below, which means I may make a small commission at no extra cost to you. Read my disclosure here.
If you're looking for what to wear for family portraits, and you want shades of red and navy, this holiday plaid set from Ivy City Co. is perfect for the whole family!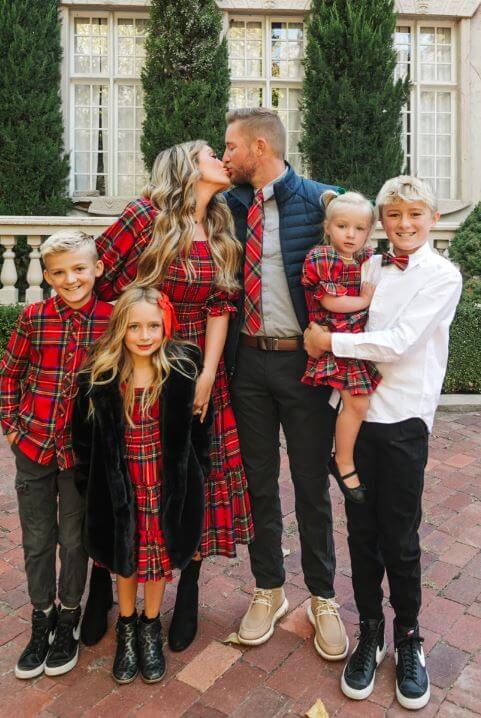 Photo Source: Ivy City Co.
I love these holiday plaid outfits because they include something for every member of the family—dresses, shirts, ties, bow ties, and baby outfits!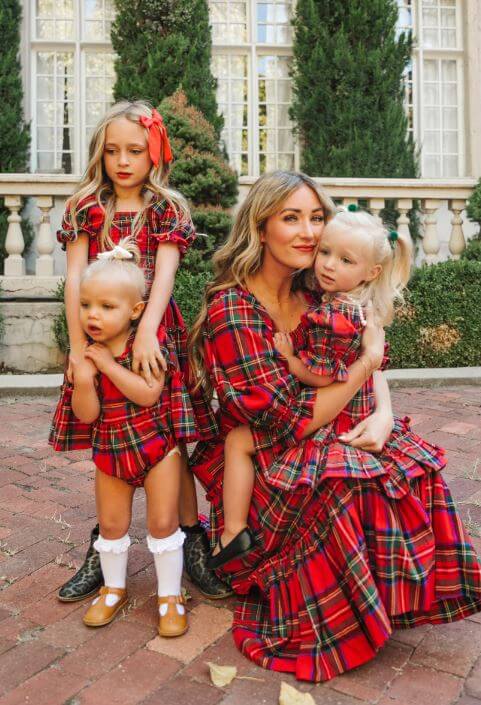 Photo Source: Ivy City Co.
Rust + Khaki + Denim
I think these colors go so well together, and they look so classic! It's a great answer to the what to wear for family photos question!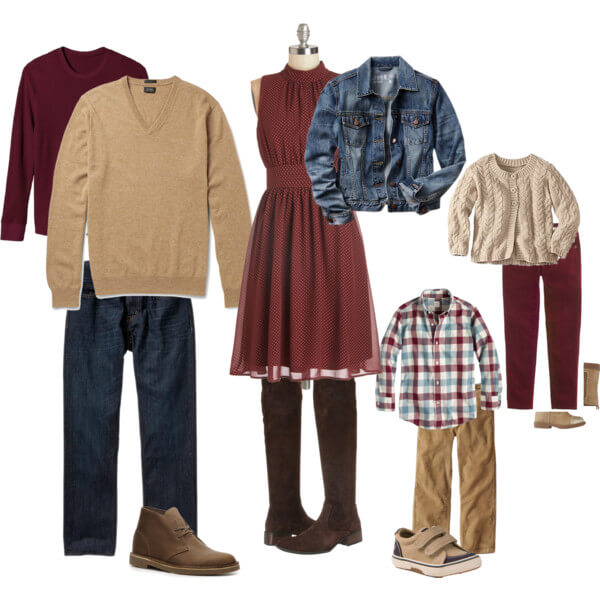 Photo Source: Lanari Photography
These matching Mommy + Me burgundy/wine dresses would also look beautiful in a family portrait!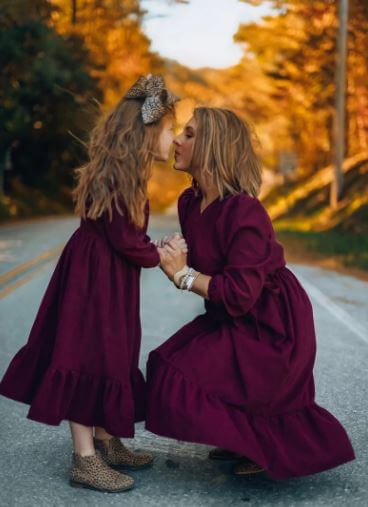 Photo Source: Little Mia Bella
Florals and Solids
Floral dresses and solid color accents look so great together. Here are a few ideas:
These blue floral dresses are so romantic. Find them here!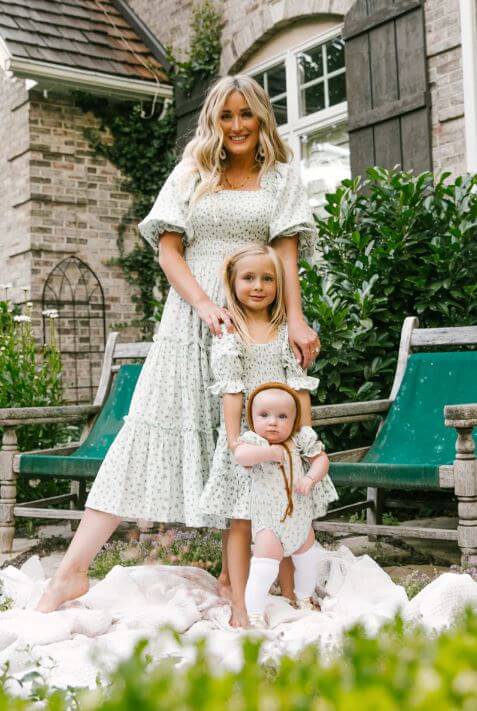 These dresses come in adult, child, and baby sizes.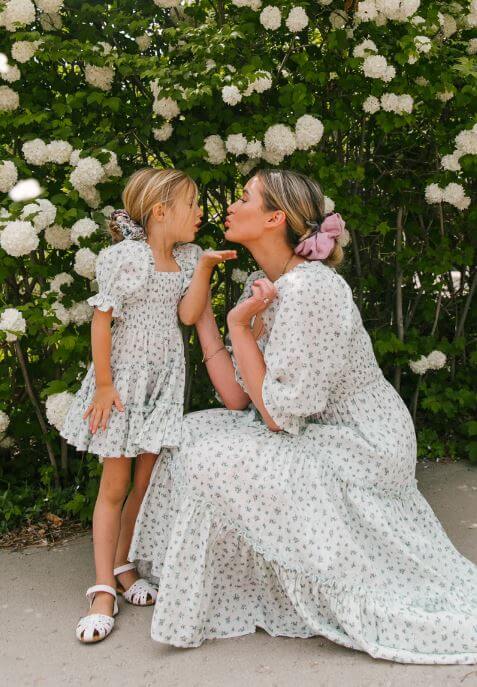 This Amber floral shirred dress by Ivy City Co. is so beautiful!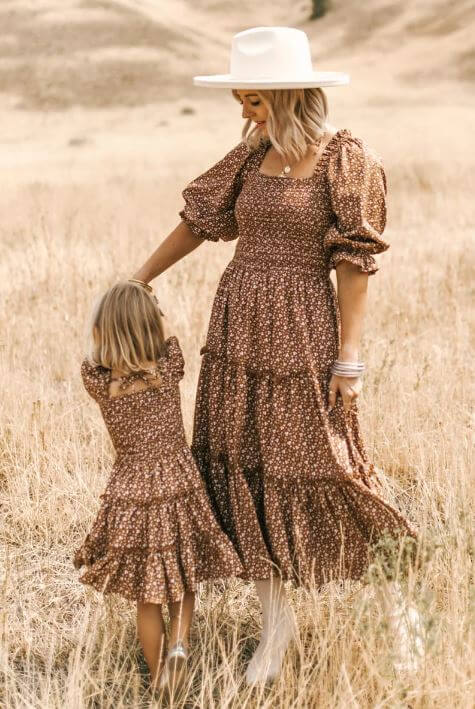 Photo Source: Ivy City Co.
And this is the sweetest pose for a mother and daughter family photo: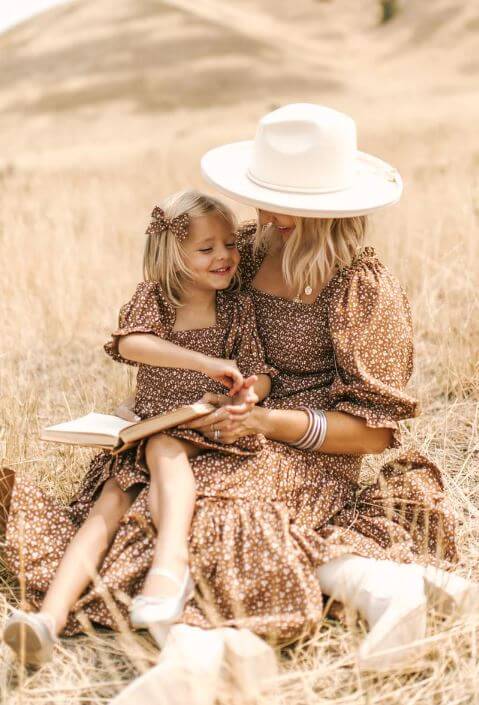 Photo Source: Ivy City Co.
Black + White
I love the simplicity of black and white together. This family picture from TomKat Studio looks like the perfect holiday card!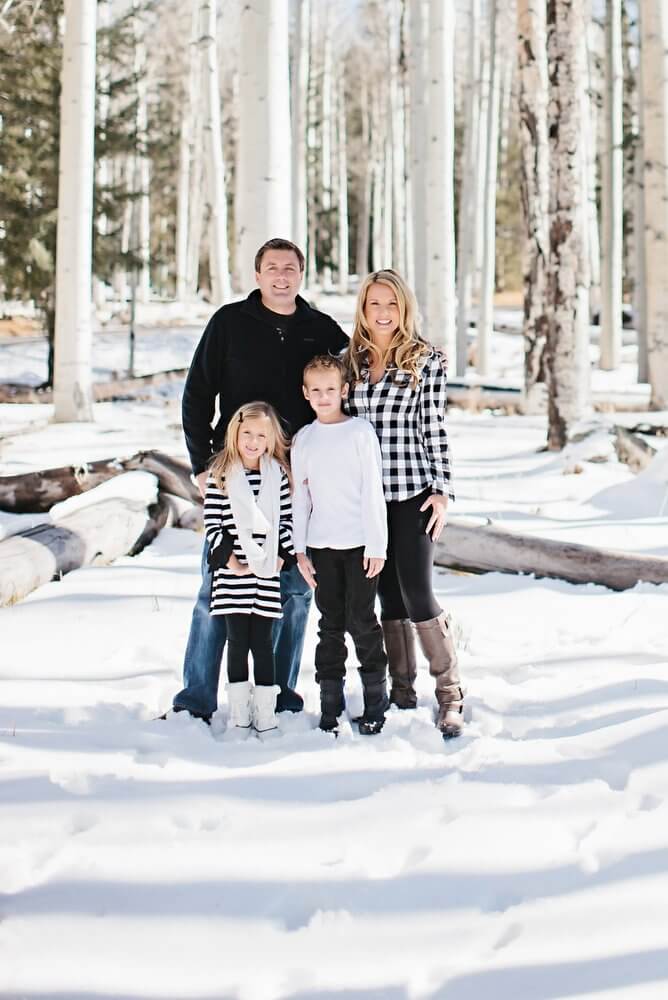 Photo Source: TomKat Studio
These black velvet dresses come in a variety of sizes, and they also include a matching bow tie! They would look adorable with a red and black plaid, also.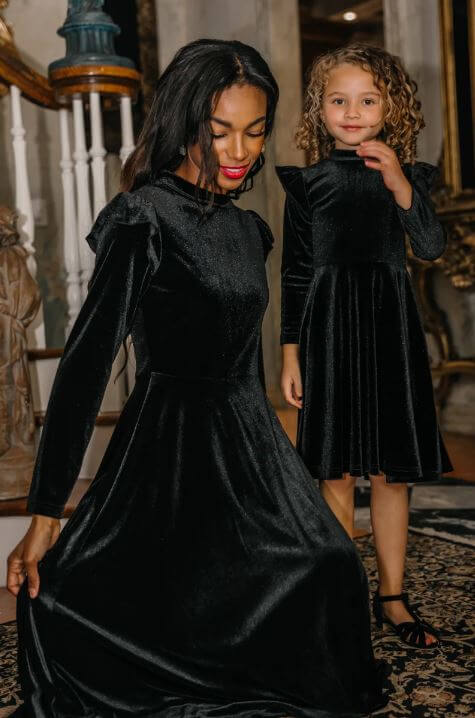 Photo Source: Ivy City Co.
Neutral Family Photo Ideas
These neutral family photo ideas are so classic and timeless.
I love these matching Mommy + me shirred dresses: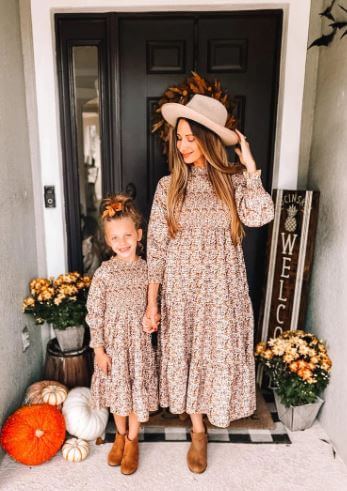 Photo Source: Little Mia Bella
These tan gingham dresses also include a shirt for boys!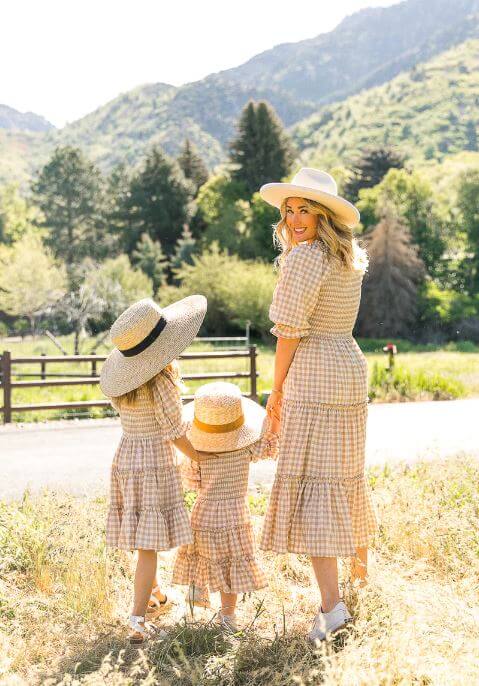 Photo Source: Ivy City Co.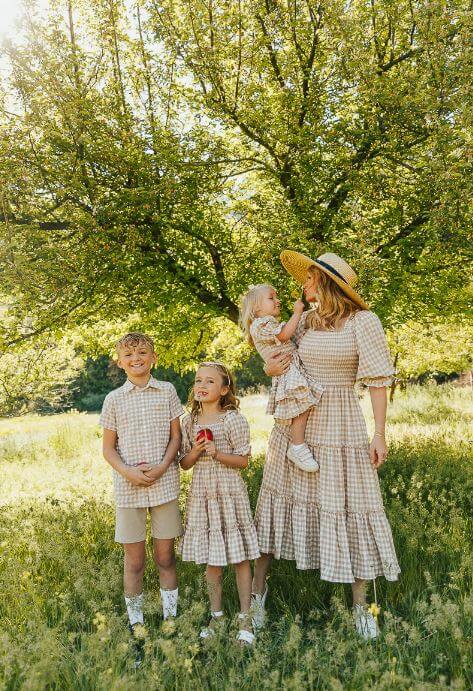 Here's another idea for a neutral family picture outfit. This one includes dresses and a shirt option! Find these outfits here.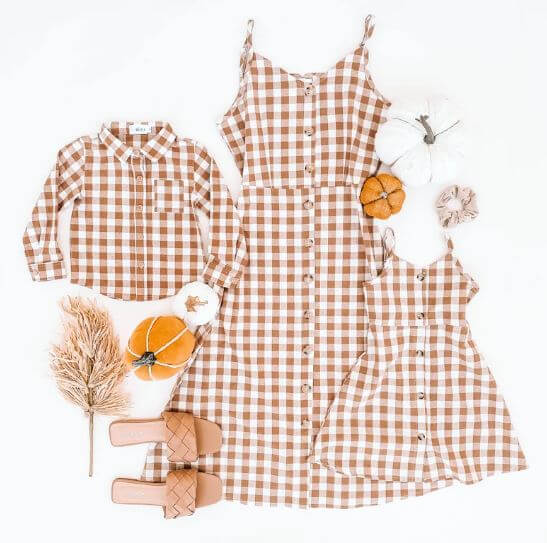 Photo Source: Little Mia Bella
Green Mommy + Me Dresses
These beautiful green Cosette dresses are available in a variety of sizes, including adults and children. They also carry a matching green bow tie for boys!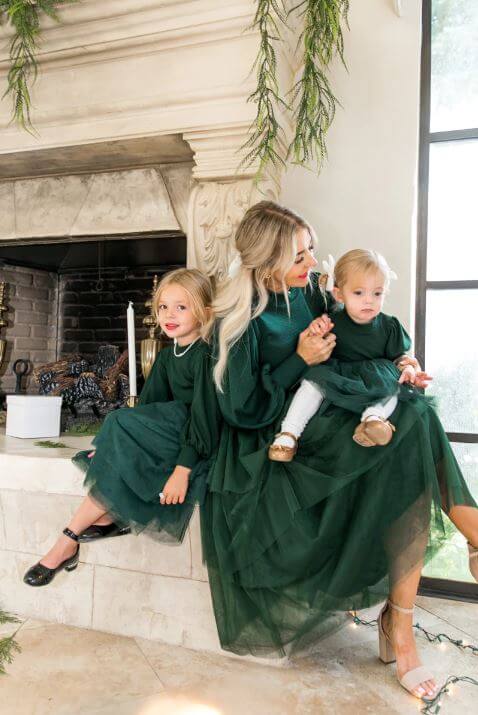 Photo Source: Ivy City Co.
These hunter green velvet Mommy + me Christmas dresses would be adorable for a family photo!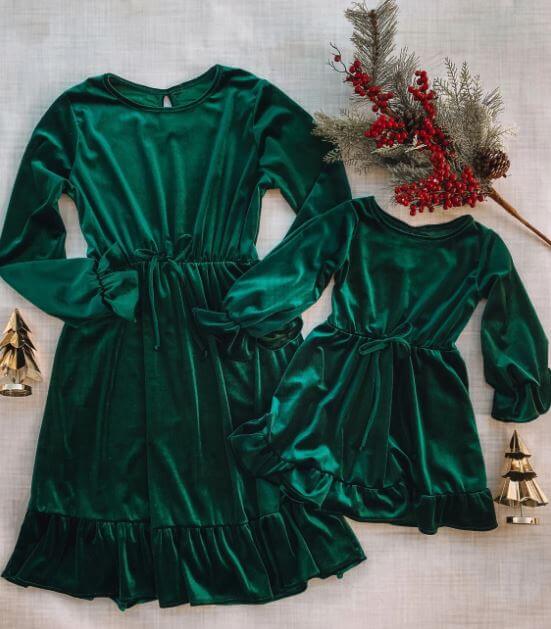 Photo Source: Little Mia Bella
These green velvet Mommy and me dresses by Ivy City Co. are simply gorgeous!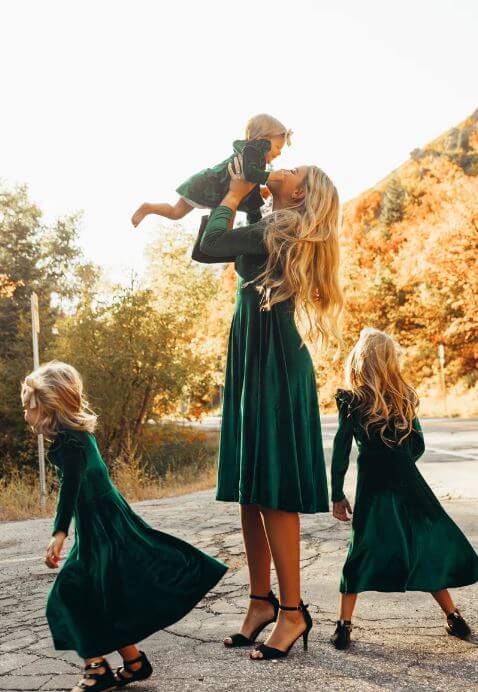 Matching Christmas Pajamas
I've always loved the idea of doing a matching Christmas pajama family picture. I just think it's so much fun and it would also be practical!
Here are a few ideas for matching p.j. photos I found recently. I love these traditional red and green striped ones!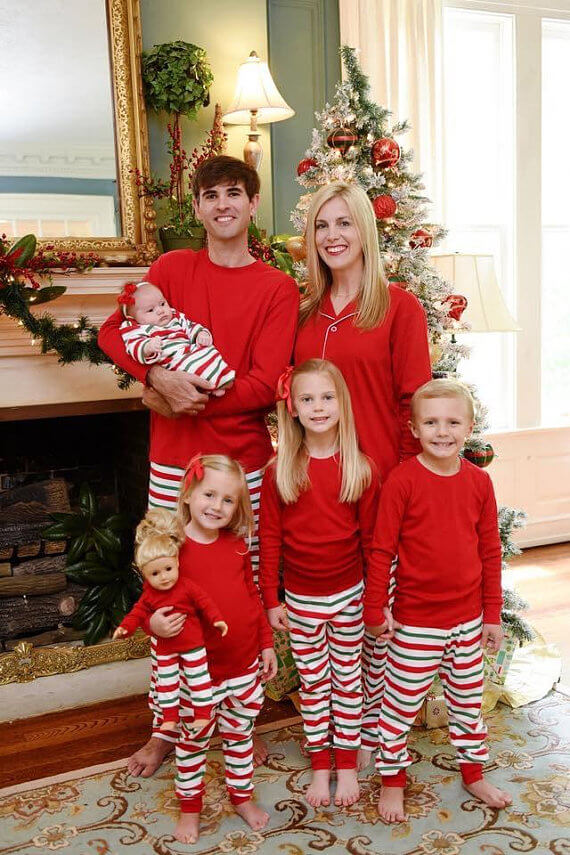 Photo Source: Birdie James
I think these classic gray striped matching pajamas from Target are cute, and they'd be useful for the whole winter season.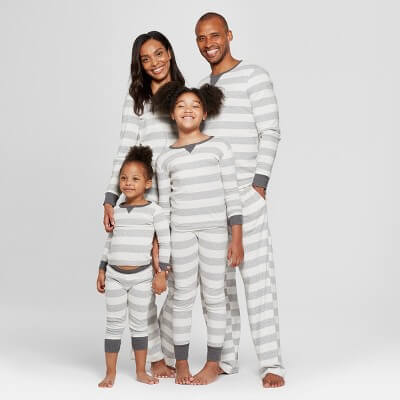 Photo Source: Target
These deer plaid matching family Christmas pajamas are also cute!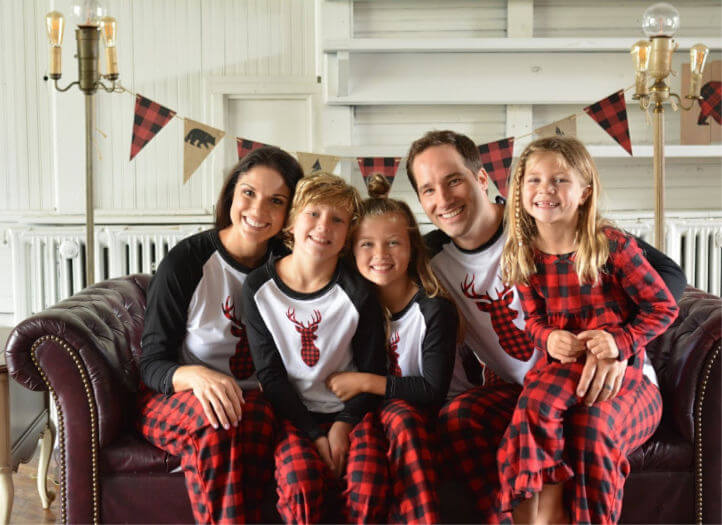 Photo Source: FamilyPajamas 
What to Wear for Family Photos This Year
I've had a hard time deciding what we're going to wear this year for our family pictures. This time around, we're trying to work with what's already in our closets, so that limits things a bit.
I think we're going to go with a cream/black/brown theme. I can't wait to see how they turn out!
Do you take a yearly family photo? I hope this gave you some ideas for what to wear for family photos!