Best party dip recipes for holidays and parties. Looking for tasty party dips that are easy to make? Check out this list!
33 Best Party Dip Recipes
Whether you need an easy party dip recipe for a holiday party such as Christmas or New Year's Eve, or a dip for Super Bowl festivities, I've scoured the Internet for some of the best dips ever!
From dips for a crowd to party dip appetizers, you'll find ideas here to please even the pickiest party goer.
Check out this list, try a couple, and you may find a new party favorite!
A great recipe for a crowd with a few simple ingredients!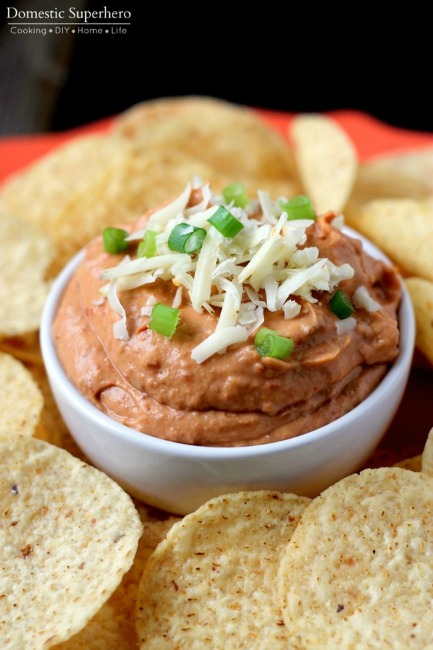 Simple yet delicious veggie dip made with a base of Greek yogurt and mayonnaise.
Super yummy Ranch-flavored dip made with cream cheese.
Delicious warm dip with a touch of chili-based heat!
Perfect for game day or any day! Made with a mayonnaise and ketchup base.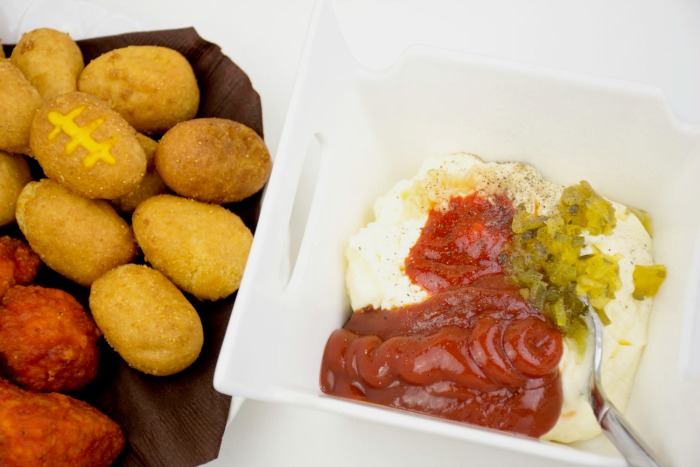 6. Dill Dip
If you like dill, you'll go crazy over this zesty dip that is perfect paired with veggies and crackers!
7. Creamy Roasted Bell Pepper Dip
Made with tasty roasted bell peppers and cream cheese, this dip is sure to be a hit!
Featuring shredded chicken and corn, this is a hearty dip for your party!
9. Creamy Dill Pickle Potato Chip Dip
Love dill pickles? Then this potato chip dip will be right up your alley!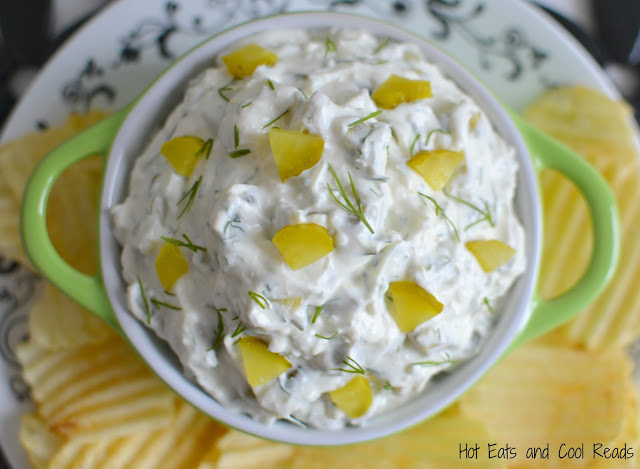 10. Vegan Queso Dip
Need a dip recipe that doesn't use meat or dairy? Check out this vegan queso dip made with cashews!
11. French Onion Dip
A simple yet tasty dip made with sour cream and onion soup mix!
Fire up your slow cooker with cream cheese, cheese loaf and a couple more simple ingredients for party-hearty goodness!
Super tasty (and healthy too) easy guacamole dip!
14. Slow Cooker Bacon Horseradish Onion Ring Dip
Another delicious slow-cooker dip.
15. Hot Crab Dip
If you like crabmeat, be sure to try this recipe.
16. 3 Bean Party Dip
A hearty dip made with beans and corn.
This dip could actually serve as a light meal with its ground beef and canned chili!
Combine baby spinach and artichoke hearts for a scrumptious dip!
Delicious broccoli and cheese based party dip.
20. Pepper Jelly Cream Cheese Party Dip
This has to be the simplest dip recipe ever – just 2 ingredients!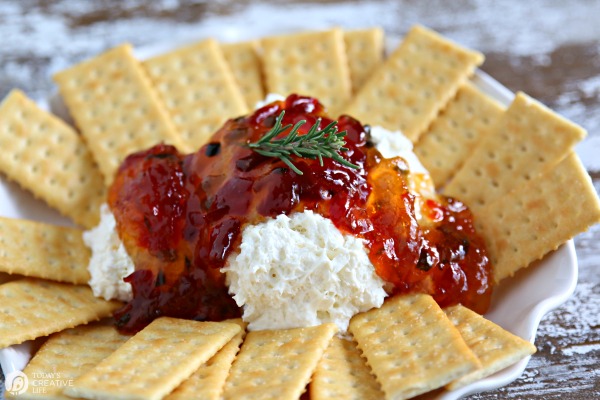 Cheesy with some heat – a perfect party treat!
With bacon, cream cheese, mayo and sour cream, you know this one has to be good!
23. Easy Slow Cooker Sausage Dip
Another super tasty yet simple slow cooker party dip recipe.
A yummy variation on the jalapeno popper dip.
25. Everything Bagel Party Dip
A super simple dip, perfect with veggies, crackers or bagel chips!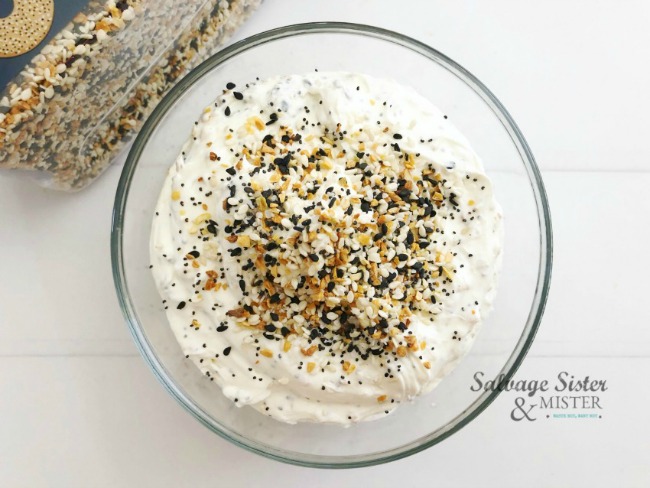 Take Buffalo-style hot sauce combined with sour cream, yogurt, and a few other ingredients–mmmm, good!
27. Easy Queso Dip
Another super-simple yet super-yummy party dip with only 2 ingredients!
28. Chocolate Chip Cookie Dough Dip
So tasty it could be a dessert!
A sweet and creamy dip, perfect with fruit, pretzels or crackers!
Looking for a low-carb dip to serve with bread or pita chips? This is the one!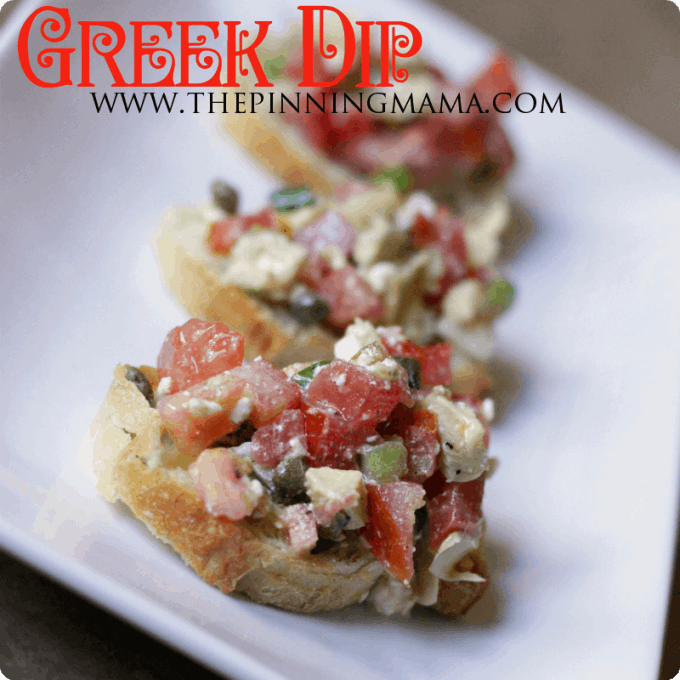 31. Black Bean Dip
Tasty bean dip can be made in the oven or Instant Pot.
Cheesy cream corn dip made with Spicy Chipotle Ranch dressing.
This one just has 4 ingredients!
Don't Miss These Posts
Let me know in the comments if you've tried any of these or if you have a favorite dip that isn't included here.
Check out the posts below for more party food ideas! Click on the picture to be taken to the blog post.
Pin This Post for Later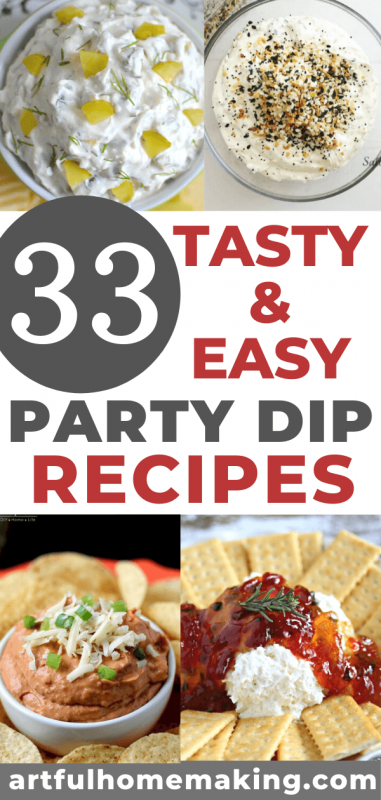 Sharing here.