With Christmas just around the corner, now is the perfect time for some fun and easy Christmas crafts for kids! Best of all, many of these crafts are budget-friendly and cost just a few dollars to make!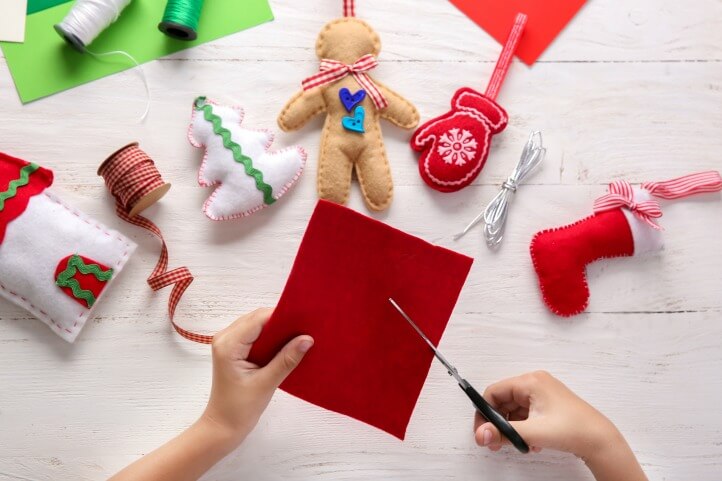 Kids love Christmas. The colorful lights, the festive music, the tasty cookies and treats. Many children look forward to Christmas as their favorite time of the year.
But sometimes it's hard for kids to be patient as they look forward to opening presents on Christmas Day. To help kids have fun during the lead up to Christmas, it's a great idea to have creative holiday activities to occupy your little ones.
Take a look through this list of easy Christmas crafts for kids and you're sure to find something just right for inspiring holiday cheer!
This post contains affiliate links, which means I may make a small commission at no extra cost to you. Read my disclosure here.
Easy Christmas Crafts for Kids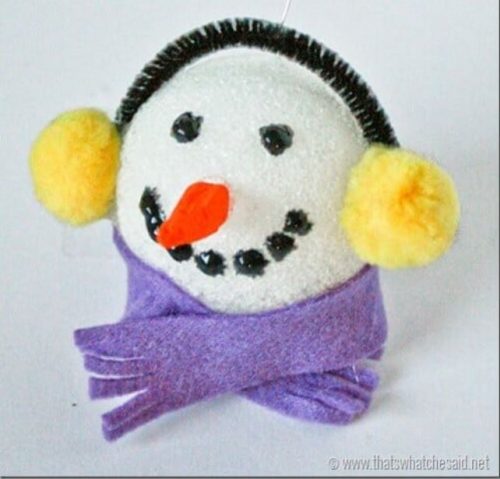 Styrofoam Snowman Ornament Craft
Isn't this Styrofoam snowman ornament so cute? It just takes a few simple supplies. Kids love making their own homemade Christmas ornaments that they can hang on their tree. This would also be a perfect gift for a child to make and share with a friend or grandparent.
---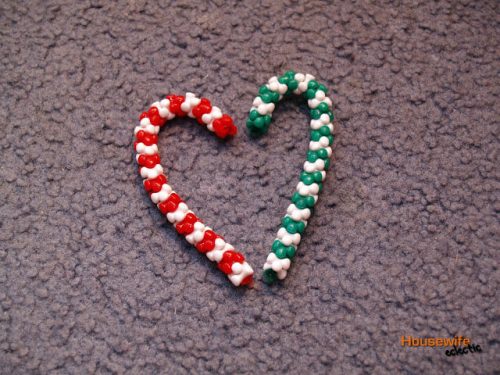 Candy Cane Bead Christmas Ornament
This super easy Christmas kids' craft project only requires a few simple items! This is ideal for younger children as it is so simple. Watch your child's eyes light up as they make their own ornament and then hang it on your tree!
---
Swedish Woven Heart Christmas Ornament Craft
I just love this simple yet classic Swedish woven heart Christmas ornament! It looks easy and fun for even young children!
---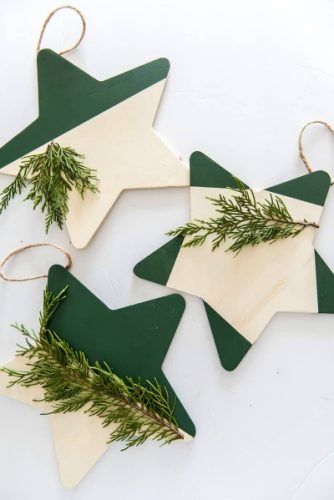 Painted Wooden Christmas Star Ornament
These adorable painted wooden Christmas star ornaments look elegant but are so easy to make! You can use artificial or real cedar tree sprigs to add such a naturally festive touch.
These wooden star shapes  would work well for this project. This craft would probably be best for older children.
---
Painted Glass Christmas Ornaments
Talk about a simple and easy craft that with endless color options! Just pour the acrylic paint into the clear glass Christmas ornaments and rotate to coat the inside. Perfect for kids of all ages, but be careful with the delicate glass balls!
---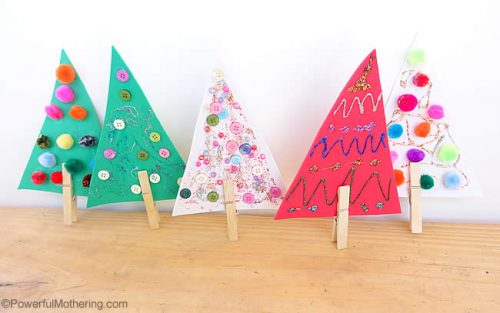 Kids' Craft Mini Christmas Trees
This fun and simple Christmas tree craft can be made with cardboard or foam, and then decorated with buttons, beads or other loose parts like these!  So easy and festive!
---
What is better than a craft that is fun to make and look at? Why, a craft that is also edible, of course! Kids will love turning a plain pudding cup into a happy reindeer!
---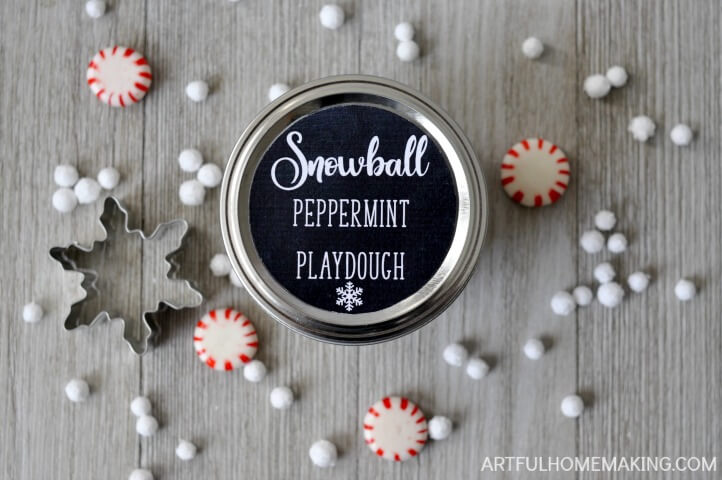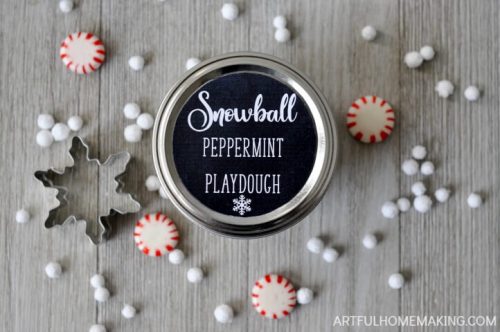 Make this peppermint-scented holiday playdough with just a few simple ingredients. Also includes free printable gift tags!
---
This cute snowman ornament looks so easy to make! Just glue the pieces together and add decorations and you have a wonderful ornament to add to your Christmas tree!
---
Candy Cane Pipe Cleaner Garland
This is so fun and easy! Little hands just love the twisting motions involved with making their very own garland for your tree!
---
Miniature Nativity People Craft
This is a truly cute kids' Christmas craft idea that younger children could do with supervision.
---
Pouch Cap Christmas Wreath Craft
This may truly be the easiest kids' Christmas craft ever!  Your toddler will be so thrilled to see the finished project!
---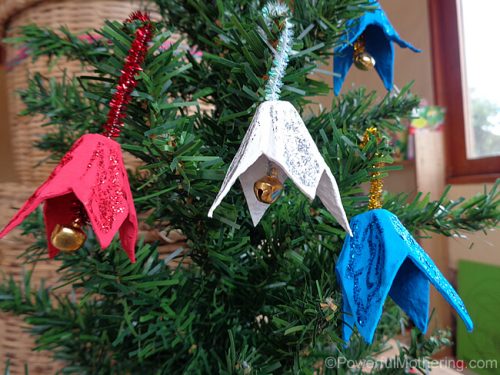 Egg Carton Christmas Bell Ornament Craft
Another super cute kids' craft Christmas ornament that includes the fun of jingle bells!
---
Another simple yet fun paper plate Christmas craft! Perfect for little hands with short attention spans! 🙂
---
This is a very fun yet easy Christmas craft for kids. This was always a favorite with my kids.
---
This is another edible craft that takes the cake in terms of cuteness! The only hurdle may be actually getting these made without kids eating up all the ingredients!
---
What a simple yet fun craft that children will absolutely love! This DIY snow globe is totally customizable in terms of the figurines you use.  These Christmas figurines and these cute Christmas trees would look awesome in these glass jars!
---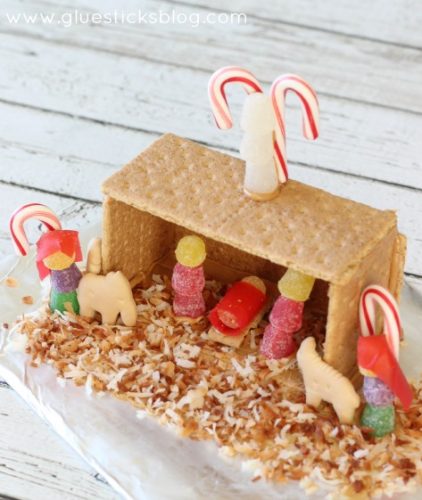 Graham Cracker Nativity Scene Craft
I saved one of the very cutest crafts for last!  I previously shared my personal favorite Super Easy No-Bake Gingerbread Houses which are perfect for somewhat older kids. But for little kids, this easy nativity scene craft made with graham crackers and candy would be absolutely perfect!
---
More Easy Christmas Crafts for Kids
I hope you've enjoyed looking at these easy Christmas crafts for kids as much as I have!  Let me know in the comments if you've tried any of these.  Happy Christmas crafting!
Click on the pictures to be taken to the posts!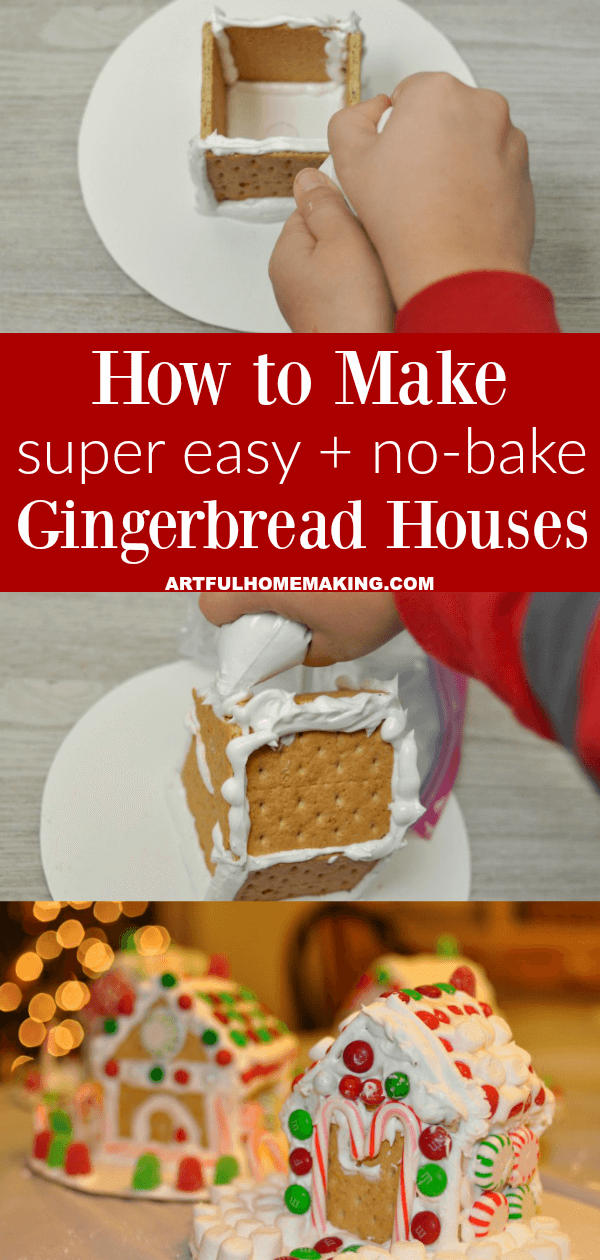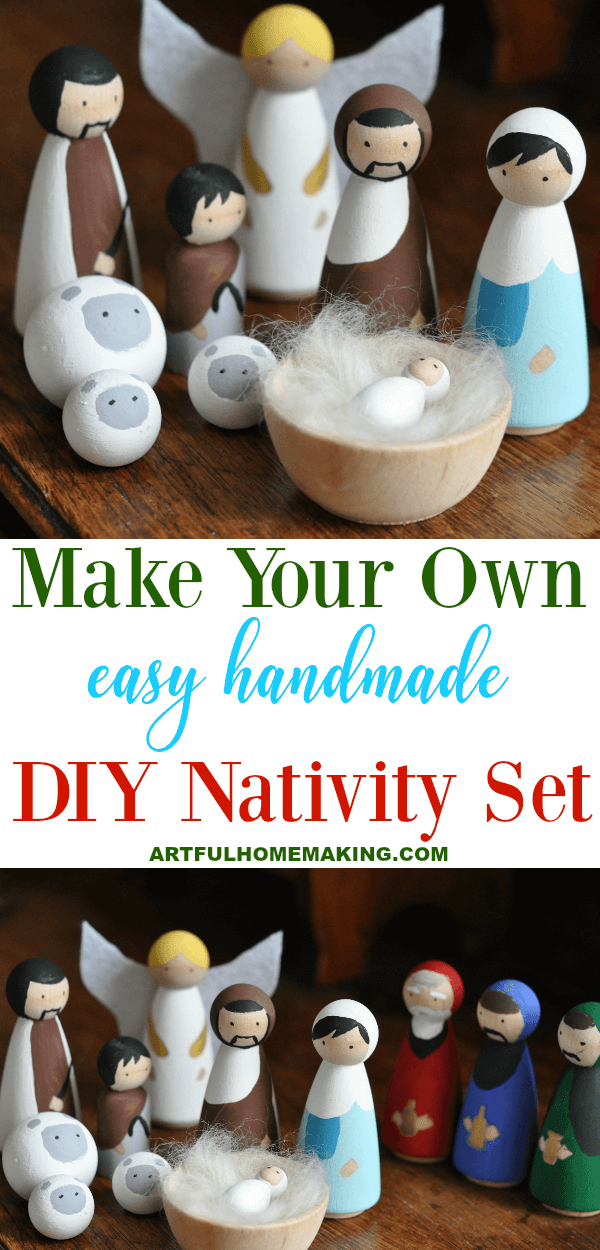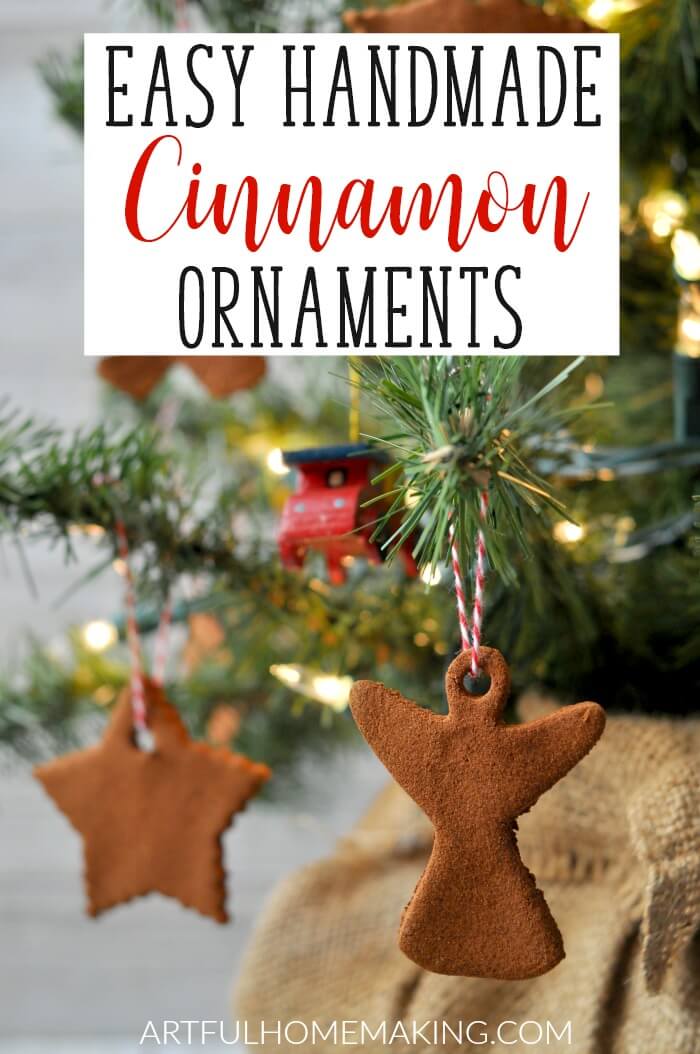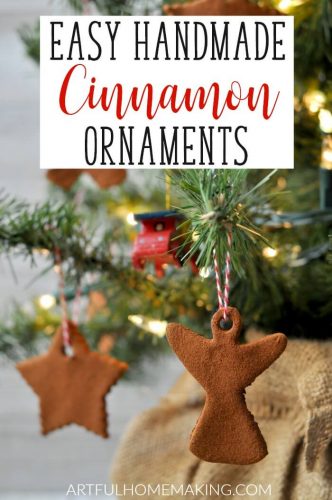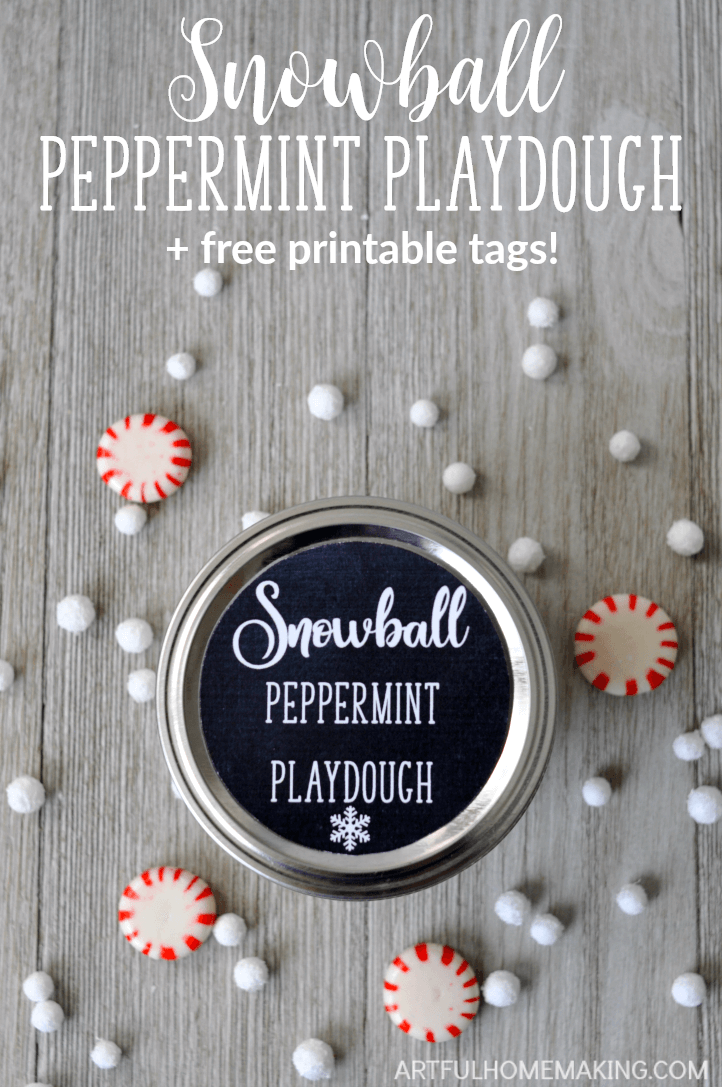 Pin This Post for Later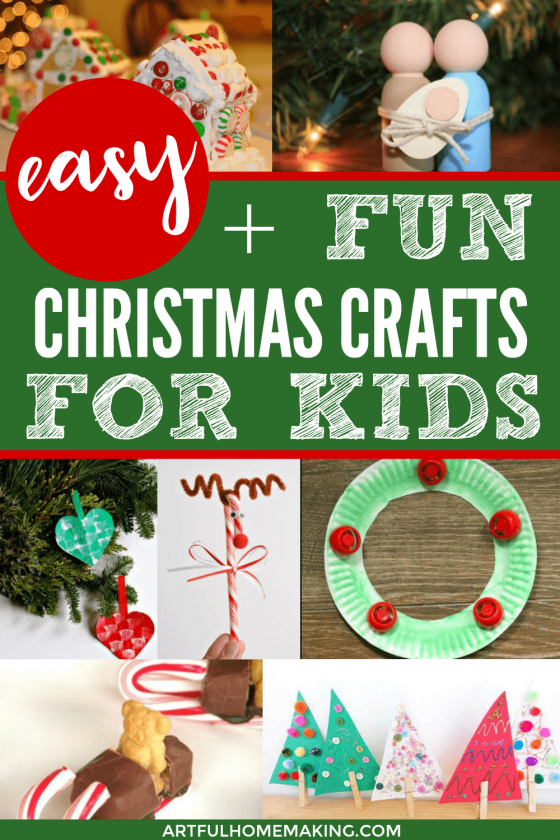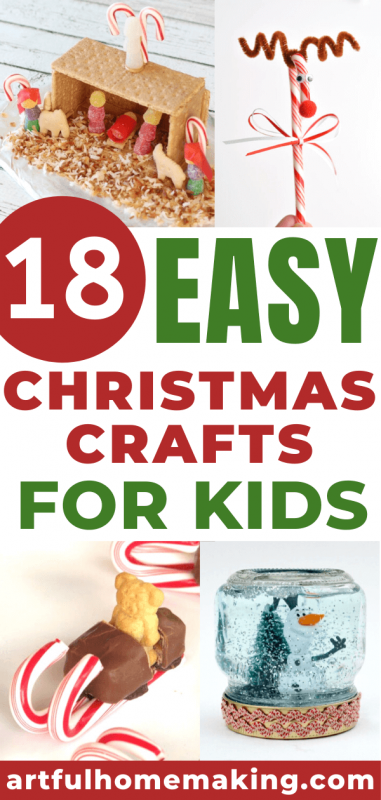 This post contains affiliate links, which means I make a small commission at no extra cost to you. As an Amazon Associate I earn from qualifying purchases. Read my disclosure here. Sharing here.