A chicken coop tractor that is both a chicken coop and a moveable chicken tractor! That's what my husband built for our chickens.
Today I'm sharing all about how we built our mobile chicken coop and how it has worked for our chickens through several seasons.
Find out how to build an A-frame chicken tractor and how to keep chickens warm in a chicken tractor through the winter months.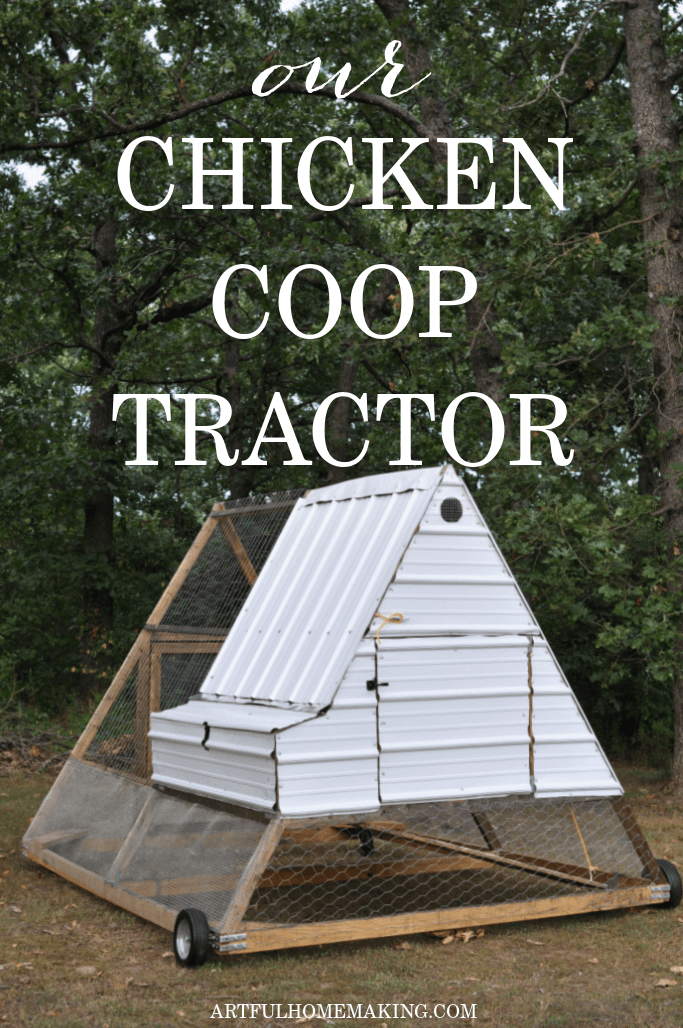 What is a Chicken Coop Tractor?
A chicken coop tractor is a mobile chicken coop with an open bottom and a coop built onto the top of the tractor.
This design allows you to keep your chickens on fresh pasture without fear of predators attacking them.
When we first started making plans to get chickens, our main consideration was chicken housing. Read How to Get Started With Backyard Chickens here.
We only have one acre and there are many dogs that roam around our area. We also have hawks, owls, foxes, coyotes, and the occasional bobcat.
Neighborhood dogs often find their way into our yard, and some have proven to be chicken predators, so keeping our chickens safe from dogs was one of our primary concerns as we considered what type of coop to build.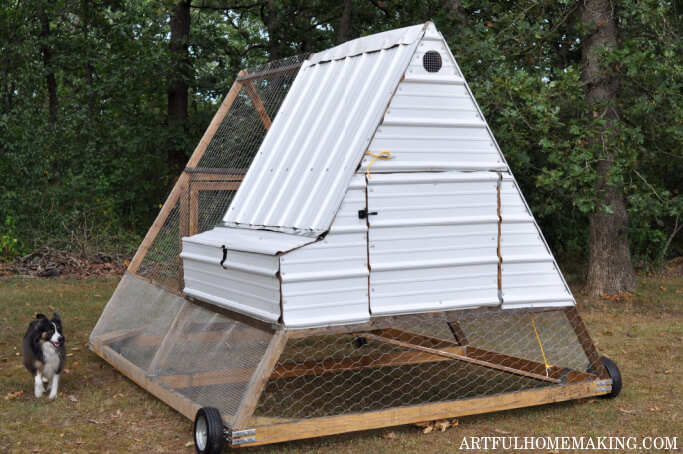 We wanted to have free-range, pastured chickens, but we weren't sure how we could accomplish that with an unfenced yard.
When we discovered the mobile chicken tractor with a coop on the top, we decided this was the perfect solution.
The chicken coop tractor allows the chickens to be on fresh pasture daily while protecting them from predators.
The particular A-frame chicken tractor design that we used also has built-in nesting boxes and a ramp to pull up at night for further safety.
Related: What Are The Best Chickens to Lay Eggs?
How to Build a Chicken Coop Tractor
In order to build this A-frame mobile chicken coop tractor, my husband purchased a build plan. My husband does not have extensive building experience, but he has built simple things like privacy fences and raised garden beds.
This was the most ambitious building project he's ever attempted, and I think he did a great job! He did have help from some of our kids, but he built most of it by himself.
First, the lumber was painted with some non-toxic wood preservative. The older girls helped with this part.
Next, he built the frame of the chicken tractor.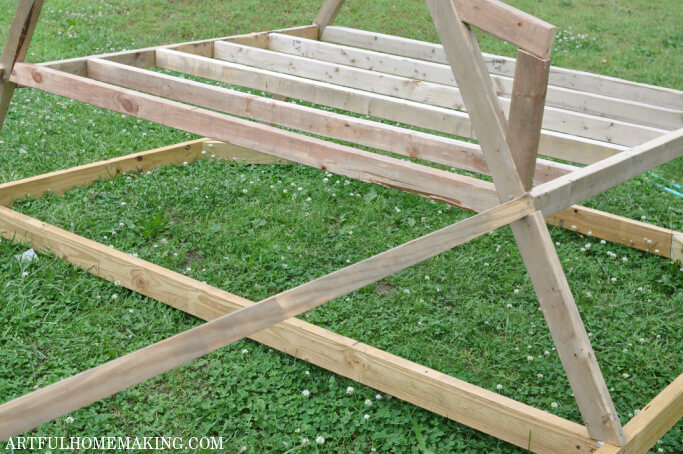 When the A-frame structure of the chicken tractor started coming together, it was exciting to see all the hard work paying off!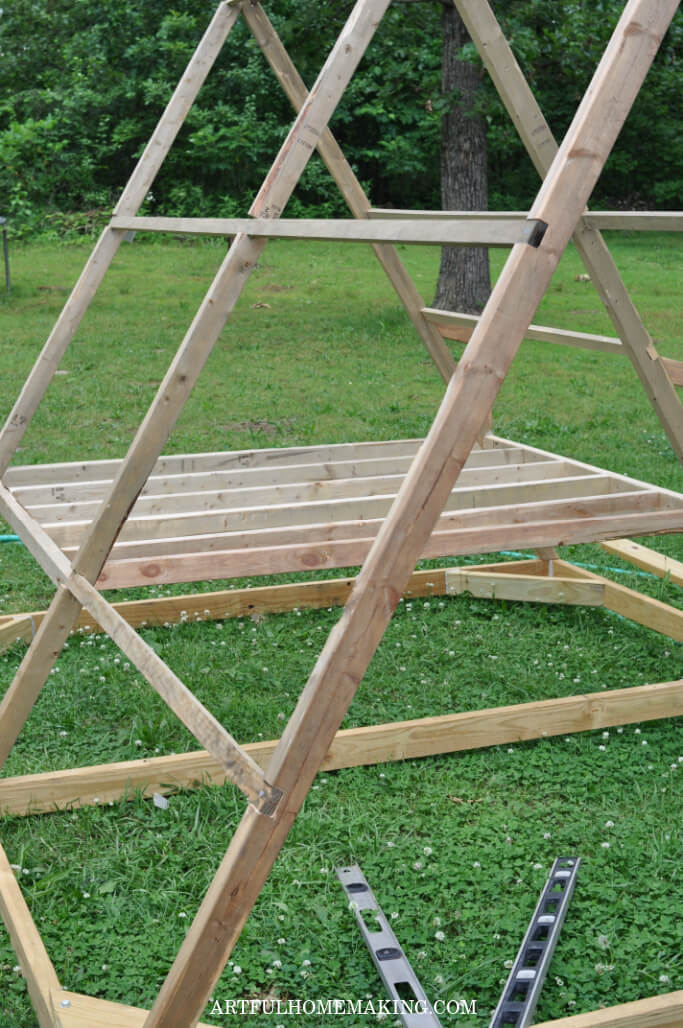 After building the chicken tractor frame, he added the nesting boxes, the door, the wheels, and the wire.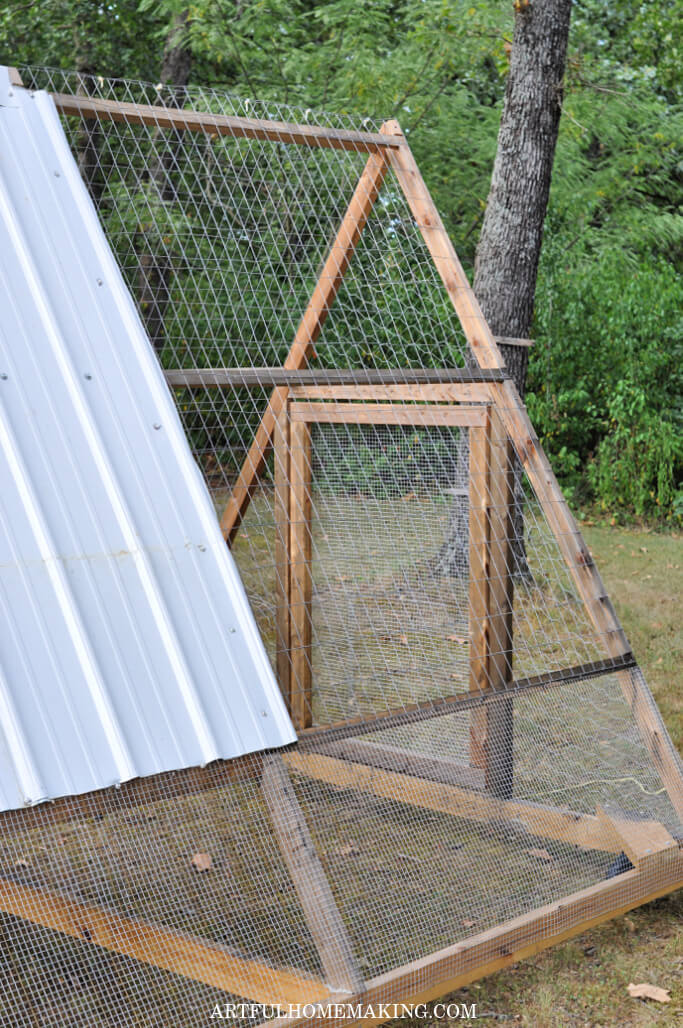 This is an inside view of the portable chicken coop on wheels after getting the corrugated metal roof and sides attached.
There is a round hole at the top for ventilation.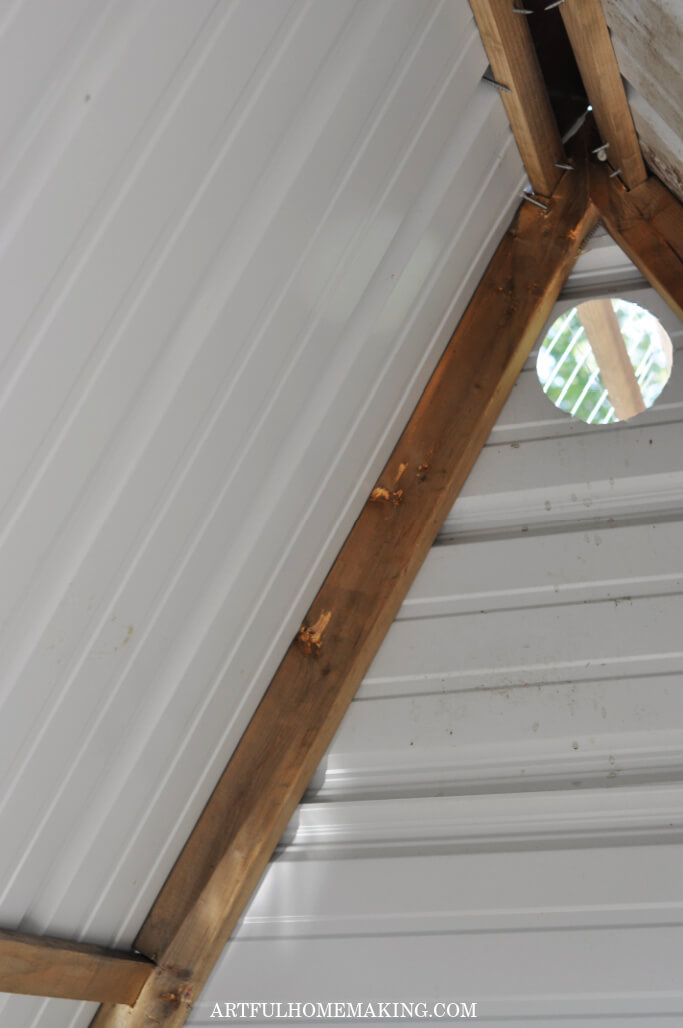 Here are the nesting boxes before we painted them: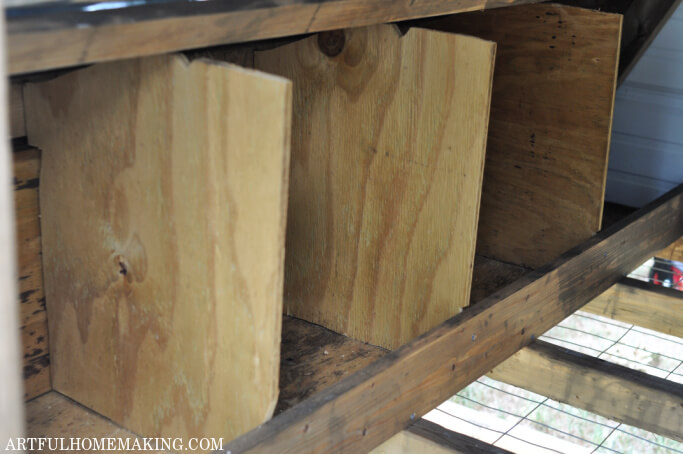 The door has a secure latch.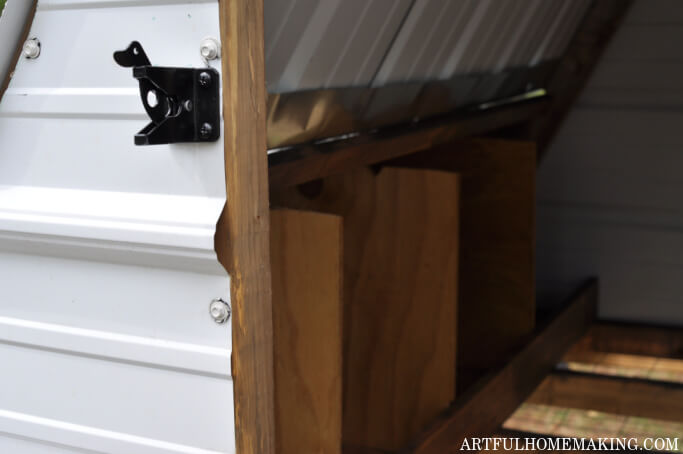 And there is also a latch on the front door.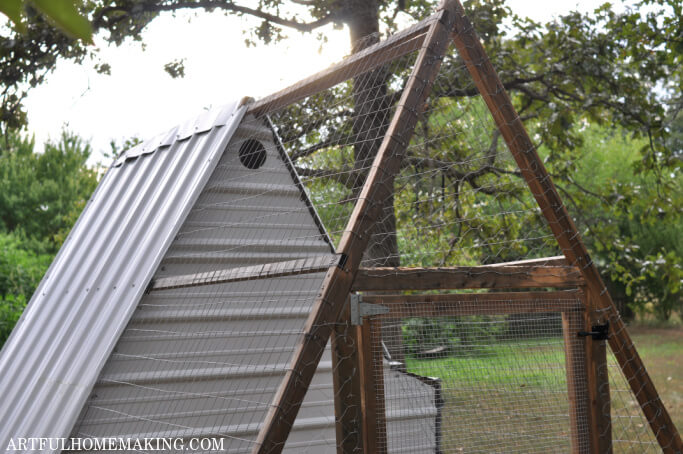 Here are the nesting boxes from outside. This was before we painted the inside of the coop.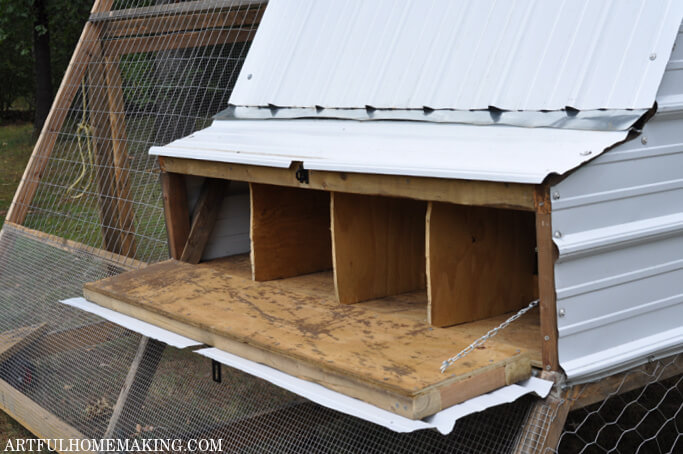 This ramp design is so clever! When the girls go up to roost at night, the ramp is pulled up, which prevents predators from ever entering the roosting area. I love knowing that they're secure at night!
After Painting It White
These photos are from after we painted the inside of the chicken coop white, with non-toxic paint (this was recommended in the chicken tractor build plans).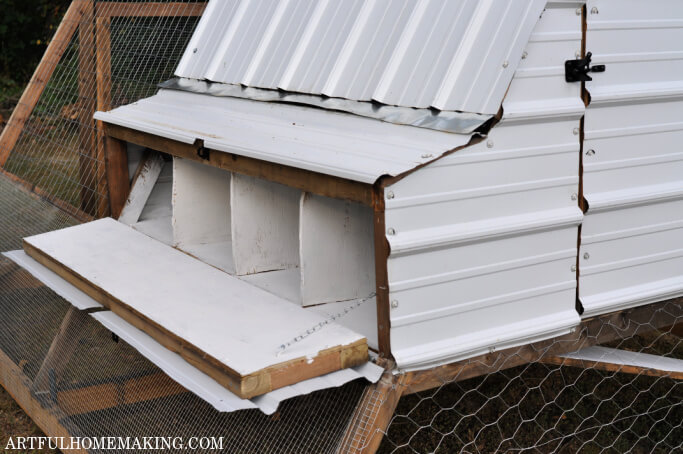 And here is the the completed mobile chicken coop tractor!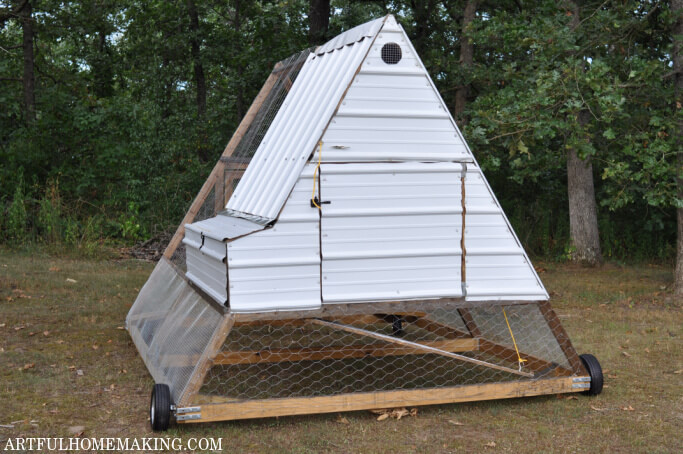 The wheels make it easy to move around the yard (unless you have deep ridges or holes in the land—which we do). There is also a rope in the front of the coop that you can use to pull it forward to help maneuver it.
On flat ground, I'm able to move the coop forward or backward without any help.
However, if you have deeply pitted ground (or when it's wet and muddy), moving the coop can be difficult and requires a couple of people to move it (turning it can be especially difficult).
Watch the Video
How Many Chickens Fit in a Mobile Chicken Tractor?
We bought the plans for the largest A-frame mobile chicken tractor, which is supposed to be able to house 15-20 hens.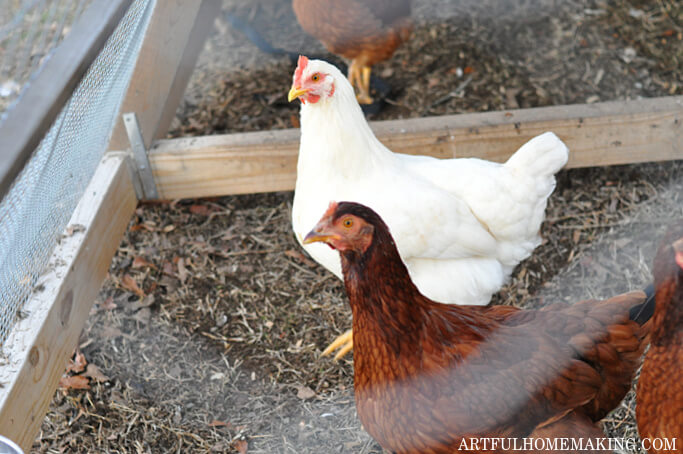 We started off with 15 hens in this chicken tractor. However, after the hens are full-grown, I feel like this isn't really enough space for that many.
We ended up moving our original flock to a stationary chicken coop with a large run, and we currently have a flock of 6 Andalusian chickens living in the mobile chicken coop tractor.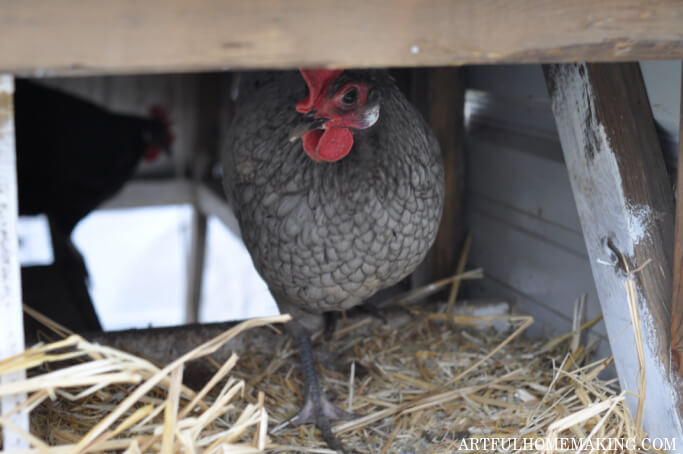 In my opinion, this coop houses 6 (up to maybe 10) chickens very comfortably, but 20 would be pretty crowded. But I like for my chickens to have plenty of space, so maybe that's just me.
Gathering eggs is easy with the outside access to the nesting boxes.
Read More Homesteading Posts
How Does This Chicken Tractor Work in Winter?
Can chickens live in a tractor in winter? Ours do!
Mobile chicken tractors can be a challenge to insulate in the winter. However, we've had chickens in this chicken tractor for two winters, and we haven't lost one chicken due to cold and haven't had a case of frostbite, despite temps as low as -15° F.
Granted, here in the Midwest we don't have the coldest winters. We rarely have temps drop below zero.
And our winters don't last as long as they do in some areas. But we do have snow, ice, and cold temperatures part of the year (primarily in the months of January, February, and March).
Below I'll go over some of the ways we've been able to insulate our chicken tractor and protect our chickens in cold weather.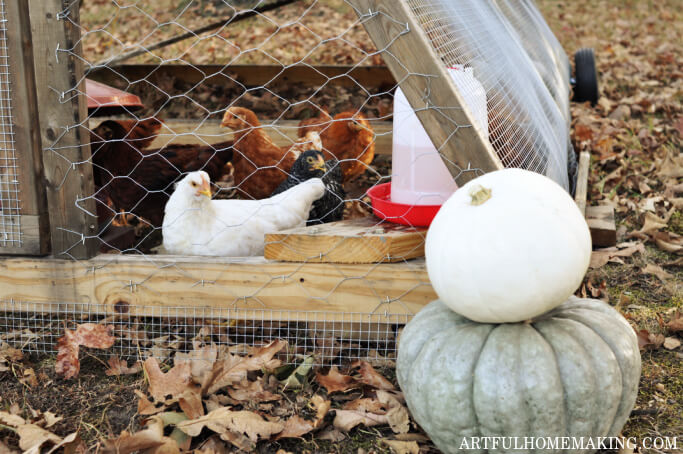 The ideal situation would be to have a barn or outbuilding that you could pull the chicken tractor into on very cold days and nights.
However, we don't have anything like that available to us.
What we opted to do is to take steps to insulate our chicken tractor for winter. Then in the spring, once warm weather returns, we go back to using the tractor as before (without any insulation materials).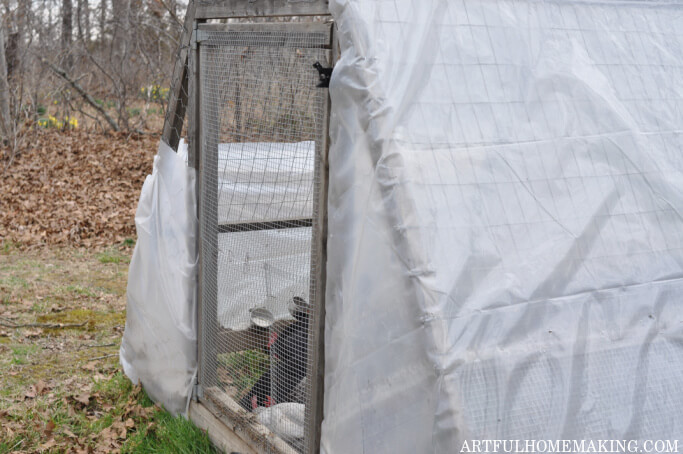 This post contains affiliate links, which means I may make a small commission at no extra cost to you. Read my disclosure here.
How to Winterize a Chicken Tractor
First, we keep a thermometer inside the coop that shows us the coop temperature. This is useful year-round, and I highly suggest getting a thermometer like this.
When the weather begins to cool down considerably, we move the coop to a sheltered area where the wind won't whip through so much.
We add extra straw to the nesting boxes.
On extremely cold nights, we wrap the coop with a large tarp.
My husband found the large tarp at a discount store. It's the kind usually used to cover boats, and it works really well to cover the coop.
We also added a piece of plywood in the upper coop part of the tractor, which keeps some of the wind out of the coop on really cold days.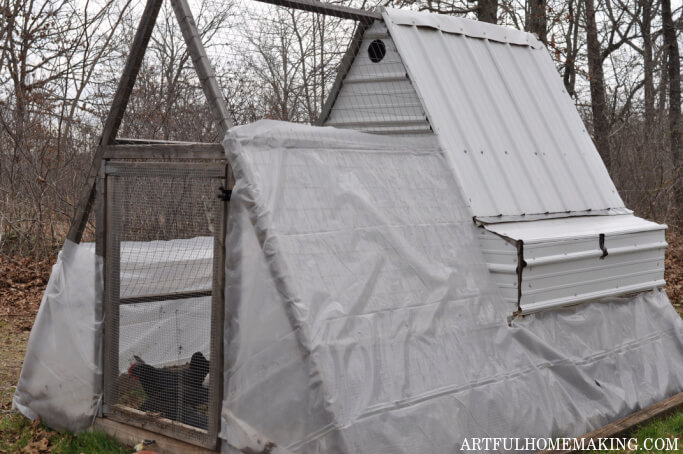 This year we also added some clear plastic sheets (like the kind of plastic used on greenhouses). We stapled the plastic to the wooden frame to provide more protection from the wind.
And, if it's really cold, you can consider adding a heater. There are quite a few different viewpoints on using heat in chicken coops, so do your own research on this and proceed with caution.
We've rigged up a way to heat the coop a bit on just the coldest of nights, but it's not without risk.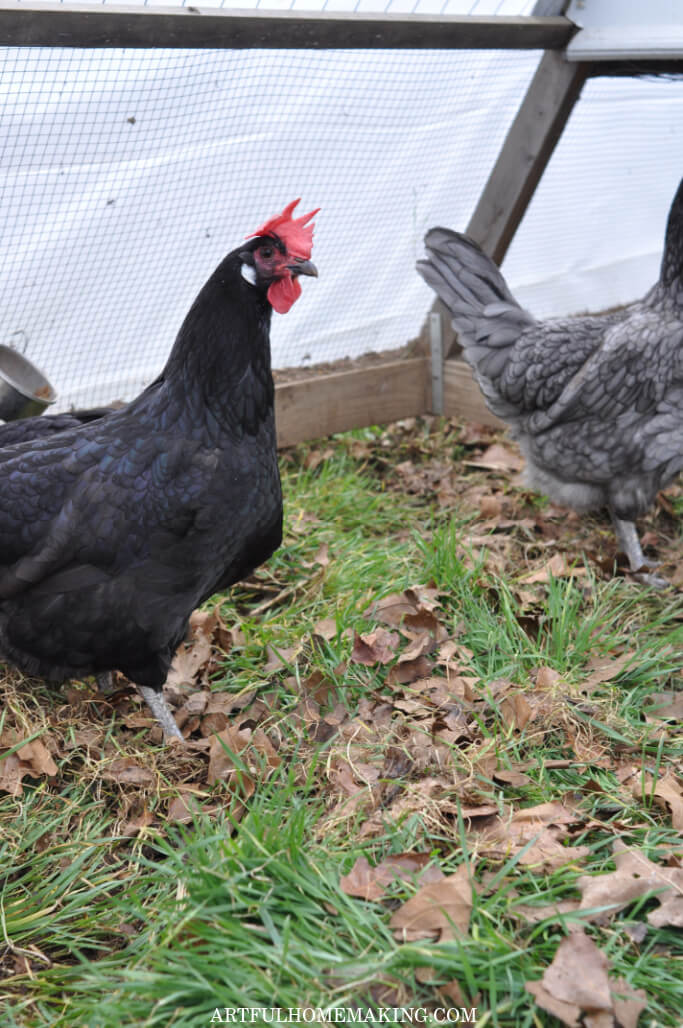 Here are the supplies to consider for winterizing a chicken coop or tractor:
It may seem like a bit of a pain to add and remove tarps (we put them on when it's bitterly cold and remove them on sunny winter days), but this has worked well for us.
And since our cold weather season only lasts a few months, we just deal with the inconvenience.
In an extremely cold northern climate, you may need to work harder to get your chicken tractor better insulated.
Where to Find Mobile Chicken Tractor Build Plans
If you're interested in building a mobile chicken coop tractor like ours, we used these plans for the mega size.
They also have plans for a mini and a medium-sized tractor if you need a different size.
My husband didn't feel like this was a simple project, but he only has minimal building experience. For someone more experienced, it would probably be easier! And, Kelsey was very helpful and responsive to all the questions we asked during the building process!
All in all, we've been very happy with this mobile chicken tractor. In fact, now that we have one flock in the tractor and one in a more traditional coop, I would have to say I prefer the tractor.
I would love to have another one if my husband would be willing to build it (he isn't at the moment!).