Lessons from the Great Depression that can help us live better even in our modern world.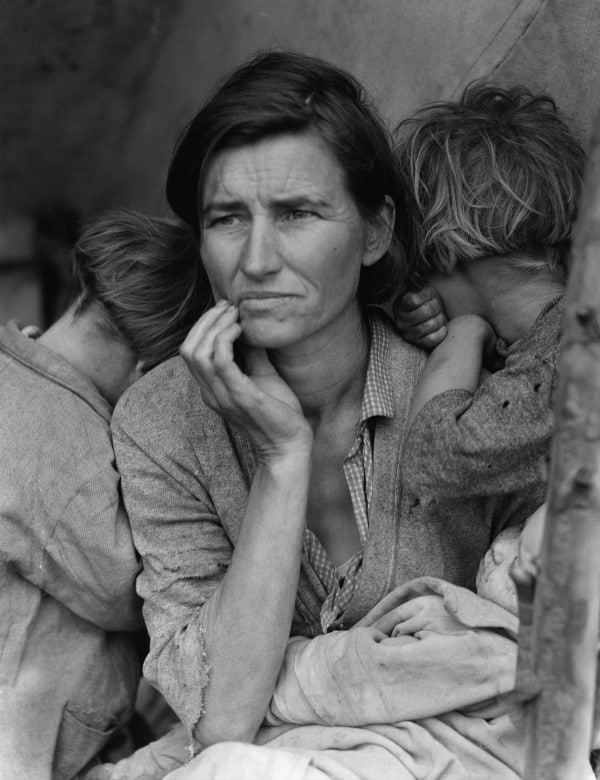 As a young girl, I was regularly amazed at the resourcefulness of my maternal grandmother, who grew up in the 1930's during the Great Depression era.  
Granny managed to find a creative use for just about anything, and she was a wonderful cook! She made her own clothes, sewed for the grandkids, made quilts out of scraps, and canned whatever she could. 
She would put to use whatever she happened to find growing on their property. I loved her delicious wild plum jelly, made from "sand plums." Nothing ever went to waste under her watchful eye.  
Even though I'm so thankful for all that we have been blessed with today, I believe we would do well to learn from those who lived through this time.
We can learn so much about living frugally, wisely, and well from our grandparents.
RELATED POST: 8 Useful Homemaking Skills Our Grandmothers Knew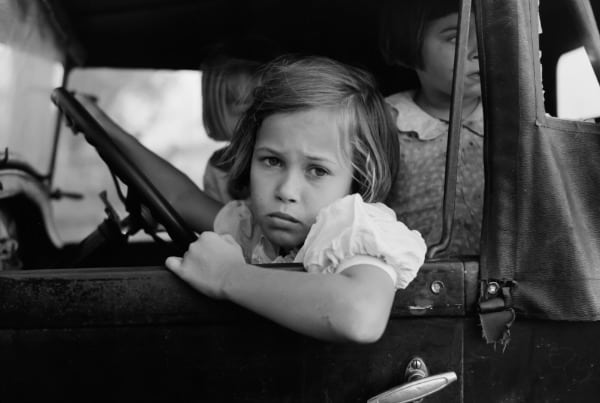 Lessons from the Great Depression
While there are many valuable lessons to be learned from the experiences of those who went through this difficult period of history, here are ten important lessons from the Great Depression. 
Affiliate links included below. Read my full disclosure here.
 Be a good steward of resources and don't be wasteful.  

Every year, the United States generates approximately 230 million tons of "trash"–about 4.6 pounds per person per day.

 By contrast, those of the Depression Era learned to use (and reuse) every available resource with minimal waste.  That piece of leftover odd-length string?  They wouldn't toss it out; it would be used for some repair project, as a shoe lace, or to create a toy for a child. I love this saying: 
Use it up, wear it out, make it do, or do without.
Don't be so reliant on stores and markets for your food.  Instead, raise or grow food for your own family and/or barter with others for items you may need.  We're all familiar with the Victory Gardens of the 1940's. However, the precursor to this was the long American tradition of small-scale rural farming and backyard gardens even on smaller city lots.  The mass movement of the American population off of rural farms and into big cities that began in the 1800's was one factor that made The Depression worse than it might otherwise have been.  After all, a nation of family farmers is not as susceptible to mass hunger as a nation of city dwellers that rely on others for their food supplies.
Plan ahead and be prepared for hard times.  Those who put away food storage through canning, drying, or other means were in better shape when The Great Depression hit than those who were not prepared.  
 Learn how to hunt, trap, and fish. Many people in the 1930's relied heavily on venison, rabbits, and wild-caught fish as a primary food supply. 
Do it yourself. It's not only a great feeling to know that you repaired or made something yourself, it's also often more economical.
Learn useful skills. Skills like learning to garden, cook from scratch, and learn basic sewing and mending skills.
 Learn basic medical techniques and practices in the event the health care system is not readily accessible or is unaffordable.  While few would want to return to the days before modern medicine, it's a good idea to keep a first aid kit and a well-stocked natural medicine cabinet on hand.
Don't put your confidence in wealth, which can easily vanish.  Many people saw their savings and investments essentially evaporate overnight, which was devastating for those who had trusted that their riches would always be there for them.
Money doesn't bring happiness. Related to number 8, it doesn't take material riches to be happy. While many of those who went through The Great Depression experienced severe deprivation, there are many stories of happy family memories and finding contentment even in the midst of financial need.
Be thankful for little things.  As the Bible says, "But if we have food and clothing, with these we will be content."  In our contemporary era of excess, electronics, and non-stop entertainment, it's good to remember that the greatest joys often come from the simplest things. 
Free Resource
Get Your Free Depression Era Cookbook – 20 Frugal Depression Era Recipes (free recipe eBoook at end of post)
---
Did you have grandparents or other family members who lived through The Great Depression? What lessons have you learned from them?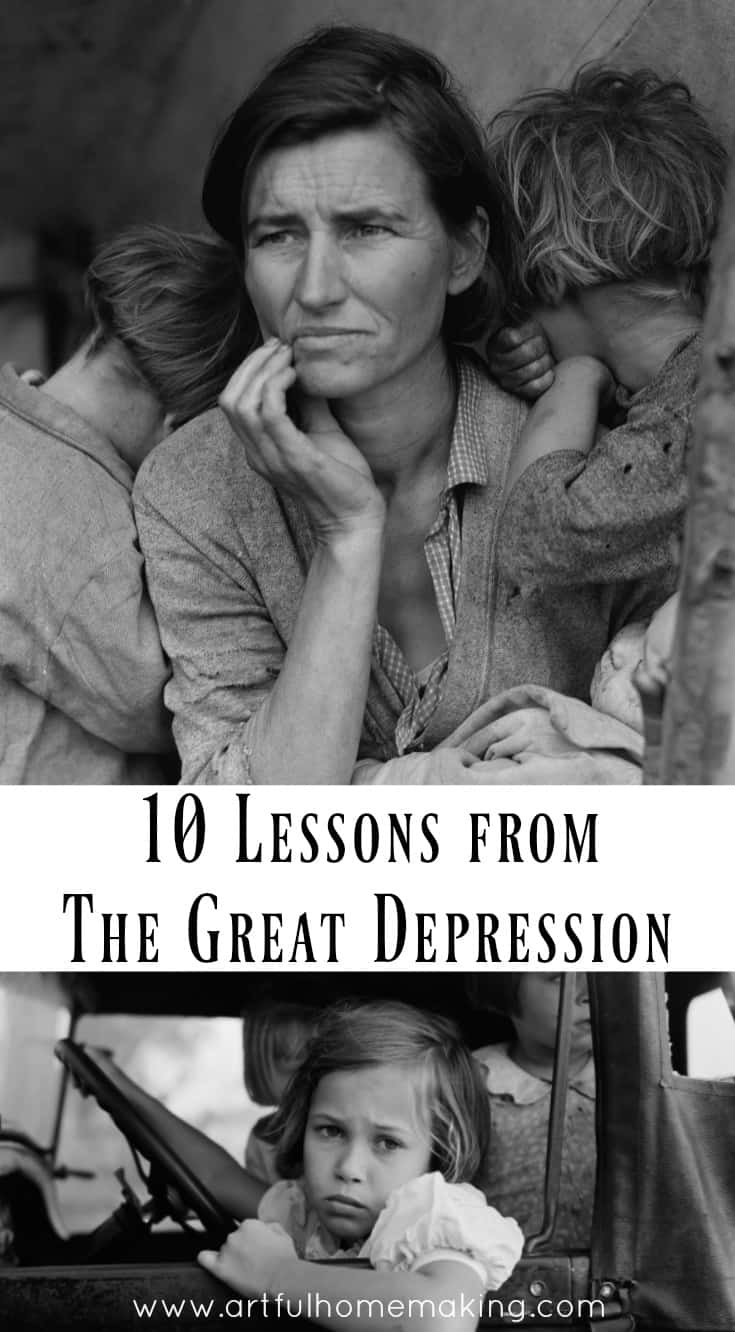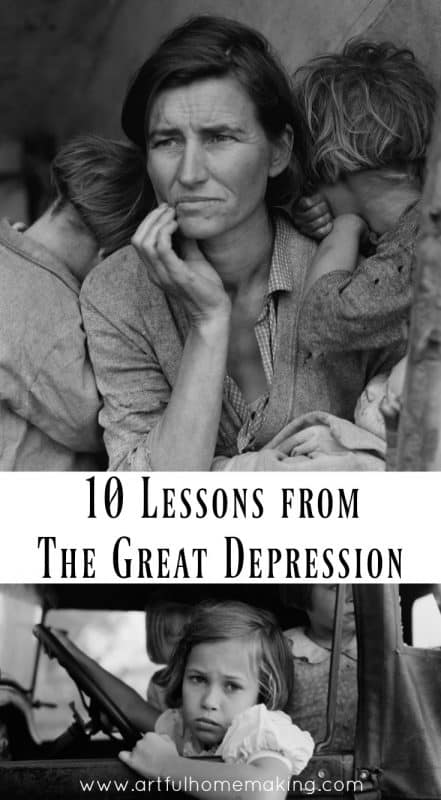 Related Posts
20 Frugal Recipes from The Great Depression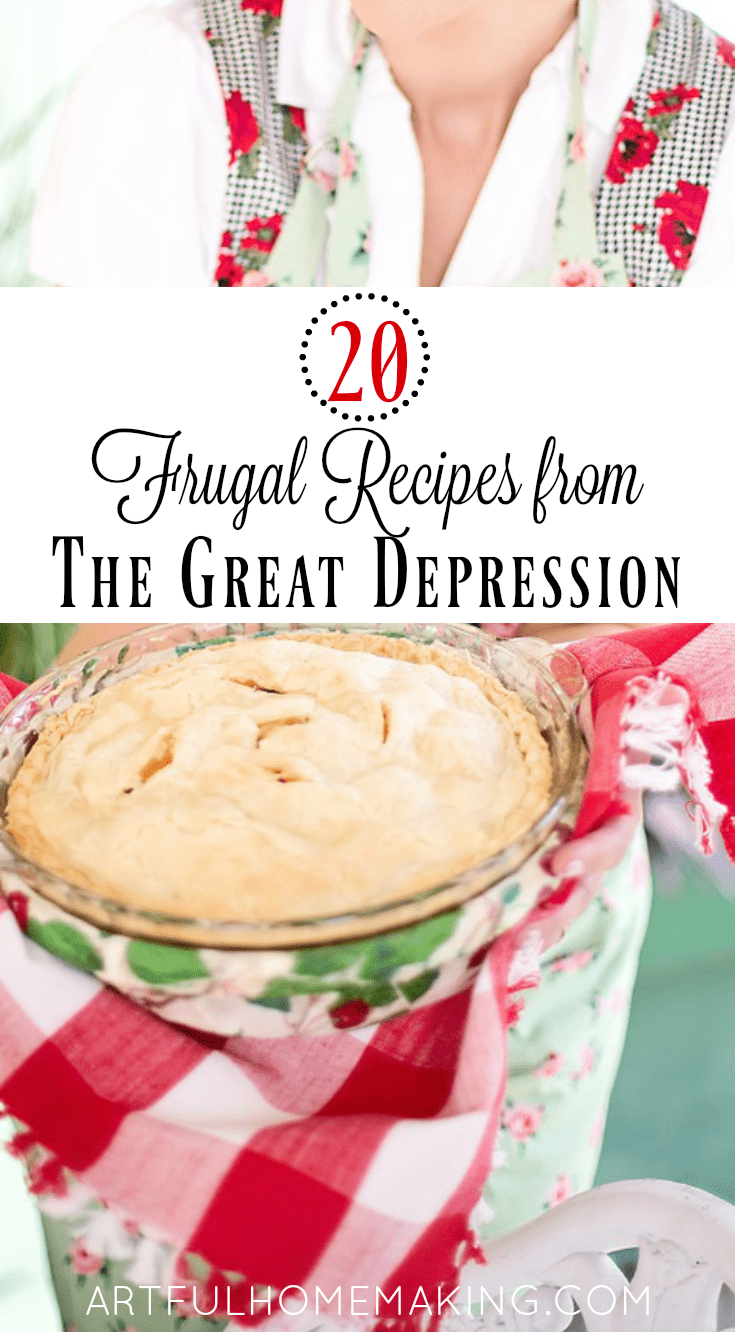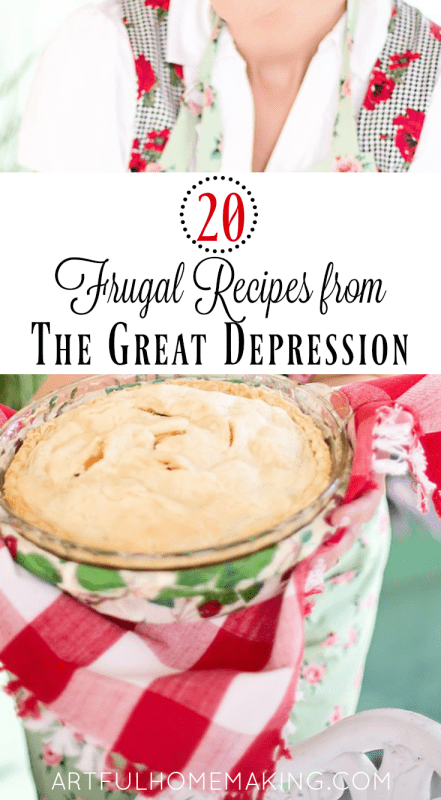 8 Useful Homemaking Skills Our Grandmothers Knew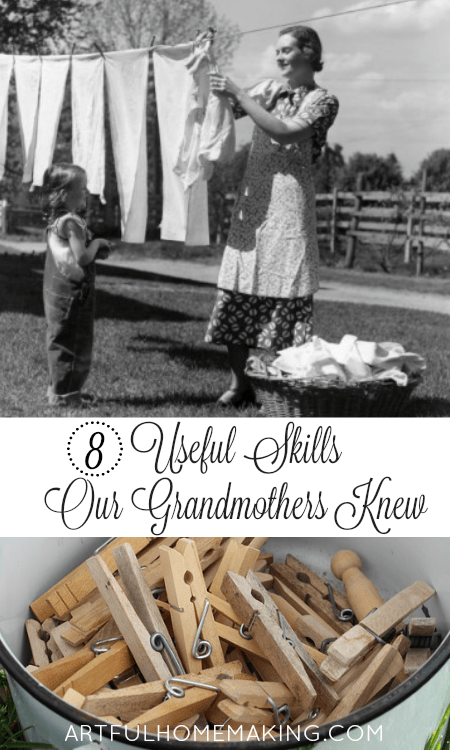 9 Money-Saving Tips from The Great Depression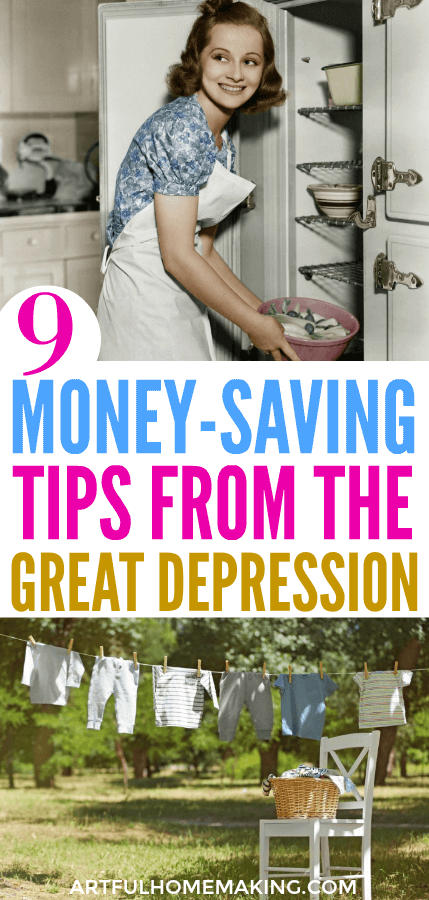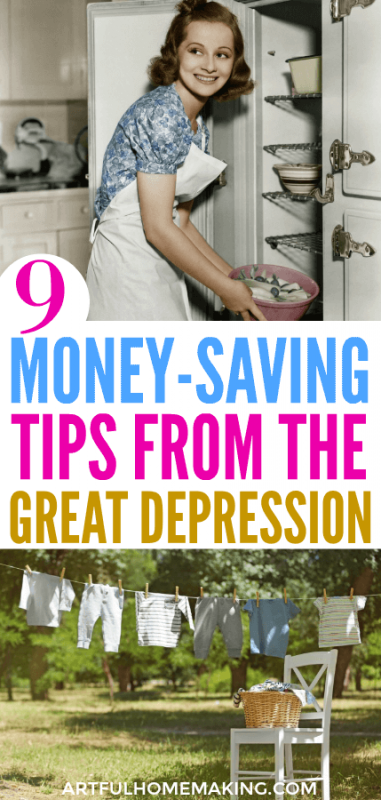 This post contains affiliate links. Read my full disclosure policy here. Sharing this post here.