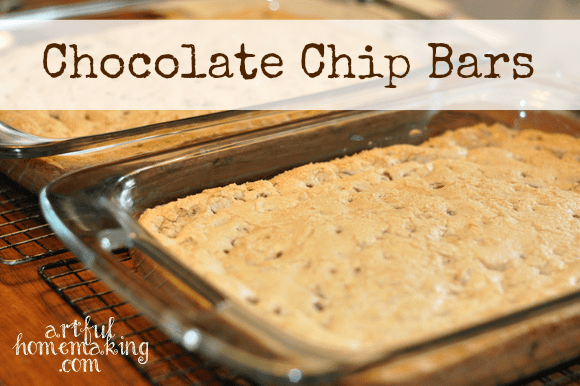 These chocolate chip bars are so good! I made them for a gathering recently, and they were all gone when it was time to go home. They're not health food, but I like to make something that will be well-liked when I take food somewhere, and these are very well-liked, especially by children!
Chocolate Chip Bars
Ingredients:
3/4 cup granulated sugar
3/4 cup packed brown sugar
1 cup butter, softened
1 teaspoon vanilla
1 large egg
2 1/4 cups all-purpose flour
1 teaspoon baking soda
1/2 teaspoon salt
1 bag (12 ounces) semisweet chocolate chips (2 cups)
Directions:
1.  Preheat oven to 375 degrees.
2.  Cream sugars, butter, vanilla, and egg together in a large bowl with electric mixer on medium speed.
3.  Stir in flour, baking soda, and salt. The dough will be stiff.
4.  Stir in chocolate chips.
5.  Press the dough into an ungreased 9″ x 13″ rectangular pan.
6.  Bake for 15-20 minutes or until golden brown. The center may seem not quite done, but it firms up as it cools.
7.  Cool in pan on wire rack.
Makes 48 bars (depending on how you cut them).