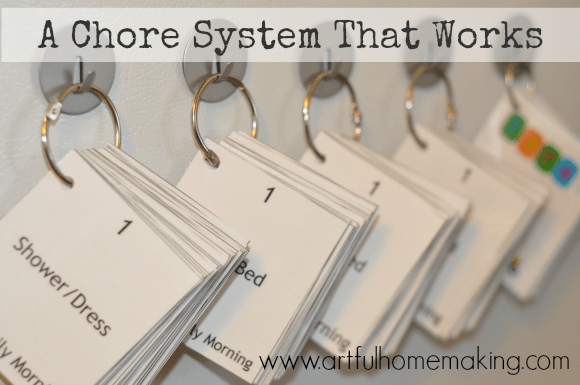 We've tried many different chore systems through the years, and none of them worked for us. Until we tried the Maxwells'
Managers of Their Chores
system. We bought the book/kit right after it came out (seven or eight years ago), and we've been happily using it ever since.
I have read other chore books since then and gleaned some helpful ideas from them, but I always just continue on with the MOTC since it works well for us.
One thing I do a bit differently from the recommended plan, is that we don't use the little clip-on pockets the kit comes with. Back when we used those, my kids were constantly losing the cards unintentionally. They would set the little pocket thing down and then it would get knocked off and all the cards would fall out. Or they would accidentally set one down and then we couldn't find it. It was very frustrating!
But I solved that problem by eliminating the pockets altogether. I bought some book rings and some magnetic hooks from Walmart.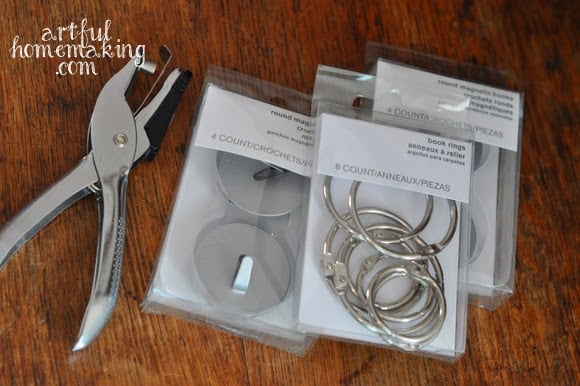 I created the chore cards and then laminated them. (I like to add stickers to the younger children's cards and I just happened to have some cleaning-themed cards my mother-in-law gave me!)
Then I cut out all of the cards: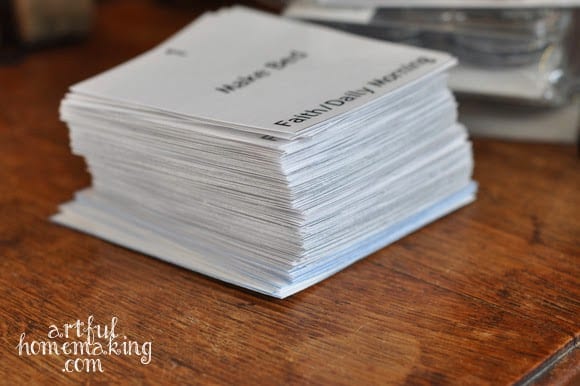 Next, I punched holes in the top left-hand corner of the cards and put each child's cards on a book ring.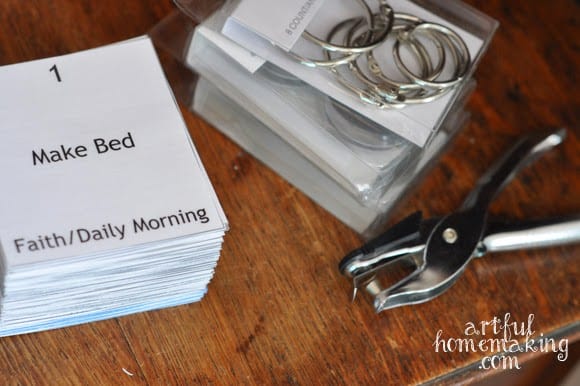 And each child has a magnet hook on the side of the refrigerator to store their cards on. It works perfectly! No more lost cards, and everyone knows where to find and store them.
The first cards are the daily cards, and then behind those are the Friday chore cards. I like having them all stored on the one ring so I don't need to change out the daily ones with the Friday ones anymore. This is much simpler for me!
My older two children have their chores memorized, so they hardly ever refer to the cards, but when there's a question about what should have been done, it's great to have these for reference.
This system has worked so well for our family, and the only difficulty has been when I don't check the chores!
We have everyone keep the same chores for an extended period of time, which we have found helpful in each child learning their jobs and knowing how to do them well. We do switch them up from time to time, and I've even had children request to switch with another sibling, and I'm always up for doing that as long as both children agree.
We don't give a weekly allowance at this point, but we do have optional chores available that they can choose to do for pay (these are bigger jobs, not the weekly maintenance ones). We also pay one of our older daughters and her 11-year-old brother to mow, since my husband (working two jobs) just doesn't have time to mow almost an acre of grass! They enjoy being able to have a summer job right here at home.
And, we always have a treat on Fridays after all the chores are done! We all look forward to Friday and getting the cleaning done and enjoying our special treat for a job well done. And I enjoy going into the weekend with a freshly cleaned house!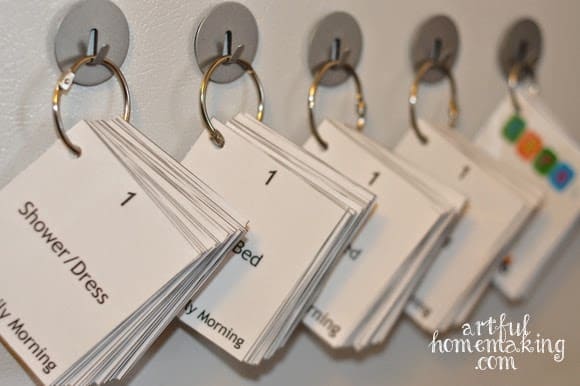 Do you have a chore system that has worked well for your family?