This easy, healthy hot cocoa recipe is perfect for winter days. It only takes a few ingredients and a few minutes to make!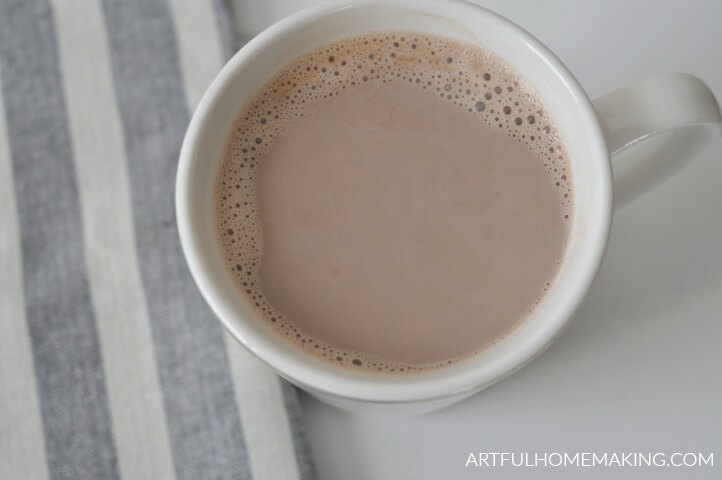 My kids are huge fans of hot cocoa, especially after an afternoon of playing in the snow.
Even though hot cocoa packets are super convenient, they also come with some ingredients that I'd rather avoid.
All you really need for delicious homemade hot chocolate is cocoa, milk (or nut milk), vanilla, and a sweetener.
Supplies Needed
This recipe only has a few ingredients, and it's sweetened with maple syrup. I purchased almost all of the ingredients with the exception of my homemade vanilla extract) at our local Aldi, which is my favorite place to shop.
Whenever we can, we buy fresh raw milk from a local farmer. Since we don't currently have a farmer to purchase milk from, I've been mostly relying on almond milk or organic milk from Aldi.
I'm hoping to find a source for milk soon, as I miss having all the cream to use in recipes. My dream is to have our own dairy goats, but that's still a way off in the future.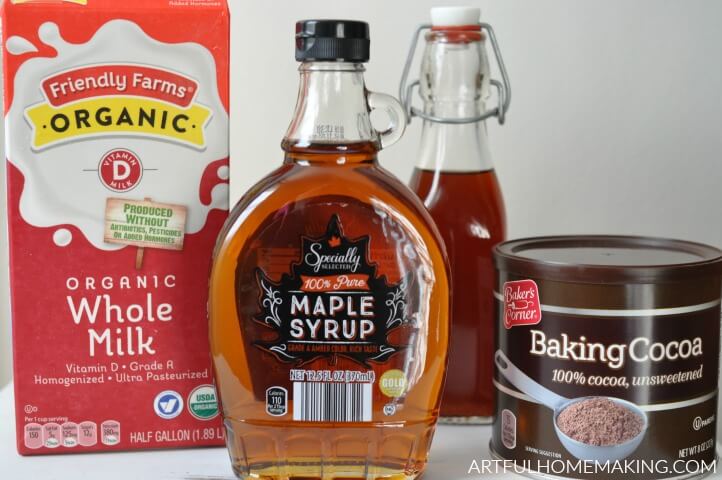 This easy hot chocolate recipe is so simple, with just 5 basic ingredients! Here's what you'll need:
milk (we use organic whole milk)
vanilla extract (find out how simple it is to make your own here!)
salt (we use this kind)
Easy Healthy Hot Cocoa
This healthy hot chocolate recipe is so easy and quick to make that it only takes a few minutes to mix and heat the ingredients on the stove top.
Just pour the milk in a saucepan: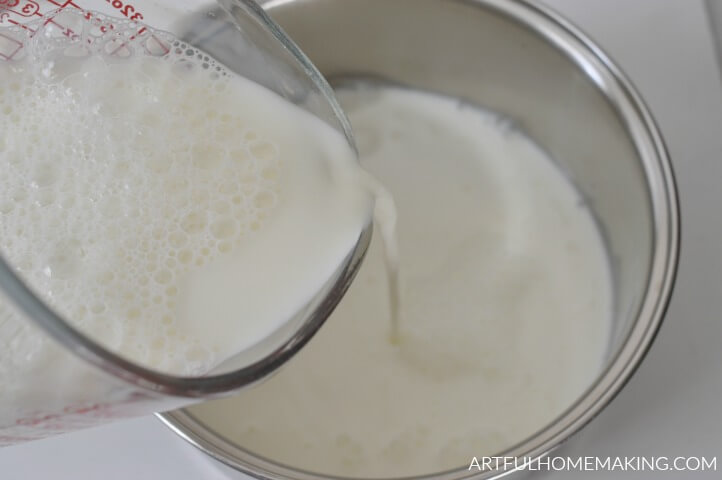 Add all the other ingredients, and heat over medium heat, whisking often with a wire whisk to keep the milk from scalding.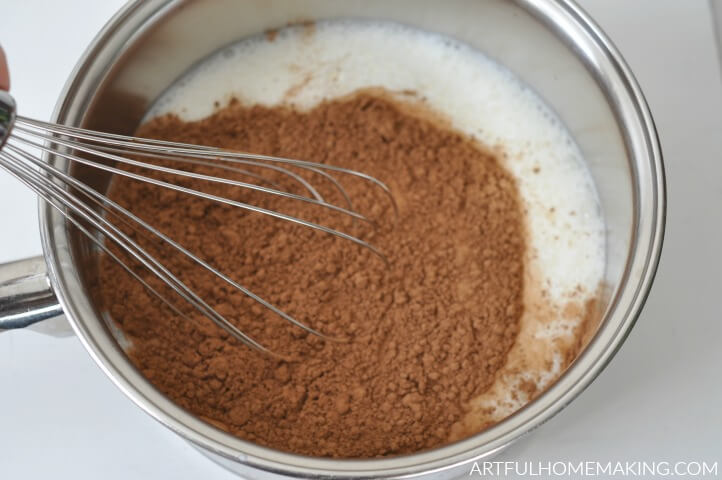 After the mixture has heated, ladle it into cups and serve! This recipe makes about four 1-cup servings, so we always at least double it for our large family.
You can also easily adapt this recipe if needed, by adding more or less sweetener or other flavors like cinnamon. It's delicious with homemade marshmallows or a bit of whipped cream!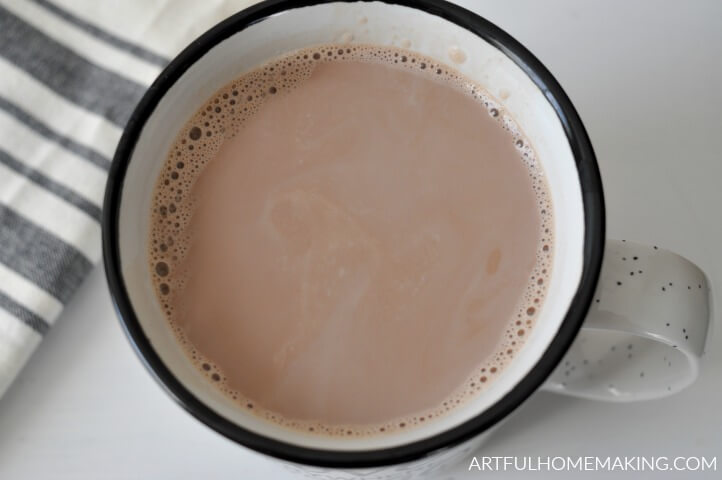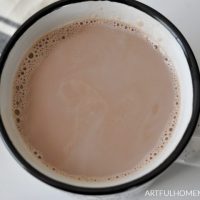 Print Recipe
Easy Healthy Hot Cocoa Recipe
This easy and healthy hot cocoa recipe will help you make naturally sweetened hot chocolate in just minutes!
Ingredients
4

cups

whole milk

1/4

cup

cocoa powder

1/4

cup

maple syrup

1

tsp

vanilla extract

pinch

salt
Instructions
Combine all the ingredients in a saucepan and stir.

Heat on medium heat on stove top until the mixture is warm. Once it starts getting hot, whisk the ingredients together with a wire whisk and stir continuously to keep the milk from scalding.

Ladle into cups and enjoy!
Notes
This recipe makes about four one-cup servings. Since we have a larger family, we always double it so there's enough to go around!
We've got snow on the ground now, and I'm anticipating making lots of this naturally sweetened hot cocoa! Thanks so much for stopping by!
Pin it for Later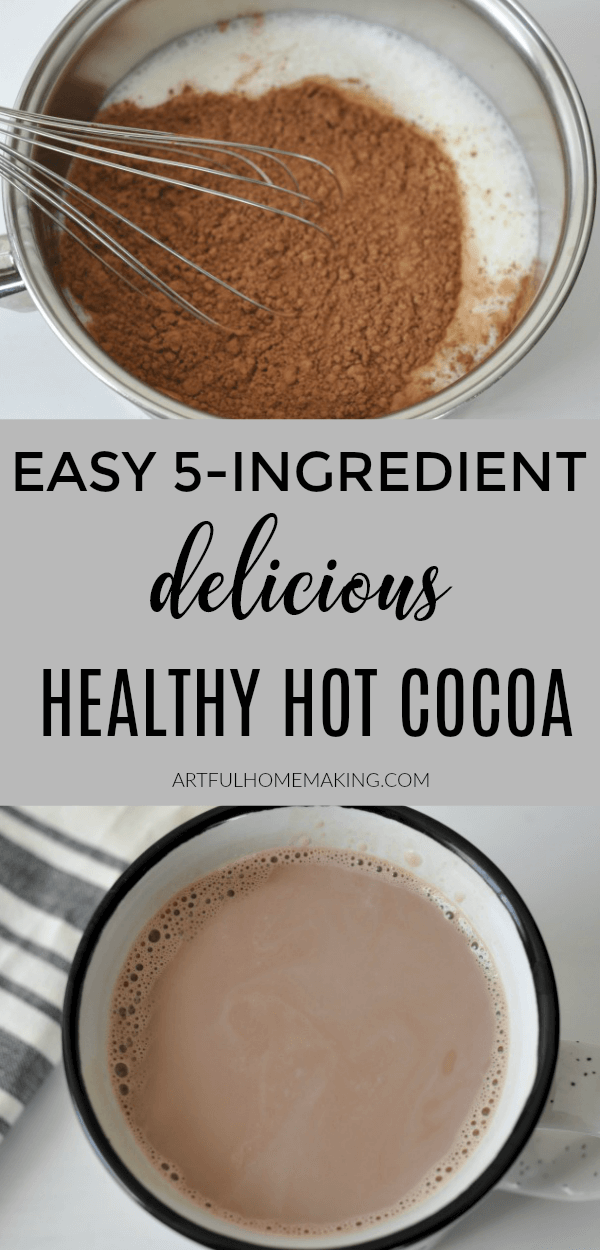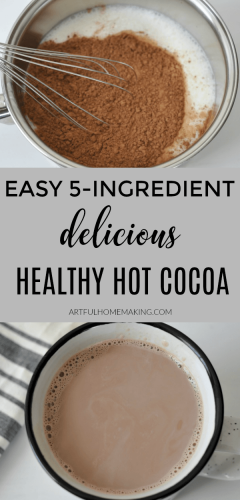 Disclosure: This post contains affiliate links. Read my full disclosure here. Sharing here.