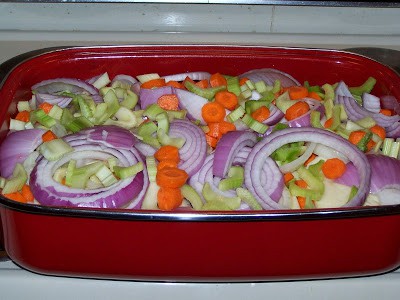 This is a super easy meal that we have fairly regularly. My husband really likes this!
1. Spread raw ground beef in the bottom of a casserole dish (I've been using a big roasting pan because it holds more). I use about 3+ lbs beef (also works with ground turkey, but beef tastes better to us).
2. Season meat. I squirt
Bragg's
all over the meat, but you could also just salt and pepper it or whatever you like.
3. Top meat with sliced potatoes, carrots, onions, and celery (that's what we use…you could use whatever you have or like). Salt and pepper or use another seasoning on the vegetables.
4. Cover with a lid or foil, and bake @ 350 degrees for about an hour, until the meat is cooked and vegetables are tender.
Enjoy! I like how little brain power this meal requires from me. 🙂