28 farmhouse Christmas decor ideas to help you decorate your home! This list includes lots of farmhouse style Christmas decor to inspire you.
Farmhouse Christmas Decor Ideas
I've mentioned before that I love farmhouse style. If you're also a farmhouse fanatic, you'll love this post!
It includes handmade farmhouse signs, grain sack pillows, Christmas stockings, and more!
I've included links to each of the farmhouse Christmas decor ideas mentioned below, so  you can easily find them online.
This post contains affiliate links, which means I may make a small commission at no extra cost to you. As an Amazon affiliate I earn from qualifying purchases. Read my disclosure here.
Farmhouse Christmas Wreaths
Since the Christmas decor usually starts at the front door, I thought I'd start with wreaths. There are so many beautiful farmhouse style Christmas wreaths to choose from!
This first modern farmhouse Christmas wreath is my absolute favorite. I love the addition of the gold bells!
You can't go wrong with a classic preserved boxwood wreath. These are classic farmhouse. They're great for Christmas and beyond. They'll work well for any season, so you get more for your money.
This farmhouse Christmas buffalo check wreath is another favorite. It looks so festive!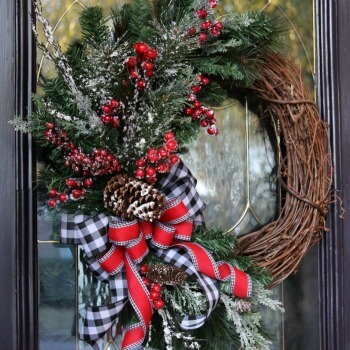 This cream colored berry wreath comes with a large bow in your choice of colors.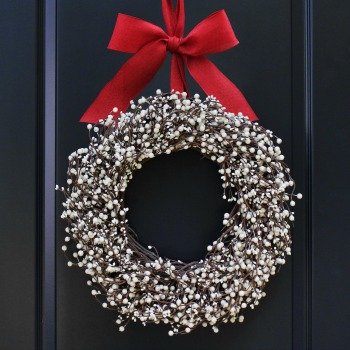 Here's another modern farmhouse wreath in classic green with red berries, red ribbon, and gold bells:
This primitive magnolia wreath with a plaid bow is farmhouse perfection!
Farmhouse Christmas Garlands
Next, we come to greenery for inside the house. This can include wreaths and garlands. Farmhouse style garlands look so beautiful draped over a mantel or wrapped around the banister.
You can buy garlands made of real or faux greenery. The real ones are my favorite, but they're not as affordable as an artificial one that can be used year after year.
I love this farmhouse buffalo plaid Christmas garland:
Here's a simpler pine and berries garland with good reviews:
And a similar minimalist pine garland that works well for a simple, modern farmhouse look: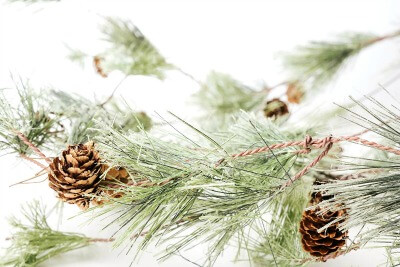 Another idea is to use greenery from your property or in your backyard. We have several evergreens at the edge of our property, in addition to some holly bushes. I've used both before for a natural touch of greenery around the house.
Farmhouse Christmas Pillow Covers
Farmhouse style Christmas pillow covers are one of my favorite ways to change the look of a room!
You don't have to go out and buy all-new pillows! Just get some new pillow covers and switch them out for the season.
This is a much more economical way to have seasonal decor and get a farmhouse style Christmas look without a lot of effort or money.
I love these classic red and white buffalo check pillow covers: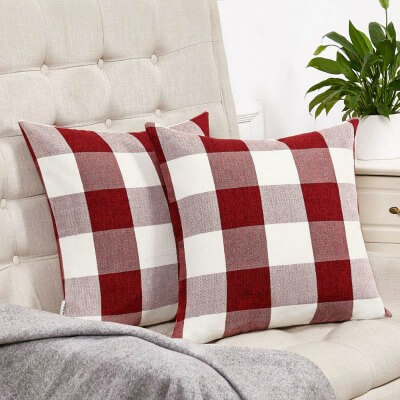 These pillow covers feature farmhouse designs: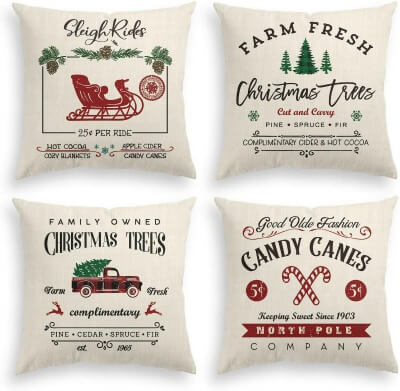 These would also be cute in a farmhouse style living room: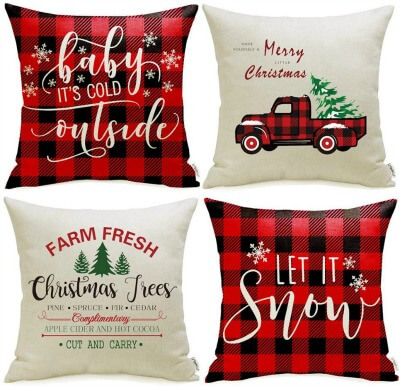 Farmhouse Christmas Stockings
There are so many different options for farmhouse style Christmas stockings. You could choose stockings made out of burlap, grain sack fabric, or even sweater knit, depending on the look you want.
I love the look of these cream knit Christmas stockings, and they're an affordable price: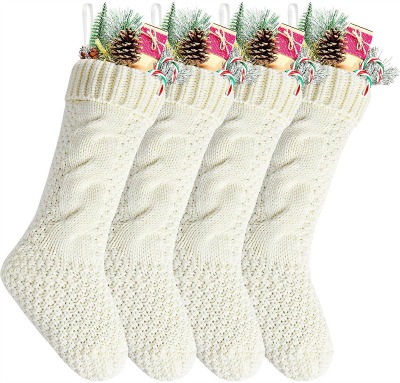 These farmhouse plaid Christmas stockings are personalized, and so cute!
These burlap Christmas stockings are also personalized: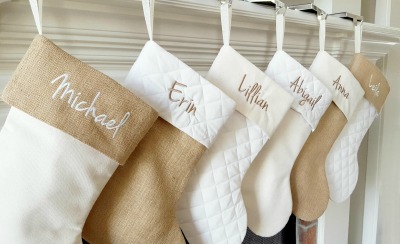 And how cute are these Rae Dunn inspired Christmas stockings!
Farmhouse Christmas Ornaments
Farmhouse style Christmas ornaments are one of my favorite things. You can buy these, and I have links for the ones pictured below.
But you can also make your own farmhouse style Christmas ornaments. You'll often save money and also get the satisfaction of making something by hand. Handmade ornaments are my favorite!
If you'd like to try making your own farmhouse style Christmas ornaments, check out this tutorial for grain sack Christmas ornaments.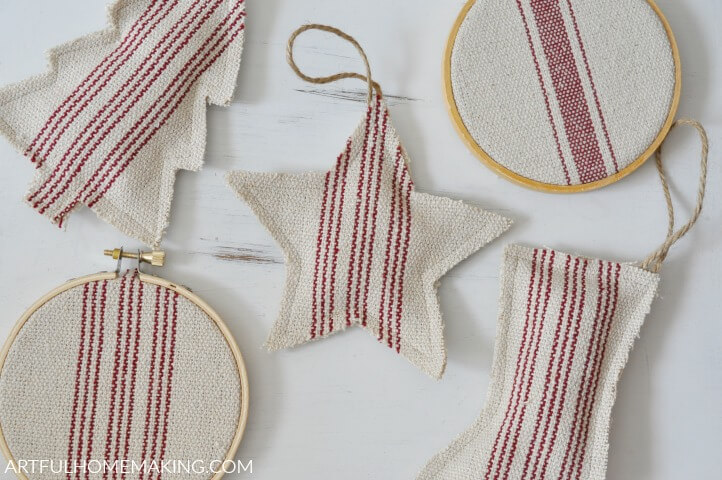 And be sure to check out these rustic wood slice Christmas ornaments. These are so easy and cute!
Rustic Wood Slice Christmas Ornaments Video
If you're wanting to make your own DIY ornaments, check out the video below to see how easy they are!
Here are some beautiful ready-made farmhouse Christmas ornaments.
These Rae Dunn-inspired Christmas ornaments are the cutest!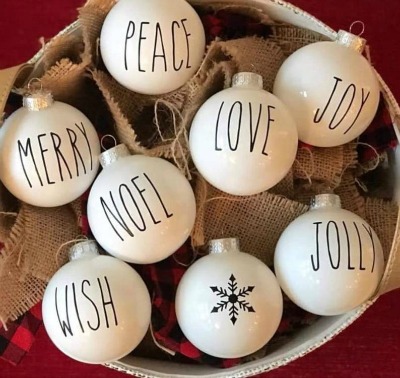 This home sweet home ornament has a rustic farmhouse look:
And these Mason jar lid ornaments are so unique:
Farmhouse Christmas Tree Skirts
This year I skipped the Christmas tree skirt and put our tree inside an old galvanized metal bucket. I love the rustic farmhouse Christmas look!
You can find something similar here.
Here's a galvanized metal one:
I also love the look of this white one: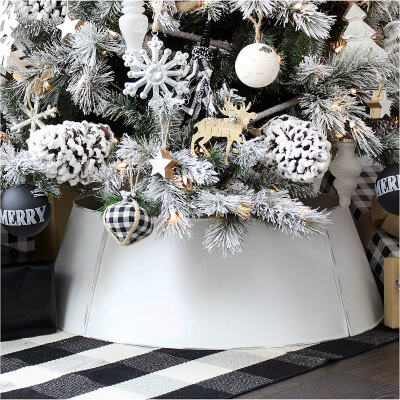 But I also love a good farmhouse style Christmas tree skirt. Here are some cute ones to consider.
This first one is an adorable ruffled burlap Christmas tree skirt:
Next, here's a burlap tree skirt with white snowflakes (and great reviews on Amazon):
If you're looking for something personalized, try this one: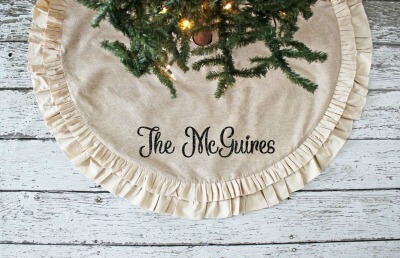 Farmhouse Christmas Signs
If you're looking for farmhouse Christmas signs, here are a few of the nicest ones I've seen!
This first one is a Christmas tree farm sign. I love the rustic farmhouse style of this sign.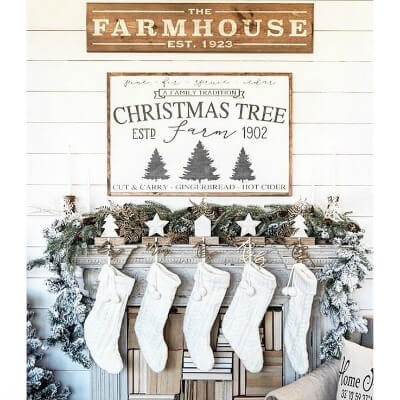 You can also find the words to your favorite Christmas songs in sign form, like this beautiful O Holy Night sign:
Or, if you want the sheet music version of your favorite Christmas hymns, you can often find those, too. Like this Silent Night sheet music sign:
And I just love this black and white reindeer sleigh rides sign:
I hope these farmhouse Christmas decor ideas were inspiring and helpful to you! Thanks so much for stopping by!
Don't Miss These Related Christmas Posts:
Pin This Post for Later