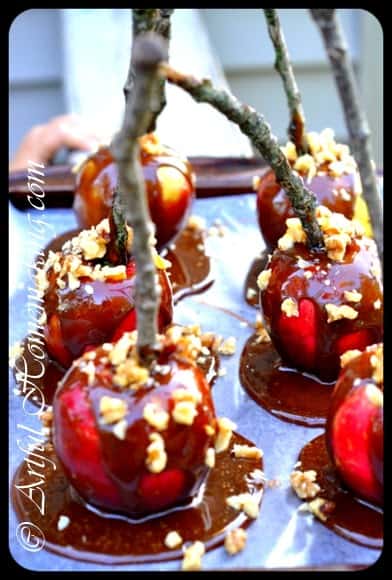 September is the month when I think of apples, and caramel apples are a favorite with children. We try to avoid unnatural ingredients as much as possible, so I adapted the following recipe, which allows us to enjoy the tradition of caramel apples without all the unhealthy ingredients. I've included the original ingredients as well, in case someone would like to have those, too.
Ingredients:
6 small or medium apples (Granny Smith or other tart apples work best)
6 wooden popsicle sticks or sticks from the yard (we washed ours off a bit)
2 cups organic whole cane sugar (or packed light brown sugar)
1/2 cup milk
1/2 cup coconut oil (or other vegetable shortening)
1/2 teaspoon sea salt
1 teaspoon pure vanilla extract (click the link to find out how to make your own!)
chopped nuts (we used walnuts), optional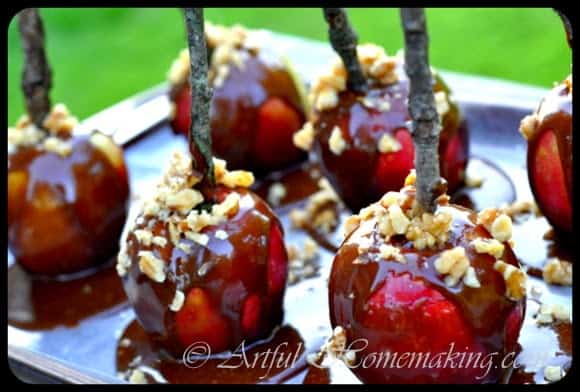 Directions:
Line a baking sheet with waxed paper and set aside. Remove the stems of the apples and discard. Insert the sticks into the stem end of each apple and set aside.
In a saucepan, combine the sugar, milk, coconut oil, and salt over medium-high heat. Mix well and bring to a boil. Boil 2 minutes, stirring constantly.
Remove from the heat and stir in the vanilla extract. Use the whisk attachment on an electric mixer to beat the caramel at medium speed until the mixture thickens and loses its gloss, about 7 minutes.
Dip the apples in the caramel, covering the entire surface. Allow the excess to drip back into the pan. Place on the prepared baking sheet to harden at least 1 hour before serving.
If any caramel is left over, drizzle over the apples. You can also add chopped nuts to the tops of the apples immediately after dipping in the caramel. You can also drizzle the tops with melted chocolate.
Note: If you use
organic whole cane sugar
instead of packed light brown sugar (as the original recipe calls for), you won't end up with caramel exactly. If you really want traditional caramel apples, just use the light brown sugar and vegetable shortening in place of the organic whole cane sugar and
coconut oil
. Even though it wasn't exactly caramel, my children still loved these! Have fun making this delicious fall treat with your children!
The original recipe came from the lovely cookbook, Farm Fresh Southern Cooking, by Tammy Algood. The coconut oil links are my referral links. If you place an order through one of these links, and you've never ordered from Tropical Traditions before, you will receive a free book on coconut oil, and we will receive a discount coupon for referring you.