This homemade mouthwash recipe is all-natural, antiseptic, and super easy to make! I love that it's made with lots of beneficial essential oils.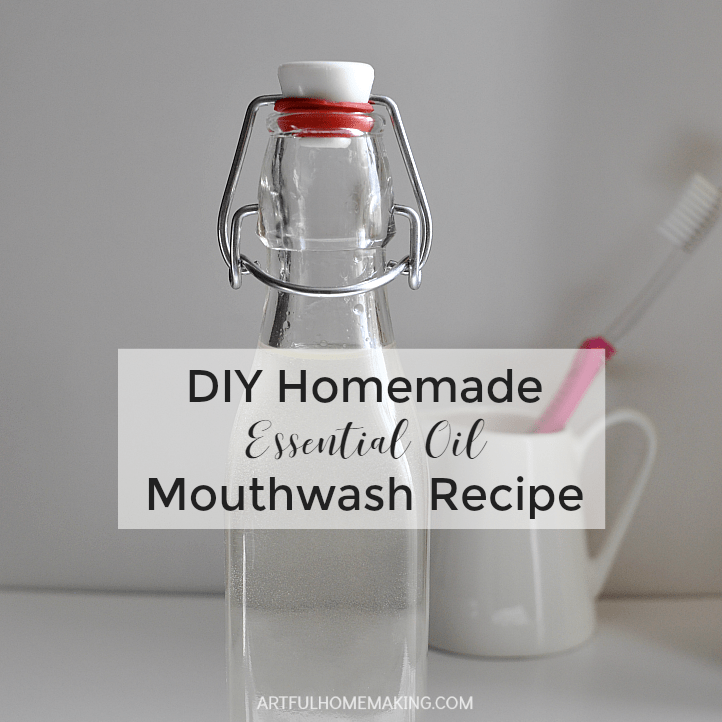 How Do I Make My Own Mouthwash?
My husband was buying a particular brand of natural mouthwash, and he was happy with it. But then he ran out, and we live out in the middle of nowhere, so we couldn't just go pick up some more at the health food store.
Necessity is often the mother of invention, and that's how this mouthwash recipe came about.
In his desperation to get some mouthwash, my husband scoured our cupboards and this is what he came up with!
Actually, before going through the cupboards, he studied the ingredients of his favorite natural mouthwash. After looking at the ingredients, he realized he could make something similar.
As it turns out, it's pretty great stuff (we've been using it for the past 4 months). And we no longer buy mouthwash because this one works so well.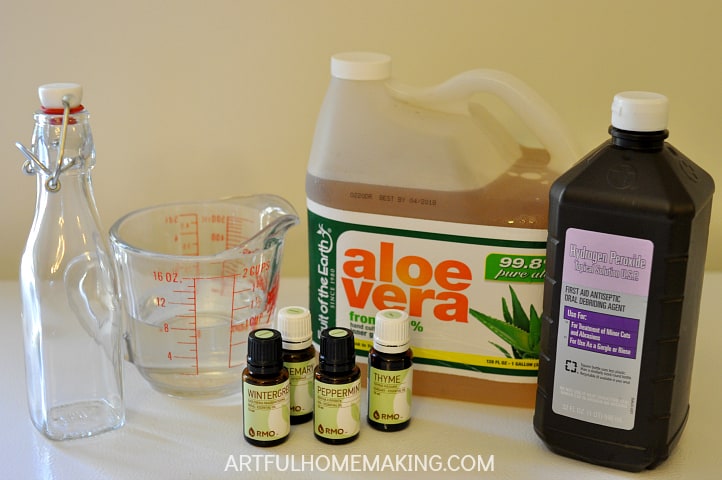 Homemade Mouthwash Ingredients
Affiliate links included below. Read my full disclosure here.
Here are the ingredients you'll need for your DIY essential oil mouthwash.
If you don't have some of the essential oils farther down on the list (like myrrh) you can leave them out.
How to Make Essential Oil Mouthwash
This mouthwash is so simple to make!
All you really need to do is mix it all together in a glass bottle and you're done!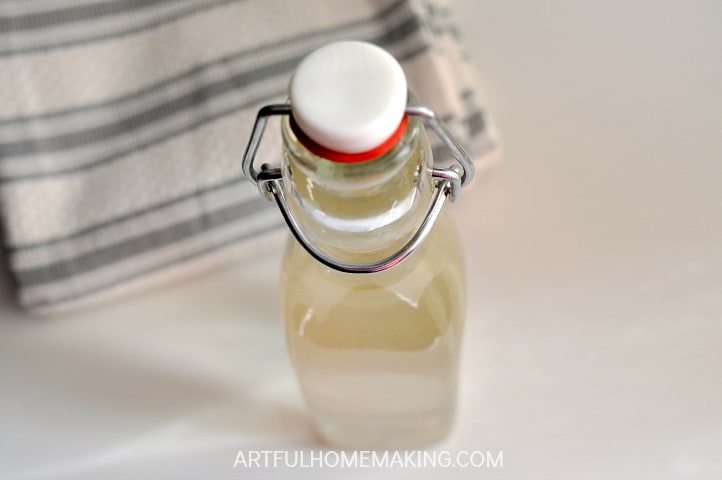 Homemade Mouthwash Recipe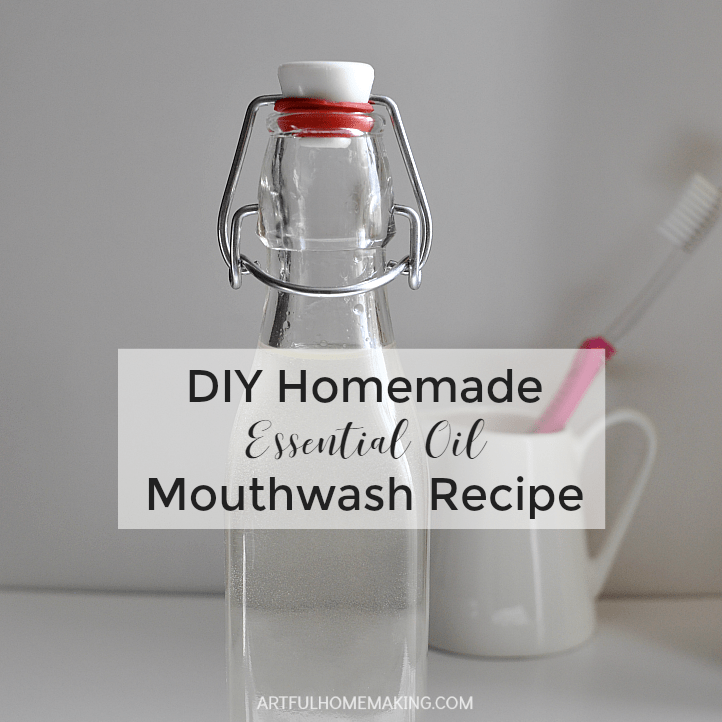 Print Recipe
Homemade Natural Antiseptic Mouthwash Recipe
Ingredients
1/2

cup

4 oz. purified water

1/2

cup

4 oz 3% hydrogen peroxide

1/4

cup

2 oz. aloe vera juice

4

drops peppermint oil

4

drops spearmint oil

3

drops eucalyptus oil

2

drops rosemary oil

2

drops cinnamon oil

2

drops myrrh oil

1

drop clove oil

1

drop thyme oil

2-4

tsp

xylitol
Instructions
Combine all the ingredients (we used a 2-cup glass measuring cup) and stir to thoroughly blend.

Pour into a suitable container (glass jar or food-grade non-BPA plastic bottle with flip-top lid.

Give the bottle a shake before each use. Use first thing in the morning and swish for 30-60 seconds (the longer the better for antimicrobial activity), then spit. Try to swish mouthwash all over teeth and gums to make sure all parts of the mouth are reached. Rinsing with water afterward is optional.
Benefits of Each Ingredient
(The following isn't medical advice, it's just notes from my own reading. See my disclaimer here.)
Peroxide: antiseptic (kills bad bacteria), teeth whitening, helps prevent and treat gingivitis (inflammation of the gums), and periodontitis (inflammation of tissues around the teeth)
Aloe Vera: fights plaque and periodontal disease
Peppermint: kills bacteria that cause gum disease and eases dental pain
Spearmint: strong antiseptic and aids wound healing
Eucalyptus: helps whiten teeth, exhibits antibacterial activity against cariogenic (tooth decay-causing) and periodontopathic bacteria
Rosemary: strong disinfectant
Cinnamon: antimicrobial activity against Streptococcus mutans, the bacteria responsible for tooth decay
Myrrh: antiseptic and may help with mouth ulcers
Clove: kills germs and helps with tooth pain
Thyme: broad-spectrum antibacterial and antifungal action
Xylitol: adds sweetness without sugar (bacteria thrive on sugar), naturally antibacterial, helps to mask stronger essential oil flavors
Pin it for Later: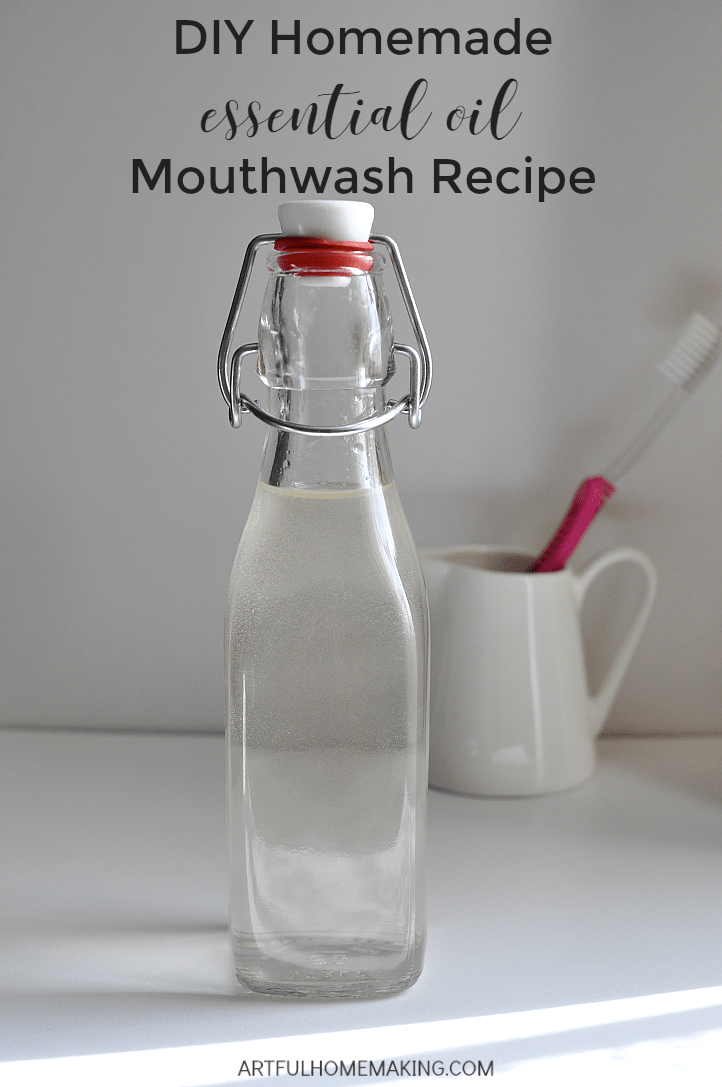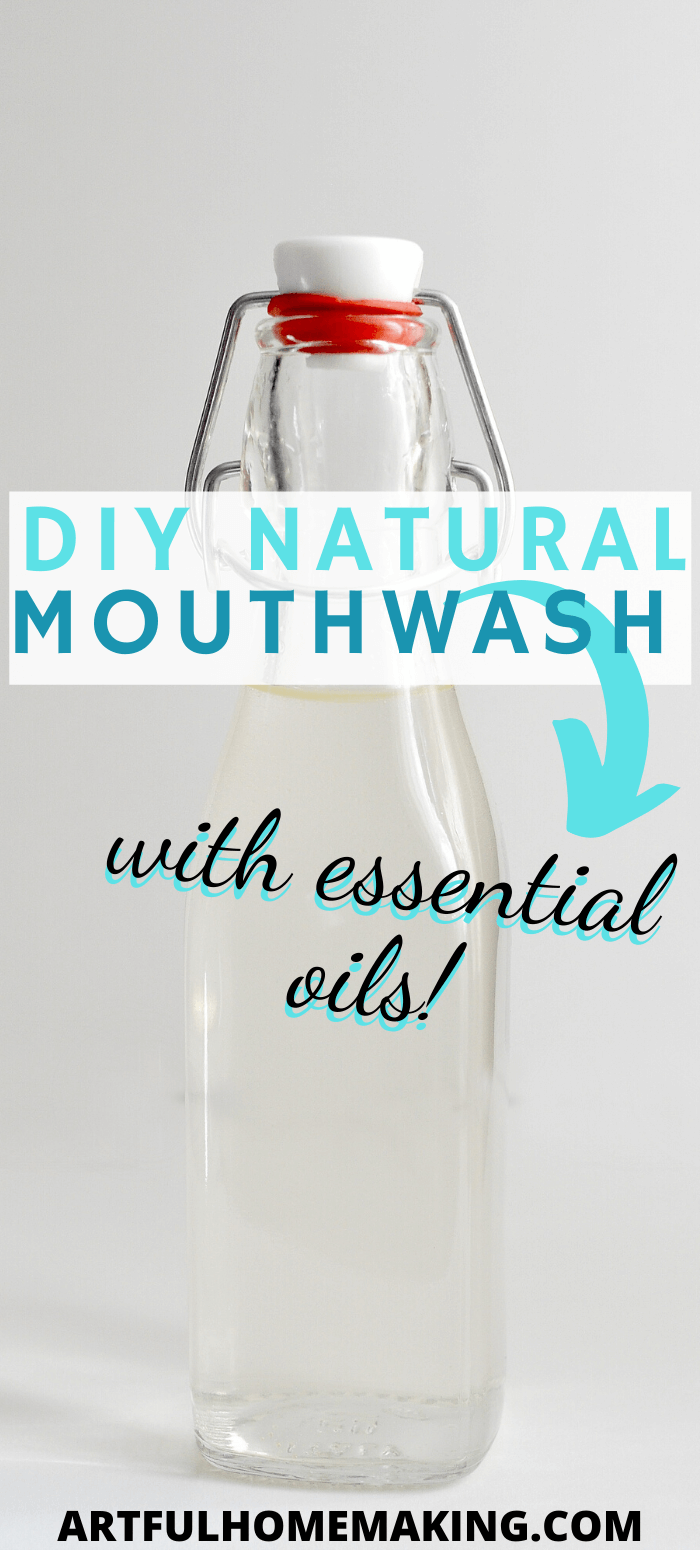 Have you ever made your own mouthwash? How about toothpaste?
Related Posts:
Homemade Coconut Mint Toothpaste
This post contains affiliate links. Read my full disclosure here. Sharing here.