This DIY toilet spray recipe is so easy to make! It uses just a few simple ingredients and helps eliminate bathroom odors.
Now you can make your bathroom smell nice without the toxic chemicals commonly found in commercial bathroom spray products.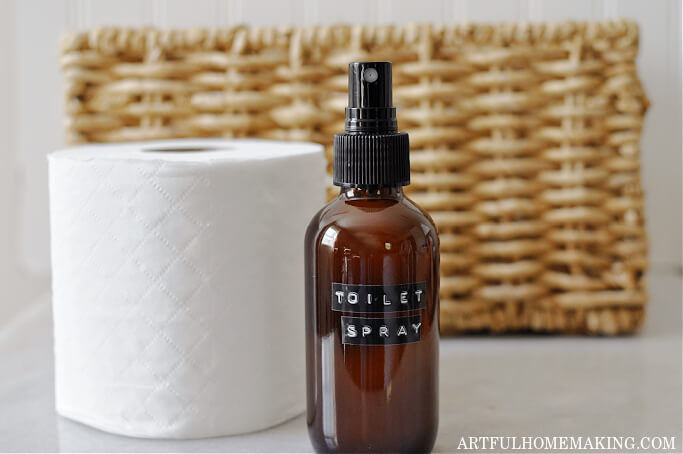 Homemade DIY Toilet Spray Recipe With Essential Oils
It's probably not a topic that most of us spend a lot of time thinking about, but unpleasant odors in the bathroom can be, well… unpleasant.
Many people must feel this way since bathroom sprays seem to be a popular item in many households.
Just walking down the aisle at a grocery store, you'll see all sorts of aerosol sprays that promise to neutralize or trap odors.
So if you'd like to eliminate bad smells and embarrassing odors in your bathroom, you'll want to check out this homemade toilet spray.
It's one of the easiest DIY recipes to make. And it really can help your bathroom (and your home) smell fresh!
Affiliate links included below, which means I may make a small commission at no extra cost to you. Read my disclosure here.
Why Make Your Own Natural Toilet Spray?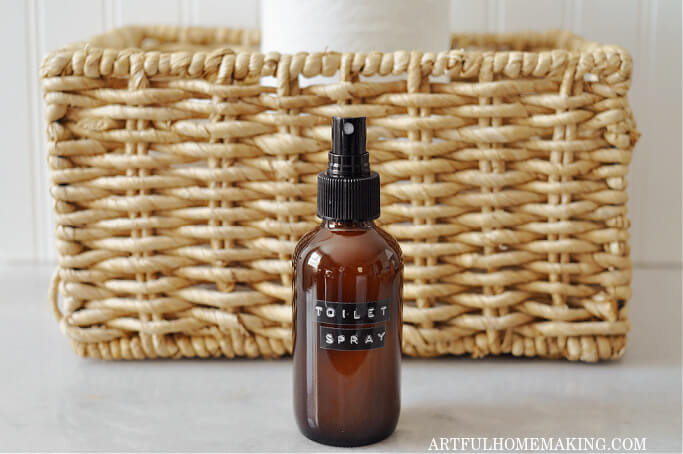 I've previously shared a bit about my journey to learning about natural cleaning products.
When I became a mom and found out about all the potentially toxic ingredients used in common household cleaners, I decided to try making my own.
Many commercially-produced odor-fighting room sprays have questionable ingredients.
And some brands that are marketed as more "natural" are included on this list.
The Environmental Working Group (EWG) grades household products, and gives many of the most popular air fresheners a D or lower.
A grade of D means there are high concerns for hazards to health or the environment.
Some of the ingredients in these products are known to cause skin irritation or allergies, and can also have potential links to cancer and hormone disruption.
While I don't enjoy bad smells in the bathroom, I don't want to risk exposing my family to these types of hazardous chemicals.
Some people like to buy a premade Poo Pourri Spray. While this spray claims to have natural ingredients such as pure essential oils, they don't disclose what these ingredients are, and EWG gives them a D or F.
Because of this, I feel more comfortable making my own version of a DIY Poo Pourri spray.
That way I know what it contains and that all the ingredients are safe to use around my family.
Why You'll Love This DIY Toilet Spray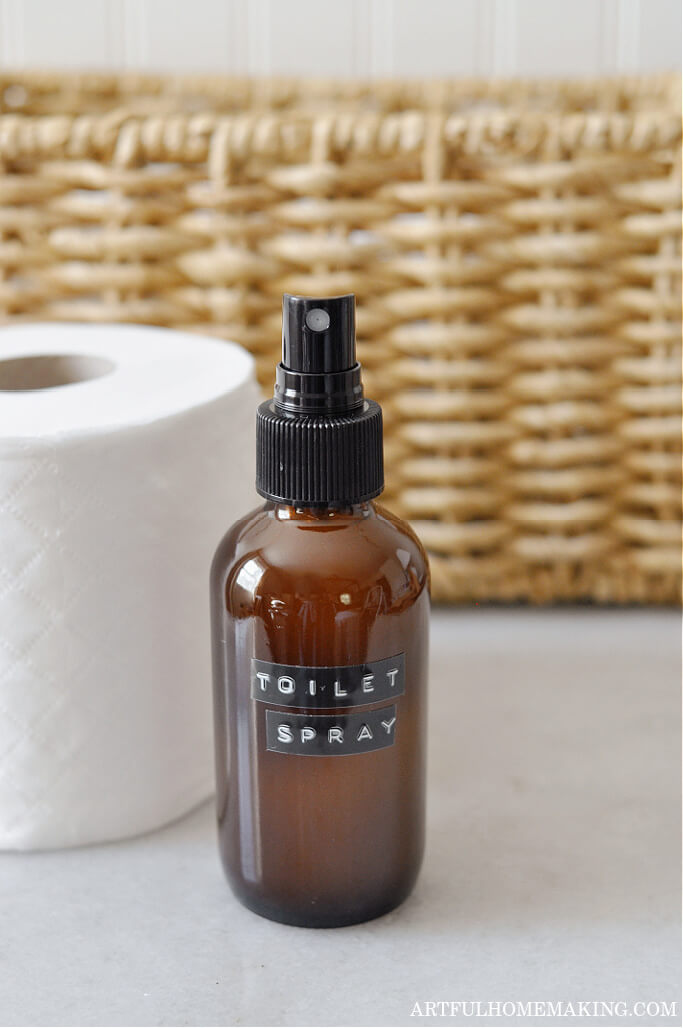 This toilet spray recipe is really incredibly easy to make.
All you need are a spray bottle, a funnel, and a few basic ingredients.
Add the ingredients to the bottle, put on the top, and shake. That's really all you have to do!
But not only is this recipe super-simple to make. I think it works as well as products with artificial fragrances to help with an unpleasant smell in the bathroom.
When you run out of this spray, it's easy to mix up another batch with ingredients you should already have on-hand from making the first batch.
And, the DIY version is a lot cheaper to make in the long run!
DIY Toilet Spray Notes
You can substitute witch hazel for alcohol, but more witch hazel is needed (see recipe below).
Vodka can also be used in place of the rubbing alcohol.
You can substitute castile soap or dish soap for the vegetable glycerin.
Supplies Needed to Make Homemade Toilet Spray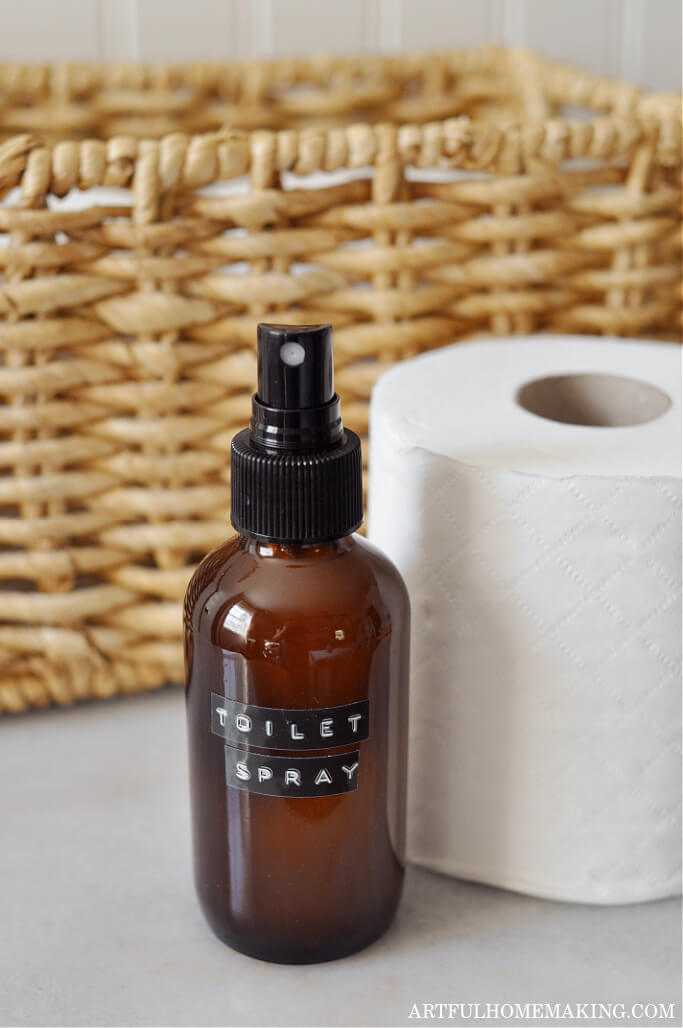 DIY Toilet Spray Ingredients
You can find the full recipe and instructions in the printable recipe card at the bottom of the post.
Here are the simple ingredients needed to make this natural poo spray:
Essential Oil Combination Ideas
One nice thing about this recipe is that you can customize the scent based on the amount and kinds of essential oils you use.
Want a stronger scent? Use more drops. Don't care for some of the suggested blends below? Pick from your favorites!
While really any essential oil may be used, here are some combinations that seem to go well together:
You can use equal amounts of each of the essential oils or add them in different amounts depending on the scent you wish to highlight.
I prefer a stronger scent, so I usually use closer to 60-70 drops of essential oils.
My latest favorite essential oil combination for DIY toilet spray is:
It may seem kind of random, but I had all these oils in my stash, so I thought I would try blending them.  I really like the combination!
How to Make DIY Toilet Spray
1. Add the essential oils, vegetable glycerin, and alcohol to the spray bottle.
2. Add enough distilled water to fill the bottle to near the top, leaving enough room to thoroughly shake and mix.
3. Put the spray top on the bottle and shake to combine all ingredients.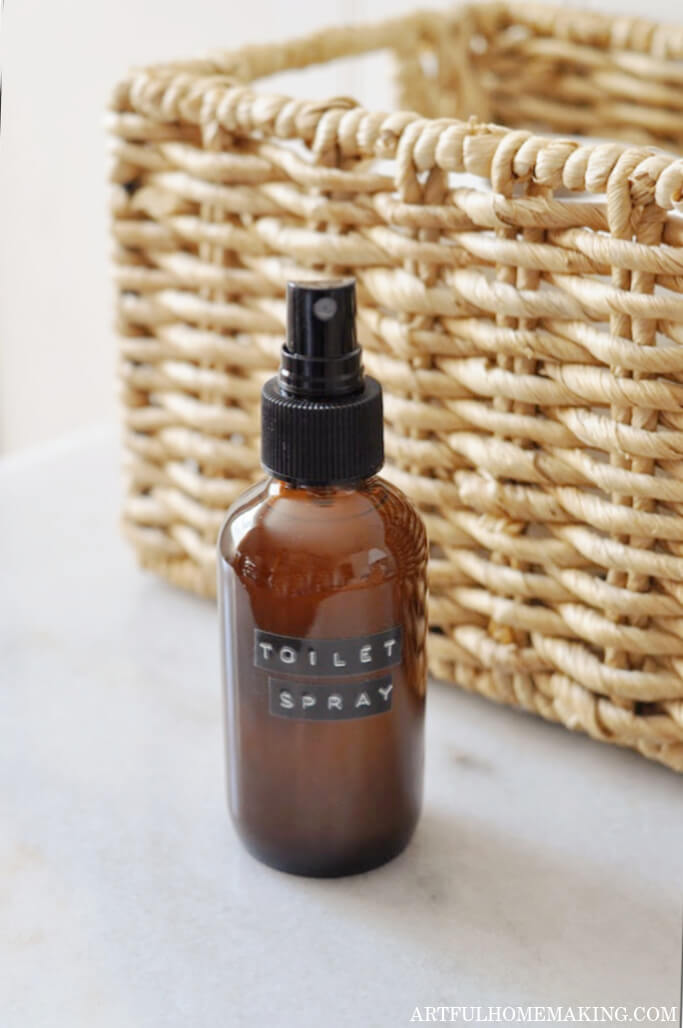 Frequently Asked Questions About Homemade Toilet Spray
How do I use the toilet spray?
​To use your toilet spray, spray about 5-7 sprays into the toilet water before you use the toilet. The spray helps coat the surface of the water to trap and reduce odors.
​Does the toilet spray kill germs?
Several of the ingredients in the spray have antibacterial properties. Alcohol can kill germs, as can some essential oils such as lavender and rosemary.
Can I use Isopropyl Alcohol instead of Rubbing Ethyl Alcohol?
Yes, you can use isopropyl alcohol in place of ethyl alcohol. I prefer ethyl alcohol since it is safer for human consumption in the event the spray is accidentally ingested. But either one works great.
​How many sprays can I get out of a 4 ounce bottle?
Depending on how many sprays you use each time, you should get around 800 individual (separate) sprays. If you 4 sprays at a time, that will be around 200 total uses (according to my husband and his math calculations!).
Will this spray eliminate all bathroom smells?
This question is difficult to answer as there is such a potentially wide range of smells. It is unlikely the spray can totally eliminate every bathroom smell, but it should help when used according to instructions.
Is the spray safe to use with septic systems?
I have used this toilet spray with my own home's septic system with no problems.
More DIY Natural Home Recipes
Print Recipe
DIY Toilet Spray
This homemade toilet spray is easy to make with just a few basic ingredients.
Equipment
4 oz Spray bottle

1 Mini funnel
Ingredients
30-60

drops

essential oils

Use equal parts of each (ex. 10-10-10 drops of 3 different oils)

2

tsp

vegetable glycerin

1

tsp

rubbing alcohol

or Vodka

distilled water
Instructions
Add essential oils, vegetable glycerin, and alcohol to bottle.

Add enough distilled water to fill the bottle, leaving enough room to shake and mix ingredients.

Put the spray top back on the bottle.

Shake to combine all ingredients.
Notes
May use 2 Tbsp witch hazel in place of alcohol. 
May use castile soap or dish soap in place of vegetable glycerin. 
Feel free to adjust the amount of essential oils used in the recipe. For a more subtle scent, start with 30 drops, and increase the amount if desired.
Some essential oil scent combinations to try:
Lemon and lavender
Lavender, peppermint, lemon
Lemongrass and peppermint
Rosemary, lemon, and spearmint
Eucalyptus, orange, and lemongrass
Orange, cinnamon, and clove