Quiet times for busy moms are hard to come by. This post has simple ideas to refresh and encourage your heart!
I'm a better wife and mother when I make time to read my Bible and pray each day.  The times when I have grown the most spiritually have also been times where I was really seeking the Lord in His Word and through prayer on a daily basis.
But sometimes, when you're in the midst of pregnancies and babies and small children, it can be hard to find a routine that works.  I love to get up early and have my time of prayer and Bible study first thing in the morning.  It just makes the day go better, and it gives me an eternal focus.
But often this isn't practical for mothers of little ones.  If you've been up in the middle of the night with a newborn or a sick child, it might not work to get up early.
When you're in a busy season, especially when you have babies and small children, sometimes you need to get creative.
There's nothing wrong with having your "quiet time" in the afternoon or before bed. The key is to do what works for you in this season.
This post contains affiliate links, which means I may make a small commission at no cost to you. Read my full disclosure here. 
Quiet Times for Busy Moms
In this post, I'm going to share some of the creative ideas that worked for me when all of my children were little.
What matters is that you make nurturing your heart and soul a priority. Your whole family will benefit when you do!
It Doesn't Have to Be in the Morning
So often, mothers of young children aren't able to get enough sleep. Many times we're up in the middle of the night with a sick child or a nursing baby.
In times like these, I think the next best thing is to have a quiet time in the afternoon, when the little ones are down for a nap.
There have been times when I needed a nap myself, so I took my Bible to bed with me and at least read a few verses or a chapter before resting.
Include Your Children
If the day has already started and you haven't had a chance to read your Bible yet, just gather the children and read it aloud to them (or take turns reading).
A friend of mine with many little ones said that she reads the Bible aloud at the breakfast table while the children eat.  That way they are occupied and it's more likely to be a bit more peaceful while you read. Then you can have a prayer time together afterward.
That way, you're getting in some Bible reading and the kids are benefiting as well!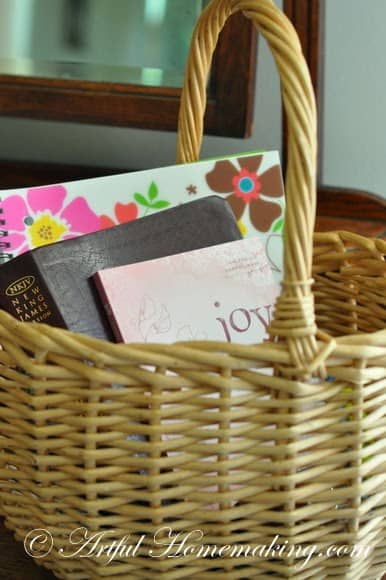 Get Creative
Sometimes, when I wasn't able to carve out time to read, I would listen to the Bible on CD while I was resting or washing dishes.
I remember many years ago reading an article in Above Rubies about Bible reading for mothers with little ones.  Nancy suggested leaving Bibles open all over the place.
For instance, leave one in the bathroom so you can grab a few verses of encouragement while you're in there.  Leave a Bible propped open by the kitchen sink (mine would get soaked by little dish washers if I did this!).
Create a Quiet Time Basket
Create a basket of devotional tools by your nursing chair, so you can grab your Bible or an edifying book while you nurse your baby.
Or, you could print off a verse or passage of Scripture and tape it to the wall by your rocking chair (you could even have a picture frame with a verse in it, and you could change the verse every so often).
There have been times when I printed out a chapter or passage of Scripture and tacked it to the cabinets at the kitchen sink so I could memorize and meditate on it while I worked.
I've also taped a Bible chapter to the bathroom wall by the sink, so I could read it while I was getting dressed or brushing my teeth in the morning.  I would also be able to glance at it every time I happened to be in there.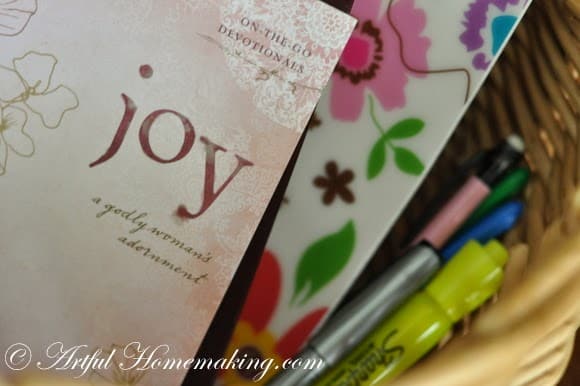 Favorite Encouraging Resources
Here are a few of my favorite resources for my daily quiet time:
Bible Verse Cards
At other times, I would keep a group of 3 x 5 cards on a ring near me.  On the cards I would print out verses that I wanted to memorize or draw encouragement from during the day.
You can write your own verses on 3 x 5 cards, or you can print a set of cards below.
Free Printable Bible Verse Cards
I have a set of free printable Bible verse cards for moms available here.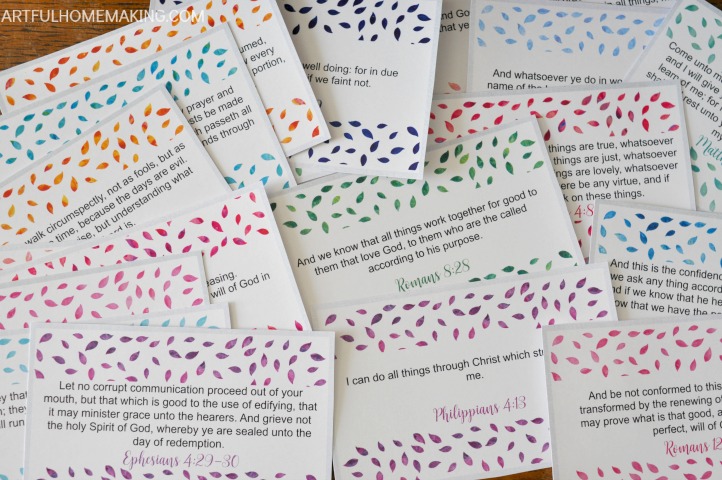 The printable Bible verse cards are some of my favorite verses ever, and they print off on cardstock at about 3 x 5 card size.
They're in the King James version because it's in the public domain.
Go here to get your free Bible verse cards!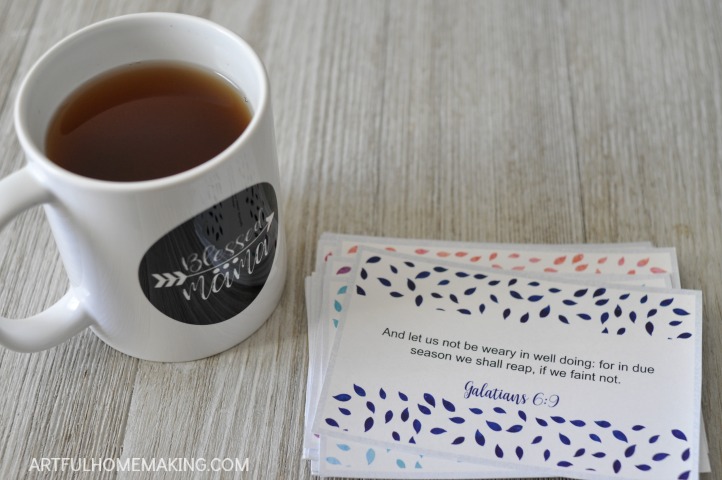 These are just some of the ideas I've used in my almost 20 years of mothering.  I'm sure there are many more creative ideas I haven't even thought of.
What do you do for your quiet time?  Do you have a time in the morning, or do you make another time in the day for this? What are your best ideas for quiet times for busy moms?
Pin This Post for Later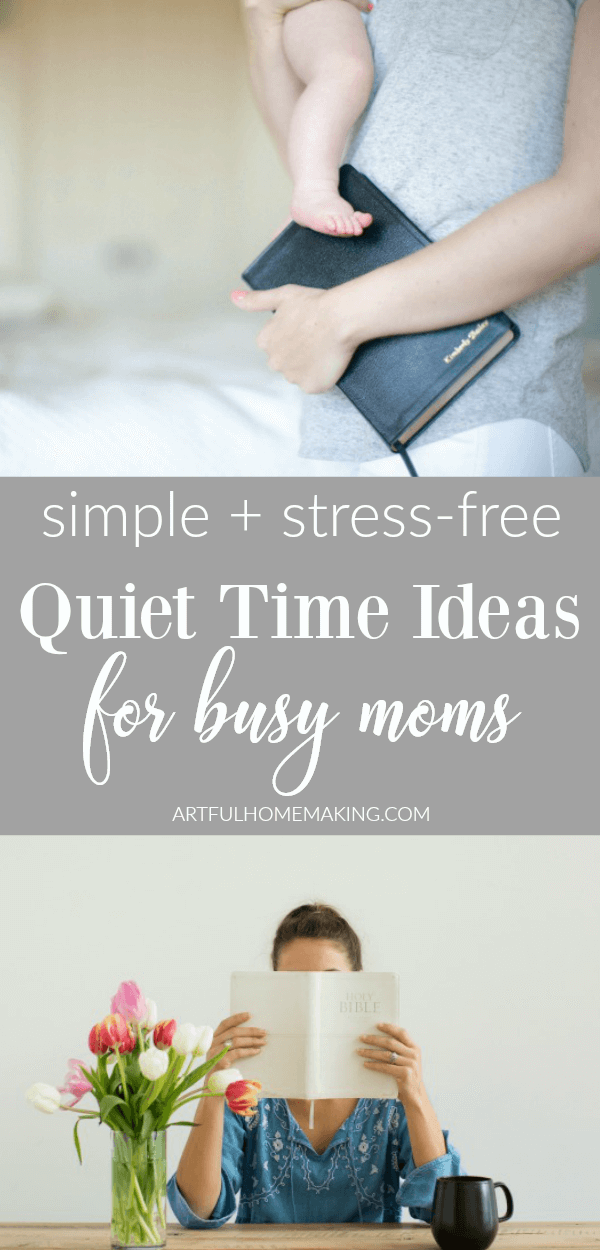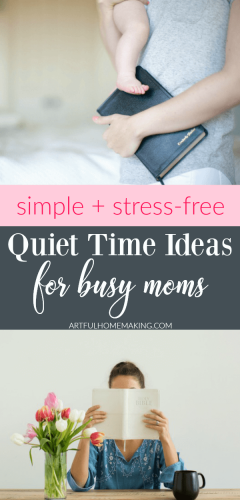 Disclosure: This post contains affiliate links. Read my full disclosure here. Sharing here.