How to milk paint an old window to add old fashioned, rustic farmhouse charm to your decor. Have you ever milk painted anything? This old window was my first introduction to milk painting furniture. I was surprised by how easy it was!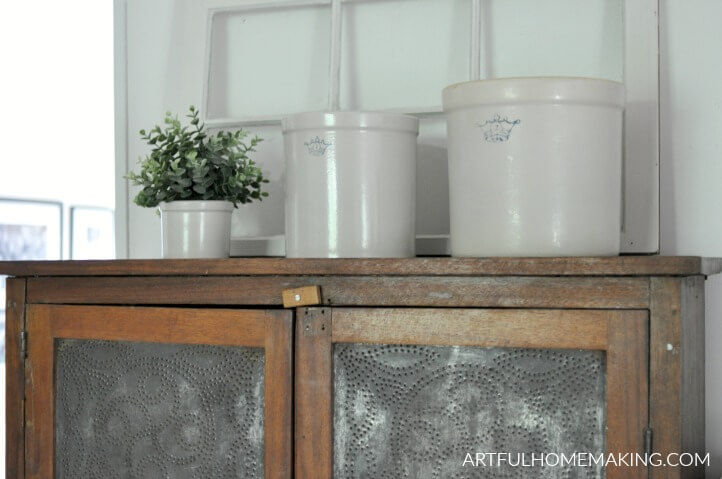 I've been hearing about milk paint for several years, and I really wanted to try it on something.
I found this old window at a flea market for super cheap about ten years ago. It looked cute, but I didn't love it. And it was the paint color that I really didn't love.
So, I decided to give it a coat of milk paint to see if it could be transformed  into something better.
And, I think it was a success!
I love how it looks sitting on top of this antique pie safe in my kitchen with some stoneware crocks.
It fits in well with my rustic farmhouse decor theme.
Watch the Video
Supplies Needed to Milk Paint a Window
Affiliate links included below. Read my disclosure here. 
In order to milk paint an old window (or any piece of furniture), here are the basic supplies you'll need:
How to Milk Paint an Old Window
I'm not an expert at milk painting furniture. But there are lots of helpful videos available online.
I watched a couple of videos, but mostly I just winged it.
What makes this so simple is that there is very little (if any) preparation involved.
In fact, I didn't do anything to the window to prepare it for the milk paint application. That's what made the process seem so easy.
Just add paint (I did two coats), then some furniture wax, and you're done!
Here are the steps I followed.
First, I taped around all the glass window panes with the masking tape.
Then, I mixed up the milk paint, following the instructions on the package. I used an electric mixer to whisk the paint together for several minutes. Then, I checked the consistency to see if it was thick enough.
After testing out the milk paint consistency, I painted it on my window.
I let the first coat dry, and decided I needed a second coat.
After the painted window was dry (I waited a couple of days), I removed the masking tape, and then I rubbed on the furniture wax and wiped off any excess.
I cleaned up any stray paint marks from the glass window panes (using a razor blade), and I was finished!
The whole process was very easy.
I definitely hope to use milk paint on more furniture items in the future!
Related Posts
Pin This Post for Later
This post contains affiliate links, which means I make a small commission at no extra cost to you. Read my disclosure here. Sharing here.