This easy knitted coasters pattern is perfect for beginning knitters, and it's free! If you're looking for an easy knitting pattern, look no further! This knit coaster pattern knits up quickly and easily.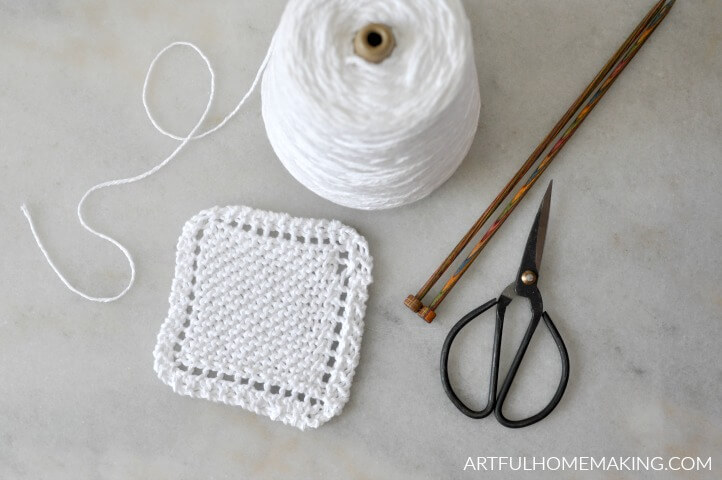 How Do You Knit a Coaster for Beginners?
This is one of the simplest knitting patterns ever. That's what makes it so perfect for beginners.
As a beginner knitter, lots of practice with easy projects will help you improve your knitting skills.
I always suggest this pattern for beginners, as it's super easy and fun to knit. It also makes a great handmade gift idea.
RELATED: Grandmother's Favorite Knitted Dishcloths Pattern
At the request of a reader, we took the above pattern and turned it into a knitted coaster pattern!
(I say "we," because I really need to give my mom credit for this, because she came up with the first version of the pattern and made the first sample. Thank you, Mom!)
I never even thought of making a coaster pattern, but this was really fun to knit and it would be another very cute handmade gift idea.
Just knit up a collection of these (maybe 4-6) and tie them up with raffia or ribbon, and you've got an adorable and useful gift!
These would be great to have sitting on the coffee table or end tables to prevent water rings.
RELATED: Grandmother's Favorite Kitchen Towel Knitting Pattern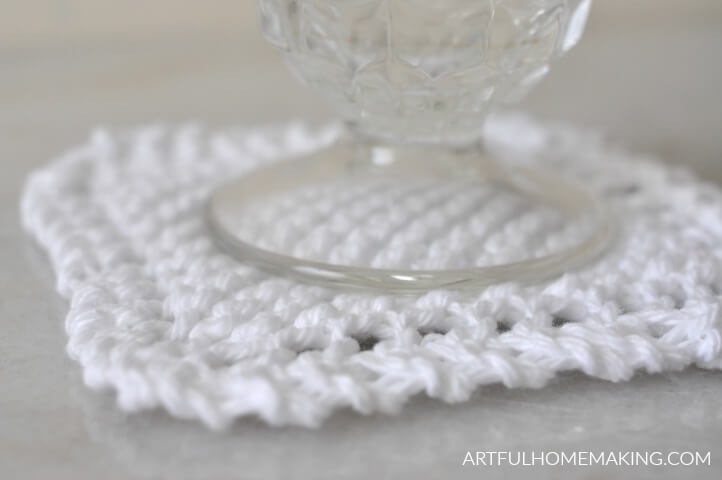 Supplies Needed for Knitted Coasters
To make this pattern, you need a few basic supplies.
Affiliate links included below. Read my disclosure here. 
I've linked to the type of cotton yarn that I pretty much always use for my dishcloths (and it's what I used for my samples), but feel free to try other types of cotton or cotton blend yarn.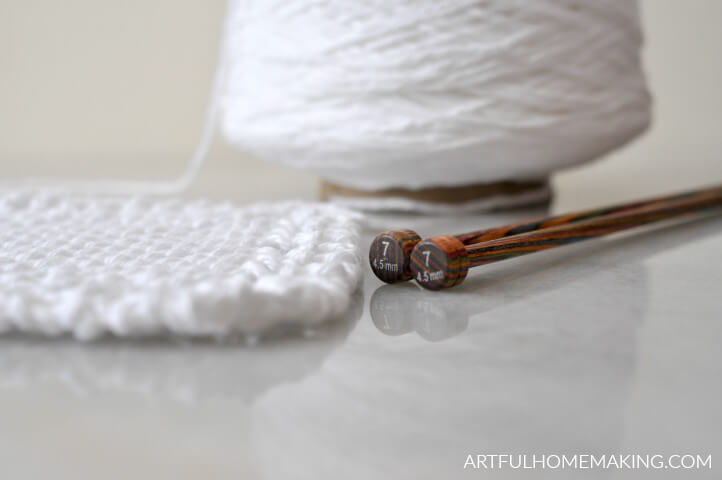 Free Knitted Coasters Pattern
This pattern for knitted coasters is so easy that it's perfect for knitting while you're watching a movie or riding in the car.
It's another one of those almost "mindless" knitting patterns that become a bit addictive!
Here's the pattern:
Cast on 4 Stitches
Row 1: knit 4
Row 2: k2, yo, k to end of row
Repeat Row 2 until you have 25 stitches on the needle.
Row 3: k1, k2Tog, yo, k2Tog, k to end of row
Repeat Row 3 until you have 5 stitches on the needle.
Row 4: k2, k2Tog, k1
Bind off the 4 stitches.
Weave in the ends of the yarn, and you're finished!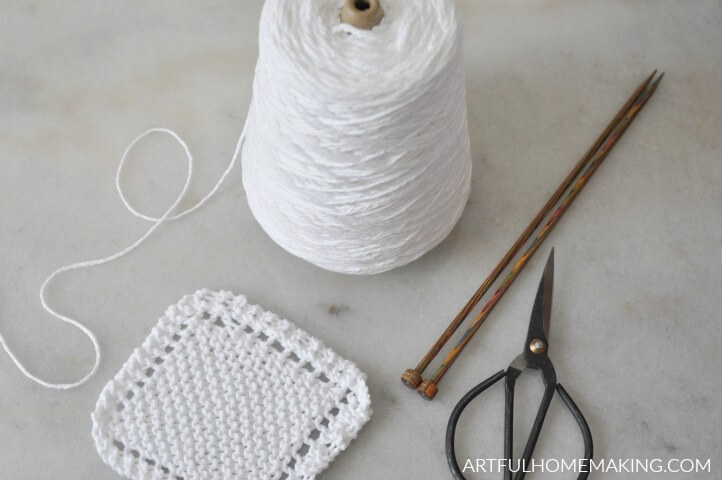 Notes:
K – knit
YO – Yarn Over, which increases
k2Tog – Knit 2 Together, which decreases
Optional Step: If you'd like your knitted coasters to be more uniformly square, you can block them. I didn't block mine (in the photo above), and you can see that it's not a perfect square.
If I were going to give these as a gift, I'd probably go ahead with the blocking step below.
Just hand wash them with a small amount of mild shampoo or detergent in lukewarm water. Then rinse. Roll them up in a towel to remove all the excess water.
Then spread the coaster out on a towel or a blocking mat and pin it in the correct shape. As it dries, it should hold the square shape a bit better.
As you block your coasters, just be sure not to stretch them out too much in the process.
You can buy a knit blocking kit like this to make the process simpler.
Related Posts:
Pin This Post for Later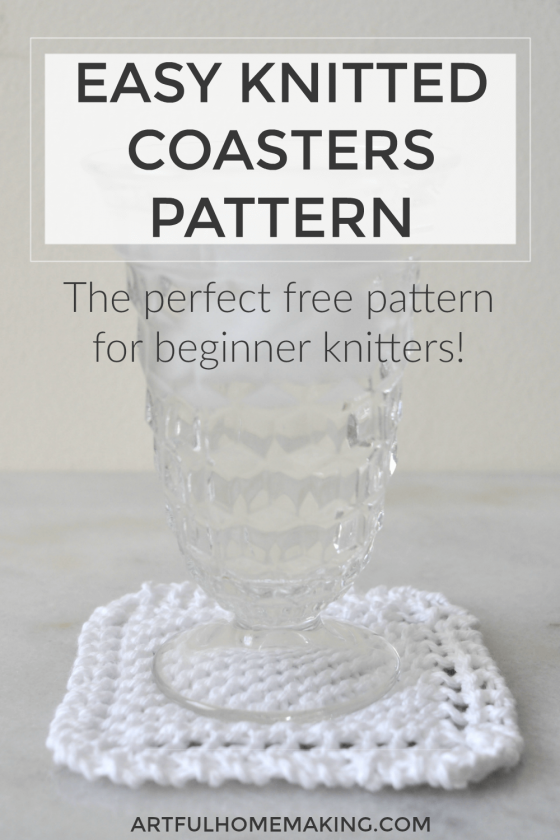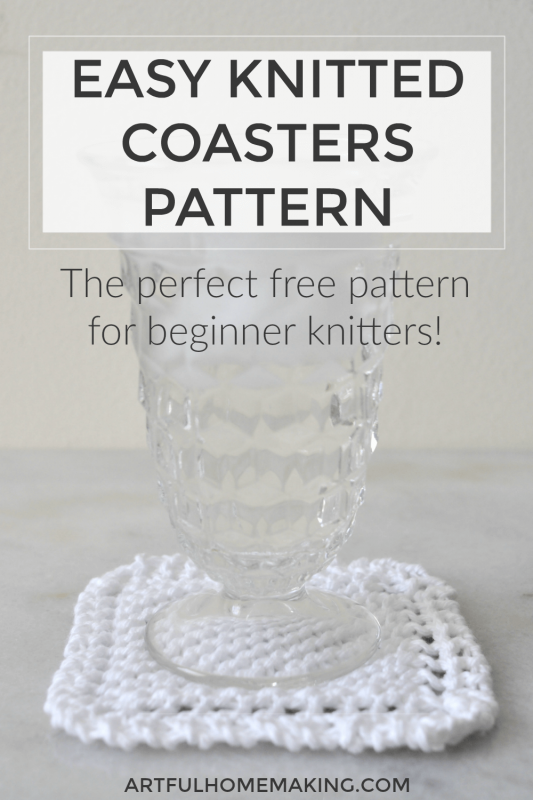 Disclosure: This post contains affiliate links. Read my full disclosure policy. Sharing here.