Make your own cleaning products with these simple recipes!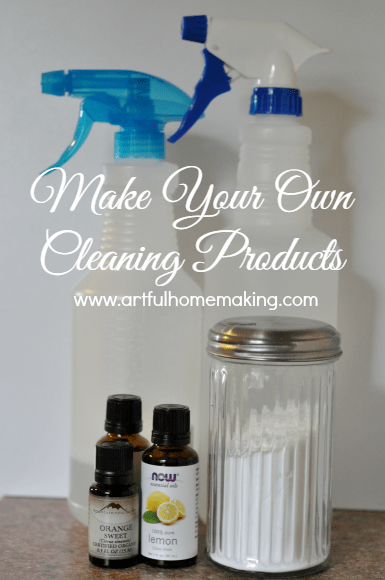 Make Your Own Cleaning Products
This post contains affiliate links. Read my disclosure here. 
Sometimes the cheapest way is to make it yourself. And I think that's often true of cleaning products. Not to mention the fact that if you make it yourself, you can use safe, non-toxic ingredients.
As a newlywed, my mother-in-law introduced me to the idea of using vinegar to mop the floors. It was cheap and effective, so that's what I've used for years now. I've also used vinegar and baking soda to clean toilets, sinks, and many other things. I love that they're so cheap and so safe!
Today I thought I'd share a few simple and effective homemade cleaning recipes with you.
Glass Cleaner #1
2 cups warm water
1/4 cup white vinegar
1/4 cup rubbing alcohol
1 Tablespoon cornstarch
5-10 drops of essential oil (I like this one for many of my cleaning products.)
Combine all ingredients in a spray bottle and shake well to mix. Label bottle and shake well before each use (the cornstarch might settle).
Glass Cleaner #2
1 1/2 cups white vinegar
1/2 cup water
8-10 drops citrus essential oil (grapefruit, lemon, orange, etc.)
Combine in a spray bottle and shake well.
All Purpose Cleaner #1
3 cups hot water
1/4 cup white vinegar
2 teaspoons Borax
8-10 drops essential oil (citrus or lavender oils smell nice)
Combine in a spray bottle and shake well.
All Purpose Cleaner #2
Mix all together in a spray bottle.
Toilet Bowl Cleaner
Pour about 1/4 cup of baking soda into toilet bowl. Add about 1 cup of white vinegar. Let sit for a few minutes, then scrub with toilet brush and rinse.
Coconut Oil Wood Polish
This is super simple. Just clean the wood surface with a damp cloth and then dry thoroughly. Rub some coconut oil into the wood (just takes a couple of tablespoons) with a soft cloth. This nourishes and protects the wood. I mostly use this on the top of my wood kitchen island that gets heavy use.
Wood Furniture Polish
1 cup olive oil (for this I use the inexpensive kind from the discount grocery store)
1/4 cup white vinegar
1/4 teaspoon of essential oil (I like lemon, wild orange, or lavender)
Combine the mixture in a small jar or bottle and shake to combine. When you're ready to use this, it only takes a small amount on a clean rag. My mom shared this recipe with me, and it works really well!
DIY Cleaning Supplies
These are just a few of my favorite recipes for homemade natural cleaning supplies. There are so many more natural cleaning recipes that would make a great substitute for chemical-laden cleaning supplies while saving money at the same time.
---