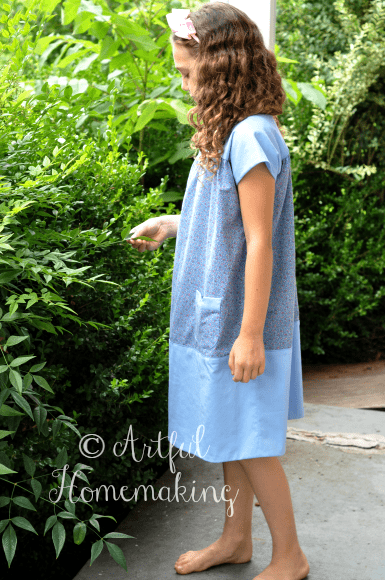 I've had
this pattern
in my stash for at least a couple of years. I fell in love with it as soon as I saw it. It just has such a vintagey-retro-classic type of feel to it.
As I've been working my way through my fabric stash,
sewing for my youngest daughter
, I pulled out this pattern and this fabric that I've had for quite a few years. In fact, I think I bought the fabric when my older girls were little. It wasn't really anyone's favorite fabric, and I know it doesn't totally coordinate perfectly together…mostly I just wanted to try out this pattern, and I didn't want to ruin my good fabric (just in case it didn't fit or I made a mistake or something).
I just love the little details like the "v" pockets and the bottom skirt band.
When it came time to add a button to the back, we looked through my button box and found this adorable little heart button that just matched the pink hearts on the calico fabric.
I think this little heart button is my favorite part of the dress.
I'm not going to lie, I had a terrible time with some of the directions. I'm not sure if it's a true reflection on the directions or just the frame of mind I'm in these days (tired and needing super-simple). Also, I'm a very visual person, and some of the steps I just couldn't visualize (and they weren't illustrated). I had to read and re-read a few of the directions, and then I still couldn't "see" it in my mind. Some of the construction steps were completely opposite of the way I've put similar garments together before, and that confused me.
If you look closely you can see that I really messed up the topstitching/edgestitching. But it all came together in the end, and my daughter is happy with it! And now that I've made it once, I know the next time would be a breeze.
My husband and older daughters said it looks like an old-fashioned "house dress," (and one said it looks like scrubs) but I just love the design lines. I think it's very artistic. I think most of what they're seeing is the fabric. With some really cute fabric it would change the look of the dress entirely.
The final verdict is that I love this dress, and I would definitely make it again (with cuter fabric next time)! 🙂