I've wanted to paint our kitchen ever since we moved in over five years ago. It's not that I have anything against red, really, but I just don't want a red kitchen. Especially when it's a fairly small country kitchen (our only cooking/eating space) and the only natural light that comes in is from the little window over the sink and the one in the back door.
Here's how the kitchen looked before:
And here's how it looks now:
I LOVE the transformation! It went from a dark, closed-in-looking space, to a light, bright, airy space. So, why didn't we paint sooner? Well, I was dreading it. And it turned out to be just as big of a job as I imagined, especially all the area above the kitchen cabinets. But it was so worth it!
We had "paint the kitchen" on our summer bucket list, and I've been waiting for just the right time. When I looked on my calendar and saw that we had a few days free, I announced to the family that we'd paint the following day. The kids were elated, and right away everyone started trying to help.
The older girls taped the room:
And these three started removing the tin "back splash." The tin looked so cute when we first moved in, but despite our best efforts (including spraying it with a sealant) it rusted badly.
I thought about painting it, but the tin around the kitchen sink is so rusted that it's crumbling (child dish-washers + water = rust).
They were thrilled to start ripping this off the wall. And we were all surprised to find vinyl wallpaper behind it!
My youngest begged to be allowed to paint, and I figured it couldn't hurt for the first two coats since they would be covered over with the "real" paint eventually.
He had so much fun! He said he would rather paint than go to an amusement park! 🙂
This is after one coat of Kilz (it took two coats):
And here it is after two coats of Kilz and two coats of paint: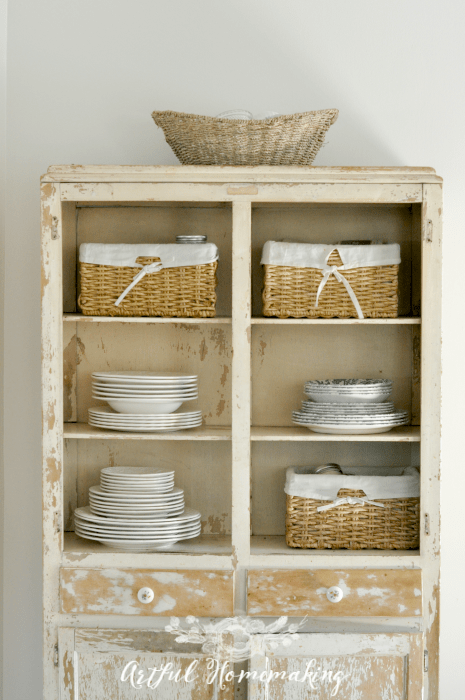 This was the hardest part to paint. I had to stand on the counter tops to get up there: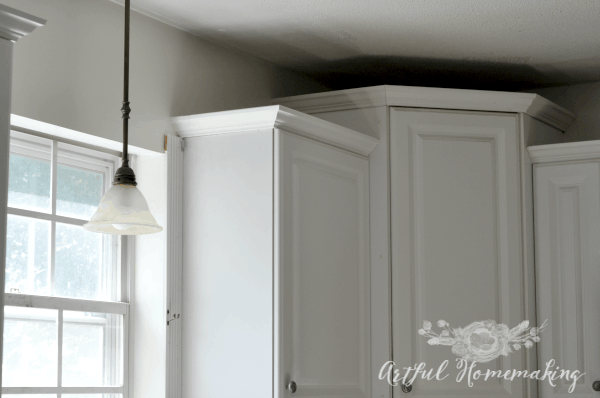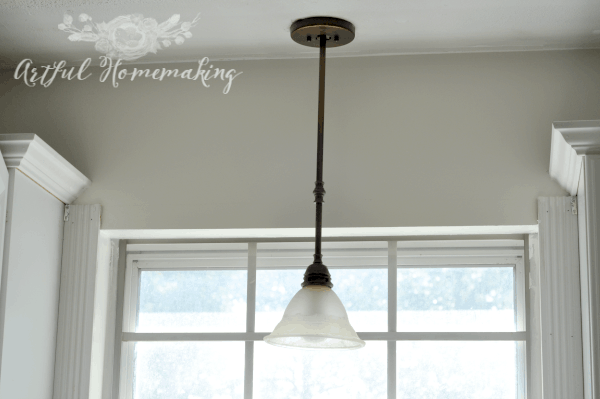 The color we used is Sherwin Williams Pearly White. I had it mixed into some Glidden paint at The Home Depot.
In the photo below you can see (in the lower-left) where we removed the tin back splash. That will be my next project—figuring out what to do with that!
Seriously, every time I go into the kitchen I smile, and I think I've said a hundred times, "Doesn't it look amazing?!?" I just love it so much.
I lived with that dark red room for so long (all the while dreaming about creamy white walls) that this is like a dream come true for me!
It's amazing how changing the paint color can completely transform a room. It even seems to look less cluttered, in my opinion.
So, what do you think? Do you like the white better, or do you think I should have left it red? 🙂