Plan an intentional summer with this summer bucket list and free planning printables!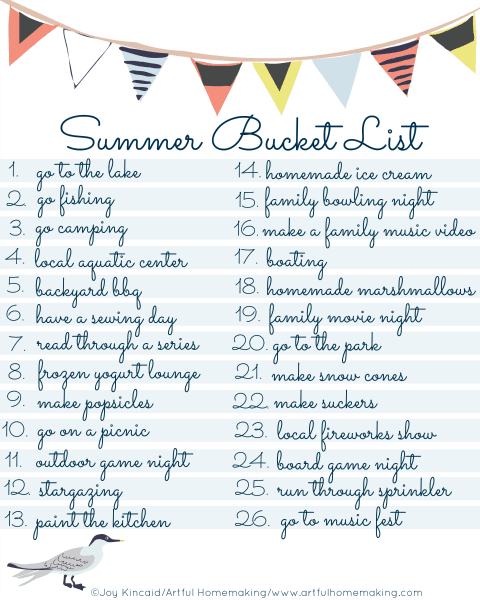 Create a Summer Bucket List
Can you believe summer is almost here? Maybe you've already started celebrating summer with your family.
We're planning to do a bit of homeschooling this summer, but we're also looking forward to a break and enjoying some family time.
I've learned that nothing happens unless it's planned, so I decided to set some goals for how we'd like to spend the summer. That way we won't look back and wonder where the time went!
I decided to make a summer bucket list to keep track of what we hope to do together.
And while I was at it, I also created a blank bucket list and some free planning printables for you!
Summer Bucket List Ideas
Here are some ideas for what you could put on your summer bucket list. Most of them are free are inexpensive. A few of them will cost a bit.
Use the ideas that are helpful to you and your family!
go camping
take a fishing trip
go boating
spend a day at the beach
have a cookout
plan a backyard barbecue with friends
go to the lake
visit a local swimming pool
take a hike
spend a night looking at the stars together
go out for ice cream or snow cones
make your own snow cones at home
family movie night
make homemade popsicles or fruit bars
go to the zoo
make s'mores
have a pizza party
fondue night
family game night (these are some of our favorite games)
go to the fair
go to the park
make homemade bubbles
visit a nature center
go to the botanical garden
plant something in your own garden
go bowling
play in the sprinkler
have a water balloon fight
play tag in the backyard after dark
read through a book series
bake cookies
make your own ice cream sundaes for dessert
What's on Our Summer Bucket List
go to the lake (we love spending time at the lake every summer)
fishing
go camping
go to the local aquatic center
have a backyard barbecue
have a sewing day
read through a book series (I shared on Instagram which series we're planning to read!)
go to a frozen yogurt place
make popsicles
go on a picnic
have an outdoor game night (play tag and other games outside)
look at the stars together
paint the kitchen (this may not sound fun, but the whole family is looking forward to getting this done!)
make homemade ice cream
go bowling together
make a family music video (this could be interesting…)
go boating (if you follow me on Instagram, you know we already did this once, but we hope to go again this summer! We just have a simple inflatable raft-type boat, but it's still fun!) 
make homemade marshmallows
have a family movie night
go to the park
make snow cones
make suckers
go to the local fireworks show on July 4th (we did this last year and it was so fun—and it was free!)
board game night
run through the sprinkler (my kids love it when I do this with them)
go to the music fest (this is a local homeschool event we attend every year)
Enjoy an Intentional Summer
So, that's what we have planned for this summer. Most of these things are free or cost very little, which is a must for our budget right now. But each one is still designed to make special summer memories, which is our main goal. 🙂
Would you like to make your own bucket list? I made a printable for you!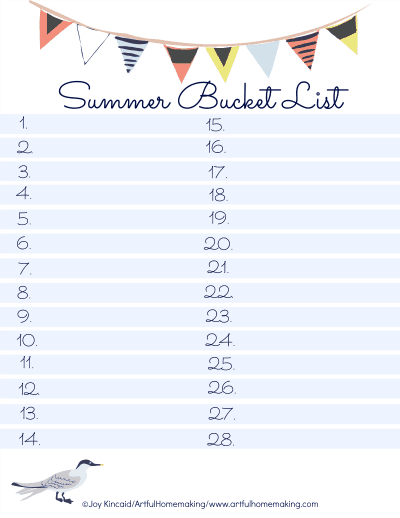 Download your free summer bucket list printables here!
And in addition to the above printable, I also made a summer reading list and two other forms you could use for whatever you like (notepaper, menus, chore lists, etc.).
Enjoy, and I'd love to hear what's on your summer bucket list for this year!
Sharing with some of these blogs.