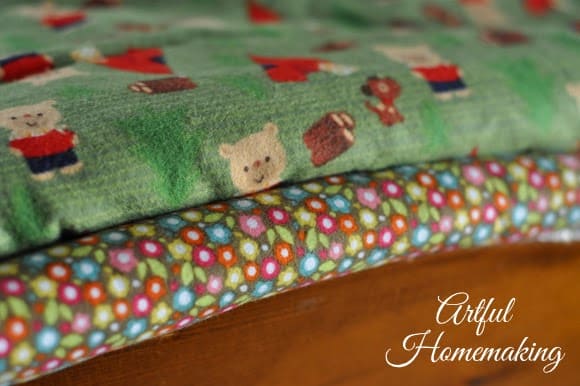 "Come to Me, all you who labor and are heavy laden, and I will give you rest. Take My yoke upon you and learn from Me, for I am gentle and lowly in heart, and you will find rest for your souls. For My yoke is easy, and My burden is light."
~Matthew 11:28-30
Rest. It's what I'm longing for these days. Somehow I buried myself beneath too many projects and deadlines and too much busyness these past few months. Life has just been speeding by, leaving me breathless and wondering how I might slow down and simplify things.
I want to leave behind the late nights, the overflowing inbox, and the constant demands on my time and thoughts by the outside world. Yes, it's time for me to step away from this computer and focus all of my energy on my home and family and local friends.
And I
need
to sew. See this lovely flannel? It's the fabric I bought on sale last year for the
Christmas pajamas
. No, they're not Christmas-themed this year, and they're not even going to be totally matching. The boys get the little camping bears and dogs, and the girls get the flowers. I just love the cheerfulness of this fabric! It makes me happy just looking at it. 🙂
I'm hoping to spend some focused time the next couple of weeks making memories with these people that I love the most:
(By the way, did you know you can't fit 7 people in a standard photo booth? At my insistence we tried it a couple of weekends ago, and it didn't work! Nevertheless, these hilarious photos bring a smile to my face.)
If I don't make it back here before then, I hope you have a happy, peaceful, and blessed Christmas!