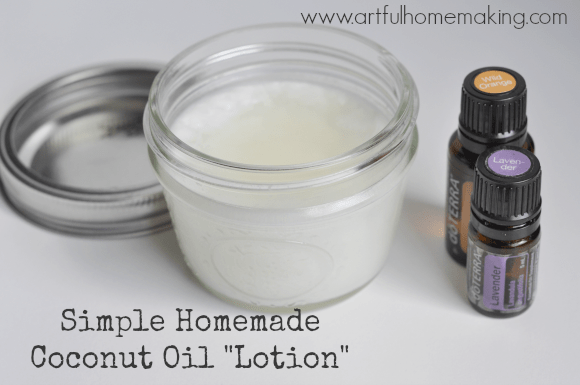 I've been using coconut oil for my lotion for a long time now. I usually apply it in the morning after I shower. I do have other lotion (from
Vitacost
) that I use before bed and some that I keep in my purse, but coconut oil is my favorite morning moisturizer.
This is so simple to make that it hardly requires any instruction! All you need is:
Instructions:
My coconut oil was already liquid since my kitchen was hot, but if yours is solid you can melt it in a pan on low heat.
Add the essential oil and stir to combine.
Pour the mixture into the jar and let it harden. It will harden if your house is cooler, but if it's really warm (like at my house) it might firm up some but won't be completely solid until cooler weather arrives. I actually put mine in the refrigerator for awhile to get it to firm up a bit.
Store in a cool, dry place.
To use, I just dip some out with my fingers.
In the winter, during cold and flu season, you can add something like
Breathe Ease
essential oil. Added to the coconut oil lotion, it makes a natural version of Vick's VapoRub.
This post contains affiliate links.