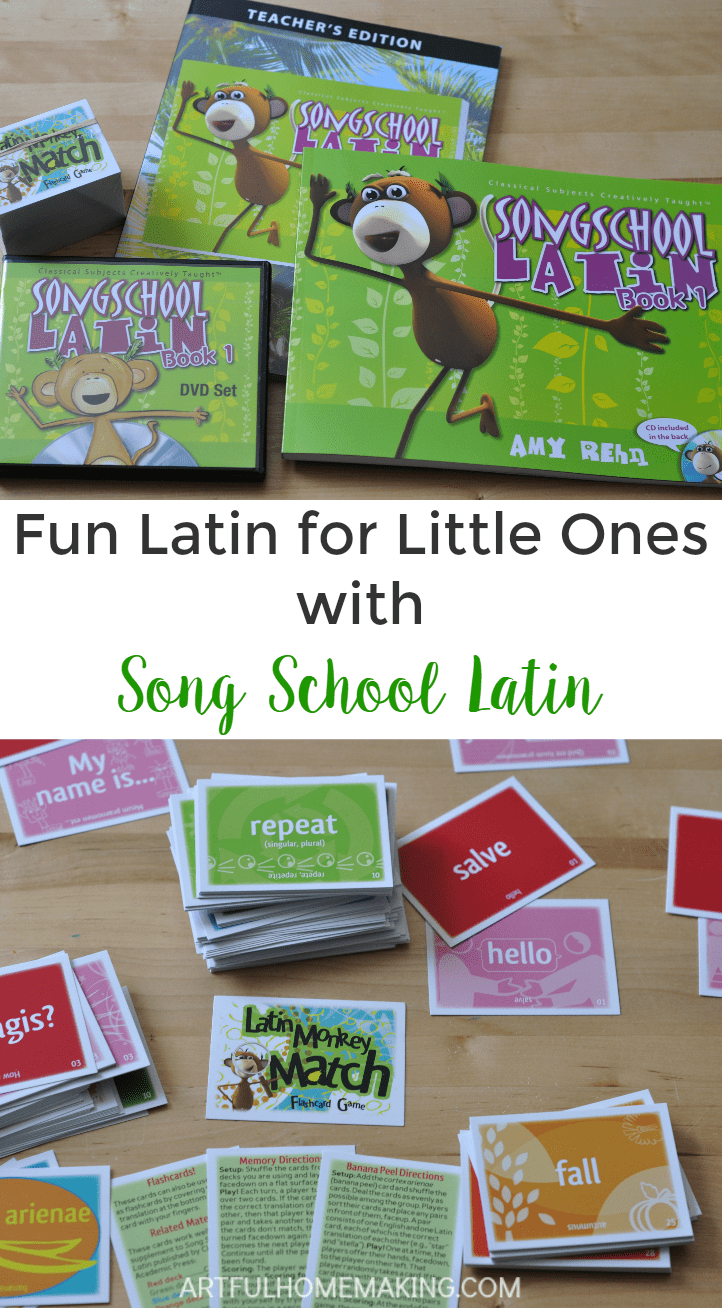 This year our two youngest children are learning Latin with Song School Latin Book 1, from Classical Academic Press.  (Our older children are using Latin Alive!, which is also from Classical Academic Press.)
This program is intended for first or second graders, but my fifth grader (with no previous Latin exposure) thought it would be fun to learn alongside her younger brother. 🙂
The set consists of a student book, a teacher's guide, the DVD set, and the Latin Monkey Match Flashcard Game.
Seriously, the cute monkey named Simeon is everyone's favorite!
"Simeon the Monkey makes appearances in each episode, delighting students with his animated story, which features numerous vocabulary words. There is also an animated derivative 'river,' which highlights the way in which Latin words have come into various languages, including English, Spanish, and French."
First we watch the lesson on the DVD and then work through the student book.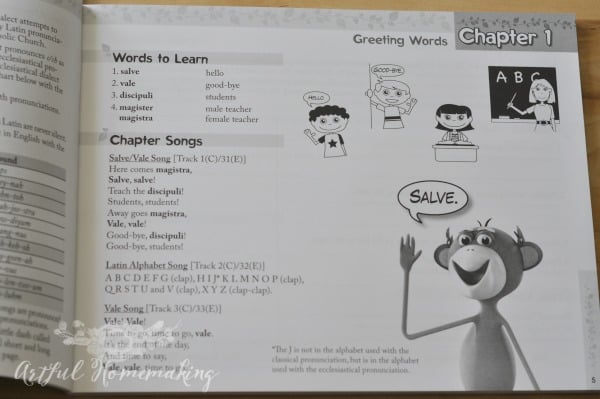 The student book contains writing practice, stories, songs, and fun activities.
There is a music CD in the back of the student book, with the songs for the chapter. The songs are so cute and they really stick with you. My older children were in the room one day while we were playing the chapter 1 song, and they were groaning, saying how silly it was (you know, teenagers). I noticed, however, that several of us were humming the song days later! And that's the point, so it obviously works! 🙂
I love this picture my daughter drew of her magistra (me!). 🙂
The included flashcard game is great for cementing what is learned in the lessons.
"Latin Monkey Match Flash Cards features all the vocabulary from Song School Latin Book 1. In groups or individually, students can play Memory or Go Fish by collecting Latin and English matches. Cards can also be used as flash cards for extra practice. Each card lists the corresponding chapter number from Song School Latin."
My children were really drawn to this game, and I love that it's included in the program. I think it will be super helpful as we progress through the year.
There are 31 weekly lessons including 7 review chapters. The suggested schedule is to do Latin 2-3 days a week for 20-30 minutes. Students will learn over 100 everyday Latin vocabulary words for the seasons, body parts, food, animals, and common greetings. So far we're really loving it!
Song School Latin really is a "gentle and delightful introduction to Latin" for even your youngest students!
CLASSICAL ACADEMIC PRESS DISCOUNT CODE FOR MY READERS!
Classical Academic Press is kindly offering a discount code to Artful Homemaking readers! You can get 20% off with the code artful20 at Classical Academic Press. The code is valid on all products except Singapore Math and live online courses through Sept 30th. 

Disclosure: I received a free Song School Latin set in exchange for an honest review. The opinions expressed here are my own, and they were not influenced in any way. Read my full disclosure here. Sharing here.