Clutter can be a huge problem, no matter how large or small your family is. We have seven people living together in a smallish house, and all of us are at home together all day, almost every day. If we're not careful to stay on top of it, the clutter can easily get out of hand!
One of
my goals for this year
was to get every single space in our home completely organized. It may be a more ambitious goal than I can realistically accomplish, but I figured it didn't hurt to try.
I've read many, many organizing books through the years. And most of them offer similar suggestions. Gather three bags or boxes and label them "giveaway," "put away," and "throw away." I've used that method for most of my life. And it works, mostly.
But what I was really wanting to do is eliminate the problem of clutter in the first place. Rather than constantly chasing it down and trying to organize and contain it all, I wanted to have fewer things coming in. I was looking for more simplicity, and a bit more of a minimalist approach.
The Life-Changing Magic of Tidying Up
Enter
The Life-Changing Magic of Tidying Up
. I had been hearing about this book for a while, and I finally decided I needed to check it out for myself. Shortly after starting it, I was offered the opportunity to review
Spark Joy
, Marie's second book. Since the two books go together, I decided the timing was perfect.
I enjoyed reading The Life-Changing Magic of Tidying Up, even though there was quite a bit in the book that I couldn't agree with and won't follow. I just ignored the parts that didn't apply to me as a Christian and applied the organizational wisdom that interested me.
Focus on What Inspires Joy
One of the most life-changing concepts in
the books
that reviewers mention over and over again is that the focus is not on what to get rid of. Instead, the focus is on what to keep. And you only keep those things that inspire or spark joy.
Don't focus on reducing, or on efficient storage methods, for that matter. Focus instead on choosing the things you own that inspire joy and on enjoying life…This is the pleasure of tidying…Choose those things that spark joy when you touch them.  ~Marie Kondo
This made so much sense to me, and it has changed the way I declutter in our home. I can't tell you how much I've gotten rid of since reading these books! And I'm not done yet. In fact, I've just begun.
I will admit that
sometimes I can't follow Kondo's advice
. Even though an item doesn't spark joy, I can't afford to replace it, so I've got to keep it. But I still value the admonition to only have things around you that bring you joy.
Whenever I'm able to buy a new pair of shoes, for example, I'll be sure to pick a pair that I love, knowing that I'll be more likely to wear them longer (and enjoy wearing them). I've always been a pretty deliberate shopper, but now I make sure I'm not buying something just because it's on sale or it's affordable. If I don't love it, I don't buy it (at least that's the goal!).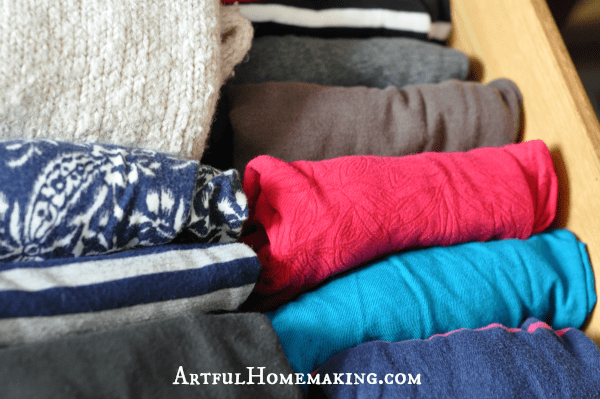 The Four Basic Steps to The KonMari Method
Have a discarding marathon all at once. KonMari tells you not to do your decluttering in stages, but rather to do it all at once. I see her point, but I found this to be a bit impractical for a homeschooling mom of five. I'm doing my best to follow her advice, though, by working on all the clothes for a week, then moving on to books, etc.
Take each item in your hand and ask, "Does this spark joy?" If it does, keep it. If not, dispose of it. Again, I'm doing a modified version of this. I can't get rid of everything that doesn't spark joy, because we don't have the money to replace everything that doesn't spark joy. But I am freely disposing of things that are unnecessary items (such as decor and outgrown clothing and kitchen items) that don't bring joy or aren't useful to us.
Sort by category (clothes, books, papers, miscellaneous), not location. KonMari says you shouldn't, for example, decide to declutter and organize your bedroom (or any other room). You should first do all the clothing in the house, then all the books, papers, etc.
Give every item a place. Designate a spot for every item you own. This is huge. And it makes such a huge impact. I've been trying to do this, and it is so much easier to keep an organized house when every item has a place. Definitely good advice.
The Results
Can you believe my drawers actually look like this???
This is my favorite part of the whole KonMari Method
: learning how to fold clothes so they actually fit in the drawers neatly. I can just pick out the one item of clothing I'm after, and it doesn't mess up all the rest of the clothes in the drawer. It's amazing!
And it's actually really easy to fold them like this. After seeing my drawers, my daughters all wanted to do theirs the same way. Here's my 10-year-old's shirt drawer that she folded all by herself:
Have you read either of these books on decluttering and organizing? If so, what did you think of them?