Here's my Trim Healthy Mama Workins review! Have you heard that Serene and Pearl have some exercise videos available?! Mine came in the mail recently, and I couldn't wait to show it to you!
I was so excited when I heard that Serene Allison and Pearl Barrett had come out with an exercise program!
Why I Love Pearl and Serene
As an early adopter of their first Trim Healthy Mama book (which I purchased and reviewed as soon as it came out several years ago), I've been a fan of Pearl and Serene for quite a long time.
Probably the main thing I love about these ladies is that they understand me and my life! They know what it's like to be a homeschool mom of several children.
They understand the post-pregnancy female body, and they understand hormones. They work to support and encourage optimum health and nutrition in a way that makes sense to me.
And, they keep it all fun and upbeat!
Trim Healthy Mama Workins Review
Even though I knew I wanted to buy the new Trim Healthy Mama Workins program, the price kept me from jumping in immediately.
Like many families, we don't have a lot of expendable income. I carefully weigh every purchase before making it.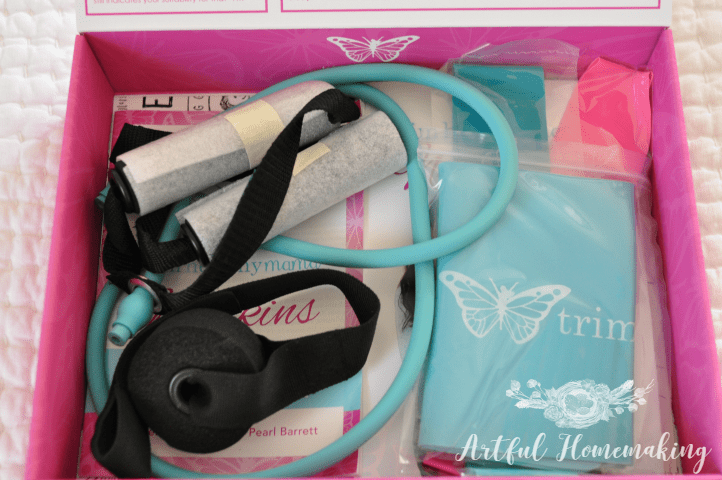 So when I first heard about the program, I passed it up (even though I really wanted it).
But shortly after my birthday, I got another email about it. And this time I had my birthday money. I'm a very deliberate shopper (my husband says I'm almost too deliberate sometimes!), so I researched and thought about it for some time, but then I decided I just had to see for myself if it was something that would work for me!
Here are the things I love about it:
I know exercise is important, but I don't have a lot of time. I was drawn to the fact that these are quick workouts (20 minutes), and they recommend that you do them 2-4 times per week. I can handle that!
You get physical DVDs (9 of them!), which I prefer to streaming over the internet since we don't leave our Wi-Fi on all the time.
The price also includes some of the exercise equipment you'll need for the program (exercise loops, bands and tubes) and a poster and booklet.
Options for various fitness levels.
Instructions for modifying the workouts for those who are pregnant and those with other physical limitations (knee and joint issues and diastasis recti, to name a few).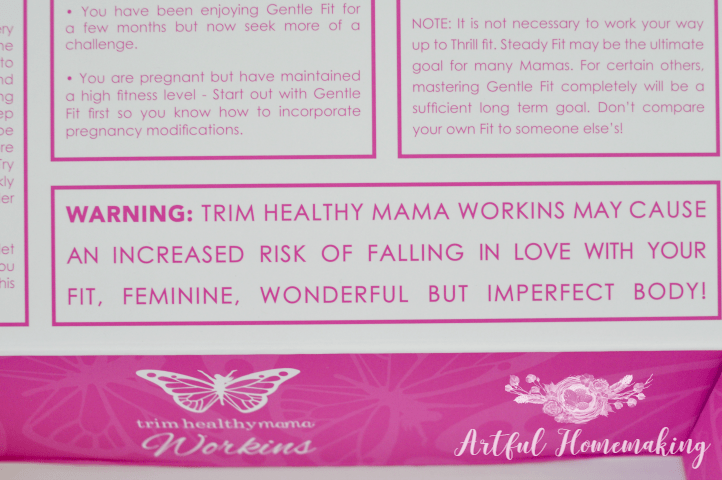 Here's everything you get:
And look at all of these DVDs! The first one goes over some basic instructions and information, and they interview a fitness expert who also happens to be a mom of nine!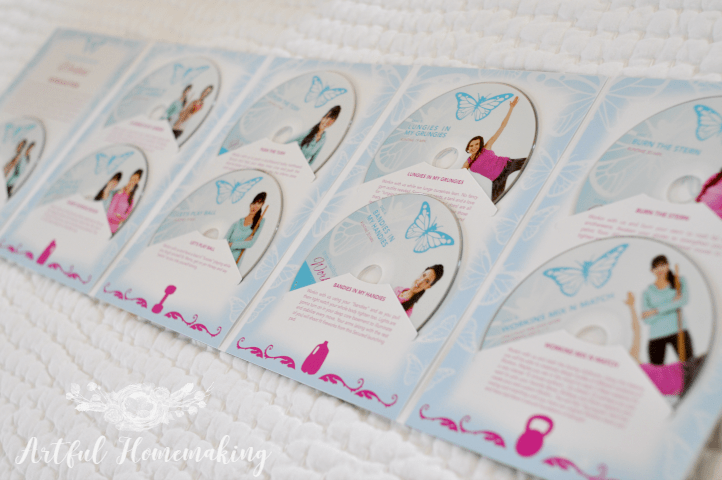 No Need for Weights or Special Equipment
I love that Pearl and Serene are in their pajamas here! And notice that Pearl is using water-filled milk jugs. You don't have to buy weights, but Serene prefers a kettlebell (which I think would be more convenient).
I haven't actually exercised along with the DVDs yet (since I just recently got them), but I've watched the introductory DVD and a couple of the workouts. (That makes a lot of sense, doesn't it? I took the time to watch the videos but didn't actually do the workout yet! In my defense, I was cleaning part of the time while it was playing! 🙂 )
And I just have to say here that Serene and Pearl crack me up! The exercises are super fun and not your run-of-the-mill moves.
I love their sense of humor, and the fact that they're exercising in Serene's living room with their children right there with them.
Diastasis Recti Safety
Because I've dealt with diastasis recti since having children, it's always a concern of mine when I'm choosing exercise.
For the past few years, I've been very happy with the Tummy Safe Workouts from Fit2B and I've also enjoyed this Barre3 Ballet Bootcamp workout (with modifications). If you have a diastasis recti that is very large, I'd recommend starting with The Tummy Team's Core Foundations program first.
Read about my experience with The Tummy Team here.
In the introduction DVD, Serene and Pearl talk about diastasis recti and how you can modify the exercises to be safe for pregnant mamas and those with a diastasis.
You can see on the screen above that there's a little box for "gentle fit." There are 3 options to choose from: Gentle Fit, Steady Fit, or Thrill Fit. If you click on "gentle fit," you'll see little boxes on the screen occasionally during the workout with examples of the modifications you'd want to use.
Personally, I'll be using Gentle Fit at first!
Check out the Trim Healthy Mama Workins Program Here!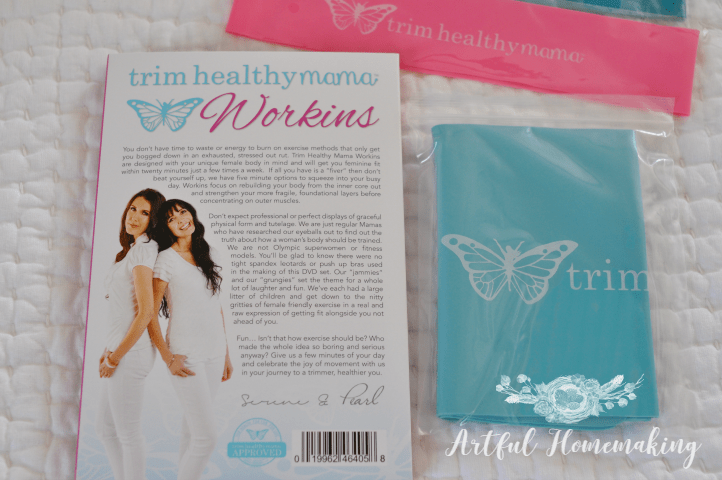 I'm excited to get started with these workouts! It's always a good thing when you're actually looking forward to working out! 🙂


Disclosure: This post contains affiliate links. Read my full disclosure policy. Sharing here.