When I was younger, I thought winter was my favorite season (probably because I lived in Texas, and we didn't get any winter weather!). But now my absolute favorite season is definitely spring.
I've been enjoying making some spring vignettes in the kitchen, using the cheery yellow daffodils that grow in clumps in the woods behind our house.
I got this chalkboard from Hobby Lobby with a gift card a friend gave me for my birthday. I had been wanting a chalkboard like this for so long, so her gift was a real treat! 🙂
Did you know that daffodils also come in white? These are called poet's daffodils, and I just love them! They grow wild in the woods behind our house.
Life Lately
Last week we celebrated St. Patrick's Day. I wore my "kiss me I'm Irish" shirt (after promising my husband I would only wear it around him!).
We had a traditional meal of corned beef, cabbage, and potatoes (scalloped potatoes). One of the kids said, "Wow, Irish people eat good food!" 🙂 The kids also enjoyed these cookies and this punch made by my oldest daughter (links go to her blog, where she shared the recipes).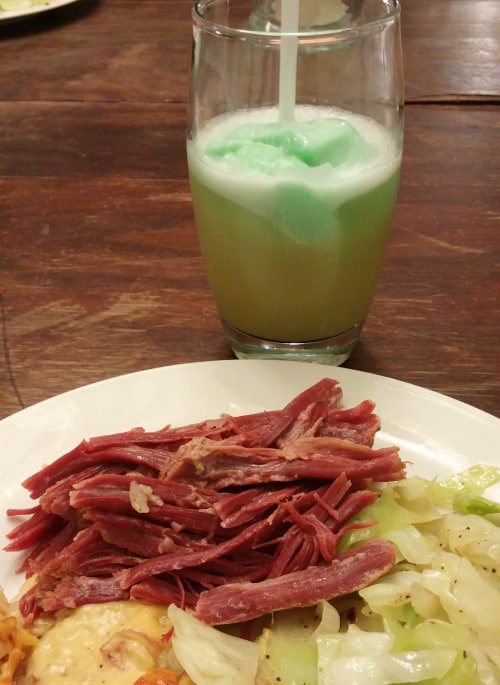 We really enjoyed this book about St. Patrick. It tells his story, drawing from his autobiography. So far it's our favorite children's book about his life.
Family Field Trip
Last week we also went back in time and pretended to be a Civil War-era family.
The last time we had an old-fashioned photo made (about 5 years ago), we dressed up as a late-Victorian family. I like the hoop skirts better, but I wouldn't have liked having to wear them in everyday life. They're very inconvenient for walking through doorways and things!
Free Clothes
Another highlight of last week was receiving a box of free clothes from ThredUP (paid for with referral credits)!
I decided that my spring/summer wardrobe is going to be made up of primarily knee-length skirts, and I was happy that these three will fill in a gap in my closet (since I only have a couple of other skirts that length).
One of them is Gap, one is Banana Republic, and the striped one is from Talbots. They look practically brand new!
They all fit perfectly, so now I'm kind of hoping I won't lose weight! Have you ever had that happen? You feel like you kind of need to lose a bit of weight in order to be healthy, but then you get a really cute item of clothing that you'd hate to have to part with if you ever did actually get smaller! 🙂
Reader Survey and Giveaway
If you subscribe to my newsletter, you might have already seen this, but I thought I'd mention it here in case you missed it.
Everyone who fills out the Artful Homemaking Reader Survey has a chance to win some Lilla Rose items! I'm giving away a mini flexi clip, a hairband, and a set of bobby pins. Go here to fill out the survey and enter the giveaway!
Disclosure: This post contains affiliate links. Read my full disclosure policy. Sharing here.