What to do when you don't have a mudroom, especially if you have a small house and children.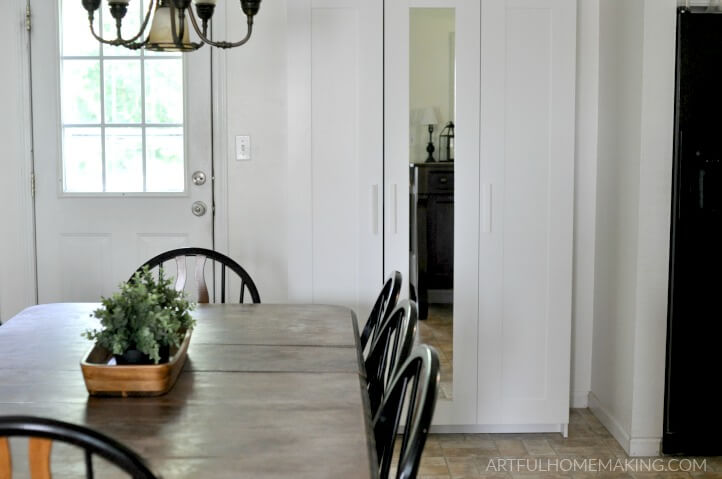 Our previous house had no mudroom and no coat closet in the entryway.
When You Don't Have a Mudroom
This lack of space caused a huge amount of discouragement as I tried to corral it all without a proper storage space.
I knew how frustrating it was to deal with children's coats and all the winter gear (hats, mittens, scarves, etc.) when there was no place to store it all.
When we were finally able to buy a house, one of my main requirements was that it must have a coat closet.
So, we went looking for a house with a coat closet. And we found one!
Clutter by the Back Door
The only trouble was, the coat closet was right by the front door (as they usually are), and the kids wanted to go out the back door.
The back door is in our eat-in kitchen. Right by the dining table.
Which meant that all of the coats, jackets, hats, mittens, scarves, boots, and outside toys always ended up right by the table.
Which created an endless amount of clutter and mess.
Searching for a Mudroom Solution
Affiliate links included below. Read my disclosure here. 
More than ever, I started longing for a mudroom of some sort!
I tried many different ideas for organizing all the mess and making it look neat and tidy.
First, I tried a wooden bench with storage inside. We mounted a row of pegs above the bench, and all the shoes went inside the bench.
We added a small bookshelf with a basket for each child's scarves, hats, and mittens.
I tried to be happy with this "solution," but it was still too much clutter by the dining table.
After countless Pinterest searches, I was still coming up empty-handed. Lots of the ideas were cute, but they still looked bad since they were by the kitchen table.
I didn't really want to see a row of colorful children's coats while we were eating!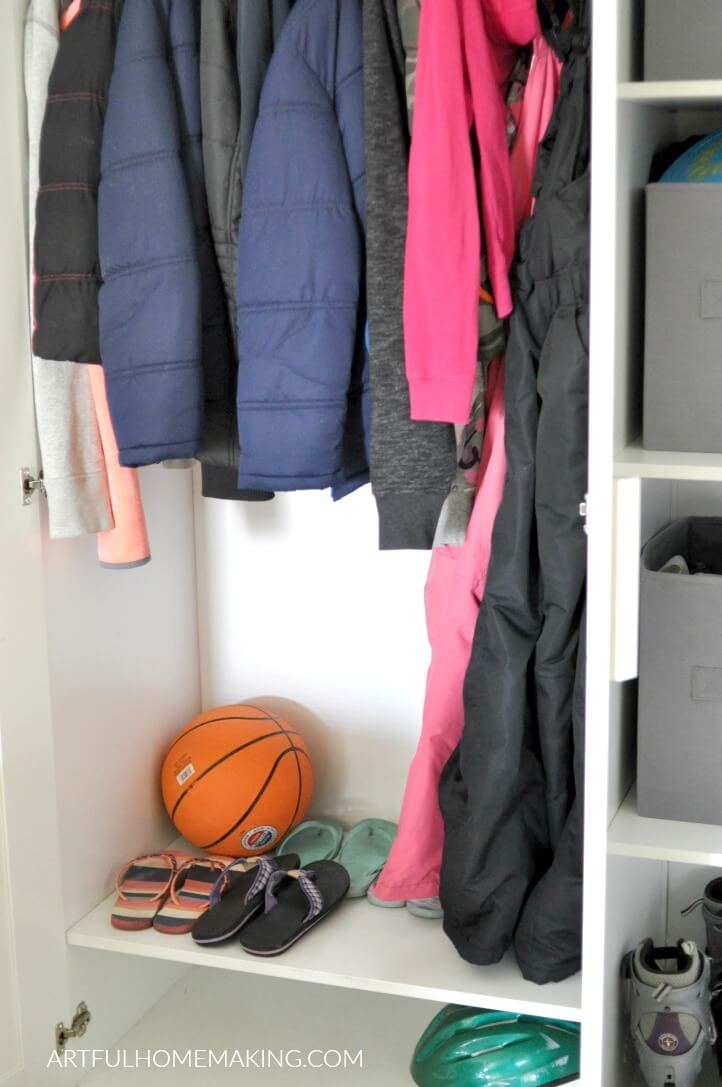 What to Do Without a Mudroom?
I spent some time thinking through what would be required to keep things looking neat and clutter-free. There were several things I realized:
We couldn't afford to add a mudroom on to the house.
It wouldn't be practical to send the kids out the front door to walk around the house to the back yard (and then make them come in the front and hang their coats up).
I needed something big that would hold a lot of items (including snow suits).
I didn't have a lot of money to spend on the mudroom solution.
I needed a cheap, fake mudroom idea!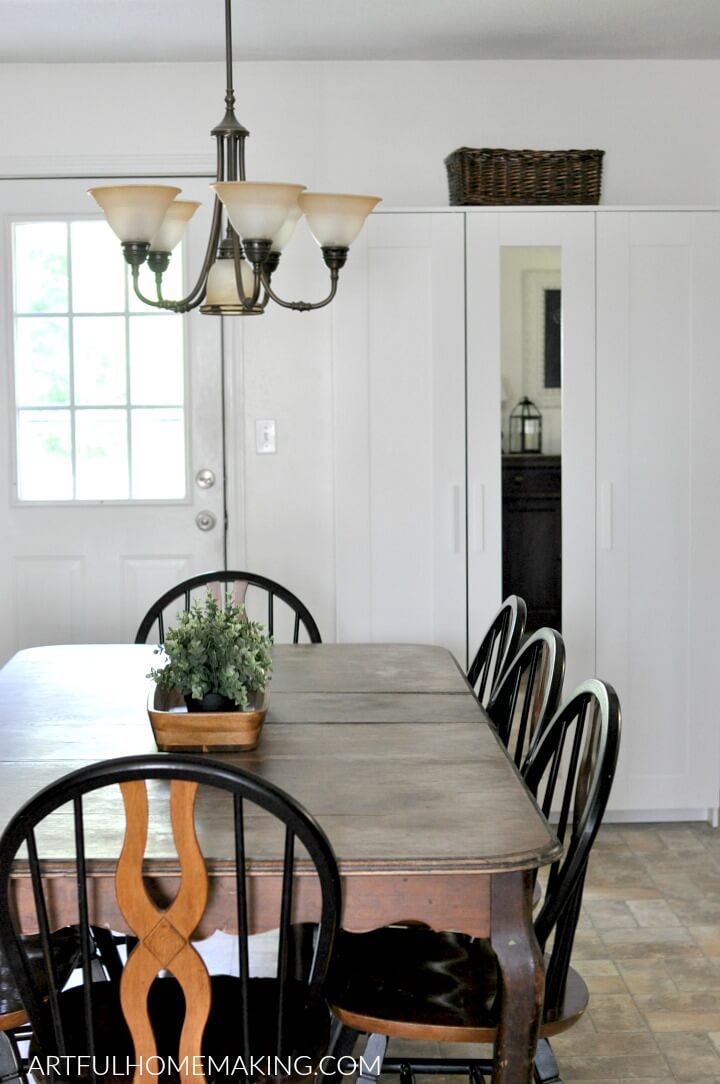 IKEA to the Rescue!
After many online searches, I finally found my mudroom solution. (Watch the video below for a more detailed view, or continue reading for more information.)
I found this IKEA BRIMNES Wardrobe. It's the perfect solution for when you don't have a mudroom!
As soon as we were able, my husband and I headed to the nearest IKEA (2 hours away), and bought the wardrobe.
My husband put it together, we anchored it to the wall, and it's been holding the kids' winter gear for the past two years.
I have to admit that it's not as wonderful as having an actual mudroom, of course, but it's so much better than anything else available.
For those of us with small homes and no mudroom (and very little storage), the IKEA BRIMNES wardrobe is the best solution I've been able to find for storing kids' stuff.
There's a ton of space for storing just about anything.
Ours holds jackets, coats, snow suits, boots, hats, gloves, mittens, and even roller blades for five kids! My husband and I store our coats and winter things in the coat closet.
I'm finally happy with the mudroom solution we found! Do you have any other ideas for what to do when you don't have a mudroom? Share them in the comments!
Thanks so much for stopping by!
Pin it for Later: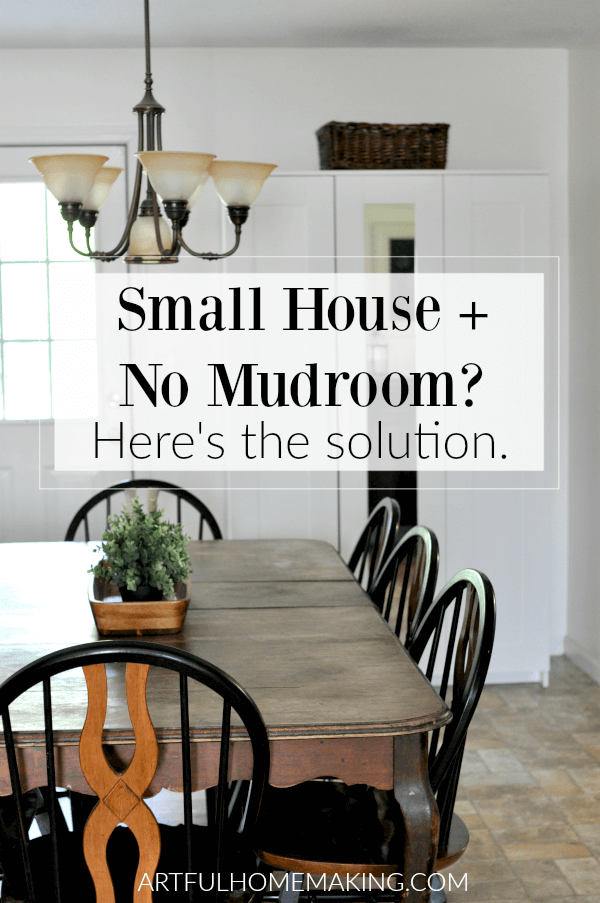 Related Post: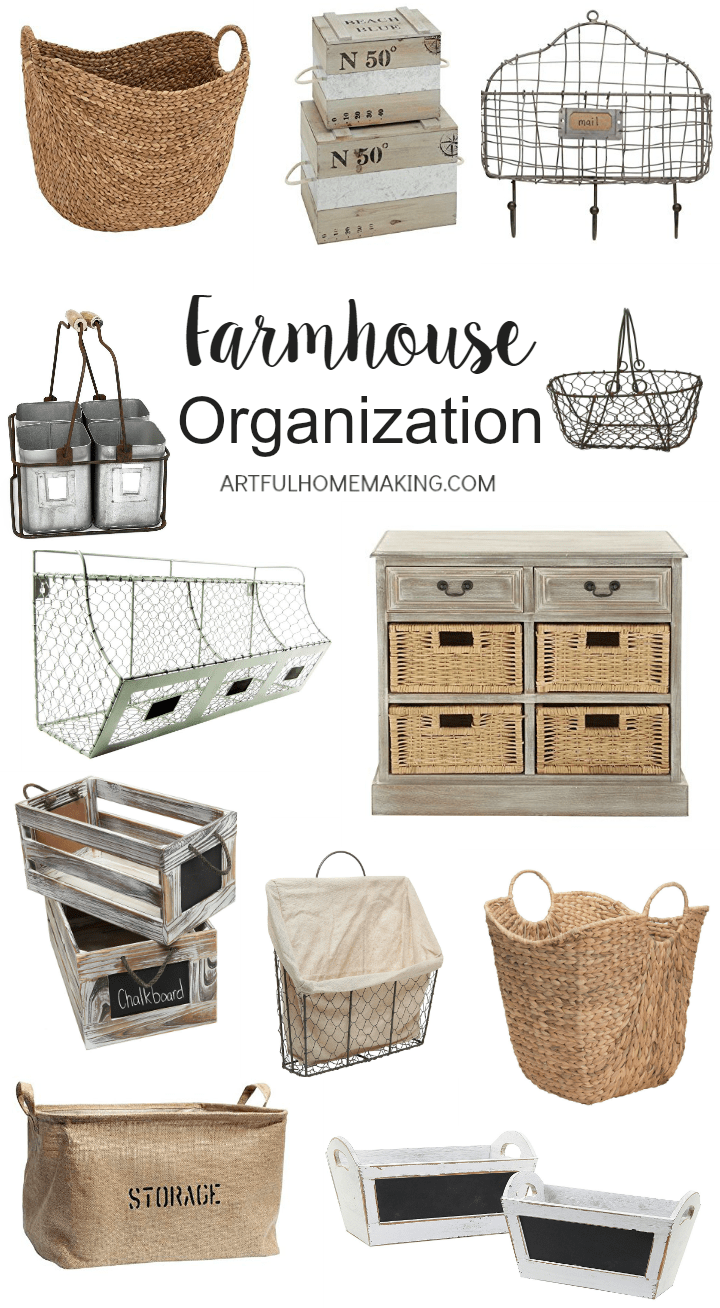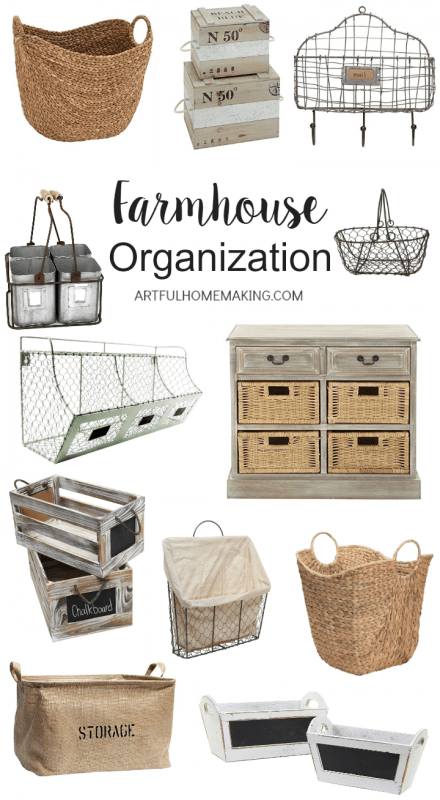 Farmhouse Style Organization and Storage Solutions
Disclosure: This post contains affiliate links. Read my full disclosure here. Sharing here.